Best Live Chat Software for WordPress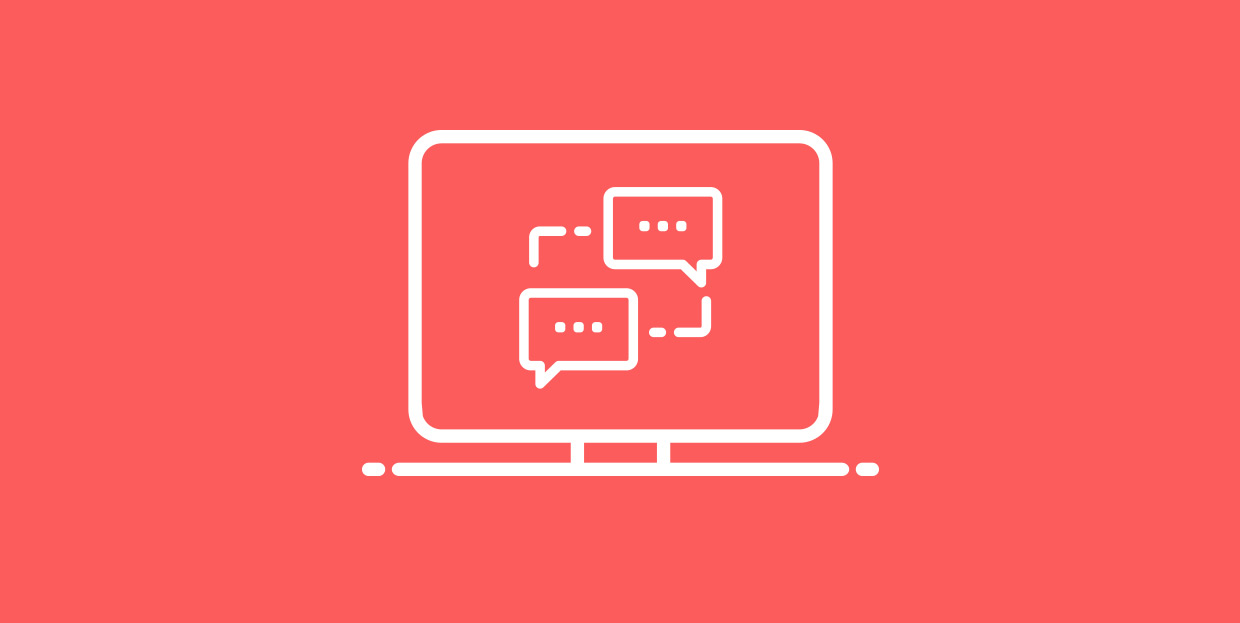 No matter the type of business you own, your customers will want to be attended to professionally and with care. Naturally, they will also expect you to answer them promptly and offer precise information and the best possible solutions when it comes to any questions or issues they may have. If you fail to do so, as harsh as it may sound, there are high chances they will give up on purchasing your products or trying out your services altogether. Thankfully, in cases like these, a professional live chat software can help you out immensely.
As its name suggests, live chat is a type of software that allows you to instantly connect with your customers and provide them with any type of assistance they may need. There are various types of live chat software for WordPress you can find online, all coming with different sets of handy features designed to help you maintain customer loyalty and score more sales. This time around, we're sharing some of the best live chat software solutions for your WordPress site available on the web.
Why You Should Add Live Chat Software to Your WordPress Site
A good relationship with your customers is of vital importance if you want your business to succeed in the long run. And one of the best ways to maintain that relationship is to form a continuous line of communication – or at least, make it readily available for all potential customers. This way, they will be equipped with proper information, they can have any of their issues solved, and they will also feel heard and valued by your business. By quickly tending to any questions or concerns your customers may have, not only are you showing them that you care about what they have to say, but you also demonstrate your professionalism, consideration, and reliability towards them.
As a result, any visitors that were merely curious about your products may turn into actual paying customers. On the other hand, your regulars will surely appreciate your efforts to assist them too. So, aside from helping you gain new buyers, live chat software can also help you strengthen the relationship you have with your loyal customers, as well.
We suggest that you implement a reasonably priced live chat service that supports WordPress. However, with so many available choices online, finding a software that works specifically for your needs can be challenging. That's why we've decided to provide you with a list of top live chat software that will help you fortify customer relationships and encourage the growth of your business:
Out of all live chat software solutions out there, LiveChat is certainly taking the lead. Not only does it come with a WordPress plugin that is extremely easy to set up, but it also contains multiple live chat support apps that can be used across multiple devices. This means that you can log in from virtually anywhere and attend to your customers fast without having to access your WordPress website's backend. And even when no one from your team is available, your customers will have the ability to send you a support ticket.
Thanks to intuitive features like a Message Sneak-Peek, you will get to see everything your customers are typing before they even send you a question. This allows you to do your search related to their question faster and provide them with an answer within seconds. You will also get to save time by quickly saving responses to commonly asked questions, keep track of every conversation by adding tags to your chats, easily drag and drop files that contain offers and catalogs to your customers, etc. With a useful Chat Transfer feature, you can easily switch agents and assign them to different customers when necessary. This is particularly useful if a problem arises that only a particular member of your team can solve. You can also add survey forms that allow your customers to express their opinion and rate your services, which can only help you improve in the long run.
With all this said, possibly one of the best traits of the LiveChat software is the fast loading of the chat window itself, which can contribute to a better user experience and allow you to attend to any of their concerns in virtually no time.
Last but not least, LiveChat allows easy integration with over 170 different services. This includes some of the best CRM software out there (such as HubSpot and PipeDrive), as well as tools and extensions like Twilio, MailChimp, Zendesk, Salesforce, TeamViewer, and the list goes on.
The pricing for LiveChat starts at $16 a month.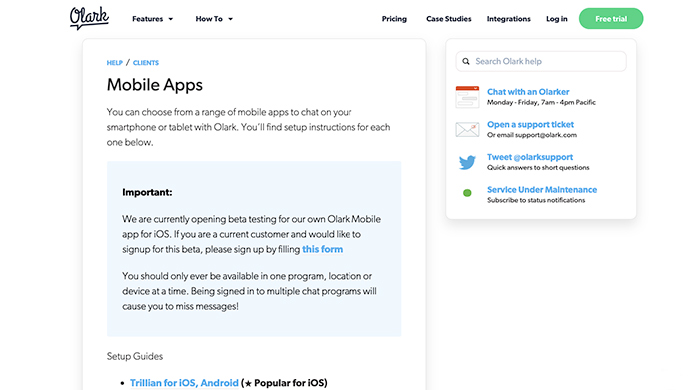 Another rather popular and easy-to-use live chat software, Olark is an ideal solution for just about any type of online business out there. It allows you to choose between inserting a code snippet into your widget area or simply adding it to your WordPress site with a plugin. You can easily customize your chatbox to match your brand, greet customers automatically and send custom messages based on their behavior, and monitor live visitors and engage with them in real time. Additionally, you can direct your customers to the right department, and monitor live chat reports with the help of live chat analytics.
Olark also makes it easy to integrate with the rest of the sales, marketing, and support types of software, such as ZenDesk, Google Analytics, HubSpot, Groove, and more. And while the software itself doesn't come with a mobile app version, it does allow you to connect it with several third-party mobile apps, which means you will be able to chat with your customers on the go.
As for the pricing, a one-year plan costs $15 a month, and there's also the possibility of a 14-day trial.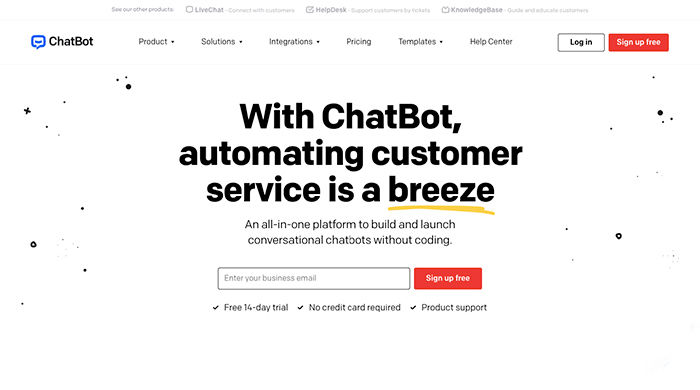 As its name suggests, ChatBot is a handy live chat software that uses AI, or artificial intelligence bots to engage with your customers. With the help of an intuitive interface and many customizable elements, you can easily create your own chatbot. Also particularly useful are the various chatbot templates pre-built for different industry types. All that you need to do is pick one that fits your business needs.
For instance, you can use a Sales bot to sell your products directly from the chat window, go through an entire hiring process using a Recruitment bot, and allow customers to track the delivery status of their products with a Package Tracking bot. If you want, you can automate your FAQ and help customers 24/7 with the help of a Support template, and even automate taking orders and making reservations through a Restaurant template. And if your customers ever prefer to speak to a real person, ChatBot will easily transfer them to one of your agents.
You can also integrate ChatBot with many of your favorite tools and apps, like Slack, Zapier, Facebook Messenger, and more.
A Chatbot Starter package has a price of $50 a month.
Intercom is another live chat software that guarantees everything your customers need for a smooth, conversational experience, making sure not to overwhelm your team in the process. You can use it to automate your work with chatbots, engage customers at the exact moment when they're set on buying a product, and use the Business Messenger to provide human support to your customers for more complex issues.
However, Intercom is not only a live chat software. It can also be used for generating leads, for marketing automation, and customer engagement, among other things.
There are also many apps and integrations that you can connect with Intercom, such as Google Analytics (that will allow you to measure the impact of your messenger when it comes to conversions), GitHub, PipeDrive, Slack, etc.
The Intercom pricing starts with $87 a month for the Essential package.
LivePerson is a live chat software that allows easy engagement with your customers directly on your website using live chat, or via SMS and apps like WhatsApp, Facebook Messenger, Twitter, and so on. You can use their pre-built chatbots to automate your conversation workflows and ensure the satisfaction of your customers even when your agents are offline. What's also great about the software is that it offers feature-rich solutions to all types of businesses, allowing you to pick them according to the industry (i.e. retail, insurance, education, etc.) and role (like marketing, sales, or customer care).
If you want to get informed about the pricing of the LivePerson software, you need to request a quote. Pricing and packaging are generally built around your personal needs.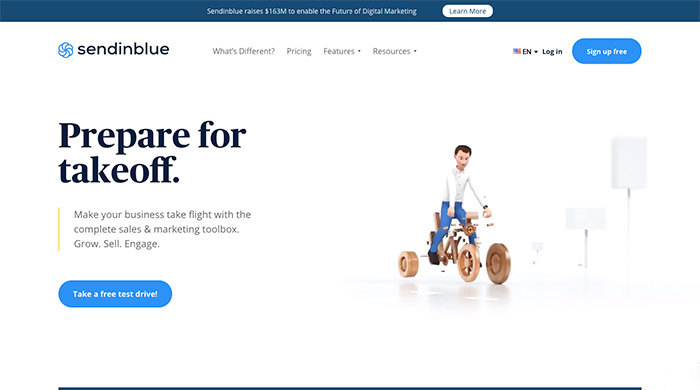 Sendinblue is an all-in-one marketing solution that also includes a live chat feature among its pricing packages. What's great about it is that it offers a complete marketing package, including email, SMS, segmentation, CRM, and more.
The chat feature that comes integrated with Sendinblue's Premium plan (the pricing of $66 a month) is quite user-friendly and allows you to easily personalize your chatbox and create a seamless experience for your customers. Also, you can see the exact page your visitors are on directly in the chat, which will only help speed up the entire process. Moreover, you can easily organize your workflow and maximize response time by handing over conversations to different agents.
Smartsupp is a reasonably priced live chat software that can be used with CMS platforms such as Shopify, Magento, Joomla, and of course, WordPress. You can easily customize your chatbox to match your company's colors. If you want, you can even throw in pictures of your staff to humanize your brand and show them who is working behind the scenes. In addition, you will be able to learn more about your customers by getting complete visitor info in the web dashboard. Here, you will get to see who is browsing your website live, what page (or pages) they're on, where they came from, and so on.
What's specific about Smartsupp is that it allows you to watch a video recording of your visitor's movement while they're on your web page. You can see what pages they visited, and even their mouse movements and the places they clicked. This can help you understand the behavior of your customers on a much deeper level.
If you're a smaller site and only need a simple chat to communicate with your visitors, you can use the Smartsupp software completely for free. The standard pricing starts at $10 a month.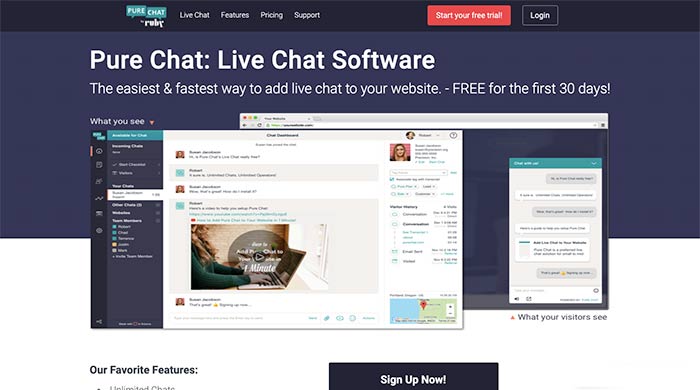 Pure Chat is another easy-to-use live chat solution that allows you to fully customize and add a chat widget to your website, adjusting it to fit your brand identity. You also get the ability to use visitor analytics and contact history, all with the goal of having better and more personalized customer conversations. In addition, you will be able to get insights into traffic trends, user experience, and marketing campaign effectiveness.
By connecting Pure Chat with your favorite apps (like Google Analytics, HubSpot, Zapier, etc.), you can increase efforts on all fronts – including marketing, sales, and support.
The pricing for Pure Chat starts at $39 a month and is paid annually.
It's no secret that customers can be impatient and, at times, demanding. Since most people lead hectic lives these days, it's only natural they won't want to wait too long for your response – no matter your reputation, the quality of your products, or past positive experiences they may have had with you. Simply put, if you don't provide them with the customer services or support they need, users will flee your website in no time, possibly without ever returning. Therefore, you want to cater to your visitors in the best way possible in order to avoid losing potential sales.
All the live chat software solutions we listed above make it easy to start a conversation with anyone that browses your website and can help with answering their questions as fast as possible. In turn, they bring you the opportunity to capture leads, make more sales, and ultimately strengthen relationships with your customers. Just make sure to carefully examine what each one of these tools has to offer to determine the one that will best benefit your business.