5 Best WordPress CRM Plugins
Customer Relationship Management (CRM) is a powerful strategy that can benefit any business since its key role is to organize and maintain relationships and interactions with your customers. CRM allows you to understand your customers better and also helps you manage the general way you interact with them.
Due to the rapid growth of WordPress as a whole, this platform now enjoys the abundance of third-party tools and plugins that offer useful features and have the power to expand the functionality of your website in various ways. This is also the case with WordPress CRM software, which is why this time around, we've decided to share a list of some of the best CRM plugins that can be found online.
In order to make more sales, it is crucial to offer quality services – and to do that, first you need to build a firm and long-lasting relationship with your customers. And that's exactly where CRM plugins come into play.
As we mentioned in the beginning, a CRM plugin is a tool that allows you to study and manage the way you interact with your customers. It usually works on the principle of storing various data related to your customers in the plugin's database, making it available to anyone that deals with customer relations – such as support and sales teams – so they can examine, consult and make use of all this information when needed.
Even though the specific abilities may vary from plugin to plugin, CRM plugins often keep a detailed history of the relationship with a customer, including all previous conversations, the customer's contact info, their order history (in case of eCommerce websites), and so on. All this data will help you adapt to the specific needs of your clients in a more efficient manner.
So, if you want to provide better services to your customers and improve the way you do your business in general, we invite you that take a look at some of the best WordPress CRM plugins available on the web: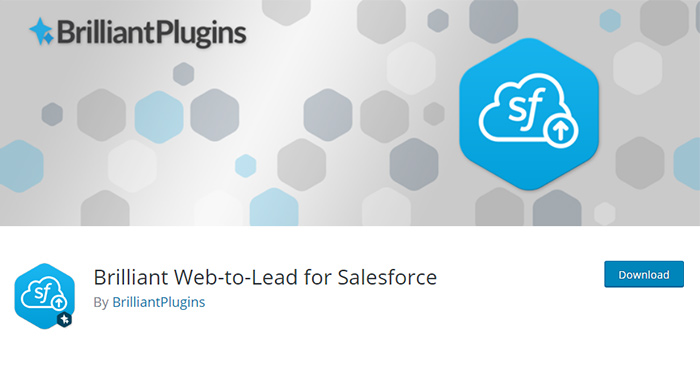 Brilliant Web-to-Lead for Salesforce plugin is created by Salesforce, which is one of the most popular CRM platforms that can be found on the web. It allows you to collect leads on your WordPress website and send them straight to your Salesforce CRM account. You will be able to create and insert a contact form to your site's pages or posts or add them as a widget into a sidebar. Once people fill in a contact form on your website, the lead will go directly to Saleforce.com. The best thing about this platform is that it stores everything on a cloud, which means you can easily access your data both on the web and from a mobile device.
While the plugin is free on its own, you still have to get a premium Salesforce account to use its services. The Sales and Service cloud pricing starts at $25 a month.
WP ERP plugin is an all-in-one business management solution that comes with three different modules – customer relationship management, HR management, and accounting system. Some of the numerous useful features include integrated email communication and notification system, the ability to create contact groups, a detailed CRM activity report that includes customer and business growth, scheduling of direct calls and meetings, and plenty more. If you opt for one of the available premium plans, you also gain access to some powerful extensions such as Recruitment, HR Frontend, and payment gateways like PayPal and Stripe. Additionally, premium plans also offer integrations like WooCommerce, Zendesk, Help Scout, Awesome Support, and so on.
A starter CRM plan is available at a price of $149 a year.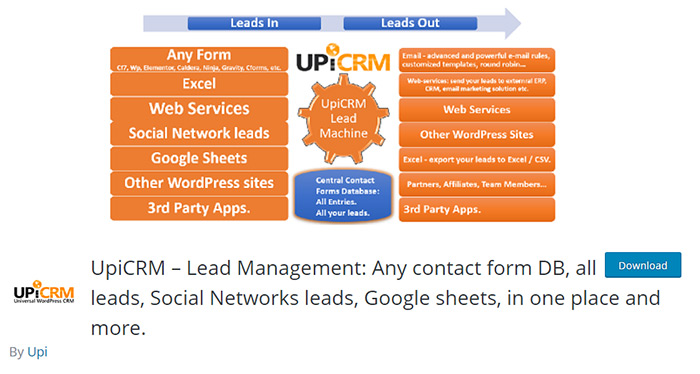 UpiCRM is a free WordPress CRM tool that allows you to create a contact form database in order to manage, track, and collect leads from multiple WordPress websites to a single lead management server.
What makes this plugin particularly convenient is the fact that it allows for complete lifecycle management of all your leads – from the tracking of traffic sources and directing the lead to the designated person, all the way to the closing of the process. Thanks to its built-in collaboration features, UpiCRM provides a smooth and efficient collaboration among your teammates, allowing you to easily assign, track, and manage leads with your team members.
Moreover, the plugin comes with advanced analysis capabilities that allow you to attach the traffic source to every lead and utilize the URL UTM tagging mechanism so as to analyze all the marketing activities you manage.
The plugin works with many contact form plugins, including Contact Form 7, Elementor Forms, WP Forms, Ninja Forms, and so on. You can also easily integrate with other CRM systems and web services.
Groundhogg is a CRM, Email, and Marketing Automation WordPress plugin. It is built in a way to help you streamline and automate your sales and email marketing so that you can generate more revenue and maximize profits. If you opt for the free version of the plugin, you will be able to create automated funnels, send personalized email and text messages, collect unlimited contacts and data related to your customers, profile your subscribers, and automate the customer journey.
You can also upgrade your Groundhogg plugin to one of the premium plans (starting at $20 for the Basic plan) to get access to more features. Some of them include 25+ WordPress plugin and services integrations (WooCommerce, Zapier, Twilio, etc.), advanced funnel steps, conditional funnel logic, and premium support, among others. Of course, advanced features that you get vary from plan to plan.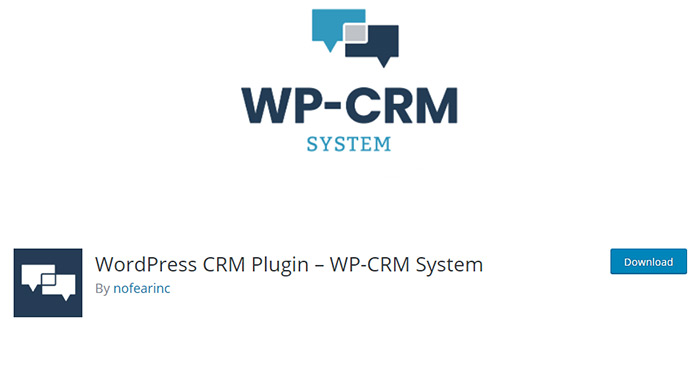 Here is another great CRM plugin solution that will allow you to easily manage your customers, projects, and tasks right from your WordPress dashboard. With WordPress CRM Plugin, you and everyone in your team gets access to an unlimited number of contacts. Moreover, you will be able to assign individual tasks, track marketing campaigns, and easily import all your old contacts from other CRMs using the CSV uploader.
If you want to further extend the functionality of your CRM system, WordPress CRM will provide you with multiple premium add-ons – the pricing of which starts at $99 per year. This includes integrations with tools and services like Zendesk, Dropbox, Slack, Easy Digital Downloads, Invoicing, and plenty more.
Strengthening customer relationships is undoubtedly one of the most important things you can do for your business. Each of the above-mentioned WordPress CRM plugins comes with a wide assortment of features that will help you generate more leads and grow your business together with the number of your clients. Aside from being easy to use, most of these plugins also contain integrations that will allow them to work seamlessly with other handy apps and platforms, like marketing services, eCommerce platforms, and so on. Just make sure to take a good look at all available options before you pick the CRM software that seems to be most suitable for you.