How to Set Up WooCommerce Dynamic Pricing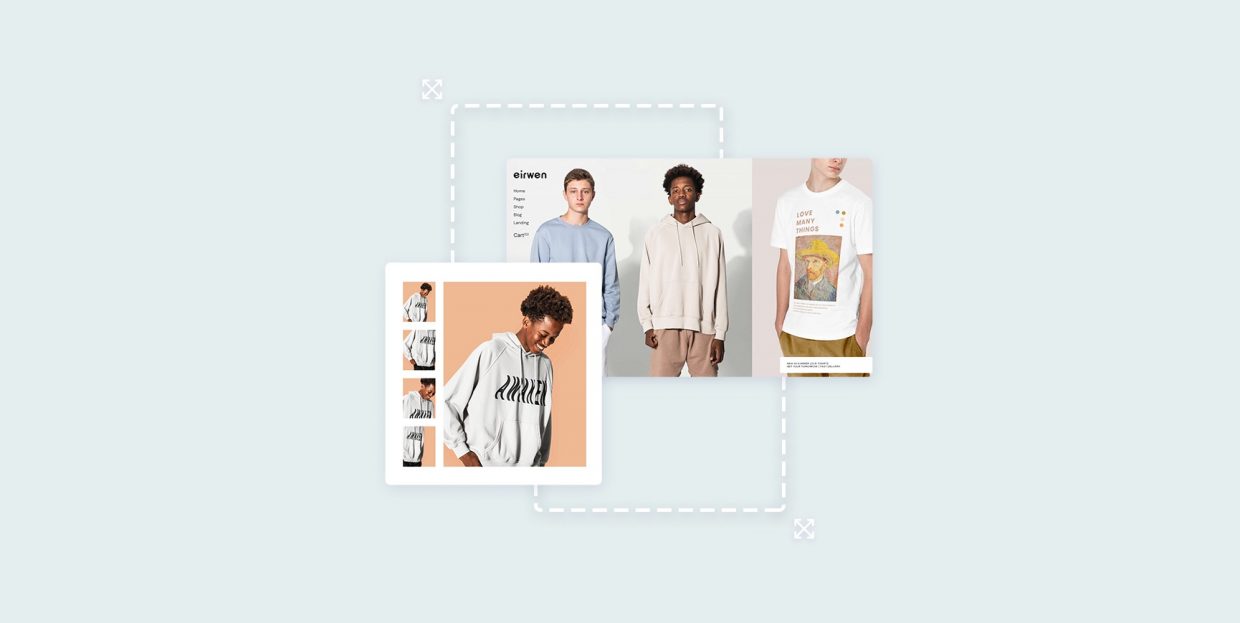 As a WooCommerce store owner, you are always on the lookout for new ways to boost conversion rates on your website, attract customers and engage with them as much as possible. You probably already know a lot about your target audience, shopper types, sales funnel, customer journey, and all those important topics for an online business owner. And just when you think you covered it all, a new angle emerges allowing you to reconsider some tool or method, and you realize there's more to learn.
That's often the case with dynamic content, or WooCommerce dynamic pricing, to be more precise – site owners tend to overlook it without any particular reason. Dynamic content and dynamic pricing are actually a big deal and can bring major improvements to your business thanks to the flexibility they offer. Generally, dynamic content works in a very simple way by allowing you to withdraw information from anywhere on your website and insert it into a selected section/area or field.
In this article, we'll be dealing with how to set WooCommerce dynamic pricing on your website and offering a comprehensive explanation of the dynamic pricing concept as well. Stay tuned to read more about:
If for whatever reason you need the price of a product on your website to change depending on the specific criteria that you set, that's exactly the description of dynamic pricing. Dynamic pricing is commonly used when selling goods in bulk, or in "buy x get x free" or "buy x get xx%" discounts, as in all these situations you need to calibrate the price differently. Since WooCommerce dynamic pricing is typically a discount strategy, the customers will be encouraged to buy more and save more.
Dynamic pricing is an excellent way to boost loyalty and encourage customers either to buy more in terms of quantity or to buy more often from you, meaning to come back regularly to your store. Since the vast majority of shoppers are price-sensitive, any strategy that employs dynamic pricing usually brings very quick results. Some of the benefits that result from this approach include:
These are just some of the most distinct advantages of WooCommerce dynamic pricing to give you a taste of what you can hope for if you start using it in your WooCommerce store.
Regardless of whether a certain product in your store sells well or doesn't sell well enough, applying a dynamic strategy can be just what you need to achieve your ultimate goal – to sell more. If the product sells well, the customers will surely react even better when they can get even more benefits for buying the product in bulk. If the product doesn't sell well enough, a little push in the form of dynamic pricing can completely reverse the situation.
Dynamic pricing is also an excellent strategy for driving sales of a specific product – you can employ it every time you introduce a new product or when you want to clear out the stocks.
In terms of boosting customer loyalty, dynamic pricing allows you to offer privileged prices for shoppers who regularly come back or reach a specific goal that may include spending a certain amount of money on products in your store and similar milestones that you can define on your own.
The dynamic pricing feature is not native to WooCommerce but there's a wide choice of both free and premium plugins that allow you to set it up easily on your website. We will show you how to do it all for free, with the help of a reliable WordPress plugin called Advanced Dynamic Pricing for WooCommerce. This is a very user-friendly tool that has a proven track record on all types of WooCommerce websites.
To start, download and install the plugin just like you usually do – the installation process of the Advanced Dynamic Pricing for WooCommerce plugin is no different from any other WordPress plugin installation. If you need any help on the way, don't hesitate to jump to our detailed guide on installing WordPress plugins.
When you've got the installation covered, can explore a bit the plugin settings, just to get the hang of how it is configured. There's no need to actually adjust the default settings on your own, this step is just to get you introduced to how the plugin works.
So, to start, go to WooCommerce – Pricing Rules – Settings:
Just notice all the options that follow the Rules menu. Click on each one to better understand what it refers to exactly, but don't worry if you don't get it yet, you can always go back to this menu and make changes. This is just an introduction. Now, we'll go step by step, let's see first how the pricing rules are set.
The pricing rule is basically the dynamic pricing strategy that you want to employ. You have a variety of directions to follow in setting up your pricing rule depending on whether you want the rule to apply to all products or prefer to target a single product/category or tag.
To set up your first rule click Rules in the top menu and then choose Add Rule option below: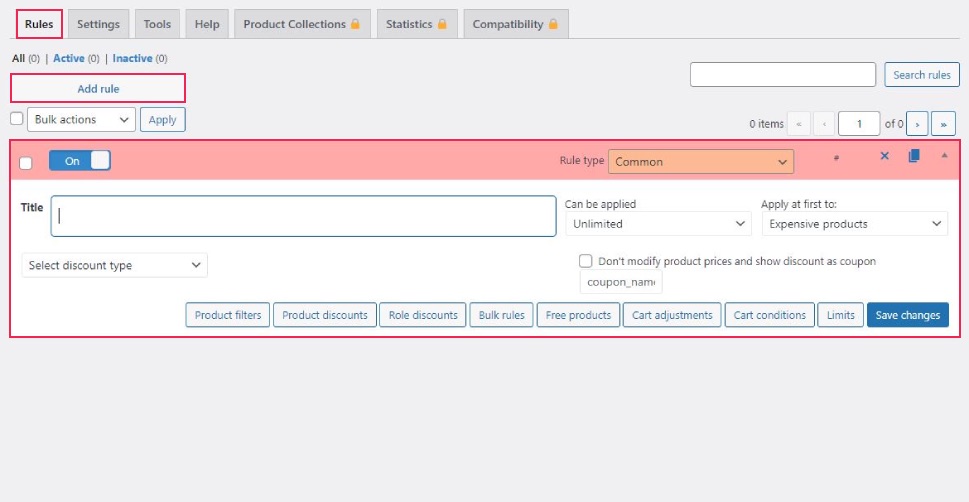 In the table that shows up, you will see several fields to fill in, as well as options to choose from. In the Title field, enter a name for your use only that will remind you of what the rule you're setting does. Then click the Can be applied tab to define how many times you want the rule to be applied. It is possible to use rules without limit or limit their use anywhere from 1-10 times.
To define how the rule will be applied to products in the customer's cart, click the Apply at first tab and select the target items. You may want the rule to apply only to the cheapest items, the most expensive items, or as they appear in the cart. You will notice the Coupon box on the right below the previous options. By checking it, the prices of the products in the cart will not change but a coupon code will be automatically applied to add the discount.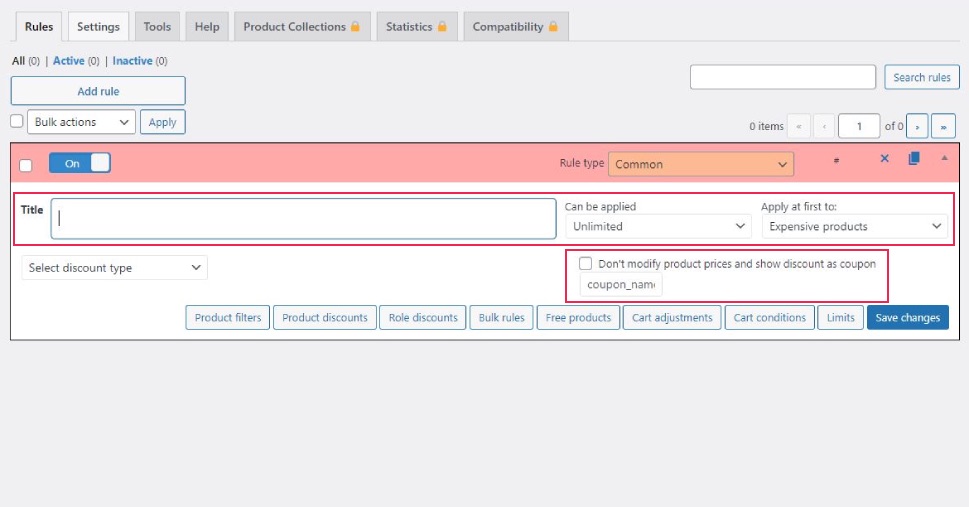 Generally, the rule is now ready. But the essence of the rule is yet to be set. Now comes the part where you define precisely the type of dynamic pricing strategy that you'll be using. When you've made all the choices we described above, you will see the buttons below: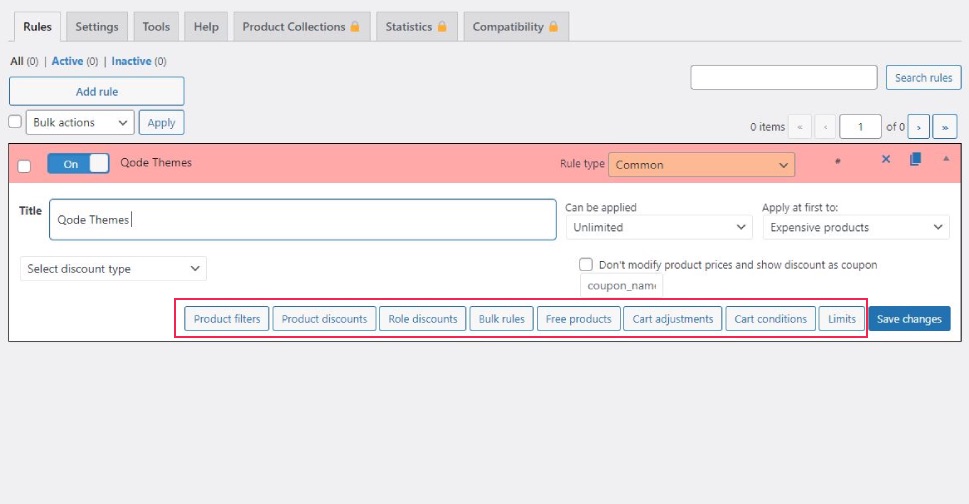 The Product Filters option allows you to select which product(s) the rule will be applied to.
Product discounts let you determine the type and amount of the discount.
Role discounts option enables you to set the pricing rule to apply only to shoppers with a specific user role.
With Bulk rules, you can create bulk discounts where different prices are applied to different quantities of items.
You can set specific conditions that will enable rewarding users with one or more free products once they meet the condition.
The Cart Adjustments option allows you to apply discounts, fees, or free shipping to the customer's entire cart.
Cart Conditions option lets you set the rule to only be applied when a customer meets specific cart conditions, such as the number of items, the total value of their cart, their logged-in status, the date/time, and similar.
The Limits option allows you to set a general maximum usage for this rule.
Each time you click on a button, its settings will open, and once you make all the adjustments and save them that button will disappear from the menu.
You can use only one option or use all the options at once, or create your mix of the options that you believe would work best for you – there are no limits to how many you can use in your rule.
As you can see, moving through different options is smooth and each is followed by a brief explanation of what happens if you use it, so you'll easily find your way to use the advantages this plugin offers to the maximum extent. But before setting up any dynamic pricing rule, make sure you know which dynamic pricing strategy you want to use and what you aim to achieve with it.
Although it may not seem so at first, mastering the technical aspects of setting up a dynamic pricing strategy is way easier than choosing which one to use. Therefore, we're providing you with a brief description of the most common dynamic pricing strategies so that you can easily make an informed decision.
There are generally four directions you can follow to determine what type of dynamic pricing strategy would work best for you. All of them are useful, but at different points in time some may offer more advantages than others:
Time-based pricing refers to changing prices depending on the service speed. This is applicable if your customers find it of great importance to receive their order fast, so you may, for example, charge more for the same day delivery.
Changing market conditions often dictate the price range. If a certain type of product is facing a general drop in price it is simply unwise to keep your prices as if nothing is happening. This type of dynamic pricing strategy includes changing prices depending on the market. If, for example, your product is more appreciated in a specific region than in some others, you may adjust your prices accordingly.
Peak pricing, often referred to as peak load pricing strategy, implies charging more during peak hours. This is a particularly useful strategy for hotels and the hospitality industry in general. You may offer discounts only at certain hours, days, or periods of the year.
The penetration pricing model is commonly employed when businesses aim at reaching a wider target audience of customers. Typically, the prices are lower upon launching products on the market and then gradually increase over time, as the need for them grows.
The popular bulk pricing tiers are always a good idea. Even the most luxurious brands resort to using them without risking looking any less classy. That's because customers recognize bulk pricing tiers as good deals – they get more even though they spend more than they may have originally planned.
High Order Value Discounts
If someone decides to leave a significant amount of money in your store, you may want to reward them by offering a free product or you may want to encourage them to spend a little bit more by buying certain items at privileged prices. That's the logic behind the high order value discounts.
Member-only Prices and Special Offers
Your business does not depend on new customers – it relies heavily on the loyal ones who regularly come back to you. Boosting loyalty should always be your priority, so setting a dynamic pricing rule to reward loyal customers with member-only prices, special offers or any other benefit that you find suitable for your target group should be a part of every dynamic pricing strategy you set up.
BOGO deals refer to "buy x, get x for free" and are also a proven recipe for success when it comes to dynamic pricing strategies. Product bundles are also often used and in some cases, if you know how to set up a bundle that your customers will like, can be magically effective. Plus, they encourage cross-sales.
WooCommerce dynamic pricing is often an excellent and highly efficient way to boost your webshop's profit and, as we pointed out previously, certain dynamic pricing strategies are desirable in almost every type of business, web store, or sales of any kind. That said, we also have to bear in mind that dynamic pricing can have some undesired effects too.
First of all, the issue of price discrimination may arise at some point if you push it too far. Playing with prices to the extent that the customers find it repulsive and unfair is a potential risk especially if you apply strategies like raising prices during peak times. Always bear in mind that the product quality-price relation must not be damaged whatever the approach you are using. In other words, you need to ensure your prices don't compromise the customer's perception of the product quality.
Second, in some cases, your loyal customers might feel threatened by the variations in price so you have to make sure you maintain a respectful relationship with the heart of your customer base.
Finally, to make sure you don't lose touch with your market's reality you'll need to stay agile and monitor constantly how your leading competitors handle their pricing strategies and act accordingly – which altogether requires persistent effort and attention.
You'll surely find your way to take maximum advantage of WooCommerce dynamic pricing strategies. Just analyze your priorities, needs, and set goals – you'll master the technical part of using the plugin with utmost ease for sure.