How to Migrate Your Joomla Website to WordPress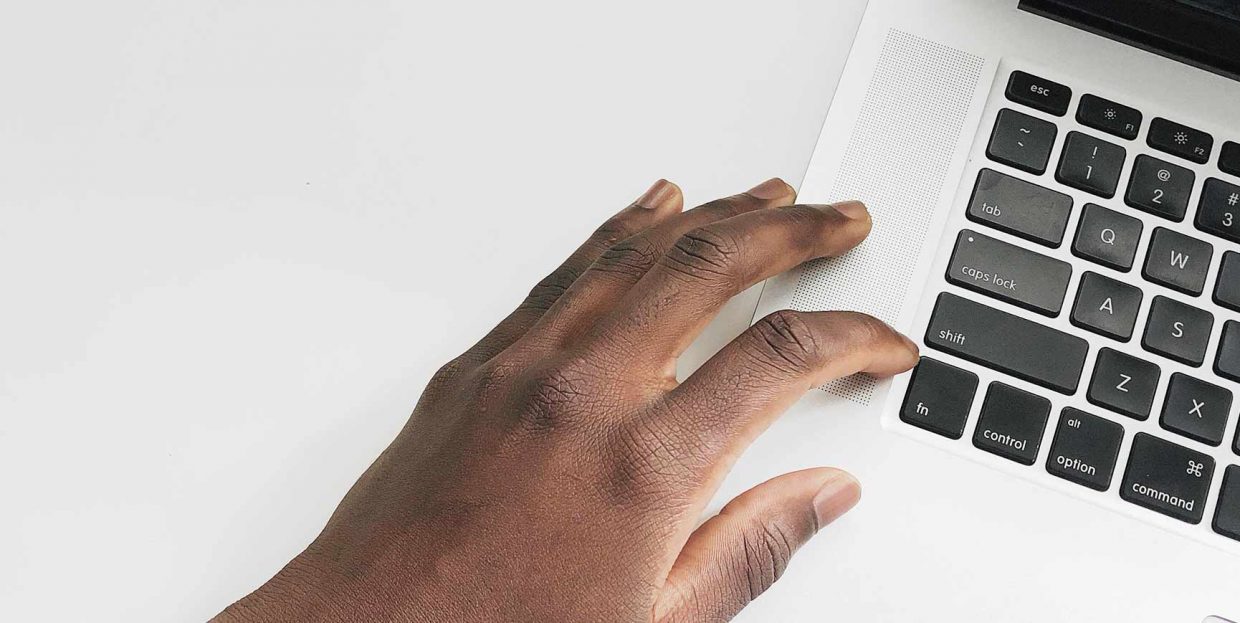 Even though it's the most popular CMS in the world, WordPress is still not the only choice people have when it comes to building and maintaining their websites. Joomla is the second biggest CMS by market share, WordPress' biggest competitor, and an all-around great piece of open-source software.
Still, the market wouldn't be divided in the way it is if there weren't some clear advantages to using WordPress over any other content management system. This is why people migrate Squarespace websites, for example, or Wix websites, to WordPress. It's the same reason why you might consider migrating your Joomla website to WordPress, too.
If that time has come for you, you're in the right place. In this article, we'll show you: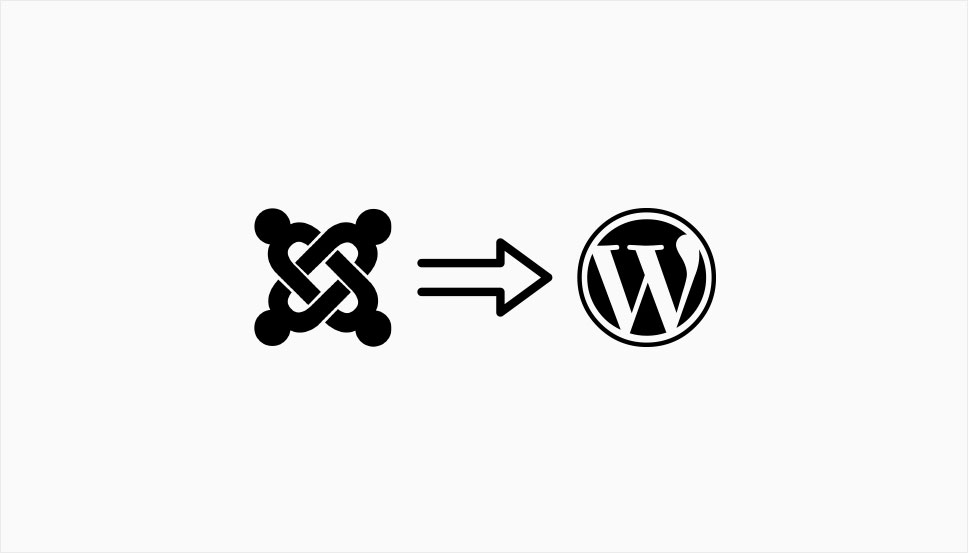 Simply saying that people might switch from Joomla to WordPress because WordPress is better, as evident from its much larger userbase, doesn't do justice to either of the CMSs. Joomla has lots to make it a good choice for a website. For example, its system of extensions provides the equivalents of WordPress plugins, widgets, and even themes. Joomla also has some great user management options, too.
However, Joomla also has a somewhat steeper learning curve. It doesn't require prohibitively difficult knowledge or skills, so it's still approachable. It's just that, when you approach it, you'll have to set aside plenty of time to navigate through all the options and processes. This makes WordPress the solution that's easier to use.
But Joomla's steeper learning curve isn't the only thing that would make you look into switching to WordPress. No matter how great Joomla's extensions can be, they simply cannot compare to all the plugins and themes that are created for WordPress.
WordPress has all those ways to let users build upon their websites because of its biggest asset, and that's the large community that creates and maintains all those assets for WordPress. Some do it for free and create free themes and plugins. Others do it for business and create premium WordPress themes and plugins.
Either way, it's the people who use it and create for it who are WordPress' biggest advantage over Joomla and any other CMS for that matter. Switching to WordPress means benefiting from the larger and more vibrant community, and that counts for an awful lot.
You might already have a web host, though, and a domain name you don't want to change. Still, you'll have to install WordPress, and you'll also need to ask your host for a temporary domain to use during the migration.
While you're at it, you might look up a couple of plugins that will help your website perform better. You might also check out some WordPress themes to give your website a certain look. You can also leave these two steps for later because for the time being, you'll only need to have a working WordPress website.
There are a couple of ways you can migrate a Joomla website to WordPress. You can do it manually, and copy your content piece by piece from one website to another. It's a slow process, but it will get the job done, eventually. You can also pay a service to perform the migration for you.
The middle road between the two would have you use a plugin. The one that's commonly used for the job is FG Joomla to WordPress – a freemium migration plugin with a solid user rating that will work well even on big migrations. Because it's a freemium plugin, you'll need the premium version to get the most out of it and do things like migrate authors and menus. But if you need to migrate content, the free version will do just fine.
So, from your WordPress website's dashboard, navigate to Plugins > Add New, search for FG Joomla to WordPress, and then install and activate the plugin.
Before you proceed, you'll need to do two things. First, if you plan to use the URL redirect option that's available in the Premium version of the plugin, you'll need to navigate to Settings > Permalinks and change the URL structure into something other than the default. Next, go to Setting > Media and set the image sizes – the importer tool will use these settings to resize your images.
When that is done, navigate to Tools > Import, find Joomla (FG) on the list, and click "run importer." You can also go to Plugins > Installed Plugins, find the plugin on the list, and click on "import." Either way, you'll end up on the importer tool.
The very first option you'll see gives you the ability to empty your WordPress website of its content. If you're performing the migration on a clean installation of WordPress, there should be no need for you to do this. This option comes in handy, though, if you've already performed an import and you want another go at it.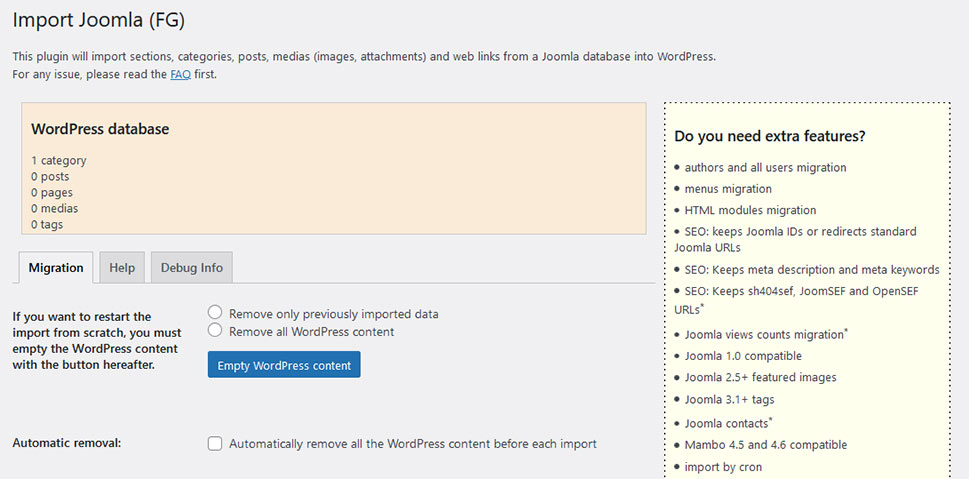 The next set of options are the Joomla website parameters. In this section, you'll have to provide an URL to your Joomla website, and it should be live during the process. Next, choose how you want to download the media from your Joomla website and test the media connection between the old site and the new one.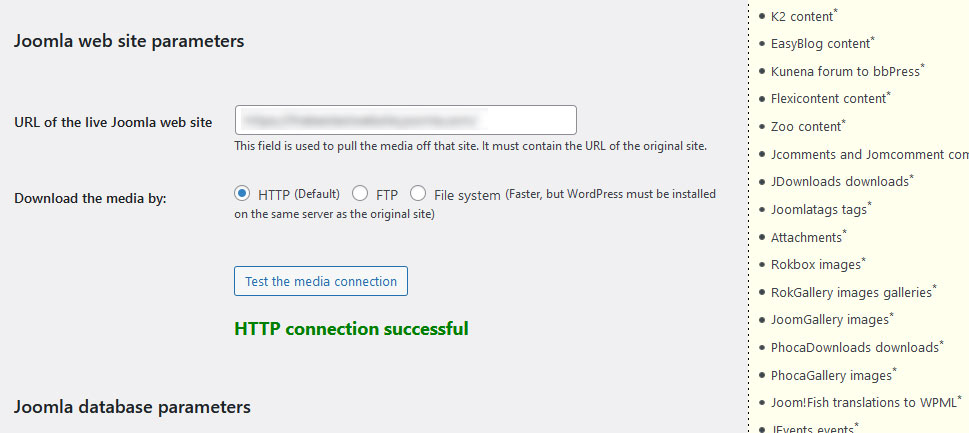 The Joomla database parameters are where you, appropriately, enter the database parameters of your Joomla website. If you're not sure where they are, go to your Joomla website's backend, navigate to System > Global Configuration > Server, and under Database Settings find everything you need.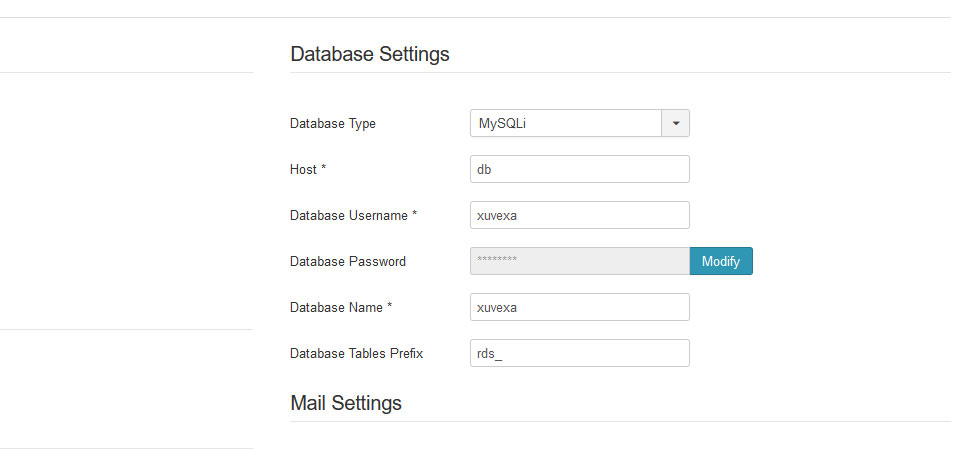 You should enter the appropriate info into the Joomla importer back at your website's backend. After doing it, you can test the database connection, at which point you'll get information about the number of articles the plugin found in your Joomla website's database.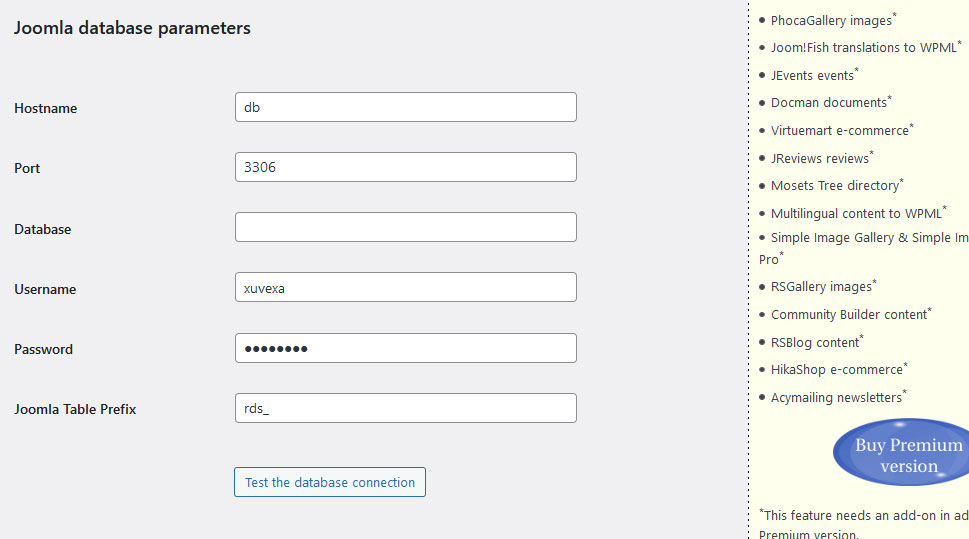 Next, you'll get to set the behaviors for the plugin. You'll be able to tell it what to do with intro text, archived posts, archived and unpublished categories, media, and meta keywords. Premium users will have additional options at their disposal.
When you've chosen all the settings you wanted to choose, simply save them and you'll be ready to start the import. Press the big blue button that says "Start / Resume Import" and watch the magic happen.
Once the import is finished, you can feel free to check if all your media files landed where they needed. The plugin will also help you modify internal links, which is something it enables you to do with a push of a button.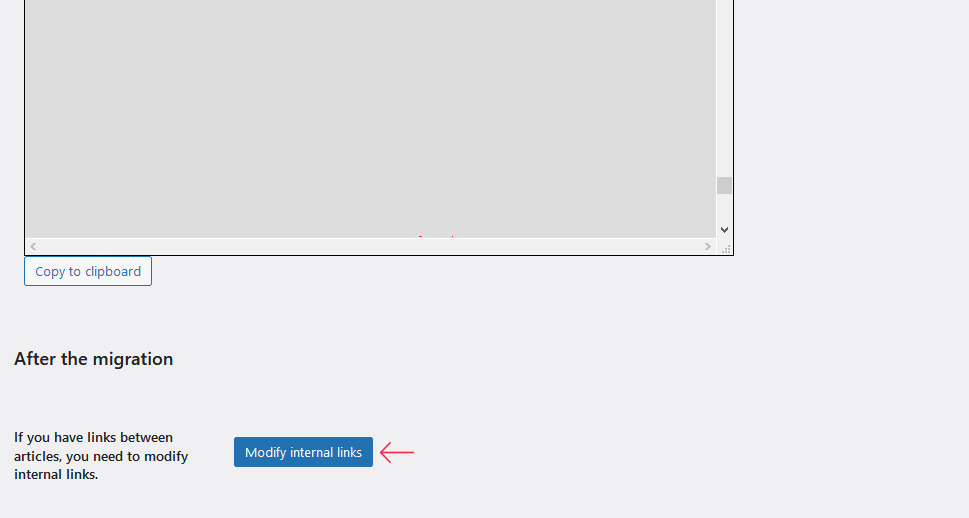 After that's completed, there is little more left to do except ensure that your domain name points to your new website. If you're not sure how to do this on your own, ask your website hosting provider to take care of it for you. And with that, you're done!
Joomla is a great platform that's a very valuable alternative to WordPress. It goes the other way around, too – people who've been using Joomla can decide to switch over to WordPress. The website migration process can get tedious if you do it by hand. With a little help from the FG Joomla to WordPress plugin, you can migrate your website in record time without breaking a sweat.