How to Embed TikTok Videos in WordPress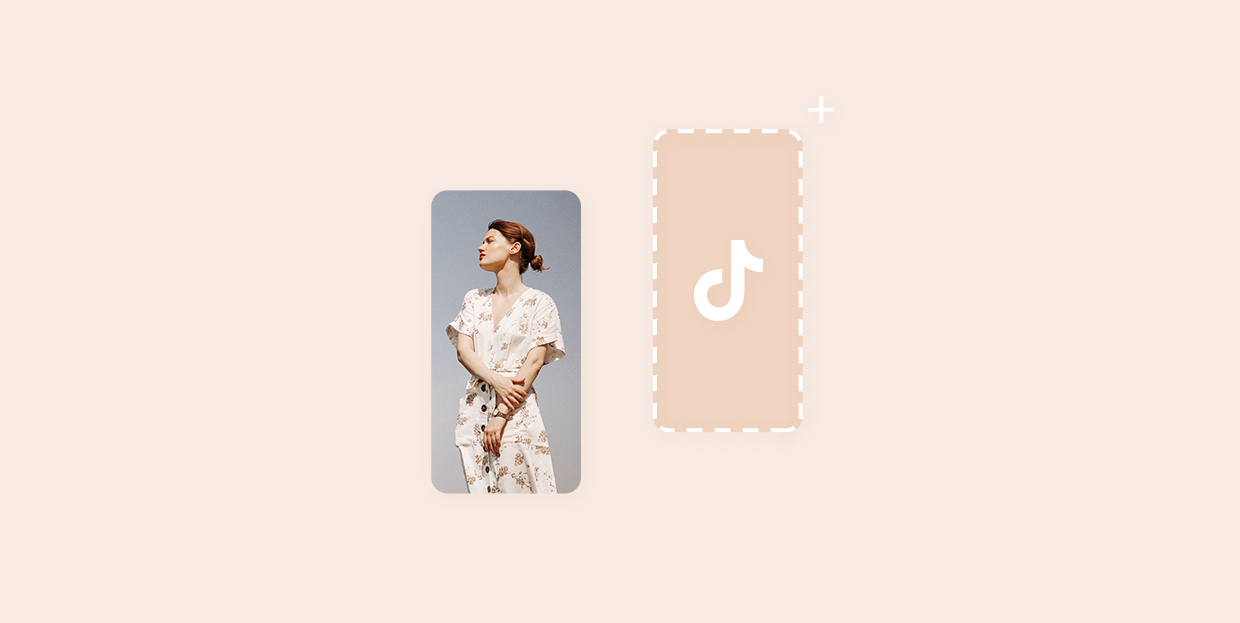 TikTok is the newest social media app used for creating and sharing short-form videos that has quickly taken the online world by storm. Though it has mostly gained appeal among millennials and those classified as the generation Z, more and more brands are recognizing the tremendous marketing potential of this rapidly-growing platform. They're starting to run their own channels, upload brand-related videos and make campaigns on the platform through branded hashtag challenges. And as of recently, the platform allows good old advertising as well.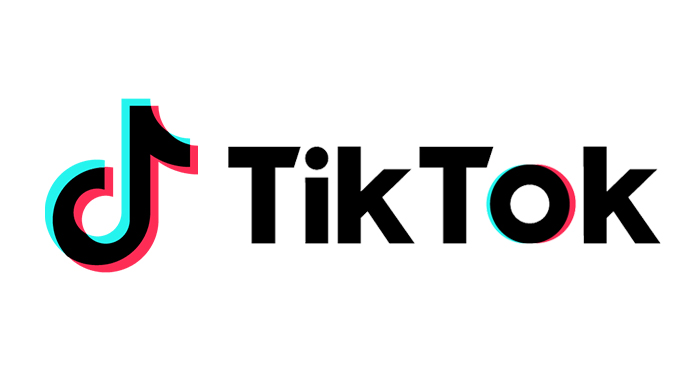 If you're among those using the power of TikTok for your social media marketing purposes, you might also want to consider adding its videos to your WordPress website. Just like embedding a YouTube video in WordPress, you can easily embed TikTok videos on this popular CMS platform as well. If you want, you can even display the latest TikTok video feed automatically. The latter will require the assistance of a plugin, while the former can be done without it.
Embedding TikTok Videos in WordPress Without a Plugin
The easiest way to embed a TikTok video to your WordPress site is to copy the video URL from your browser. Simply visit the TikTok video in question and copy the URL.
Then, head to the edit screen of your WordPress page or post and paste the video URL wherever you want within the editor.
Once you do this, WordPress will automatically show you a preview of the video in the editor itself.
Hit the Publish/Update button or save your page/post as a draft. Then, head to the page/post in question to see the way your TikTok video looks like live.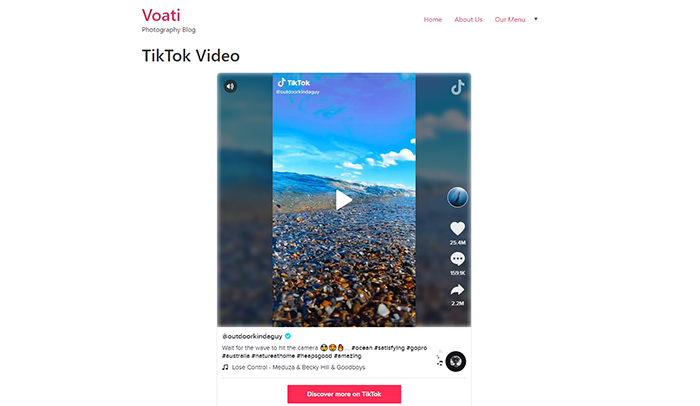 Another way to embed a TikTok video on your page or post is to use a TikTok block. To do this, click on the (+) icon in the editing screen to access the block list and then type in TikTok in the search field.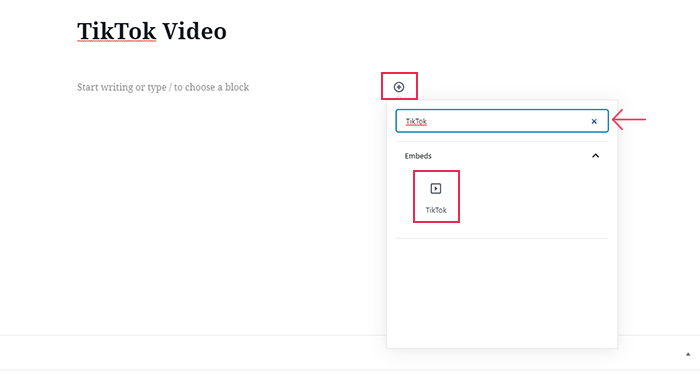 Then, you need to insert the TikTok block in your post editor, paste the video URL, and hit the Embed button. Once again, WordPress will display the video preview in your editor automatically.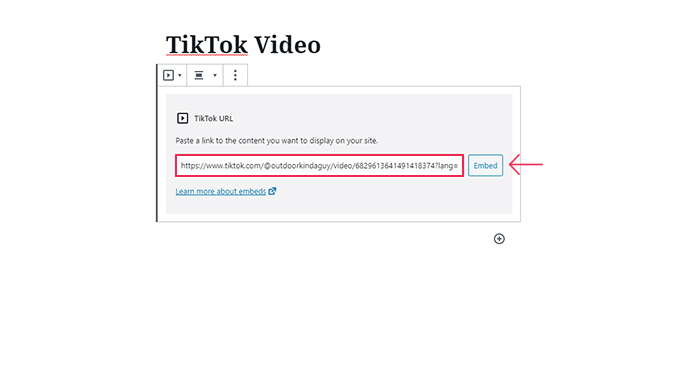 If you want, you can also insert TikTok videos into your WordPress sidebar. Head to Appearance >> Widgets and find a Text widget.
Next, add it to your sidebar area by either dragging it or by selecting the desired widget area and clicking the Add Widget button.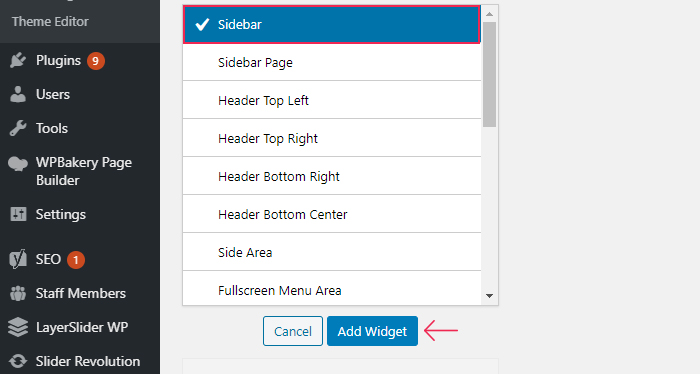 From then on, you should paste the URL of the video into the text area. The video preview will automatically be displayed in the widget text area as well.
Finally, hit the Save button, and you're all set.
Embedding Your Latest TikTok Video Feed With a Plugin
While WordPress does let you embed TikTok videos with ease, you still need to use a plugin to display the latest TikTok video feed on your website. We'll show you how to do it using a user-friendly TikTok plugin called QuadLayers TikTok Feed.
After installing a plugin and activating it, you should head to TikTok Feed >> Feeds tab. Then, select the +Feed button.
A popup will appear, allowing you to make a TikTok video feed. You can choose to display videos either through a hashtag or your TikTok username. Another thing you can pick is whether you wish to display videos in Masonry or Gallery style. Masonry will allow you to display videos in portrait mode, while Gallery will display them as square thumbnails.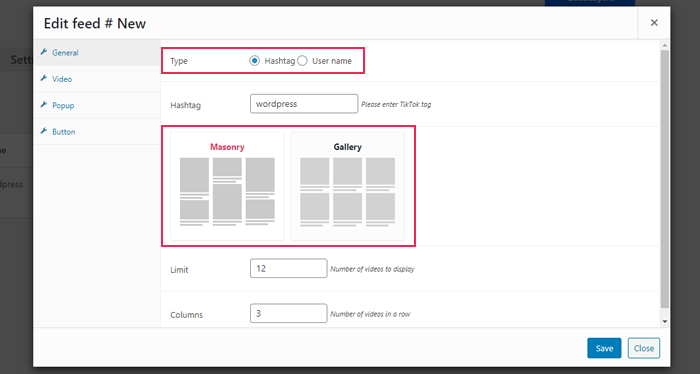 Additionally, you can set the number of videos you want to display, as well as the number of videos you'd like to have displayed in one row.
The Video tab allows you to enable or disable displaying of video controls, prevent video autoplay upon clicking, add more space between the videos, and so on.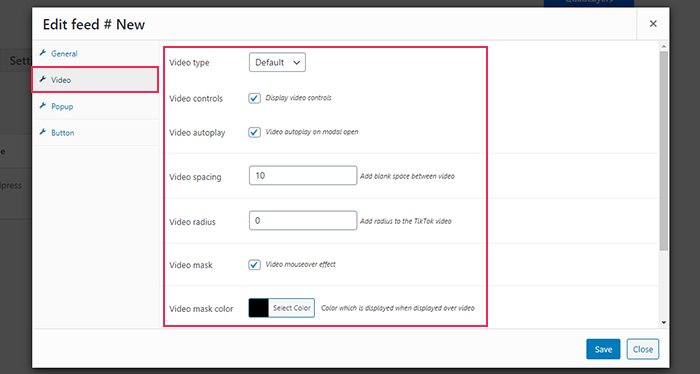 In the Popup tab, you will find the option to enable or disable a popup gallery when a video is clicked (we recommend enabling it as it displays a video on the same page instead of opening a link outside your website). Also, you will get to choose whether you want to display user profile or tag info, video popup text, likes, and comments.
Last but not least, in the Button tab, you will be able to choose whether you want to display the button that leads you to view the TikTok videos on the TikTok site itself. In addition, you can set the TikTok button text (the default button text says "View on TikTok"), as well as button and hover background.
After you're done with configuring all the settings, make sure to hit the Save button.
A new feed with a shortcode will appear. You can go ahead and copy it.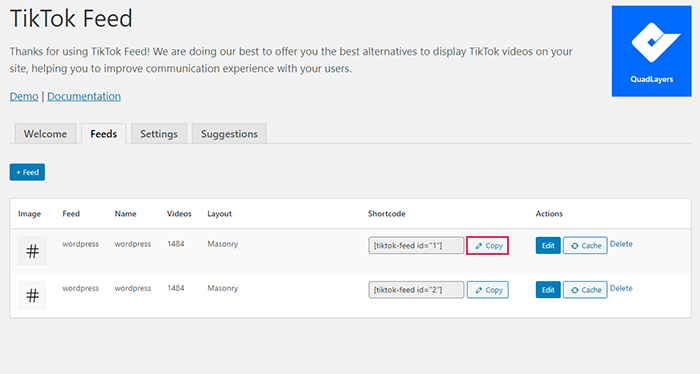 Choose a page or post you wish to add the shortcode to and paste it within the editor by clicking the (+) icon and finding the shortcode widget.
Once you choose the widget, you can paste your shortcode there and publish or save the page/post in question.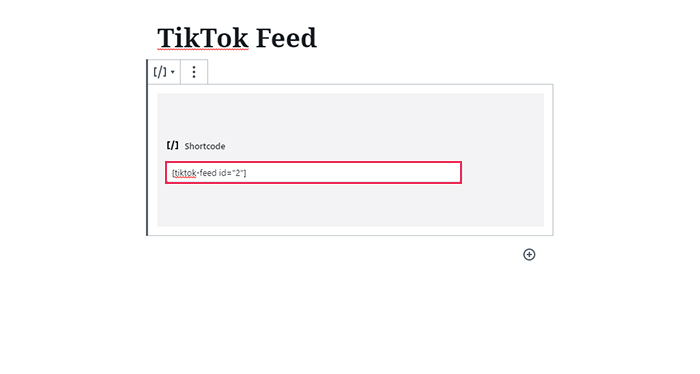 You can go ahead and preview your page/post to see what your TikTok feed will look like.
Finally, you can also embed the same shortcode into your sidebar area. Go to Appearance >> Widgets, find the Text widget, and add it to your sidebar.
Then, paste the TikTok feed shortcode into the widget. Hit the Save button, and that's it – your TikTok feed widget is ready to go.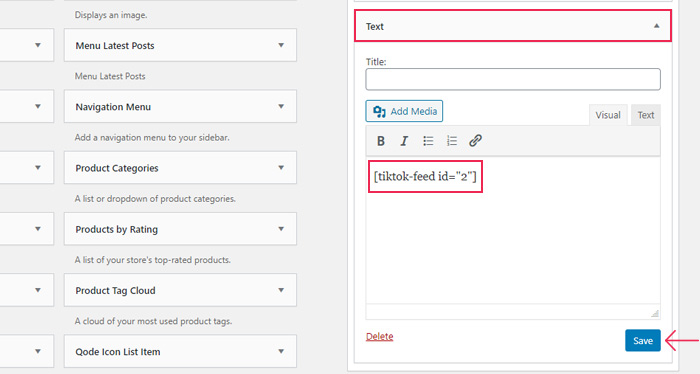 TikTok has quickly become one of the most influential video-sharing social networking services today. Its popularity keeps spreading like wildfire, attracting content creators and brands alike. If you want to get in on all the craze and start using TikTok's marketing potential yourself, we highly recommend adding TikTok videos relevant to your business, brand or niche to your WordPress website. Once you get to doing it, you will quickly learn that embedding TikTok videos into your pages, posts, and widget areas is as simple as it gets – especially if you end up using this step-by-step guide.