How to Change the Default WordPress Gravatar
Now, if you already run a WordPress website, you've probably noticed that WordPress integrates Gravatars. What this means is that when people visit your site and they want to post a comment, their gravatar image will be automatically displayed. But what happens if a user doesn't have a gravatar account? Well, then a default gravatar image will be displayed next to their username. Today, we'll show you how to change that default WordPress gravatar image.
How to Change Gravatars in WordPress
This is what the default gravatar in WordPress looks like:
There's nothing really eye-catching about this image. It's gender-neutral, which is neat, but that's pretty much all there is to it. However, you as an administrator can make the Mystery Person go away and set another image as the default gravatar.
For starters, head over to your dashboard and go to Settings > Discussion. Scroll down a bit, and under the section Avatars look for the Default Avatar option.
Here you'll see the default gravatars you can choose from. Some look rather fun and colorful, but what if you want to use some other image as the default gravatar on your site? Sadly, there's no such option in the WordPress core, but there's a solution to this as well. All you have to do is install the WP User Avatar plugin.
The WP User Avatar Plugin
This plugin is super useful and definitely among the best of its kind. The free version enables you to set any image of your choice as the default gravatar. In case you wish to use your own avatars only, you can disable gravatars altogether. Furthermore, Contributors and Subscribers can upload their own avatars.
There's also the pro version of WP User Avatar plugin which comes with lots of additional and useful options, such as allowing users to use their webcam to get instant avatars, etc.
But let's install the free version now and see what new options it provides. Go to your dashboard, and then select Plugins > Add New. In the search bar at the right side of the screen type in WP User Avatar and once you find the plugin, click on Install.
Now, take a look at the menu at the left-hand side of the screen. You'll notice there's a new option called Avatars.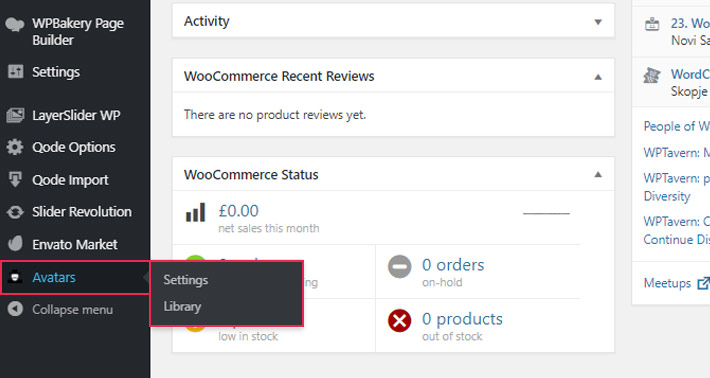 The most interesting option in Avatars > Settings is the first one – Add avatar button to Visual Editor.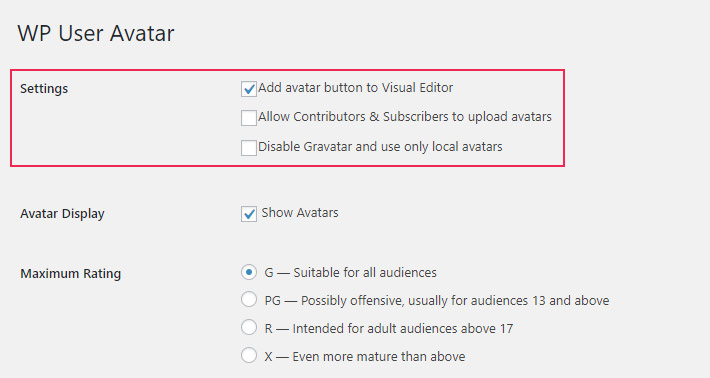 If you enable it, then other WordPress user roles (such as Admins, Editors, etc.) will have the option to upload their own avatar as opposed to using the default one. All you have to do is tick this box, and then users will be able to go to Users > Your Profile and upload the picture they wish to use as their avatar in the Avatar section.
Now, let's head back to Avatars > Settings to see what other options there are.
In Avatars > Settings, you can also allow Contributors and Subscribers to add their own avatar. And you can disable Gravatars altogether if you wish to go with local avatars only.
In the Default Avatar section, there's the option to upload an image to your liking that'll be used as the default avatar for all users who don't already have a gravatar account, which is probably why you've installed the plugin in the first place.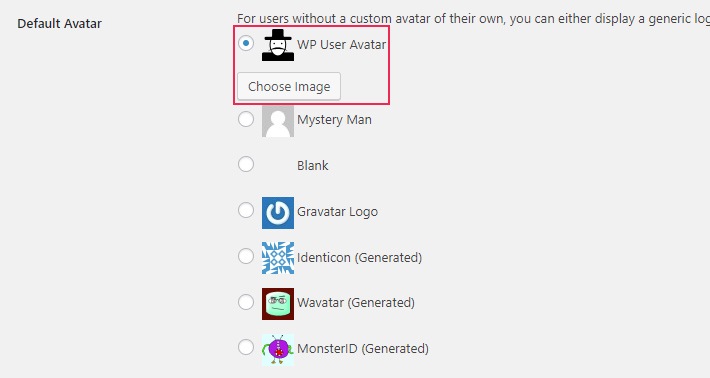 You can choose images from your computer or from the media library of your WordPress website. Keep in mind that there's no need to overdo it and use super large files. Those can significantly slow down your website, so it's for the best to resize images before you upload them. A 200 x 200 px square image will look sharp, and ultimately that's all that matters.
Upon installing the WP User Avatar plugin the option for changing the default avatar appears in Settings > Discussion, where you normally go to set avatars.
To see the list of avatars that other users have uploaded, go back to the main menu and select Avatars > Library.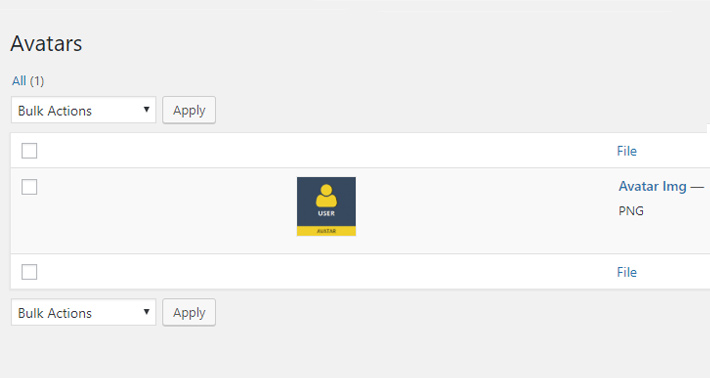 If you're fed up with seeing the bland silhouette of a person appearing throughout your site, you can change it with the utmost ease. Choose one of the predefined gravatars, or install a plugin. The latter will enable you to change the default WordPress gravatar to an image of your own liking, and also allow your users to upload images they wish to use as avatars. No matter the option you decide to go with, one thing's for certain – the Mystery Person days are definitely numbered.