What is a Gravatar and How to Get One
We probably all know what an avatar is. It's a graphical representation of a user on a website or in online gaming communities. It can be an image or an animated gif, depending on the user's preferences and on what a website will allow. In general, they are fairly easy to set up. The most effort anyone will have to put in probably lies in choosing the avatar image.
However, there are some websites, including GitHub, Hootsuite, and sites powered by WordPress, where things work a bit differently. That's the part of the online realm in which gravatars rule. But what is a gravatar, and how do you get one? Today, we'll cover all the basics.
Gravatar stands for a globally recognized avatar. The service was invented in 2004 by Tom Preston-Werner. Three years later it was acquired by Automattic, the company that owns WordPress.com, Tumblr, and several other platforms.
The idea behind this service is quite simple. After users register on Gravatar's official website, they can choose an avatar or upload their own. And just like that, that same avatar will appear next to their username on all websites that support Gravatar. The more active they are on multiple platforms, the more recognizable they become on the World Wide Web. Even without looking at the username, people are able to tell the user, just by glancing at their avatar.
Why Do You Need a Gravatar
When users are active on multiple online fronts, they may find it tiring to upload avatars for every single website they're on. Even if they decide to use the same picture everywhere, they still have to make sure the image is in line with the size requirements on every single platform. To avoid this kind of hassle, Gravatar comes to the rescue.
Having uniform avatars on all channels is especially important for brands and everyone who's trying to make it in a business, regardless of the niche. People need to be able to instantly tell it's you, no matter the platform. If they can associate an image with you, they find it easier to trust you, especially if you build a reputation for yourself on the web as someone who knows what they're talking about.
To get a Gravatar, all you have to do is head over to their official website – gravatar.com. Find the Create Your Own Gravatar option and click on it.
Now, you can enter your WordPress.com credentials to login. If you don't have a WordPress.com account, you can easily set one up, free of charge, by entering the requested details, as pictured below:
It's important the email address you use to register for Gravatar is the same as the one you used to sign up on websites that support this service. That will ensure the same gravatar is displayed everywhere.
Next, you'll receive a confirmation email.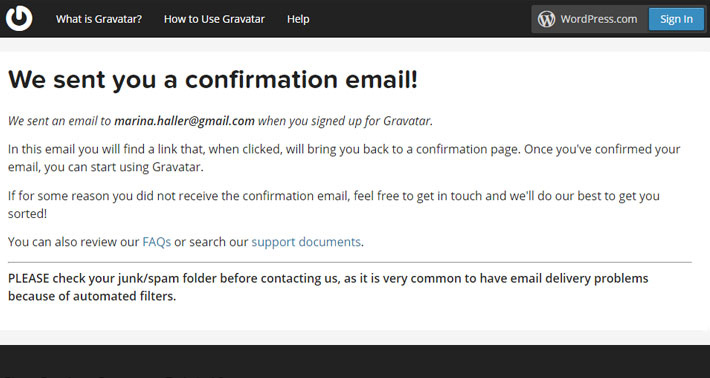 Make sure to check your inbox, to confirm the registration. Once you're done with that, head back to gravatar.com and edit your profile. To do it, click on the profile icon on the right side of the screen.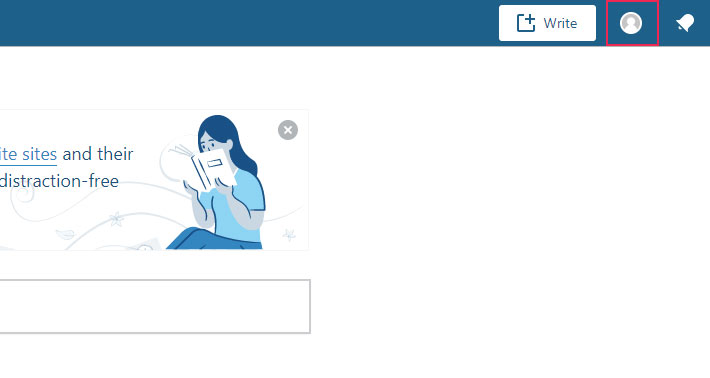 You can upload an image you wish to use as an avatar or go with the default Gravatar image. The latter is not recommended, though, as this is what your avatar would look like: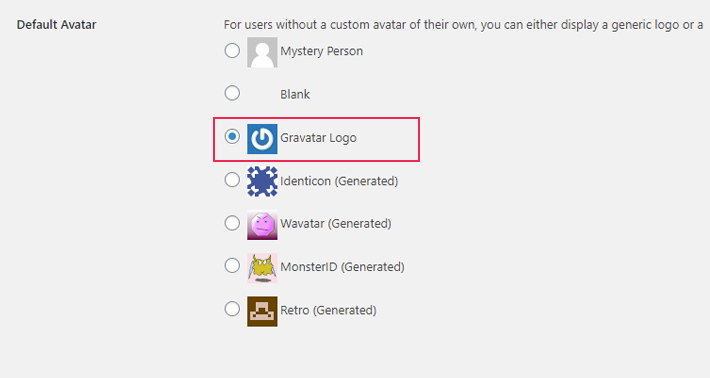 This wouldn't help you really stand out, now would it? Choose a photo you believe represents you the best, and upload it. The default display size for images is 80 x 80 px. You could also specify another size, going up to 2048 px, but if you opt for larger sizes, your images may not look as sharp due to resolution issues other users may experience.
It's also important to mention that Gravatar has a rating system that basically enables you to rate your avatar as G, PG, R or X. Gravatar follows the American movie rating system, where G stands for general audiences and it means the image is not offensive, PG suggests the content is possibly offensive and intended for audiences aged 13 and above. R means the image is for adults only, over 17 years of age, and finally, X signifies something explicit.
Besides adding your photo, here you can also enter additional details about yourself, such as your first and last name, your public display name, and a brief bio. This is useful because of Gravatar's Hovercard feature. To use it, a website needs to have the JetPack plugin installed. Then, users are able to read info about you as they hover over your avatar, so you might not want to leave this space empty. This might be the thing that will cement your status as a totally reliable source.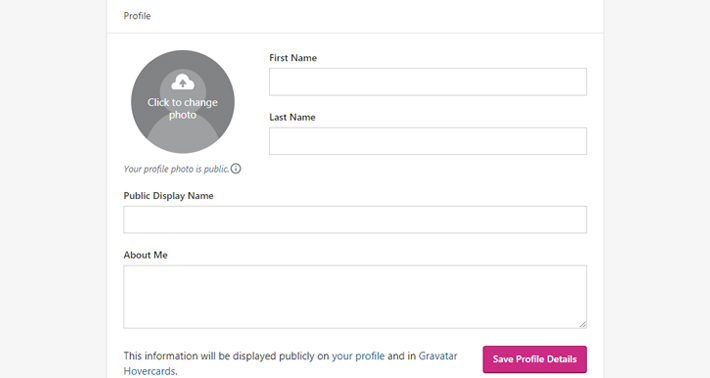 In case you're already running a WordPress website, you may have noticed your WordPress theme came with integrated Gravatars. You can either disable Gravatars altogether or change the default Gravatar, depending on your preferences. Everything can be arranged from the Settings > Discussion section on your dashboard, but we'll delve into that in separate articles.
Gravatars are useful little thingies that grant you better exposure, make you easy to identify on the web, enhance your credibility, and also help differentiate users in a community. And setting up a Gravatar account requires minimal effort from your end. In return, you can greatly benefit from it.
Gravatars will help you become a recognizable, trust-worthy force on the Internet. The more active you are, the more people are going to notice you. As they click on your Gravatar, they'll be redirected to your Gravatar profile. You can link the profile to your official website, and increase its traffic. Furthermore, you can link your Gravatar ID to all the major social media platforms, such as Facebook, Twitter, as well as to websites like LinkedIn, YouTube, Tumblr, etc.
Benefits of having a Gravatar are truly vast, so wait no longer, and set up your account today.