8 Best Store Locator Plugins for WordPress
The internet has made shopping easier than it ever was, but many shoppers still prefer a brick-and-mortar store. However feature-rich an online store, all the images, video, and product data can't replace the look and feel. Also, sometimes it'd be downright irresponsible of you to make a purchase online. Would you buy a used car before giving it a test drive, for instance? Additionally, there are people looking to satisfy a momentary craving. Imagine being out and about and suddenly craving a cup of your favourite blend of coffee or a heaping scoop of ice cream. It must have happened to you at some point or another, right? Simply visit the website of your coffee or ice cream chain of choice and find the nearest one. But hold on – the store you like doesn't accept cards at the moment! No problem: simply look up your bank's nearest ATM.
If you are running a website for a company with multiple store locations, you can scarcely do better than take a pick from our list of best store locator plugins for WordPress, and then mix it up a little if you are particular about modifying your map's look and style in order to make it a better fit for your website.
These are the plugins we will be reviewing here:
WP Store Locator is a free plugin which does what it says on the tin: it creates a map for your customers to peruse and pick the store most convenient for them. It is powered by Google Maps, which provides you with global up-to-date and accurate maps. But maps are only the beginning: with this plugin, your maps come with various features typical of Google Maps, such as driving distances and directions. Your website visitors will also be able to filter their search results by radius, making finding and choosing a location as easy as can be.
You can create an unlimited number of stores with this plugin, and assign them individual working hours, phone numbers, e-mail addresses, and other metadata, providing your visitors with a host of options for refining their search and contacting individual stores' staff. WP Store Locator also boasts WPML and qTranslate X compatibility, making it a great choice for multilingual websites.
Free and easy to set up and get going, Locatoraid is a Google Maps-powered shortcode-based plugin. It comes with a variety of map styling options and several shortcode parameters you can use to fine-tune your visitors' searches and guide them to the right location. You can, for instance, choose to display a map, a list of locations, or both, limit searches to a country or a city (or any combination thereof), modify the default search string, set the map's starting point, search radius, and make many other tweaks.
Locatoraid's Pro version expands this list of features by allowing you to add up to 20 custom fields for more info about your locations, CSV export/import, custom map icons, and more.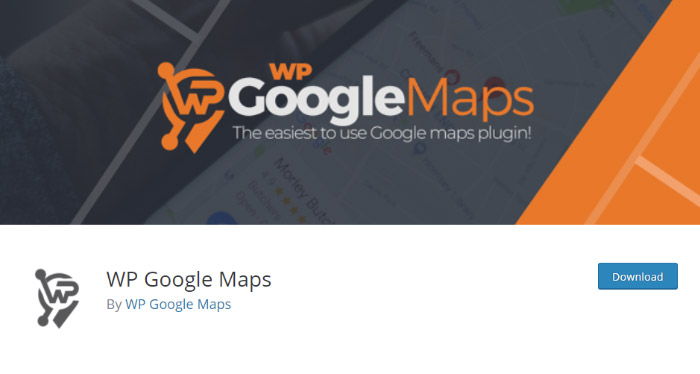 WP Google Maps allows you, in its free version, to create a custom Google Map with as many markers as you like. You get nine different map styles and the standard four Google Maps types (road, terrain, satellite, and hybrid). The free version allows you only one map, but you can populate it with however many stores you like simply by typing in their addresses. The plugin, not at all surprisingly, comes with Google Street View support, for even easier getting around.
Now, that is only the free version. With the Professional Edition of the plugin you can create multiple maps, get directions support, and expand your markers by adding links, images and descriptions to them, alongside a multitude of other useful functionalities and editing options. This will also remove all of Google's advertisements.
WP Multi Store Locator is a free and simple plugin which allows your visitors to locate your stores and access a lot of information on each of your physical locations. You can easily supply each marker with a street address, web page link, and directions. The plugin also supports search by categories and tags. With the free version, your visitors can search nearby stores from their location, or from any locations they choose, as well as search by region.
The pro edition expands on this by adding the ability to create multiple maps, map clusters (showing a number of nearby locations when zoomed in), detailed driving directions and road map powered by Google Maps, as well as the all-important statistics, which you can use to determine various important data on demand, sales, and performance.
A premium map plugin, MapifyPro comes with all the features you need to create an unlimited number of fully interactive, fully customizable maps within minutes, whether using the provided Google Maps, or using whichever vector graphic you like. You can add however many markers you like and customize them to fit your needs: add links, photo galleries, and videos to each and every one of your locations, for instance. Its store and product locator functionality allows your visitors to search nearby locations and filter them by radius. And there is even a free lite version if you want to try it out.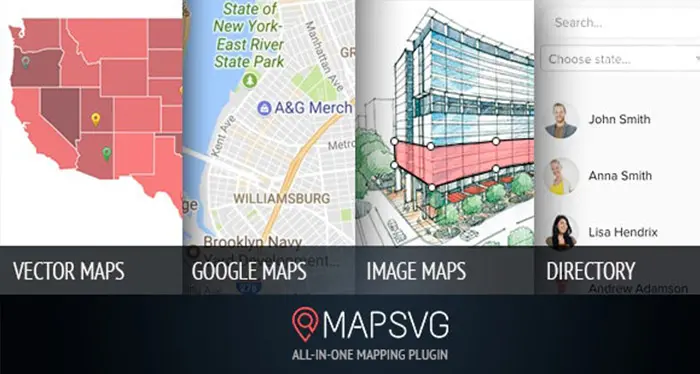 Another professional plugin, MapSVG is a comprehensive, Google Maps-powered map plugin with a powerful store locator functionality which allows your visitors to simply search for nearby locations of your stores and filter them by distance, as well as city, address, store type, or any other custom field. The plugin comes with a suite of vector maps and tools which you can use to create any number of custom maps, including drawing tools and custom shapes. You can also use this plugin to convert any SVG file into a map to which you can then add however many custom features you like.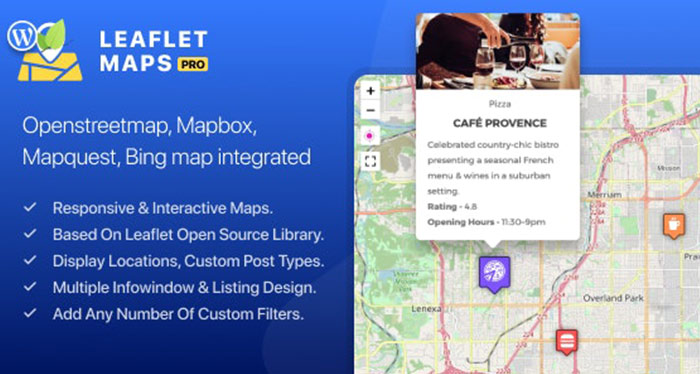 WP Leaflet Maps Professional is another comprehensive plugin. It is based on the leaflet.js open-source library for interactive maps. This means you can use Google Maps, but also Bing maps, Open Street, and Mapbox – the choice is yours. It allows for an unlimited number of locations, filtering by category, tag, or custom taxonomy, and multiple maps on the same page. You also get several listing designs, all of them customizable, which you can use for different location types. The plugin comes with hundreds of customizable icons and popup images and descriptions for each location.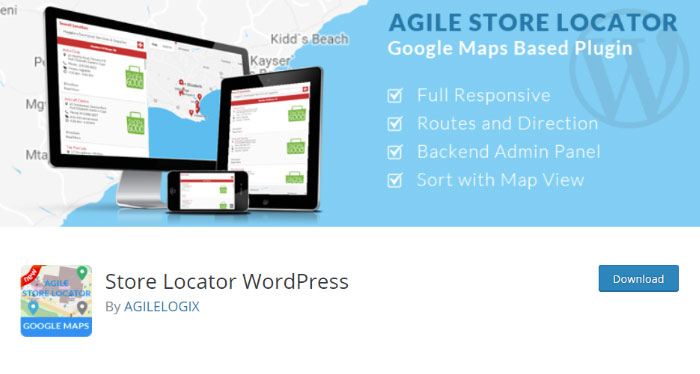 A feature-rich, comprehensive map plugin, Agile's free version likely has most of what you could possibly need from a store locator plugin. From the basics, such as adding unlimited new markers with ease, adding custom fields for easy searching and filtering, limiting searches by country, and filtering by city and country, through directions and map languages, all the way to styling options such as logo selection for each individual store.
The premium version expands that by adding even more unique templates and layers, making sure that the map will make a good fit for your website looks-wise, multiple search result layouts, the option to exclude closed stores from the search altogether, CSV export/import, marker clusters, and more.
This concludes our list of store locator plugins. If you are spoiled for choice, take a closer look at the features. If the website you're running serves a small number of local stores, then you might not even need one, but it's a sound strategy to pick a free one and learn how to use it in case your business starts to expand. With Locatoraid, Agile and WP Store Locator, you get versatile, yet easy to use tools without having to pay a premium price. If you want a custom map design, though, you will need a pro plugin such as MapSVG or MapifyPro. Don't feel like using Google? Go with Leaflet. In any case, the choice is yours, and we feel we've supplied you with plenty of options.