9 Best WordPress Menu Plugins
A menu is one of the most important navigation elements on any website. It guides your visitors to the content they need while neatly tucking away all the links, so they don't take up a lot of space on your home page. While optimizing your website's navigation is an important thing to consider in terms of UX, a well-designed menu is also an important visual component of your website – it can be made to look beautiful, as well as utilitarian. This is why there is a wide array of menu plugins for WordPress: there's bound to be one just for you, no matter your preferences.
WordPress's default themes already come with a menu solution. Why would you need a plugin? Well, we have an answer to that as well.
Why Do I Need a Menu Plugin?
WordPress's default themes do have a menu feature out-of-the-box. Still, this feature has its limitations. It is pretty much bare-bones, in fact: you only get one layout, and it may take a long time to construct anything but the most basic of them. But even a basic menu has a lot of options. If you want to learn more on how to create a menu in WordPress, you can check out our handy tutorial.
Still, the very popular mega menu does not come with the default WordPress themes, and neither do menus with rich media, such as product pictures.
All of these shortcomings, minute though they may seem, can be overcome by a theme's options. But sometimes you will find yourself working on a shoestring budget, and unable to afford a professionally developed theme with multiple menu layouts. Or it may happen that a theme which works great for your website does not have in-built the menu layout or features you would want to have. Maybe you want very media-rich menus, maybe sticky menus, maybe a vertical or a tabbed menu. Or maybe you want to make menu design easier using a visual menu editing tool.
You can still have all that, and more, with a WordPress menu plugin. These are the plugins we have selected for you:
QuadMenu is a plugin which provides you with the option of creating adaptable and responsive mega menus. The feature we feel might be most interesting to new users is the visual drag-and-drop menu editing tool. You can use it to add, remove, and organize all elements, including widgets, to your WordPress menu. The customization options are also very extensive, allowing you to fit the QuadMenu into any website layout or style.
Among QuadMenu's many features are various menu orientations (vertical, horizontal, sticky, among others), screen size-dependent menu contents, dropdown animations and menu display conditions (on hover or on click). The plugin comes with Google Fonts and Font Awesome support.
The pro version of the plugin comes with several eye-catching menu layouts, such as tab menus and carousel menus, as well as many other interesting options.
If you are looking for an automatically updated menu feature, Advanced Sidebar Menu may be just the thing for you. You can use it to automatically manage menu hierarchies using the parent/child feature of your pages and categories. You can keep your menu clean simply by assigning your pages and categories parent/child relationships, and the menu generates itself. This doesn't mean that the plugin is somehow fixed: you can still exclude categories and pages very easily, either individually or by hierarchical level, and order pages differently (by title or time of publication). This plugin creates a sidebar menu, though, but it being automatically generated makes it a great solution for websites with a large number of articles. It does require some organizing, as the plugin simply displays the children of whichever page you are on.
The plugin's pro version comes with some advanced styling options, custom post types in menus, support for a custom navigation menu (i. e. not a sidebar menu), and more.
WP Responsive Menu is a plugin which replaces the default WordPress menu with a more responsive, customizable, and animated menu feature. You can set up menu direction, set the menu to open and close using a swipe command, animate menu icons, and easily configure font size and styles. It even comes with an optional menu search box.
A feature of its responsive design, you can configure this menu plugin to show or hide categories depending on the screen size of the device your visitor is using to access it.
The plugin's pro version comes with additional features, such as WooCommerce integration, social media icons, Google Fonts support, RTL support, and more.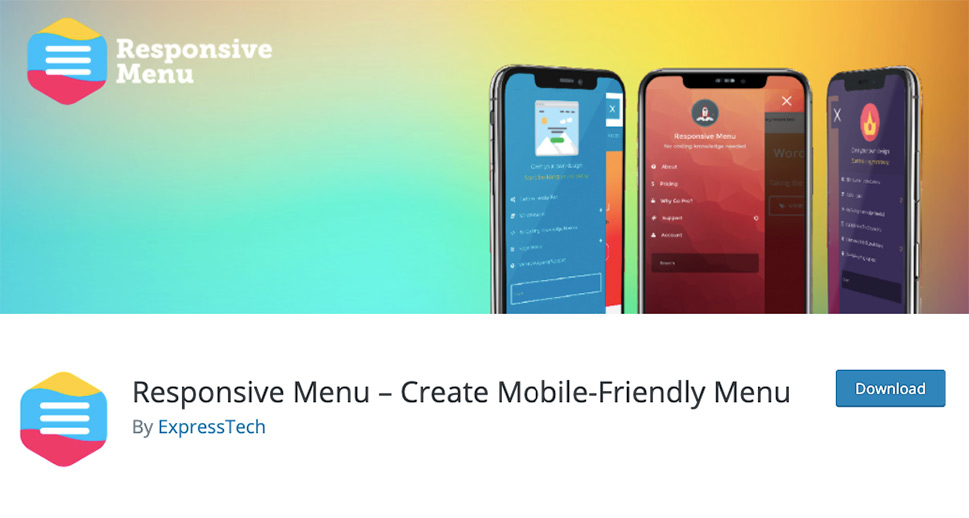 Another menu plugin designed to be mobile-friendly, Responsive Menu offers a no-fuss solution for your responsive menu needs. It comes with a broad gamut of customization options, including those for font colours, sizes and alignment, a menu background image feature, a selection of menu animation types and speeds, custom menu triggers, and variable menus depending on screen size. The developers have also provided a demo if you want a handle on what it looks like to your users.
WP Mobile Menu provides you with an easy way to create responsive menus which work great on mobile devices primarily, but also offers some interesting features overall. You get three levels of menu depth, an overlay on menu open, variable display types, as well as the option to show or hide various menu items on mobile. One stand-out feature we are particularly fond of is the background image for menus.
The premium version of the plugin comes with several features which depend on the pricing plan, such as variable menus depending on the page, hiding menus for specific pages, WooCommerce integration, priority support and more.
As the name suggests, Max Mega Menu is a menu management plugin which converts your existing menus into mega menus. This gives you the option of adding widgets to your menus, changing the menus' behaviour, and restyling the menu using your theme editor. This plugin also facilitates mobile-friendly design, with options to hide submenus on mobile devices and customize menu behaviour depending on the device used to access the website. And that's only the plugin's free version.
Max Mega Menu's pro version comes with such features as sticky menus, tabbed menus, a search box and many more. The developers have also provided a demo, so you can see the plugin in action.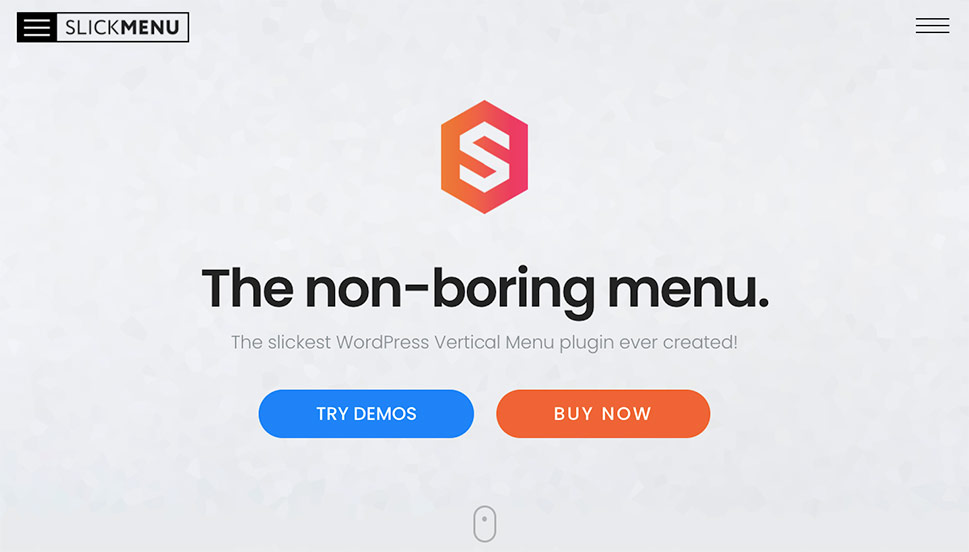 Slickmenu is a premium plugin which provides you with a slew of layouts and animations specifically designed to look great on any device. You can create unlimited subcategory levels and customize each one of them to appear or be hidden depending on the device, or even how they appear in terms of dimensions and media content. The plugin also comes with a menu search box, an extensive icons library, background images and videos, and more. This extensive features list is not dependent on the pricing plan. Instead, the pricing plans only depend on the number of websites you wish to use it for.
The developers have also provided numerous free extensions to further improve the user experience: easy duplication, dynamic posts as menu items, and social media icons and one-click export/import.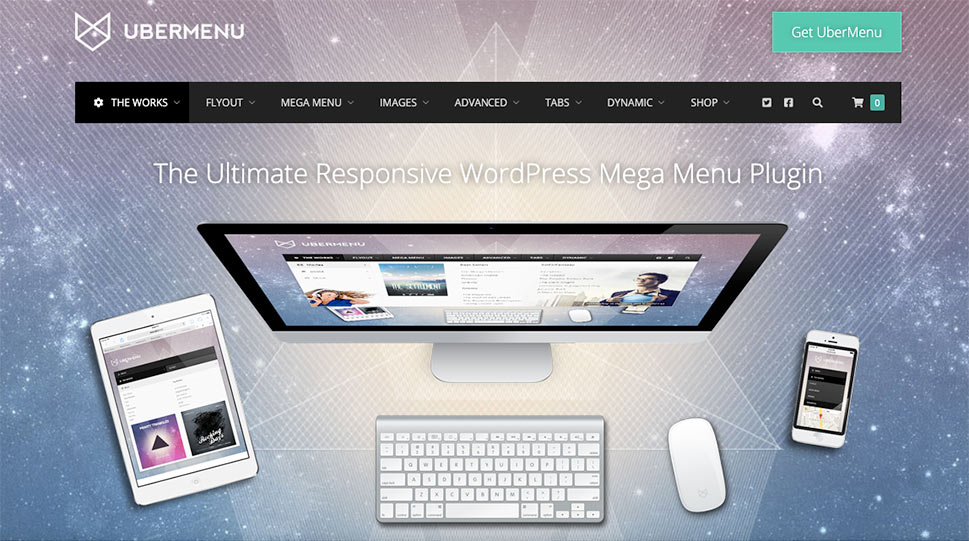 A premium menu plugin, UberMenu boasts a grid menu building system with layout controls which allow you full customization of each individual menu item. Lay out your menu items in columns, tabs, rows, and pimp it up with images, icons, and other media. You can orient your menus as you like, and configure their behaviour. As should be expected, your menu also contains as many widget areas as you like. But you don't need to do all the design work from the ground up: UberMenu comes with several pre-designed layouts which you can use as a starting point for your menus.
The plugin can also automatically generate items based on existing parent/child relations. These items can then be automatically subdivided into columns and inherit featured images. You can then filter them by type, term, author and other criteria.
Superfly is a premium WordPress menu plugin which you can use to generate a wide variety of menu layouts: vertical push, sliding, or static navigation, compact icon toolbars, and full screen menus. You can then use these menus in addition to your main menu, or you can completely supplant WordPress's default. Even putting layouts aside, Superfly allows you to style your menus using columns, separators, font settings, icons, and more. Its with a wide range of styling options also includes image and video backgrounds, submenu options, and all easily available through a visual editing tool.
This concludes our list of WordPress menu plugins. But which one is right for you? Well, the first consideration is your budget, and the second is style. The premium plugins we've covered – Slickmenu, UberMenu and Superfly – will between them have all the functionalities your users could possibly need. The downside of premium plugins is that you can't test them. What you can and should do, though, is take a long look at the list of each plugin's features and have a good think about them. If you are on the lookout for a free plugin which will allow you to create richer, more engaging menus, QuadMenu and Max Mega Menu might be right for you. And if mobile-friendly design is your first concern, a likely solution is WPResponsive Menu, Responsive Menu, and WP Mobile Menu. Whichever whatever plugin you choose, we are confident we have you covered.