6 Best LinkedIn Plugins for WordPress
Regardless of your industry, promoting your website on social media is one of the best ways to generate more website traffic and gain more visibility in your niche. To get the most out of this strategy, connecting your website to some of the most popular social networks (such as Twitter, Instagram, Facebook, and LinkedIn) can prove to be particularly beneficial.
As a vastly popular social network that counts over 760 million users, LinkedIn is an ideal platform for all types of businesses out there, from startups and B2B companies to huge corporations. In other words, by connecting your website to LinkedIn in some way, the chances of more people viewing and sharing your content will naturally increase, along with attracting more customers.
Just like auto-posting to Facebook from WordPress, connecting your website to LinkedIn is quite easy if you use an appropriate WordPress LinkedIn plugin. Here is a list of the best plugins that will help you drive LinkedIn users to your site – and vice versa:
WP LinkedIn Auto Publish is a simple and lightweight plugin that allows you to automatically publish posts, pages, and custom post types to your personal LinkedIn profile or company page. What's particularly great about the plugin is the option to choose who you want to share your posts with and choose between simple text sharing and a more advanced type of sharing (that lets you add a featured image alongside your text). If you want, you can also set a default share message format with dynamic shortcodes that you can easily override in the post meta box settings. There is also a filtering option that allows you to publish posts based on categories. Finally, you can even choose not to share certain posts using a checkbox option that is available on every post.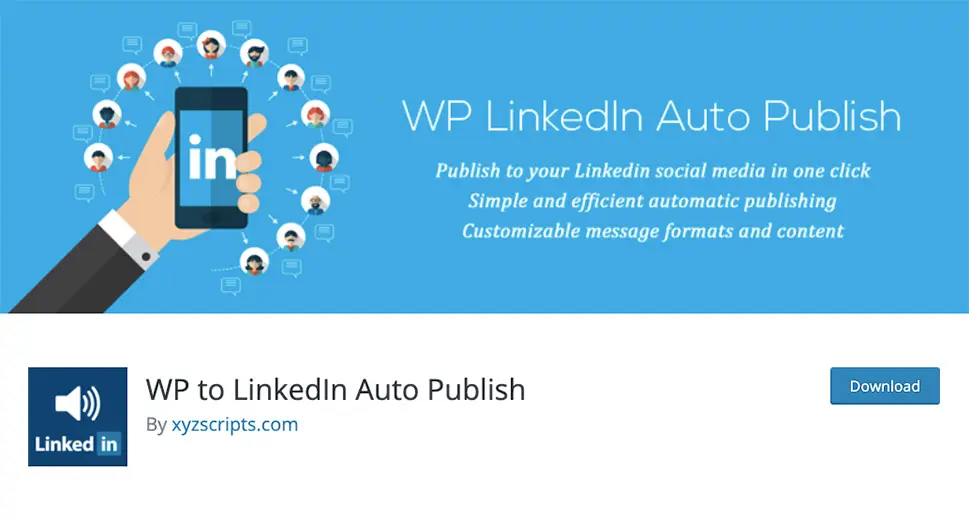 Created by XYZScripts, WP to LinkedIn Auto Publish is another handy plugin that allows you to auto-publish your WordPress posts to LinkedIn, be it a personal profile or a company page. You can choose from publishing your posts as a simple text message or as a text message with an attached image. Also, there is the option available for filtering posts to be published according to custom post types and categories. When it comes to message format settings, the elements that can be published include a post title, description, excerpt, permalink, a blog title, and a publish date, among others.
Another awesome plugin that can help you increase your website traffic and engagement, AddToAny Share Buttons allows users to share your posts to any social media services, such as LinkedIn, Facebook, Twitter, and over a hundred others. If you opt for this plugin, you will get access to different types of share buttons (standard and floating), follow and image sharing buttons, and some official buttons such as the LinkedIn share button. In addition, you will get to choose the custom placement and set the appearance of these buttons, display share counts on your posts and pages, and so on.
Finally, AddToAny is fully mobile-optimized, comes completely for free, and has vast ongoing support from the community, which means you will easily fix any issues you may have during the use of the plugin.
LinkedIn is, without a doubt, the biggest business-oriented social network on the web. If you plan to leverage its power to spread awareness of your brand, one of these LinkedIn plugins for WordPress is bound to help you out. Each plugin on our list comes with everything you need to easily connect LinkedIn to your WordPress site – from various auto-sharing options to social sharing icons you can easily display anywhere on your website. You just need to pick the plugin that seems to be most suitable for your needs and you'll be one step closer to achieving your business goals.