7 Best WordPress Booking Plugins
In this day and age, for any business, an online presence is a given. But simply having a webpage that displays your basic info is only the beginning – and it does nothing for your visitors that, say, a poster or flyer doesn't. What your visitors will appreciate is a way to interact with your business.
Your visitors expect to interact with you in a meaningful, businesslike and utilitarian manner. You could create a message board, or provide a click-to-call button, for instance. But one of the most useful ways to have your visitors interact with you is to let them make reservations and appointments while avoiding phone anxiety. The easiest way to do this would be to use a theme with an integrated booking solution. But if the theme you're using doesn't come with a booking functionality, you ought to take a look at some WordPress appointment plugins.
We have selected some plugins for their variety of functionalities, but all of them have the basic options you need to create a practical booking form:
What to Look for in a WordPress Booking Plugin?
The first thing you need to be on the lookout for is, obviously, a calendar. Sure, you can jury-rig a contact form to act as a booking form. But why go to the trouble when there are plenty of plugins which offer a detailed calendar overview (or Google calendar integration), which is much easier to work with from a UX point of view.
Next, you'll want a plugin which allows your users to view their bookings, through staff profiles, visitor profiles, or both.
E-mail notifications are also a useful feature. A plugin which can be set up to notify both the visitor and your staff of made reservations, so as to avoid double booking.
Ideally, your plugin should also be mobile-friendly, so that your customers can easily make bookings from their phones. This is an important consideration, as mobile internet access grows in prevalence.
Finally, what you might also want to consider are payment options.
With these useful functionalities in mind, let's dive into the individual plugins.
Amelia is an excellent solution for small businesses: it does all the work around booking and appointments a small business might conceivably need. It has a single-page interface with a strong focus on UX.
You can set up multiple locations and types of services, as well as individual employees (useful for, say, law offices, dental services and spa parlours) and their available dates and times. The customers can then pick and choose among these options and immediately offer payment. The plugin is integrated with WooCommerce and has in-built PayPal and Stripe functionalities to help you with payment processing.
Your website admins will have an easy overview of all the appointments made, with multiple viewing styles (monthly, weekly, daily) and filters for employees, locations and categories of services. The plugin has a minimal design which can be easily fitted into most website solutions, with four different shortcode-based front-end looks. The plugin can also be configured for email and text message notifications, keeping both your staff and your customers up to date.
We have already covered this plugin in detail, so for an in-depth overview of all the options, you may want to take a look at our Amelia how-to guide.
Booking Calendar is one of the most popular WordPress booking plugins for a reason. For starters, it's free – unless you want to use it on multiple websites. Secondly, while being very simple to use, both for the website visitor and the admin, this plugin still offers a wide variety of options and features. For instance, your visitors can book days (suitable for hotels or similar businesses) or time slots (great for spas, hairdressers, etc.). You can add your own custom fields to flesh out your services better. And this appointment plugin comes withe-mail notifications, as well as a built-in captcha functionality to help you avoid spam.
The calendar feature shows the number of booked, available, and pending days or hours, and the plugin also allows you to double-book and sort out the bookings later. On both the back end and the front end, the plugin offers a responsive interface. It provides a Gutenberg block which can be easily integrated into pages on your website.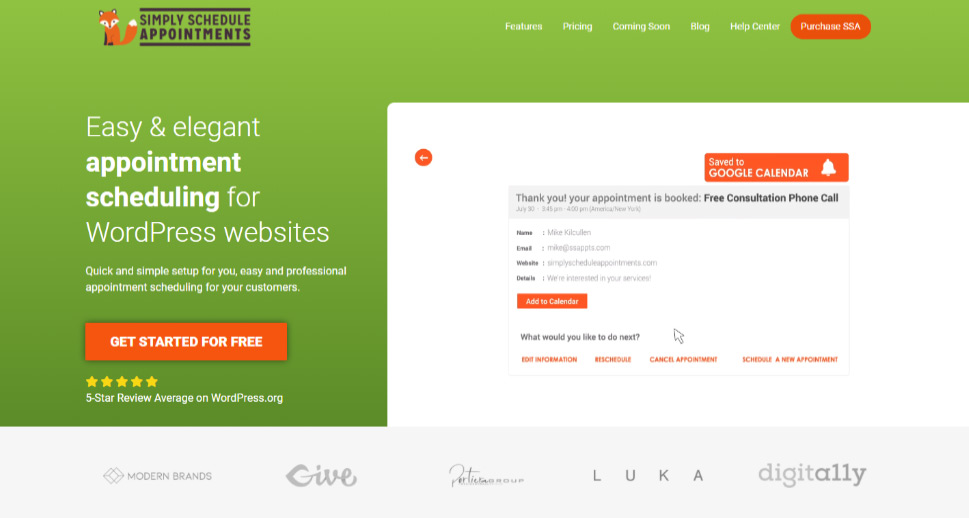 Simply Schedule Appointments is an easy-to-use, clean, and customizable appointment scheduling plugin for small businesses and agencies. It's also well known in the WordPress community for its helpful setup wizard, active feature development, and 5-star customer support.
This scheduling plugin is perfect for automating the scheduling process with new website visitors, as well as existing customers. Their features allow you (and your team members) to display your availability, sync with Google Calendar, and send confirmation and notification emails and texts for scheduled appointments. Additionally, their integrations with Stripe and Paypal make it easy to accept payments for certain appointment types—like paid consultations or strategy sessions.
Simply Schedule Appointments also features a robust list of integrations, including Gravity Forms, Formidable Forms, LifterLMS, and more. If you're using a page builder, you'll be happy to know this plugin also works seamlessly with Elementor, Divi, and Beaver Builder, which means you can easily drag-and-drop your availability calendars anywhere on your website within seconds, as well as show logged in WordPress users their upcoming appointments.
Check out their Basic Edition, which is 100% free with unlimited appointments and appointment types, as well as their Premium Editions, which include their advanced features and integrations, to see what's right for you and get started today.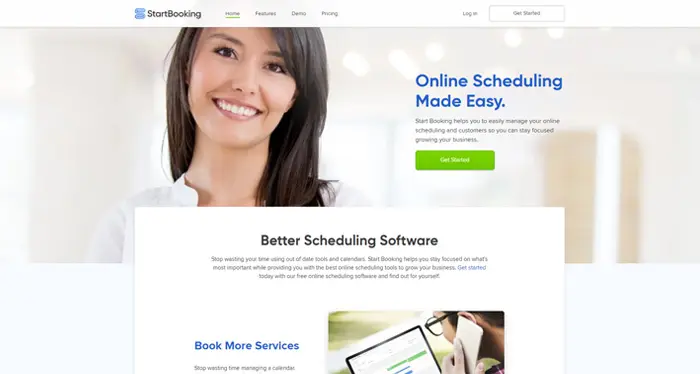 A versatile WordPress appointments plugin, StartBooking allows you to quickly set up booking forms for your website. This premium plugin supports multiple locations with specific working hours and days, as well as individual staff profiles and customizable time slots for each available service. Support for multiple service booking forms with customizable fields is provided through shortcodes – you can have a custom booking form for each of the services you offer.
You can also create customer classes for group booking. Customer profiles with an appointment history and log functionalities are also provided. This is a feature medical practices or beauty parlours might find interesting, as it allows your staff to assess their clients' needs and personal history and make personalized notes on them.
Insomuch as calendars are concerned, StartBooking integrates seamlessly with Google Calendar easing your notification systems across platforms and devices. For easy online payments StartBooking integrates with Stripe.
Depending on the payment plan you choose, StartBooking can also be configured to send SMS and email notifications, support the use of coupons, or integrate with Google Analytics. The developers are also currently offering a free 14-day trial, and a custom configuration as needed.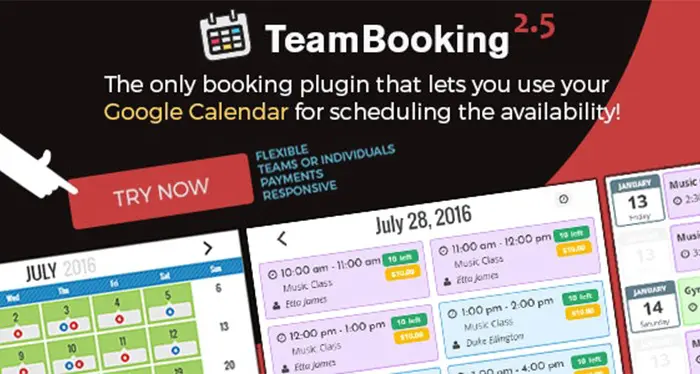 If you are used to using Google Calendar, Team Booking is a plugin well worth your attention. Team Booking offers three front-end styles: a calendar view, a view for services independent of a specific date, and a view integrated Google Events. On the admin side, you just create an event in Google Calendar. For your website visitor that event becomes an available booking slot. Once booked, the event is updated and you are notified. And as an extra step towards Google integration, this plugin also integrates Google Maps, which make sharing locations with your customers extra easy.
Team Booking supports single appointments, events for which tickets are needed, and unscheduled services( meaning your customers can prompt a booking themselves). And all of this works using simple shortcodes. The plugin also supports PayPal and Stripe payment processing, as well as email notifications.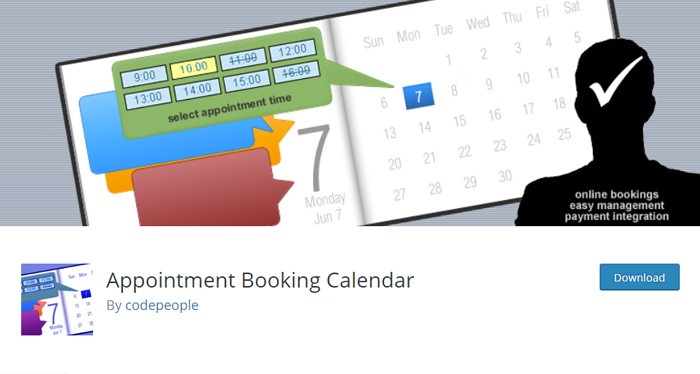 If you are already using PayPal you might want to take a look at Appointment Booking Calendar. The free version of this plugin integrates with PayPal, but that's not the only thing about the plugin that matters.
Appointment Booking Calendar uses a calendar to set up available time slots (with service capacity, too) which your visitors can then review and book – even several slots at once, depending on the service. The admin can also set whole intervals of availability and also a minimal number of slots – suitable for flat renters or hotels. What's interesting about its front-end is that it only shows your available slots, easing your visitor's way to a successful booking. Still, you can show your visitors the entire calendar for them to browse.
On the back end, we greatly appreciated the possibility of introducing available slots by importing a Microsoft Excel file or even a comma separated string. Automated email notifications are available for both the customer and the customer.
Bookly is a WordPress booking plugin which comes in a free and a paid version, with the free version already providing everything you'd expect from a booking or appointments plugin. It is very user-friendly, allowing you to customize its looks without any technical background or specific knowledge. It sports a responsive design on both the front end and back.
The feature that sets Bookly apart is the possibility of setting multiple service providers, which allows you to set up your staff to accept individual, personalized appointments. On the back end side, the plugin makes it very easy to define the intervals during which a visitor can book an appointment, and the payment options are there to avoid no-shows. The plugin's calendar offers easy overviews and an intuitive interface for both visitor and admin.
This concludes our list of booking and appointment WordPress plugins. If you are looking for a simple way to approach your customers, try a free plugin with all the basics – just the bare bones will do for a simple booking functionality. But if you are looking for a way to manage bookings and appointments across multiple locations offering a range of services and specialized staff, you are sure to find a good fit among the premium plugins on this list. Remember to shop around for options which seem the most useful for you, while remaining mindful of what your visitors' expectations and needs – simplest tends to be best, but in some cases you want all your options on the table.