6 Best Table of Contents Plugins for WordPress
Every website or blog owner strives to organize their content in a way that is smooth, clean, and easy to navigate. Of course, there are different strategies and website navigation elements you can use to achieve this goal – and adding a table of contents is one of the things that can be great for improving your website's UX.
Representing a list of anchor links that, when clicked on, instantly take users to a specific destination on a page, a table of contents (or TOC) is especially useful for long-form content. For example, it can be used in particularly lengthy articles, on a FAQ page, and any other type of content that would do well if split into different sections, like a list of products, services, and so on. Apart from its ability to help users find what they need quickly and efficiently and improving the overall readability of your content, a table of contents is also capable of enhancing your website's SEO by displaying specific headings and/or sections in search results.
All these are more than enough reason to include a table of contents into your pages or posts. And while there are ways to do so manually, we recommend installing one of the available WordPress table of contents plugins. Not only are these plugins specifically made for this purpose, they are quite easy to use as well.
We've singled out some of the best solutions in this category, so be sure to check them out:
Coming with a set of 60 flexible widgets, our free Qi Addons for Elementor plugin will allow you to fully customize the elements and sections on your website in a variety of ways. The plugin comes with everything from business and showcase addons to creative, infographic, and even SEO elements.
Among its list of SEO elements, you will also be able to find a Table of Contents widget. This widget will help you create different types of tables of contents for your site and customize them to fit your design. You will be able to easily define your title and subtitle tag (H1, H2, H3, etc.), choose the alignment of your table of contents, change the colors and typography of your text and items, and adjust the spacing style. Moreover, you will get to fully customize the list style of your table of contents widget and set its type, position, change the look of your list bullets, and so on.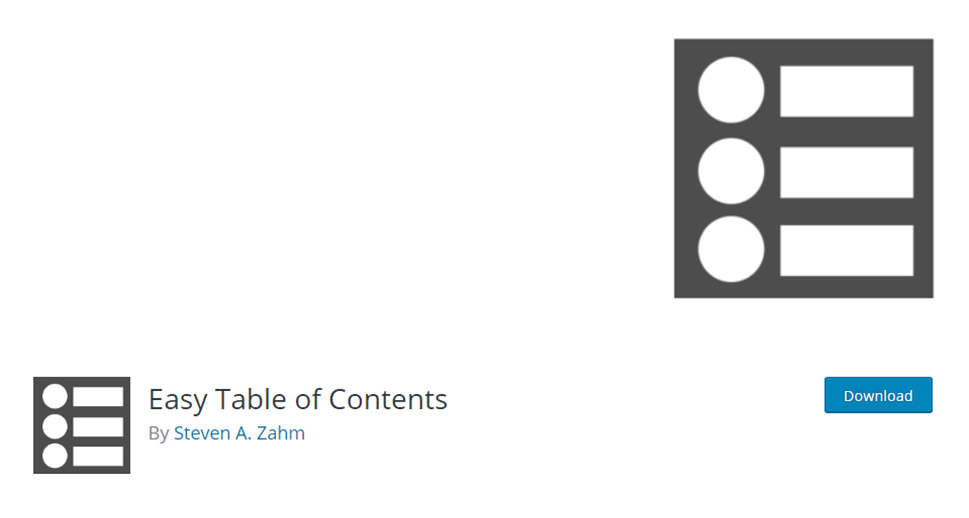 As its name indicates, Easy Table of Contents is one of the most user-friendly plugins of its kind. It will allow you to easily add a table of contents to your WordPress posts, pages, or custom post types – be it automatically or manually. What's also great about the plugin is that it works with many different WordPress editors, such as WPBakery and Elementor, among others. Of course, it is also Classic Editor and Gutenberg-compatible.
You can also adjust the look of your table of contents using a few user-friendly options, choose from multiple bullet formats, change border, background, and link colors, and so on. Finally, you will be able to selectively enable or disable TOC on specific pages or posts, add it into your sidebar using a widget, and so on.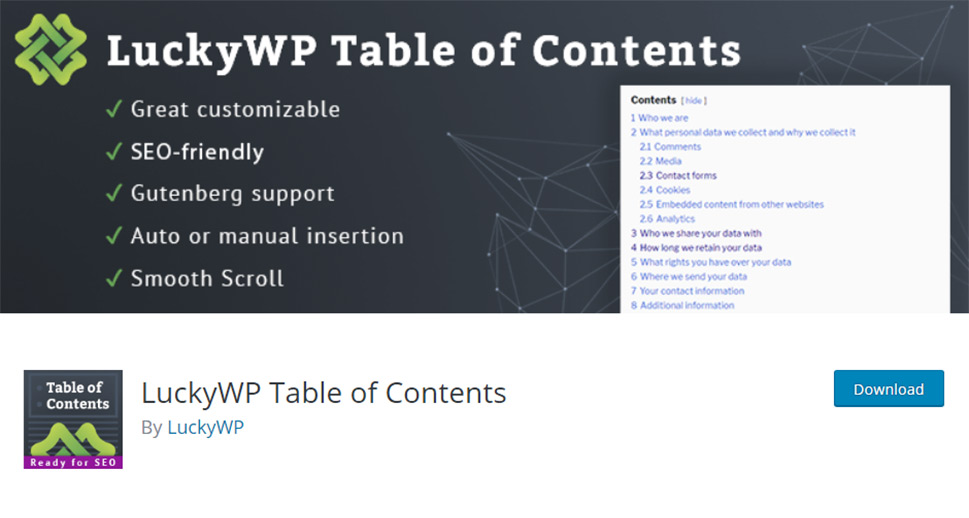 With a rating of 5 stars on wp.org, LuckyWP Table of Contents is another great plugin that will allow you to add an SEO-friendly table of contents to your pages, posts, or custom post types. You can insert it via a shortcode, using a Gutenberg block, or through a widget. You will be able to set the minimum number of headings to display your TOC, choose between hierarchical and linear view, customize the appearance (such as width, title font size and weight, colors, etc.), pick from different color schemes, and more. Additionally, you get RTL support, the ability to position your table of contents in multiple ways, insert it automatically or manually, etc.
LuckyWP Table of Contents is compatible with many page builders like WPBakery, Beaver Builder, and Elementor. Some of the plugins that also work well with the plugin include Rank Math, WPML, and WP Rocket, among others.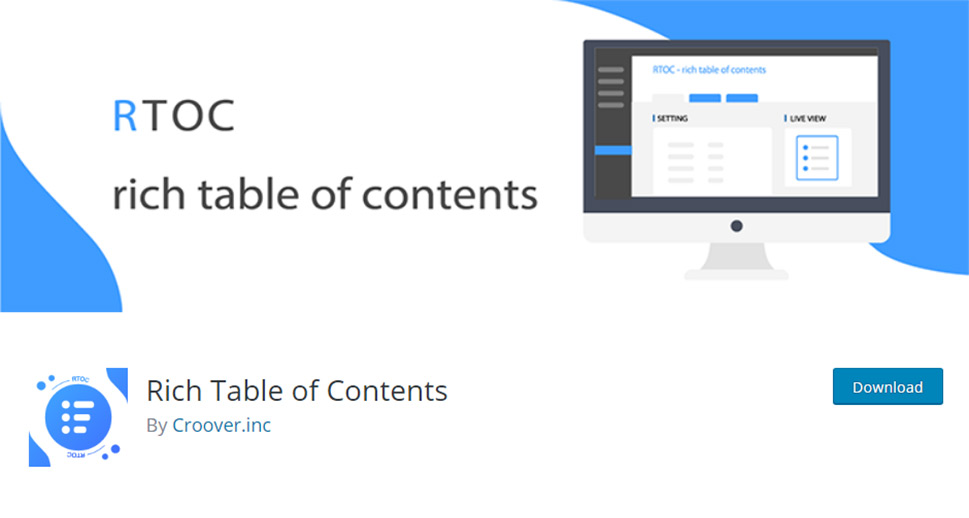 If you're searching for a table of contents plugin that is characterized by ease of use, you should look no further than Rich Table of Contents. This plugin also prides itself on its intuitive UI design which allows you to create your table of contents with one click. You will be able to easily configure all the basic settings such as the title, decide whether you want to insert it automatically for specific content types (like pages or posts), set display conditions (which allows you to set the number of headings needed to display a table of contents), set your font, etc. There is also the possibility of setting the design and color of your TOC. This includes adjusting its position, setting the design of the H2 and H3 list, adjusting the color of your title, text, H2 and H3, and much more.
Finally, you will have access to some advanced settings such as the ability to choose whether you want to display the table of contents opened or closed, set the button to return to the table of contents, change the location of your button, exclude the page and/or post ID, and more.
This is another easy-to-use plugin that will allow you to generate a table of contents to any page or post of your choice. You will get to set the header label, define different levels of your table of contents (H1, H2, H3, etc.), and set the font size of each level. You will also have a complete user guide and many useful video tutorials at your disposal.
You can use the CM Table of Contents for free or purchase the pro version to get a few additional features. These include the ability to create a TOC for all pages on your site automatically and add it anywhere within your content (not just the top) using a shortcode. Moreover, you will get to easily customize and style your table of contents (change the colors, borders, weight, and style of each label), add the arrow or the "Back to the Top" button, and so on.
The pricing of CM Table of Contents Pro starts at $29 (for two sites).
Ultimate Blocks is another plugin with a 5-star rating on wordpress.org. It comes with over 40 different blocks, such as a call to action, social share, countdown, and – you guessed it – table of contents. This type of block allows you to seamlessly generate a table of contents from your headings.
While the plugin is great because it comes packed with an all-encompassing list of useful blocks, you should keep in mind, however, that this is a Gutenberg-only plugin, as its name subtly suggests. This means it won't work with any other editor other than Gutenberg, so, if you plan to use Ultimate Blocks, you should keep this in mind.
Adding a table of contents to your WordPress site is one of the best ways to quickly improve the look of your content and offer a smoother navigation experience to your users. Whether you need to add this useful system to some (or all) of your articles or to incorporate it into a specific section on a page, each one of these plugins will help you do it in a matter of minutes. On top of that, every one of them is packed with a plethora of practical options – from the ability to fully customize each section and define different heading levels to the possibility of adding your TOC to different content types (both automatically and manually). In any case, you won't go wrong if you pick any of the options found on our list.