5 Best Product Review Plugins for WordPress
Adding user reviews to your website is beneficial both for you and your customers. Reviews are written by real people and based on their personal experiences. They indicate the pros and cons of a product or a service, making it easier for potential consumers to form their decisions. Aside from offering precious guidance to users, the customer's feedback (especially the constructive kind) is valuable for your brand, too, as it helps you understand which areas of your business need improvement.
Reviews have the power to skyrocket your sales and help you improve your brand. Even if someone leaves you a bad comment, you can use their feedback to fix whatever needs improving. Now, to enable users to leave reviews on your website, you must install WordPress product review plugins (unless you own a travel agency; in that case, these premium themes with the Reviews shortcode are all you need). The following list features plugins that are stacked full with practical features that allow you to add different types of reviews to your site: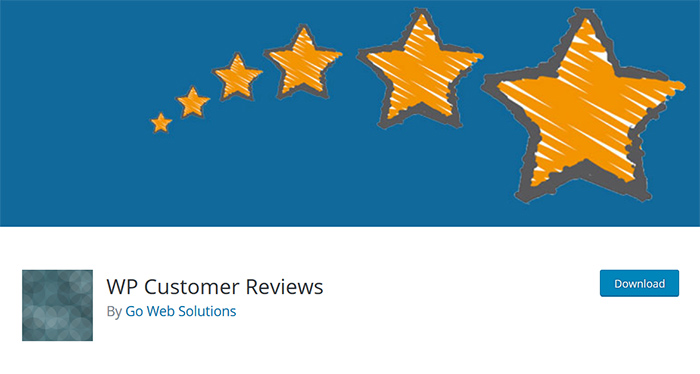 WP Customer Reviews is one of the most popular review plugins on the official WordPress plugin repository that enables you to collect and moderate user reviews. It's regularly updated and free to download, so you should definitely consider adding it to your WordPress website.
With WP Customer Reviews, you can select the fields you want your customers to fill out when submitting a review. For example, you can ask for their name, email address, but also add as many custom fields as you like and choose which ones to show on pages.
And before sharing customer reviews on your website, you can moderate them, meaning you have complete control over what gets posted online. If you'd like, you can also reply to users and decide whether you want to showcase your responses on the website. There's also an option that allows you to set the number of reviews to display per page (simply enter any number you like).
Overall, WP Customer Reviews is a simple, lightweight, easy-to-use plugin that provides you with just the functionalities you need to add product reviews to as many pages on your website as you want. Its creators have announced that they'll soon release the pro version as well, which will allow users to customize the plugin using CSS.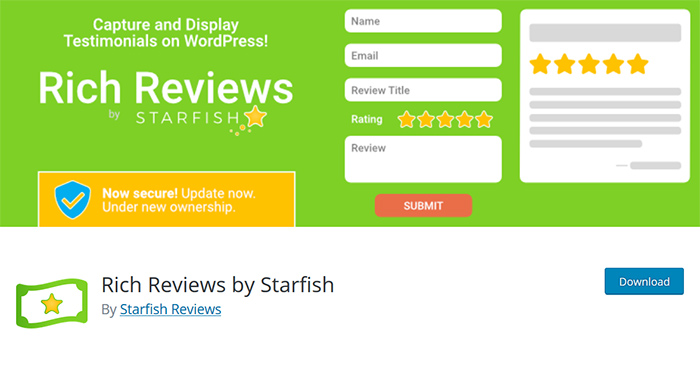 Rich Reviews by Starfish is a powerful shortcode-based plugin that adds reviews to your pages and posts. Several premium plans are available as well, with the prices ranging from $3.99 to $15.00 a month, but even the free version comes with a lot of handy options that allow you to customize pretty much everything, from submission forms to the color of review stars.
The reviews can be automatically published as soon as users submit them, but if you're not comfortable with that, you can check the Require Approval box to review them first before publication. Aside from the website's admin, other user roles can approve reviews (it's up to you to decide who'll have that power).
The premium version of the plugin allows you to customize your own funnel and send the funnel link to your customers. That way, you can ensure you'll consistently get new reviews for your products. The number of funnels you get to create per site depends on the plan you purchase – the cheapest plan grants you 5 funnels, while the most expensive one lets you add unlimited funnels to your pages and posts.
Google Reviews Widget works differently than other plugins on the list. As its name suggests, this plugin allows you to display Google reviews in widget areas instead of letting customers write reviews directly on your site. It comes available as a shortcode too, meaning you can use it to add reviews to your pages. Besides the free version of the plugin, there's also a premium plan that packs more features for $85 a year.
To use this plugin, you first need the Google Places API Key. API will send you a total of 5 reviews per location that Google deems the most helpful. If Google should ever change the list of the most helpful reviews, the update will be immediately visible on your website. The business plan doesn't come with this sort of restriction though. The pro version uses a Google My Business API that can get all the reviews, without any limitations whatsoever.
The Google Reviews Widget keeps all the reviews in its WordPress database, which means that, even if Google is unavailable for whatever reason, the reviews will still be visible on your site. We also liked the trim feature that cuts long reviews, allowing you to display just parts of comments on a page while the rest is placed under the Read more button.
The business plan lets you merge reviews from Google, Facebook, and Yelp in one feed. Of course, if you'd like, you can also display them separately. Moreover, the premium version includes a word filter (allowing you to include or eliminate reviews based on a keyword), a rating filter (so you can hide reviews with lower ratings), sort reviews by several criteria, and heaps more.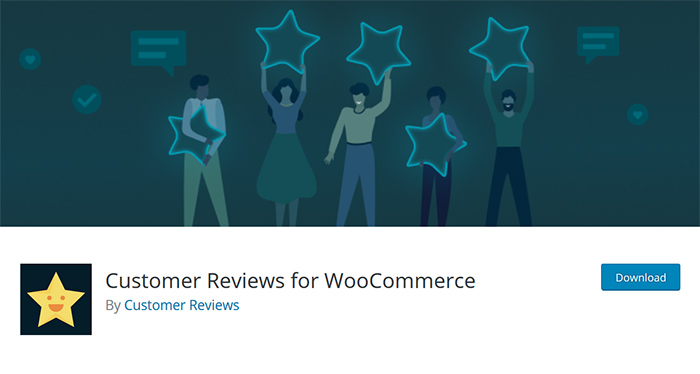 In case you're running an online store, Customer Reviews for WooCommerce is just the plugin you need to easily collect customer reviews. The plugin comes with the option to set up automatic emails, i.e. reminders, to invite customers to leave reviews after they've purchased a product. You can select particular product categories for which you'd like to get the reviews and restrict reminders to customers with specific user roles. Emails can be customized to your liking, including the text and the color. And once your users leave a review, you can reward them by providing them with a discount code.
The plugin integrates with Google Shopping, which means you can display review stars on your products. Another great thing about Customer Reviews for WooCommerce is that it helps you collect and display only true reviews. This is possible because every single review is verified by a 3rd party Customer Reviews service (the creators of this plugin) that controls whether or not a customer has purchased your product. If they did not, CR instantly gets rid of their fake reviews as those could potentially jeopardize your brand.
To make your business appear even more trustworthy, you can display trust badges on any page of your site (the badges feature some of the verified customer reviews). Pro users can also change the color of review forms, add a rating bar to their site, and allow users to geotag themselves.
Site Reviews allows you to collect user ratings by using a shortcode, a widget, or a block.
You have the option to allow submissions from registered users only, and also to set new submissions as "unapproved" until you read them first and publish them to your site. Reviews are displayed in the default order, but it's also possible to pin the finest reviews at the top of the list.
Site Reviews also allows you to enable excerpts and to set the excerpt length, select fields that users will have to fill out on the submission form, limit the number of reviews per person, use reCAPTCHA anti-spam service, create categories and assign them to reviews, and much more. If you'd like, you can enable the JSON-LD schema which would ensure your ratings are visible in search results. And to make sure you never lose your data, you should use the plugin's backup feature. The restore option is also available.
Which Product Review Plugin Should You Choose?
And now the big question – which one of these WordPress review plugins is best for you? To choose the plugin that best meets your demands, think of what you want to achieve. Sure, you want to add user reviews to your site, and all of these plugins allow you to do just that and customize the reviews to some extent. But it's the details that matter.
If you care about finding a simple, lightweight solution, then go either for WP Customer Reviews or Site Reviews. But if you also want to be able to send funnel URLs to customers to ensure you get their reviews on the regular, then Rich Reviews by Starfish should be your number one choice. In case you run an online shop, Customer Reviews for WooCommerce is the plugin for you. And lastly, if you would like to display Google reviews on your site, look no further than the Google Reviews Widget.