7 Best Portfolio Plugins for WordPress
No matter if you're a freelancer, a designer, a photographer, or any other creative, building an online portfolio might be the best way to showcase your talent and expertise. Still, it takes more than simply displaying the best examples of your work to make yourself stand out on the web and attract the attention of the right clientele. Aside from including all the relevant info about yourself and communicating your passion through different pieces you're most proud of, you need to design your portfolio in a way that will complement your work. Of course, it's also important to provide a smooth user experience to your visitors and ensure that your portfolio website loads fast and looks flawless on all devices.
Now, there are many great portfolio themes that can help you out immensely during this process. In fact, many free themes come with portfolio features or even designated portfolio demos – our Qi Theme, for example, even has a full-featured portfolio module. That being said, using one of the available WordPress portfolio plugins can also be quite useful, especially if you're a beginner and don't know where to start. The plugins in our list come with plenty of features and functionalities that will help you create a beautiful, clean, and responsive portfolio website and allow your creativity to shine. Some of the features include the ability to use multiple columns, add different animation and hover effects, showcase your works using masonry, grid, and carousel layouts, and plenty more.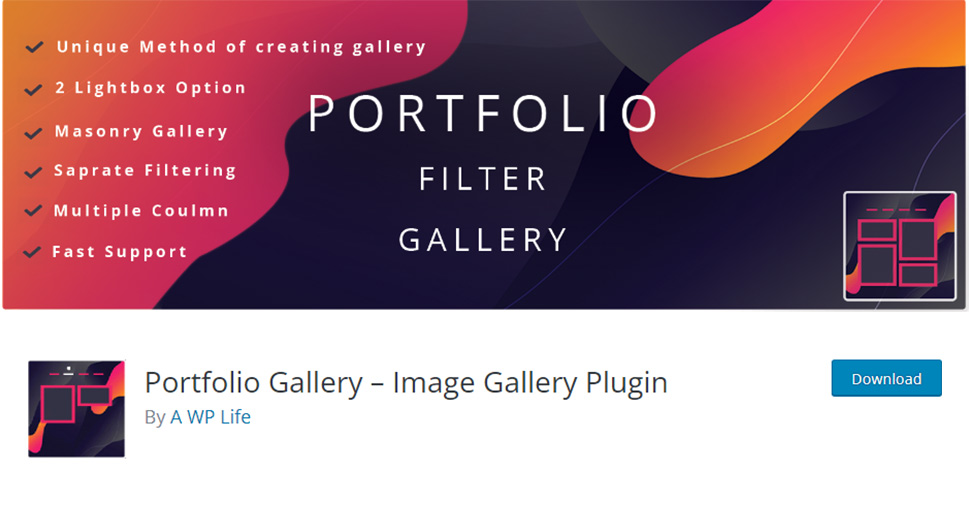 Portfolio Gallery is an easy-to-use plugin that will allow you to build beautiful portfolio galleries for your WordPress site. You will have access to a wide range of useful features, such as the ability to create filters for your portfolio galleries, show your gallery using multiple column layouts, show numbering and title on images, apply multi-color filters, add grayscale effect, and more.
If you want to upgrade to the pro version of the plugin, you will also be able to use features such as the ability to add unlimited filters and filter colors, customize your border settings, have access to 30 hover effects, 5 lightbox pop-up styles, and the list goes on.
The Portfolio Gallery plugin is fully responsive and allows you to successfully display your portfolio gallery across all devices, including desktops, laptops, mobile, tablets and so on.
Marketing itself as the ultimate solution for creating WordPress layouts, WordPress Portfolio Plugin – Grid Kit Portfolio Gallery allows you to build just about any kind of layout you may need for your WordPress site – be it a video or photo gallery, a product catalog, a team member gallery, or a portfolio showcase. You can build different portfolio galleries and use them to showcase your projects, slider presentations, group galleries into albums, and plenty more. What's also great about this plugin is that it comes with an embedded layout builder that will allow you to build all these different types of layouts hassle-free. Also, there is an embedded popup extension that will make sure that your portfolio showcases look beautiful and informative all at once, allowing you to group your items in a popup view or provide more detail about each project. Last but not least, you will be able to add your portfolios anywhere you want on your site, be it a page, a post, or a widget area.
Some of the features that come with the premium version of the plugin include the ability to use one of the 12+ layouts, including masonry and puzzle styles, and have access to more than 3 popup styles. You will also get to choose from different popup themes (light or dark), use over 100 effects (hover, overlay, etc.), filter your portfolio projects by categories, use pagination, lazy loading functionality, and more.
Coming with a comprehensive list of useful features, Visual Portfolio is a great plugin solution you can use to showcase your works in a truly deserving way. This popular plugin is perfect for anyone who wants to attract more potential clients, no matter if they're a photographer, an agency, or any other kind of creative. You will be able to build different types of galleries for your portfolio items, including masonry, tiles, grid, and carousel. Use the plugin's visual effects (such as fade, emerge, fly effect, and more) to display gallery images in various striking ways. Also, you can create unlimited galleries with different styles, add audio and video files to your gallery, incorporate lightboxes, filter your gallery by taxonomies, add a lazy loading functionality, and more.
The Visual Portfolio is made to be fast and lightweight, and it is also optimized for mobile, making your content look great on all devices.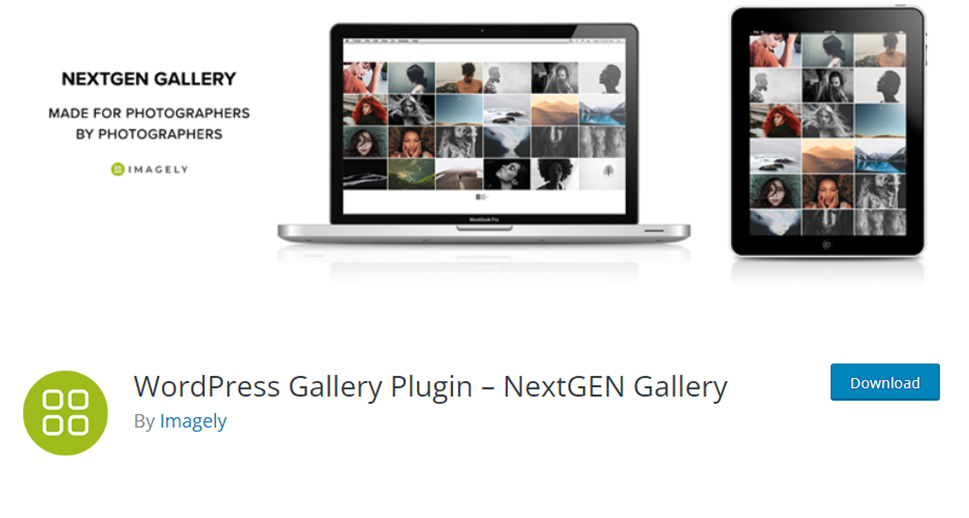 Easily the most popular solution on this list (with over 700,000 downloads on WP.org), NextGEN Gallery is one of the leading photo gallery plugins around. It will be able to assist you no matter if you only need to add a simple portfolio gallery or require a more professional approach to showcase your work.
The plugin comes with a complete gallery management system and allows you to easily add, delete, sort, and reorder photos, group galleries into albums, edit thumbnails, and more. If you opt for using the free version of the plugin, you will have access to three gallery styles – slideshow, thumbnail, and imagebrowser gallery, and two album styles – compact and extended. All these styles also include different options for adjusting the size, transitions, lightbox effect, and so on. Finally, thanks to the full Gutenberg block editor support, you will be able to easily add your portfolio gallery anywhere you want on your site.
If you want, you can upgrade to one of the different premium plans of the NextGEN gallery plugin, with the Starter plan having a cost of $24 per year. Depending on the plan you pick, you will be able to use features like additional gallery and album layouts, the ability to add hover captions, image protection, premium support, and the list goes on.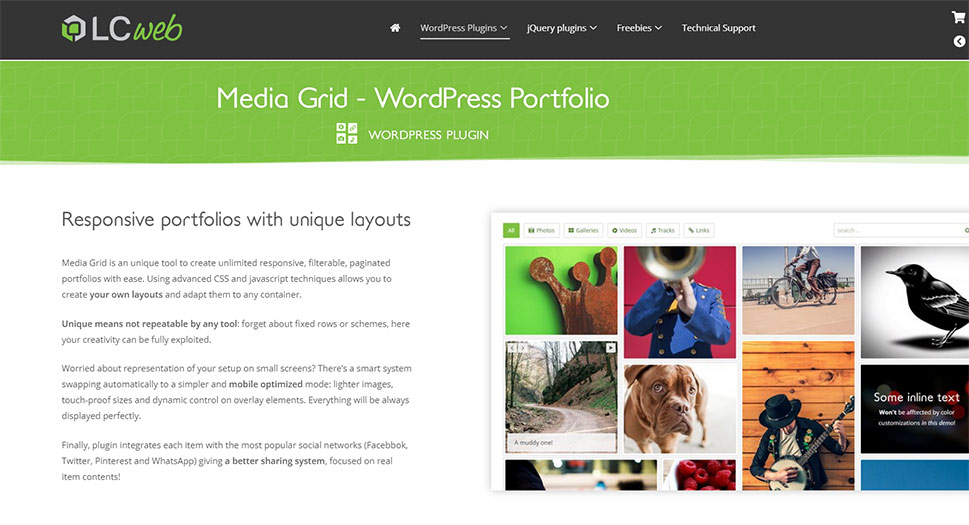 Media Grid is a premium plugin that lets you build unlimited responsive portfolios for your site with utmost ease. Using the visual drag & drop grid builder, you will be able to create dynamic grids, choose from 6 different pagination systems (including infinite scroll), add lightboxes, pagination, and more. You will also have access to image sliders with an item filtering system, GIF and video support, and various lightbox layouts and entrance effects. You will even get to use a neat image zoom system that is great for displaying single image item types. Some of the other options include the ability to integrate with WooCommerce and popular WordPress builders (such as Elementor and Divi), and use the right-click protection of your images.
The Media Grid plugin is available at CodeCanyon for a price of $35 (regular license).
Go Portfolio is another premium solution (available at a price of $27 at CodeCanyon) that will allow you to create stunning portfolios for your WordPress site. You will be able to build "regular" portfolios with the help of custom post types as well as image, audio or video thumbnails and lightboxes. In addition, you can create showcases using regular post or other custom post types, and even put up "teasers" of your works using a shortcode. Display your items vertically or horizontally, using up to 10 columns and adding filterable grid and slider layouts. If you want, you will be able to add an unlimited number of portfolios on your site or on one single page with the help of shortcodes.
The plugin also comes with WooCommerce support and allows you to set different thumbnail and lightbox types, among many other features.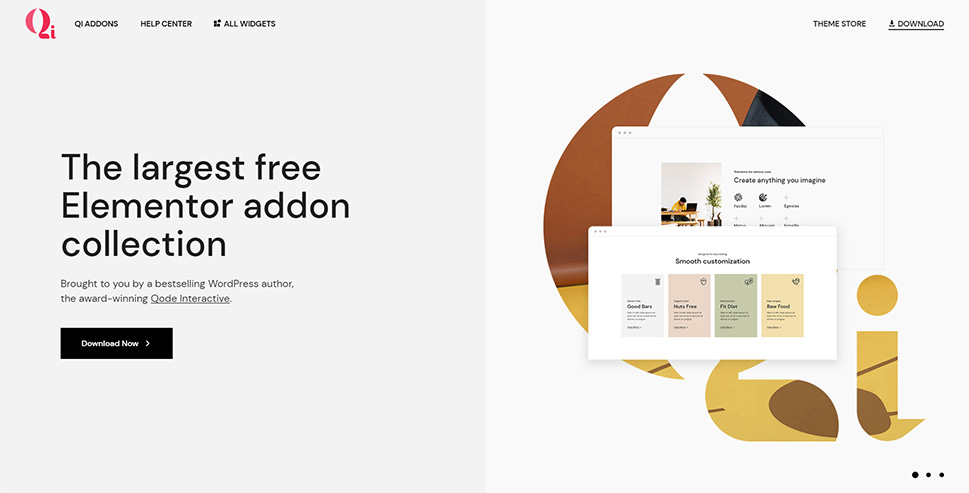 If you're an Elementor user, then we recommend that you check out our Qi Addons for Elementor plugin. Namely, this plugin is completely free to use and comes with many great widgets (60, to be exact) that provide a perfect toolkit for creating just about any type of website. Of course, that includes the ability to build an attractive and fully functional online portfolio as well.
Among its various addon categories (like business, showcase, and creative addons, to name a few), you will find many flexible widgets you can use to flaunt your best works. For example, you can build gorgeous portfolio galleries using some of the plugin's image and gallery-oriented widgets such as Portfolio/Masonry Image Gallery and Image Slider. If you want to display some additional info to go along with your images, then the Item Showcase widget will be perfect for your needs. Or, if you're set on adding visually striking sections that will truly impress your visitors, you can use the Parallax Image Showcase widget and add stunning parallax effects to your images. You will get to easily pick your images, adjust their size, set image spacing, enable lightbox previews, change fonts and colors, and plenty more.
The plugin is super intuitive to use, so you will be able to mix and match different widgets and layouts with utmost ease until you achieve the desired look of your portfolio.
From multiple layout types and galleries all the way to various filters, lightboxes, and stunning animations and effects, these plugins have all the features you need to display your works in a truly deserving manner. There are both free and premium options on our list capable of helping you create anything from a basic portfolio to truly advanced galleries suitable for professional photographers and other visual artists. You just have to take your pick according to your needs and then you can start building a beautiful and professional online portfolio that will be sure to land you clients.