9 Best WordPress Photo Gallery Plugins
Using image galleries is a great way to showcase your work or your product on your website and to further emphasize their quality to those interested in your brand. Moreover, featuring visual content such as photos instead of just text is a sure way to engage your visitors and inspire them to explore your website further. All this can bring more customers your way and do wonders for brand loyalty.
There's a copious amount of gallery WordPress themes that come with beautiful gallery layouts perfect for displaying all the photos you'd like to share with the world. However, if you want to further explore your options, we recommend that you check out some of the many useful WordPress photo gallery plugins. Tons of popular and functional options can be found in this category, which is why we've decided to help you and compile a list of some of the best photo gallery plugins on the web.
Our very own Qi Addons for Elementor is a free plugin that comes with a set of 60 fully customizable widgets you can use to build virtually any type of page or section on your site. You will be able to combine different types of addons, from business and creative all the way to showcase and WooCommerce ones. Of course, there are also many great widgets that will let you build gorgeous photo galleries and present your photos in striking ways. For example, you will get to choose from standard, Masonry, and Pinterest image gallery widgets and be able customize each one according to your preferences. Adjust image sizes, pick the desired number of columns, enable practical lightbox previews, set image spacing, and more. If you want to add a bit of a creative twist to your photos, you can use the interactive Cards Gallery widget to stack images on top of each other and allow users to "shuffle" through them. Or, you can try out the plugin's Image Slider widget to display your images in a truly captivating manner. You will also get to fully customize the look of your sliders, display navigation arrows or bullets, enable image pop-ups, and so on.
Qi Addons for Elementor is completely intuitive. You can add and rearrange elements quickly thanks to Elementor's drag-and-drop functionality and customize them easily using the plugin's many flexible options. And if you ever need any assistance, there are lots of Qi Addons video tutorials to help you out.
Created by Imagely, a group of WordPress gallery experts, NextGENgallery is easily the most popular plugin on WordPress.org, with a whopping number of 800,000 active installations. The creators of the plugin guarantee that it's useful both for those who want to create simple image galleries and for those looking for more professional and complex ones. The free version offers three main gallery styles (slideshow, thumbnail and image browser galleries) and two album styles (compact and extended). Also, you get options such as size, timing, transitions, lightbox effects, and so on. There's also the premium version of the plugin (the pricing starts at $79) that contains features such as additional photo gallery demos, eCommerce functionality, proofing, and pro support.
The FooGallery plugin is another popular photo gallery solution with over 200,000 active installations and an overall positive rating of 4.7 out of 5 stars. With the free version, you get 6 beautiful image gallery templates and retina support. Use a built-in media library to manage your images, and easily reorder images and galleries with a simple drag-and-drop. Some of the features of the pro version include even more gallery templates, a video gallery support, infinite scroll, multiple effects for when the images are finished loading, 11 beautiful hover effect presets, and so much more. The free version should do the job for most users with modest demands, but should you opt for the paid version, the pricing starts at $59 a year for one site.
With over 300,000 active installations on WordPress.org, PhotoGallery by 10Web is one of the leading gallery plugins on the web. Packed with stunning layout options, this plugin will allow you to add an unlimited number of photos, galleries, and albums. You also get numerous view options such as Slider, Shadow, Image Browser, and more, which will help you organize your galleries and views in a beautiful manner. Additionally, thanks to video and audio support, you will be able to include videos and images within the single gallery. Another awesome thing that you get with this plugin is the watermarking feature and the right-click protection. You will be able to add text or image watermarks on the photos in your galleries, which will protect them from unauthorized use, while right-click protection will prevent your images from being illegally downloaded and distributed. Last but not least, the premium version of the plugin brings you multiple customizable view options, a powerful lightbox feature, social sharing, and various add-ons.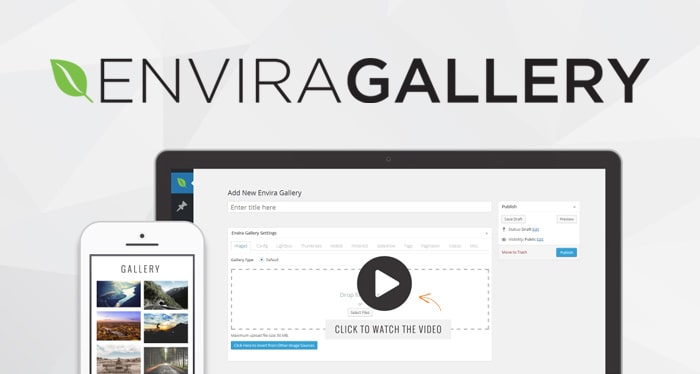 Envira is a fast, lightweight and powerful drag-and-drop photo gallery plugin. Even though this is originally a premium plugin (with the pricing starting at $29), it is well worth the investment since it contains all the features needed for creating a beautiful, compelling and user-friendly photo gallery – albums, tags, gallery layouts, image proofing, and so on. The built-in templates make it easy to customize your galleries in any way you want, while social media integrations and WooCommerce support help you share and sell your photos with no sweat. There is also a lite version you can download for free in the WordPress repository, albeit with somewhat limited features.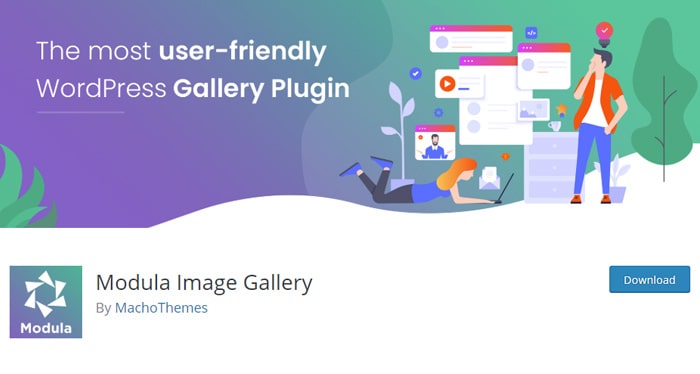 The Modula Image Gallery plugin makes it really easy to create custom and responsive galleries for your site. With just a few clicks, you can build gorgeous-looking lightbox galleries, masonry and custom grids, and so on. The free version comes with plenty of options for successful gallery building, including the possibility of adding animation effects during the image loading time, social share buttons, hover effects, and adding custom CSS. As for the premium version of Modula (the pricing starts at $29), it allows you to load more than 20 images in your gallery, add right-click protection, custom watermarks, and filters which will enable your visitors to get their way around your image collection more quickly. Plus, you can use the SpeedUp extension to reduce the file sizes of your images.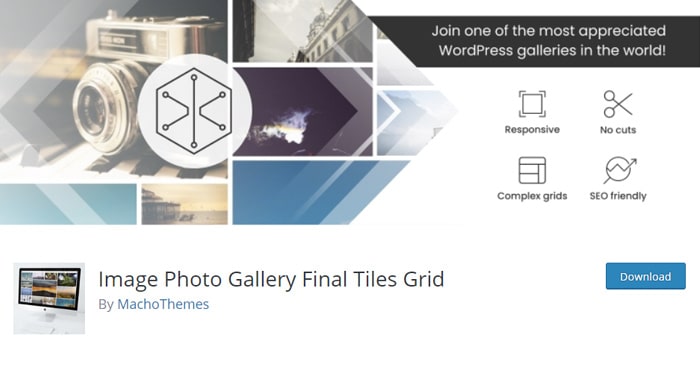 Created by MachoThemes, Final Tiles Gallery is an all-encompassing WordPress plugin that can be used to create several gallery types, including portfolio and tiled galleries. What's unique about this plugin is that it actually doesn't crop your images, but keeps their original size instead, which allows you to create a gallery that consists of different sizes. The plugin comes with fully responsive options which will make your gallery look perfect on any screen, and has two available layouts – Tiles and Columns. You can also adjust the margin between images, decide whether you want to sort your images manually or randomly, enable social sharing, incorporate video galleries, and more. Even though the lite version of the plugin contains plenty of options to create stunning image galleries on its own, there's also the pro version that comes with even more features. Some of them include the addition of filers and categories, custom captions, image hover and loading effects, and full WooCommerce support.
Photo Gallery by Supsystic is another WordPress plugin that can be used to create responsive photo galleries for your website. There are multiple gallery types you can choose from, such as Full Width, Polaroid, Video, Fixed, and many more. You can make your galleries even more beautiful with different shadow and overlay effects. For example, if you add a shadow preset of your gallery, you can also change its color, thickness, borders, and add a caption. If you opt for the premium version of the plugin, you'll enjoy even more features such as video support, watermark functionality, pagination, and load more button, among others.
With a solid rating of 4.6 stars and 9,000 installs on WordPress.org, WPVR is a great plugin that allows you to showcase 360-degree panorama images and create virtual tours on your site that will engage your visitors. With the free version, you have the ability to create an unlimited number of virtual tours with 360 panorama images. Since the plugin has a simple interface, you will get to make your virtual tours quickly and effortlessly – no expert knowledge needed. Your visitors will be able to switch between different scenes, get more information by hovering or clicking on a specific item, zoom in and out for a better view, and so on. There is also a premium version of the WPVR plugin (starting from $59) that comes with some additional cool features. These include a scene gallery (that adds a sliding gallery with thumbnails as previews of every 360-degree image of the virtual tour), Google Street View embed support, a scene title, description, and URL on each scene, tour background music support, and much more.
And that concludes our list of the best WordPress photo gallery plugins. In our opinion, all of these plugins are packed with a plethora of useful features and as such, they are more than capable of assisting you in creating gorgeous and fully responsive photo galleries for your website. Still, you should take a good look at what each of these plugins offers to best determine the option that works best for you. For instance, if you're working with clients, you will probably need image proofing, in which case Envira might be right up your alley. Or, if you want to make sure your images are protected from unauthorized use, go for a plugin that offers right-click protection, such as the Photo Gallery by 10Web. And if you wish to have complete flexibility and get truly creative when building your photo galleries, then the Qi Addons for Elementor plugin is a perfect choice for you. In any case, you can rest assured your next photo gallery plugin is right there on our list.