5 Best Multi-Vendor Plugins for WooCommerce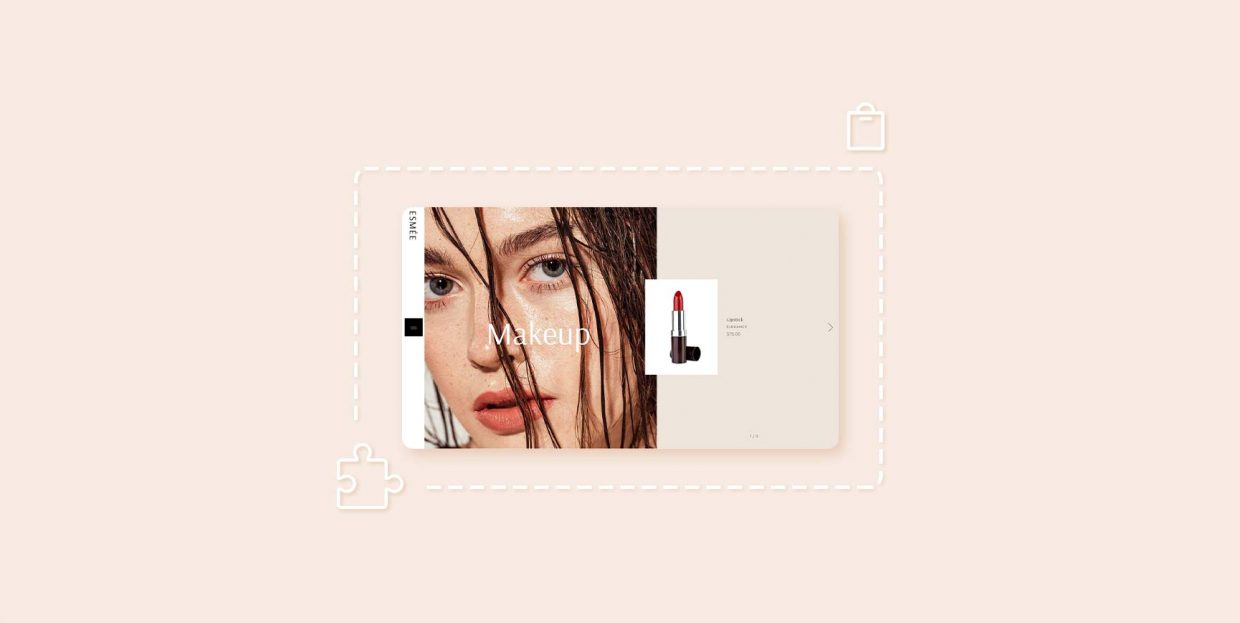 If you're interested in creating a virtual marketplace similar to the likes of eBay, Amazon, or Envato, then WooCommerce has got you completely covered. Not only does this powerful eCommerce platform contain some great features that make it easy to launch an online store, but it will also allow you to easily expand your store using some of the many available WooCommerce plugins and extensions. Among these plugins, you will also be able to find so-called multi-vendor plugins. These plugins have been specifically made to help store owners create professional online marketplaces out of their WooCommerce-based shops.
In this article, we are going to present you with some of the best WooCommerce multi-vendor plugins on the market. But first, we will take a look at what WooCommerce multi-vendor plugins are and how they can be beneficial for your eCommerce business.
What Are WooCommerce Multi-Vendor Plugins and How Are They Useful?
Generally speaking, a multi-vendor marketplace consists of multiple retailers that all sell their own products on a single website. This allows customers to buy all sorts of products from a variety of vendors – all within the same marketplace.
Now, multi-vendor plugins usually come with a built-in multi-vendor management system that lets you run a fully functional marketplace on your site. These plugins will also allow you to keep track of different vendor products and monitor and maintain all transactions while letting your vendors build and manage their stores on your platform at the same time. Moreover, if you decide to use a multi-vendor plugin on your WooCommerce platform, you will be able to get a commission from every sale your vendors make, which can provide you with some additional profit stream.
Without further ado, here are some of the best multi-vendor plugins that will help transform your WooCommerce shop into a powerful marketplace and take your eCommerce business to the next level: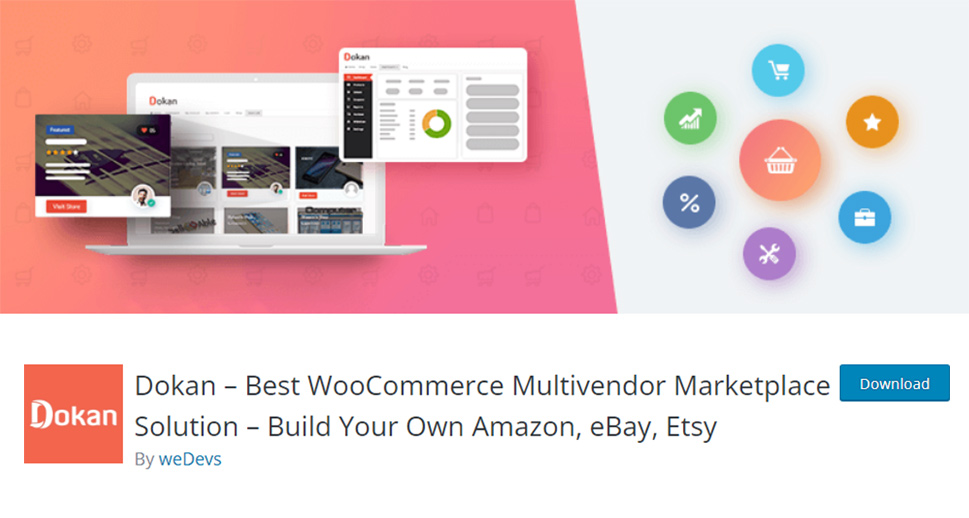 Easily one of the best and most popular multi-vendor plugins available, the Dokan Multivendor plugin is great for anyone who wants to create a professional and well-functioning multi-vendor marketplace. What's great about this plugin is that it comes with the ability for vendors to use their own, personalized dashboard on the store's frontend, while the backend can be accessed by the admin only. You will be able to have unlimited vendors in your marketplace, and they will also get to create unlimited products. This includes physical products, downloadable products, variable products, etc. Moreover, you will be able to implement vendor commissions or product-based commissions and create subscription packs that let you charge for product uploads and product limits.
You can either use the free version of the Dokan Multivendor plugin or try out one of the available premium plans (starting at $149 a year) to have access to its full range of features. These include the ability for vendors to use the live chat feature (to give real-time support to customers), easily switch from another marketplace to yours with the Export/Import feature, create coupons, etc. Also, with the help of the Review feature, you can allow your customers to post a review for any store they bought a product from. Moreover, vendors will have access to a staff manager that will let them assign an unlimited staff number to manage their eCommerce store.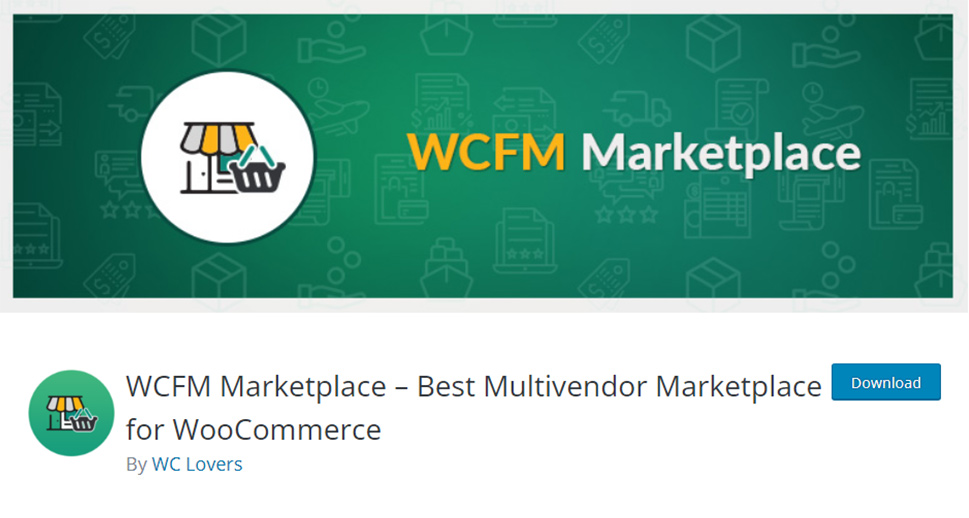 As far as free multi-vendor marketplace plugin choices go, WCFM Marketplace is among the best ones out there. This plugin is great because it will allow you to build a WooCommerce-powered multi-vendor marketplace on your WordPress site in no time, with minimal setup required.
The plugin has some powerful features such as a flexible commission system, a refund module (that you will be able to adjust according to your preferences), versatile withdrawal options, a single product multi-vendor module (that allows multiple vendors to sell the same product), and plenty more. Also worth mentioning is the Ledger Book feature that will let your vendors keep track of all transactions related to their store. These include commissions, withdrawals, refunds, partial refunds, and charges. There are also various shortcodes at your disposal that can be used to display the location of different stores on a map, as well as display store info, opening and closing hours, and so on.
We should note, however, that in order for WCFM Marketplace to work, you also need to install the core plugin called WCFM Frontend Manager (also available completely for free) first. This plugin is great as it will give your vendors access to a user-friendly frontend dashboard that they can use to monitor and manage their products, orders, customers, reports, and more. The plugin installation process only requires a single click of a button, which you will be prompted to do as soon as you install and activate the WCFM Marketplace plugin.
If you want, you can also upgrade to the premium version of WCFM Frontend Manager called WCFM Ultimate (with pricing plans starting at $49). By doing so, you will have more advanced options at your disposal that will allow you to expand your online store and help your vendors run their businesses even more efficiently. Some of the features that come packed with WCFM Ultimate include advanced modules such as Store Invoice, Support Ticket, Shipment Tracking, WooCommerce Appointments, WooCommerce Subscriptions, and plenty more.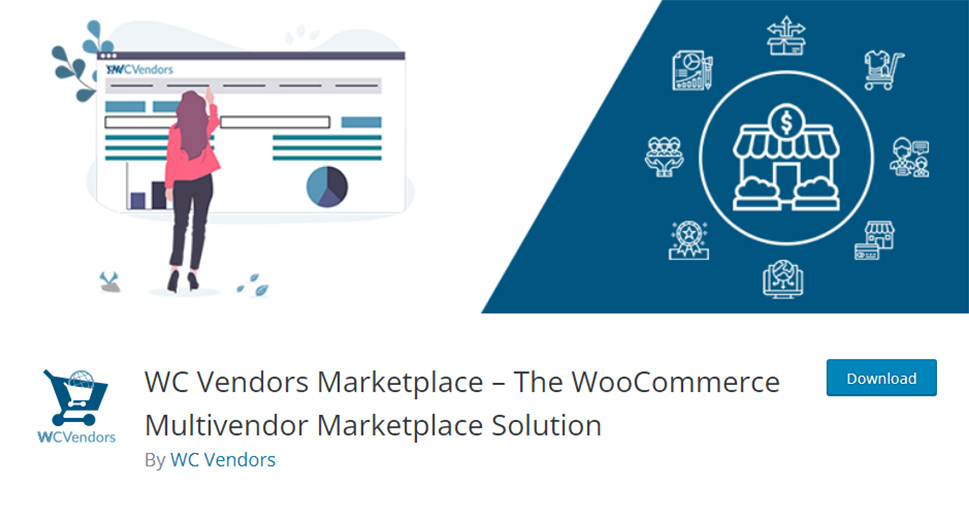 WC Vendors Marketplace is another great WooCommerce multi-vendor marketplace solution that will allow you to build, run, and manage an online marketplace with the utmost ease. If you opt for the free version of the plugin, you will have access to features that will allow sellers to get their own store and unique URL, use the vendor dashboard to manage sales and other reports, mark orders as shipped, and so on. The plugin will also allow you to earn money in multiple ways, giving you the ability to create percentage-based commissions and split them between the admin and the seller, as well as set commission rates at the product, vendor, or global level, etc.
By upgrading to WC Vendors Pro (with the pricing starting at $199 a year), you get access to a plethora of other useful features. These include complete product, order, and shipping management, as well as the ability to add tracking numbers to orders. Your vendors will also be able to create and manage their coupons and set their shipping policies.
WC Vendors Marketplace is compatible with over 100 payment gateways, so essentially, you can use any payment gateway compatible with WooCommerce to take payments from your customers. You can also pay commissions to vendors using gateways such as Stripe Connect Commissions & Gateway, Payouts for WC Vendors, MangoPay for WooCommerce, and so on.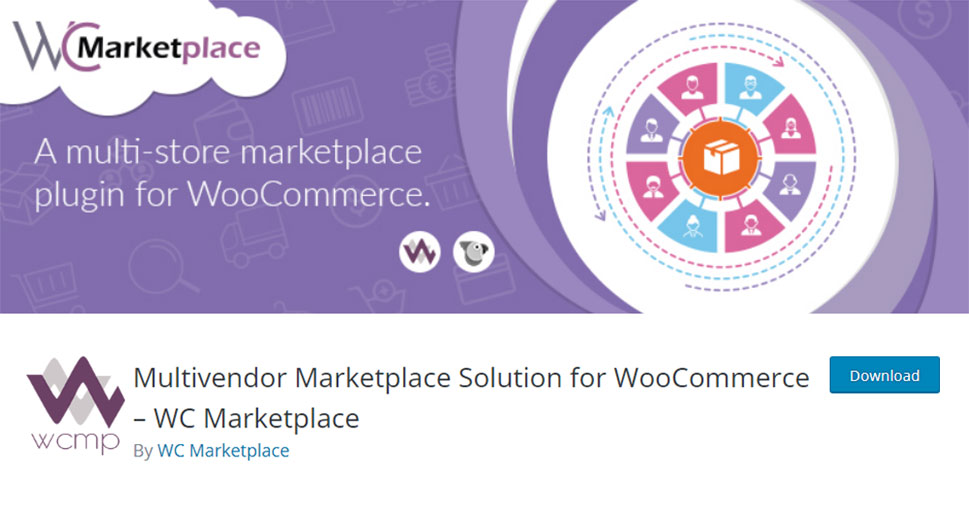 WC Marketplace is a free plugin that has everything you need to launch any kind of virtual eCommerce marketplace for any type of product, completely hassle-free. The plugin comes with an easy setup wizard you can use to get started fast, as well as a user-friendly dashboard that will help your vendors manage and keep track of all their tasks. You will also get to choose from flexible commission plans, add different commission rates, charge a commission fee, and calculate commissions based on different commission types. Some of the other useful features include the built-in order manager (so you can manage all orders with ease), a refund manager that will let you set refund options, the ability to create coupons, use multiple payment methods, flexible shipping, and so on.
There are also many great premium add-ons available (with the pricing starting at $15) if you want to have even more advanced features at your disposal. Some of these include Advanced Frontend Manager (that will allow vendors to upload various product types), PayPal and Stripe Marketplace add-ons (that come with great options related to these two payment gateways), WCMP Vendor Vacation add-on (that allows vendors to define their opening and closing hours and set a holiday notice), and plenty others.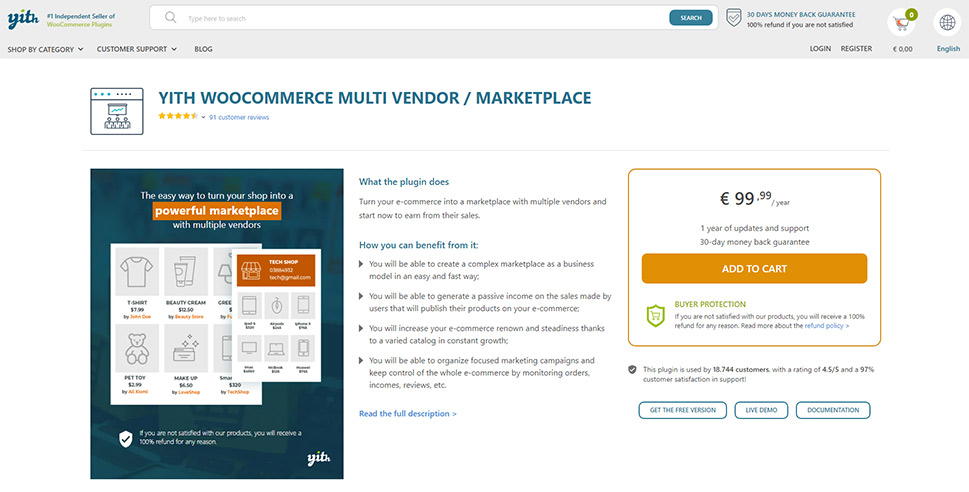 YITH WooCommerce Multi Vendor is a great plugin you can use to turn your WooCommerce-powered site into a multi-vendor platform and earn commissions from the vendors' sales. You will get to build WooCommerce vendor pages with additional information such as the vendor's name, PayPal email address, and store description. In addition, you will be able to allow shop owners to manage their vendor media gallery and products, edit vendor information, and so on. You will also have access to complete order, shipping, and order refund management, get the ability to customize vendors' pages with some additional information (including contact and social networks info), assign one or more administrators for your vendor shop, show a summary of all commissions and filter them with advanced filters, and plenty more.
You can purchase the YITH WooCommerce Multi Vendor plugin for $99.99 a year.
From personalized vendor dashboards and commissions systems to refund and shipping modules, each one of these plugins has its own set of great features that will help you build and manage your marketplace with the utmost ease. If you're looking for a free option, we recommend going for the WCFM Marketplace plugin as it has a comprehensive set of features. This includes a powerful commission system, flexible shipping management, and a user-friendly vendor frontend dashboard. Just keep in mind that this plugin requires you to install the core WCFM plugin alongside the WCFM Marketplace one. So, if you don't want to install more than one plugin, you can simply try out any other free option from our list, like WC Vendors Marketplace or WC Marketplace. Both plugins come packed with many flexible options that will be more than enough for a good head-start.
If you're willing to spend some money for more advanced functionalities, then we suggest looking into the premium version of the Dokan Multivendor plugin. This plugin has admin-restricted backend access, allows you to easily control everything that happens in your marketplace, and provides you with many great ways to earn profit.
But ultimately, whichever plugin you choose, you can be sure you'll be able to build a powerful and well-organized marketplace out of your WooCommerce-based shop in no time.