7 Best Invoice Plugins for WordPress
An invoice is a detailed record of your business transaction, which you need to have both for business and legal reasons. An invoice basically serves as an account of the service rendered or product sold, based on which a financial transaction can take place. Furthermore, neat, well-structured invoices inspire trust and are absolutely essential whatever the type of business you're running online. They help you keep a record of the sales made, status of payments, and similar important details that can also help you in analyzing your business. You can use invoices to get an insight into the products or services with the highest sales volume and determine which goods bring you the highest revenue.
Making the process of creating and sending invoices simple can save you a lot of headaches, not to mention how it can improve user experience. The best way to streamline the invoicing process is to employ a WordPress invoice plugin. Bear in mind that you'll also need to choose a payment gateway for your website and that the invoice plugin should support it, too. In this article, we're going to guide you through the top seven WordPress invoice plugins including both free and premium features.
The GetPaid invoicing plugin is a well-rounded solution that is easy to use and offers a full range of online payment services. The process of creating and sending invoices with GetPaid is very simple and straightforward. The plugin is compliant with the European Union VAT management system and includes the option for automatic taxes management. The recurring payments feature is also included, which simplifies subscription and membership types of payments.
The free version of the plugin allows you to accept payments via PayPal, Stripe, WorldPay, Authorize.net, and Pre Bank Transfer while many more gateways are supported in the premium version as premium add-ons.
What's interesting about this plugin is that it provides you with the option to offer a free trial to your customers and to allow them to name their price, which can be very handy if you plan to sell second-hand goods, damaged goods, and similar.
Four pricing plans are offered, ranging from $49 to $495. The main difference between the plans is the period for which you are allowed to use the plugin, while all the plans include all the features.
When a customer completes an order, the plugin automatically generates the documents that are essential for you to fulfill the delivery. The documents include pro forma invoices, packing slips, dispatch notes, address labels, credit notes, shipping labels and delivery notes.
Additionally, the plugin helps you in generating and printing both legally mandated documents as well as documents for bookkeeping. An extensive range of customizations is also available on the plugin to help you easily comply with the invoice-related regulations of the country/area.
In addition to customizations, the plugin also offers heavily personalizable templates to ease the process of creating these documents. Instead of printing, you can also directly email these invoice details as PDFs to the customers.
The free version of the WooCommerce PDF invoices and packing slips plugin offers a wide range of features including built-in templates, design customizations, multiple paper and printer compatibility, and more. However, if you are looking for more advanced features like bulk printing, invoice number customizations, etc., you can opt for the premium version priced between $69 and $199/year.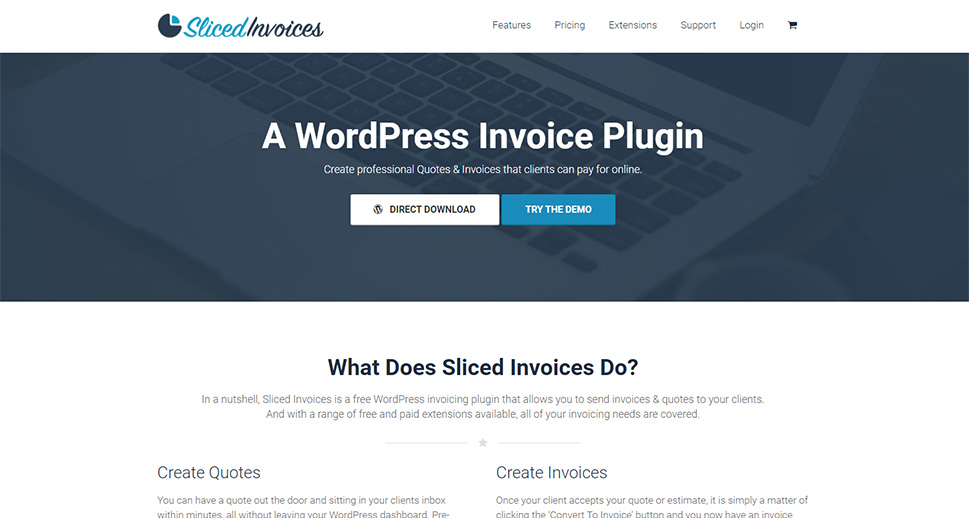 Sliced Invoices is a professional and reliable solution that is easy to set up and use. A vast collection of pre-built templates that are included with the plugin allow you to generate invoices quickly and effortlessly. Plus, there are plenty of customization options that let you add your logo, text, or similar elements to your invoices.
In case you're doing business with customers from many different countries, Sliced invoices is translation-ready so it is also possible to send invoices in your customers' language. Recurring payments, deposit invoices, and PDF invoices are also supported via extensions. The reporting system that comes with the plugin allows you easily manage all your invoices in one place.
Paypal is supported in the free version and other payment gateways are available in the premium versions.
The core version of Slice is free, but bear in mind that some features are available only via paid extensions. You can choose between three pricing plans ranging from $67 to $299.
WP-Invoice is an entirely free, user-friendly plugin that is an excellent solution if you need to set up a payment system on your website quickly. It is often the choice of general contractors, freelancers, web developers, and similar entrepreneurs.
Its intuitive admin dashboard allows you to quickly get the hang of how the plugin works. When you create the invoice from the dashboard, an email with a unique link and a brief invoice summary is sent to the customer. The customer is to pay following the link you sent to your website's invoice page. You are immediately notified when the payment is done.
The payment gateways that are supported include PayPal, Authorize.net, Interkassa (Eastern Europe), 2Checkout, and Stripe. The recurring billing option is also available. In case you need to incorporate more payment gateways, there are addons available for that purpose.
The plugin also comes with two widgets that can contribute to a positive user experience. The invoice Lookup widget lets you add a simple invoice search form to a front-end so that your clients can perform the invoice search based on the invoice ID. The history widget enables your customers to have an insight into the list of their invoices on the front-end.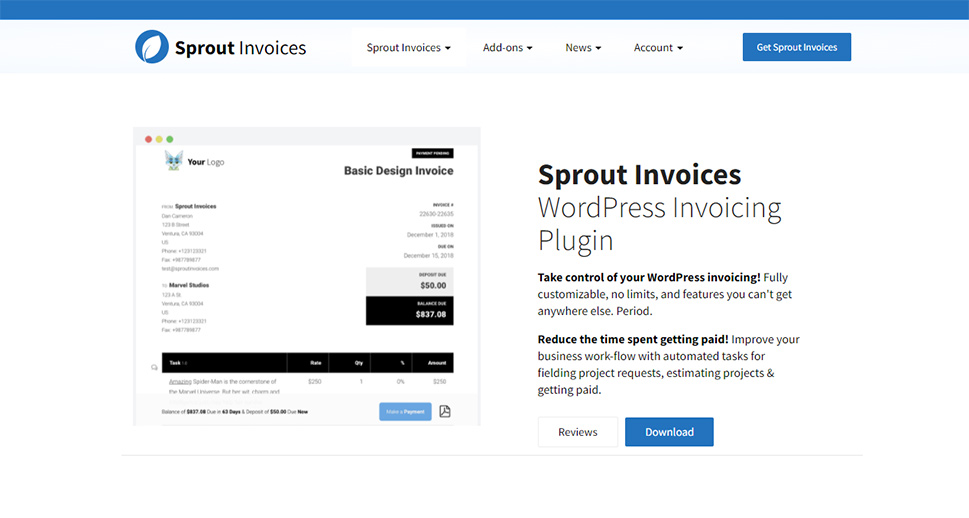 Sprout Invoices is a complete invoicing solution for WordPress websites. This plugin integrates with more than 300 payment apps, invoice templates, workflows, and more. It allows you to create, submit and receive payments on invoices directly in WordPress via an intuitive interface. It also offers powerful options for personalizing and customizing your invoices.
What also makes it attractive is the option that allows estimation of the cost of your services and the option to automatically generate an invoice for customers. It includes a well-thought-out payment scheduling system for setting payment terms like due date, late fees, payment amount, and similar.
Basically, Sprout can be considered as an automated client management workflow. It lets you collect all your clients and projects in one location and then allocate invoices to them automatically. The reporting feature allows you to easily keep track of all the invoices – sent, charged, or pending and you can access and edit them from the admin panel.
As for the pricing, it comes with a four-tiered pricing plan ranging from $39 to $300.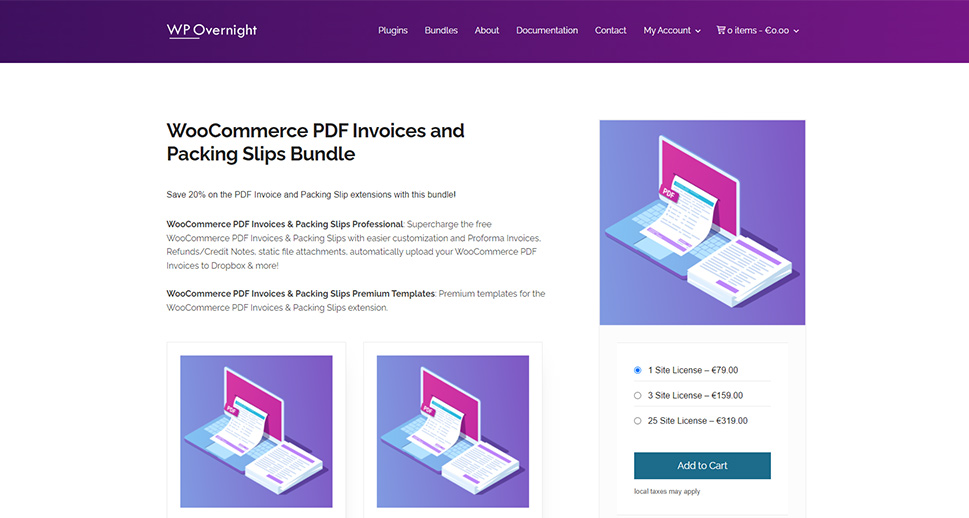 Simple, user-friendly, and free, the WooCommerce PDF Invoices and Packing Slips plugin was created with WooCommerce users in mind and has proven its reliability with over 300.000 active installations. The free version comes with solid support, offering a ready-made template for PDF invoices. There aren't many invoice design templates to choose from, but if you are familiar with coding, there is a way to customize them further.
Keeping track of all the payments is enabled with a sequence number that is generated automatically for every invoice. Your customers can download and print invoices from their account page on your website. If your store is powered by WooCommerce, this plugin may be a very handy solution that covers all your invoicing needs.
Aside from the free version, this tool offers a premium version with more invoice templates and advanced customization options, with prices ranging from €79 to €319.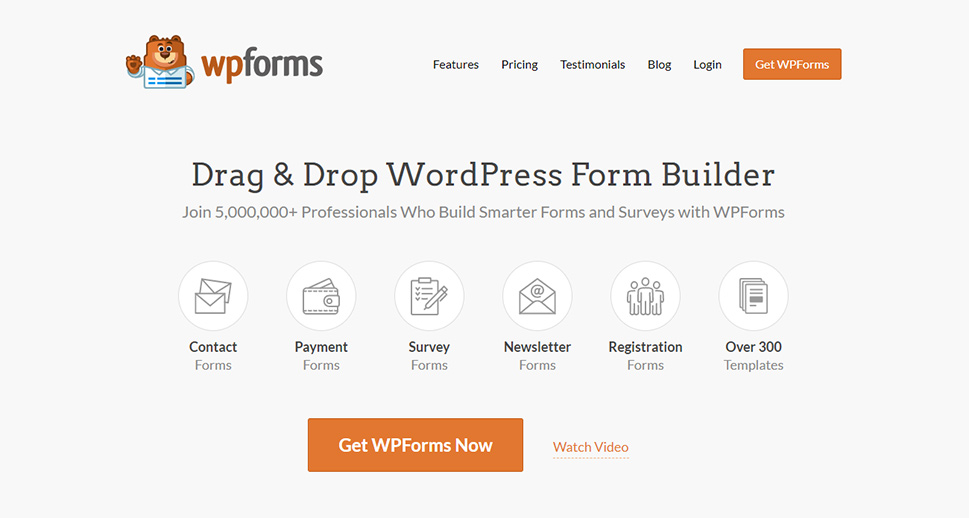 The WPForms plugin is a very versatile, premium plugin that offers a whole set of features useful for any kind of online business. Thanks to the drag-and-drop form builder that is packed with it, you can easily create all types of forms, from donation forms, payment collection forms to newsletter signup forms, and everything in between. It also includes more than 100 form templates, so you don't ever have to work from scratch unless you want to.
As for the invoices, WPForms comes with the option to automatically send invoices to the customers after you generate an online order form. The Pro version of the plugin includes integration with multiple payment gateways, including PayPal, Stripe, Authorize.Net, and Square, allowing you to accept credit card payments with ease and without the need for eCommerce software.
As for the pricing, WPForms comes in four pricing plans with prices ranging from $31 to $239, depending on the number of websites you plan to use the plugin on and the features you are going to need.
Choosing the best WordPress invoice plugin is a straightforward way to make invoicing a regular part of your workflow. If you're on a budget, the WP-Invoice, which is totally free, is a safe and reliable choice that covers all the essential invoicing needs. In case you need PDF invoices and mostly rely on WooCommerce, WooCommerce PDF Invoices and Packing Slips may be the most logical choice. The GetPaid invoicing plugin, Sprout Invoices, and Sliced offer a whole range of payment services and may easily satisfy the needs of bigger companies. Most of the plugins come in both free and premium versions which gives you the opportunity to try out more than one before making the final choice.