9 Best WordPress Plugins for Gathering User Feedback
The term feedback usually refers to information that we get from others about a particular thing that we do or say. Without this kind information hardly any progress would be possible and especially so in the online world. When running a website, you can't read your audience's thoughts, nor can you see their faces in order to learn how they react to your content. You can only make conclusions based on how they behave on your website or ask them directly through comments, surveys, etc. It may sound like an obvious advice, but many website owners do not pay enough attention to feedback, which actually means that they do not listen carefully to their audience.
Although there's a wide array of tools like A/B testing tools, heatmaps, and similar that can help you trace the pulse of your audience, many times you'll end up with plain data that needs interpretation. The secret of a successful online presence is in careful monitoring of the feedback, both positive and negative.
Your audience can provide you with the most important guidelines for product development, marketing strategy, etc. That's why it is necessary to define your target audience and regularly collect feedback from them. Feedback will prove to be essential in those moments when you lose inspiration and you no longer know what type of content or product to offer to your users. And in order to have authentic feedback in these crucial moments, it is essential to encourage it regularly. The more your audience feels that you listen to them, the richer feedback you'll get.
In this article, you'll find out why feedback matters as well as which WordPress plugins for gathering user feedback are, in our opinion, the best ones.
5 Reasons Why User Feedback Matters
Hearing your user's voice can significantly increase your brand value and provide you with much-desired visibility. Let's just briefly outline the most prominent advantages of user feedback before we recommend you the best feedback plugins:
Every positive user feedback is a genuine, free ad for your business. Nothing sells better than a sincere recommendation. Does this mean you should be afraid of bad feedback? Absolutely not – you can make negative feedback work in your favor by showing how you respect every voice and how you are willing to improve your service/product/content.
Feedback is your chance to establish a long-term relationship with your users who are then a lot more likely to turn into loyal customers as they feel heard and appreciated. And this can only have a positive effect on your conversion rates.
Sometimes it is really hard to make a sound conclusion about the preferences of your audience based on general statistics and data. Although there are many useful tools to understand your audience, feedback allows you to really get to know the kind of people that visits your website.
Unique insights that you get from user feedback can prevent serious problems from developing by inspiring you to take timely action in the right direction. And that's also one more reason not to be afraid of bad feedback – they are indeed your chance to make necessary improvements.
Regular feedback keeps you grounded in reality and inspires you to make changes and introduce innovations only where it can bring you results, not just for the sake of the current trend and fashion.
Top WordPress Plugins for Gathering User Feedback
There are many ways you can collect quality feedback. No matter whether it comes in the form of a comment, rating, vote, or suggestion, you should make sure that your users find it easy to share their impression with you. To make that happen you will need a suitable WordPress plugin for gathering feedback. To help you choose the one that will answer your needs best, we compiled a list of the nine best feedback plugins for your convenience: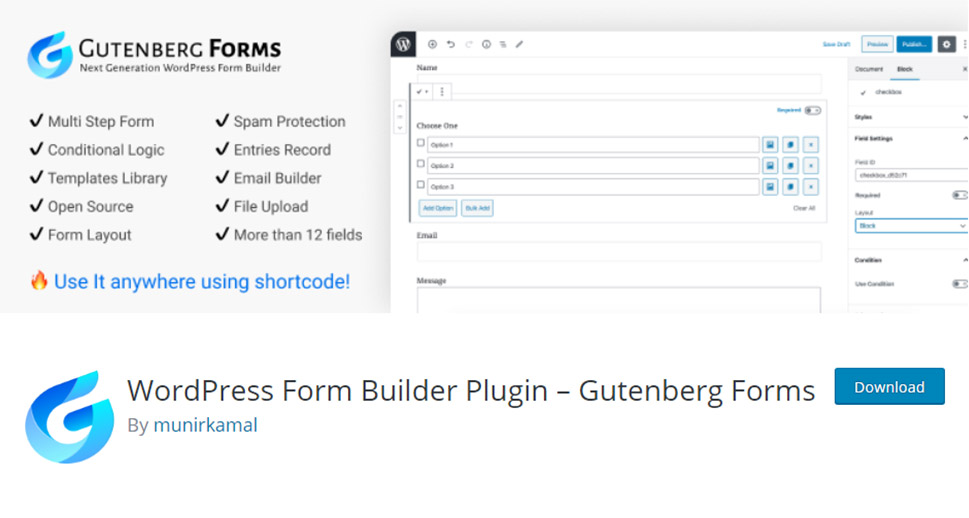 If you like working in Gutenberg, you may find Gutenberg Forms interesting as it allows you to build your forms within the Gutenberg editor. This means you don't have to leave the editor when you want to create a new form, as this plugin adds a form block to Gutenberg that you continue to customize just like any other content. It is easy to use and all the form fields are actually Gutenberg blocks. The plugin allows you to create multi-step and multi-page forms easily, and all the forms you create will be fully responsive. Plus, you can also use other Gutenberg blocks to enrich the form with images, graphics, or whatever you believe will inspire interaction with your visitors. Thanks to the built-in Google reCAPTCHA integration, your forms are also protected from spam. Last but not least, this tool is entirely free.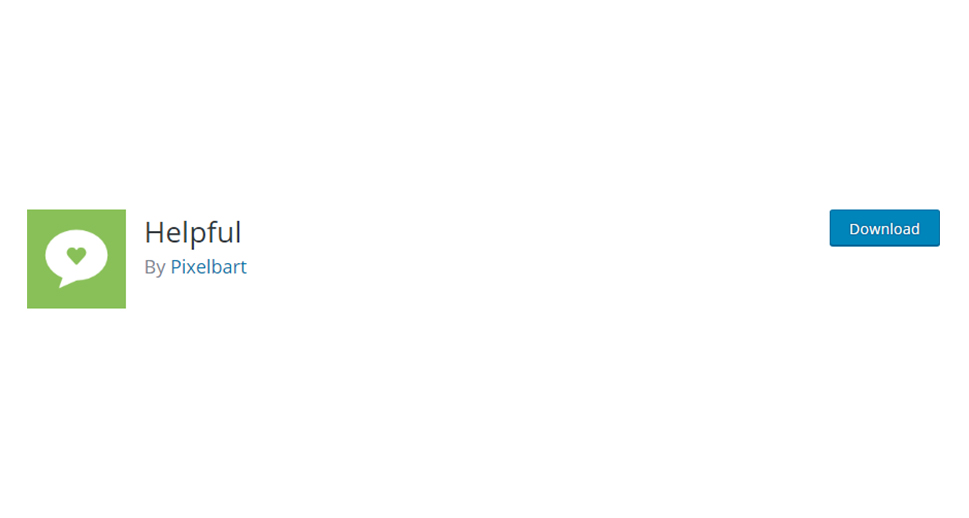 If your primary concern is budget and you do not need complex forms full of detailed questions, the Helpful plugin may be what you're looking for. It provides you with a simple YES/NO type of feedback form that is usually placed below posts and asks visitors a straightforward question "Was this helpful?". The visitors vote and you can see nicely visualized results in your dashboard easily. As for the customization, you can customize the form with your own CSS in the options panel and you also have the option to choose a theme from the Helpful library. This is a very basic solution, but fits with different types of websites and is able to provide you with significant insights.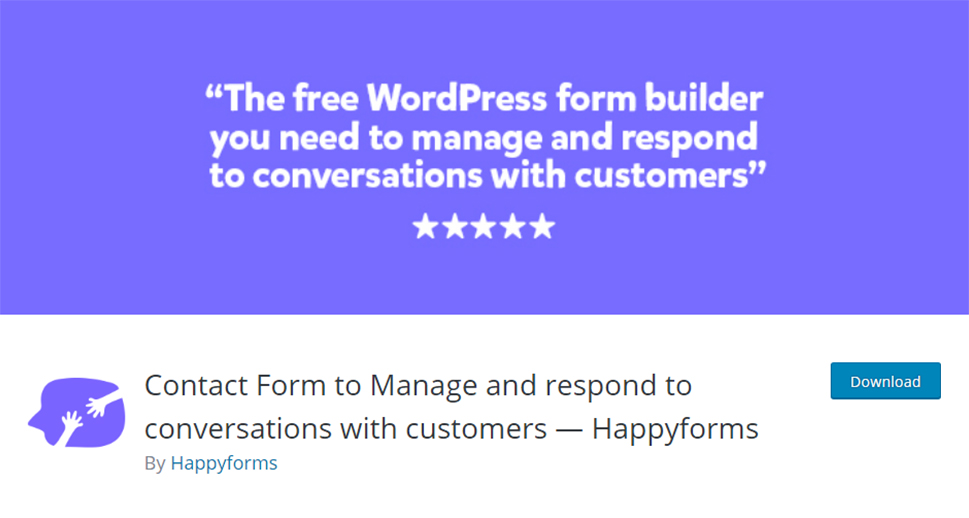 Happyforms is another free, user-friendly tool that lets you smoothly establish two-way communication with your website users. It includes a simple drag-and-drop form builder that allows you to create a variety of feedback forms with ease. You can create a quote form, a survey form, a lead generation form, and many other types of forms in just a couple of clicks. All the forms you make will be responsive and you also have more than 50 styling options to set the form's design. It is also convenient that you can live preview the forms as you create them. The plugin also has a premium version that comes in a three-tiered pricing plan and includes options like advanced filtering of responses, multi-page forms with a progress bar, and more.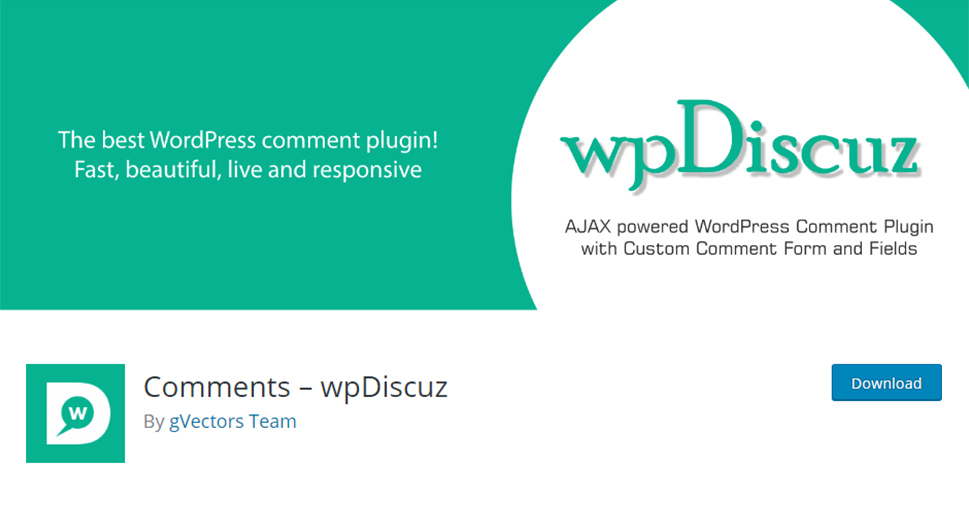 Making your products or posts the center of a discussion is a great way to bring life to your website. To achieve this you need the support of a fast, interactive comment system with real-time discussion capabilities. And that is the core functionality of the wpDiscuz plugin. Not only does this plugin allows your users to vote, rate, and discuss your posts, but it also includes the innovative inline commenting feature that allows users to leave their comments anywhere on your post. This feature also allows authors to add questions for readers in any paragraph of the article and ask for feedback while visitors read it. Visitors can rate the articles without having to leave comments, or both comment and rate. Plus, all these and many more useful features are included in the free version of wpDiscuz.
If you're looking for a more creative approach to engage your users and collect feedback, quizzes and surveys may prove to be more valuable than the standard feedback forms for you. The Quiz And Survey Master plugin offers a variety of question types for your forms – you can easily create multiple-choice, open-answer questions, true & false, fill in the blank, and many more different quizzes and surveys. Plus, you can entirely customize your feedback forms – from questions to the submit button and everything in between. In case you want to provide your users with personalized text, you can use template variables and set the desired variations easily. As for the follow-up, you have the option that both you and the user get an email with the results of the quiz/survey. The plugin is not free but offers a free trial and a two-tiered pricing plan.
More than one million active installations and excellent ratings tell us that the Ninja Forms plugin fulfills its promise. It earned its popularity thanks to the versatility and the easiness of use. Like many other plugins, it comes with a drag-and-drop form builder that lets even complete beginners create complex forms easily. You can add as many fields as you want to the form, and create as many forms as you need – there is no limit to the number of forms. Plenty of pre-built templates can help you speed up the process of creating your form significantly. The Ninja Forms automatically take over the design of your theme, so all the forms you create will blend in seamlessly with your website, and they will all be responsive. The plugin is free, and in case you need more advanced options you can choose between three pricing plans of the premium version.
If the type of feedback you're most interested in is the customer review, the WP Customer Review Plugin may be a good choice whether you're interested in business or product reviews. What makes this plugin unique is that it has the ability to inform search engines whether your page contains your own or users' review. This plugin allows you to display customer reviews on a specific page on your site which can be a nice way to boost sales. The page created this way is entirely customizable so you can adjust it to fit well with your website design style. Shortcodes for inserting reviews on any page or post are also included so you can easily add feedback anywhere you want on a website. You can also edit the content and date of the reviews as well as add your response to them. Plus, it is entirely free.
eForm is a premium feedback form plugin that is very versatile and easy to use. It allows you to create surveys, data collection forms, quizzes, payment/cost estimation forms, and all kinds of feedback forms. It comes with an intuitive drag-and-drop form builder that lets you create an unlimited number of forms and manage them from your admin panel. You can also allow users to add scores and ratings easily. What's also good about eForm is that it includes a variety of analytic tools to help you interpret the feedback you collect.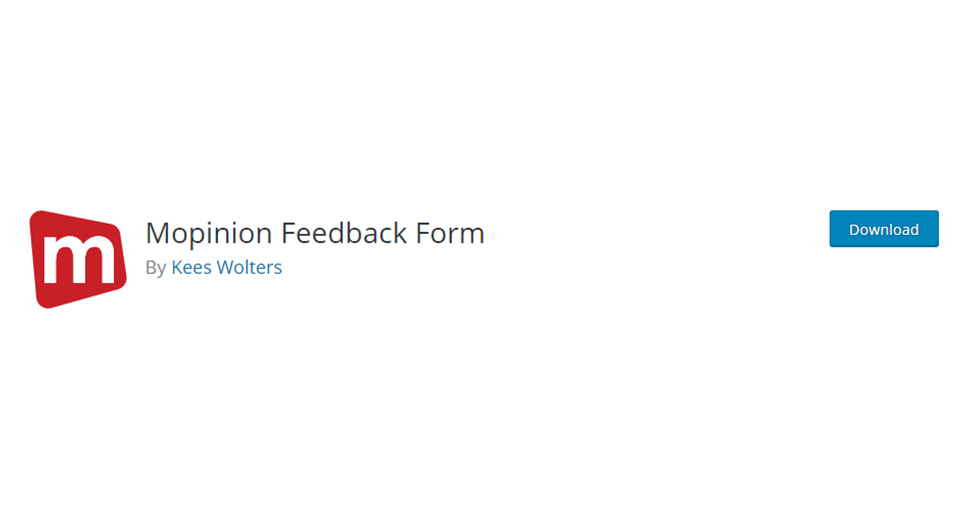 Mopinion is a complete, free solution for adding a customized feedback form to your website. It comes with a beginner-friendly drag-and-drop user interface that allows you to create a feedback form within minutes. The plugin adds a feedback button automatically and you can set the position of the button as per your needs. You can also adjust the design of the feedback form, add a logo, set trigger events like exit intent, choose between modal, slide-in, or embedded on the page type of form. When you download the plugin, you will be asked to set a Mopinion account which will then serve for collecting feedback once you start getting it. Another way to collect feedback is to receive it directly to your email. The plugin also provides some analytics tools to help you interpret the feedback. It does have one downside though – it is only free for a year.
There are many different types of feedback that you can get, which is why we wanted to make this list as versatile as possible. You can choose between very simple and free solutions like Helpful and Happyforms, or opt for plugins that offer way more than feedback forms like Quiz And Survey Master and eFrom. No matter whether you run a business website or a lifestyle blog, there's a solution to collect feedback and establish a mutual relationship with your users. Installing a feedback plugin is just a start, to make the best out of these tools be prepared to actively listen to your users and provide them with timely responses all the time.