9 Best Author Bio Box Plugins for WordPress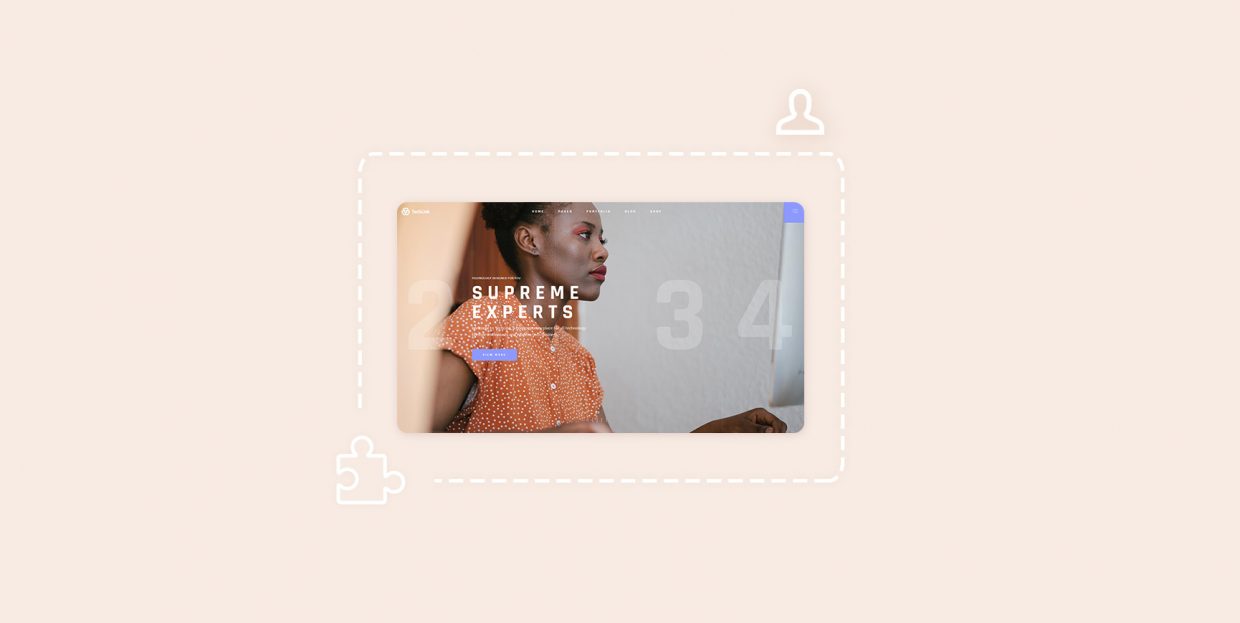 You must have wondered at some point who is behind all the content on your favourite websites. So have your visitors.
An author bio box is an easy way to help them to it: a short bio offers context to your visitors, and presents a more personal image. You can also use the author box to promote your contributors' other projects, such as social media pages or personal blogs, if you so prefer, flaunt your contributing authors' credentials, or simply offer your visitors a chance to attach a face to the content.
Our preferred method of introducing new features to a website is using a theme feature. However, not everyone can afford a professionally made theme, and besides, many professionally made themes simply do not come with this feature. In those cases a plugin ought to be able to help.
So, without further ado, we give you our list of best author bio box plugins for WordPress. Here are the plugins we will be discussing:
The fantastic Qi Addons for Elementor plugin represents a rich collection of 100+ flexible widgets for the popular page builder. Among them, you'll find the Author Info widget, a flexible little widget that can make an amazing addition to your pages. It allows you to easily display author info or short bio, with a picture, a signature, social links and more. Being fully customizable, the widget can be tweaked to fit your branding to perfection. You can play around with image shape and format, add backgrounds, and of course choose the typography. What's best, when you get Qi Addons, you get all the other amazing widgets so in addition to Author Info you'll also be able to use other amazing solutions, such as advanced and interactive sliders, image marquee, image hotspots, various progress bars and much more.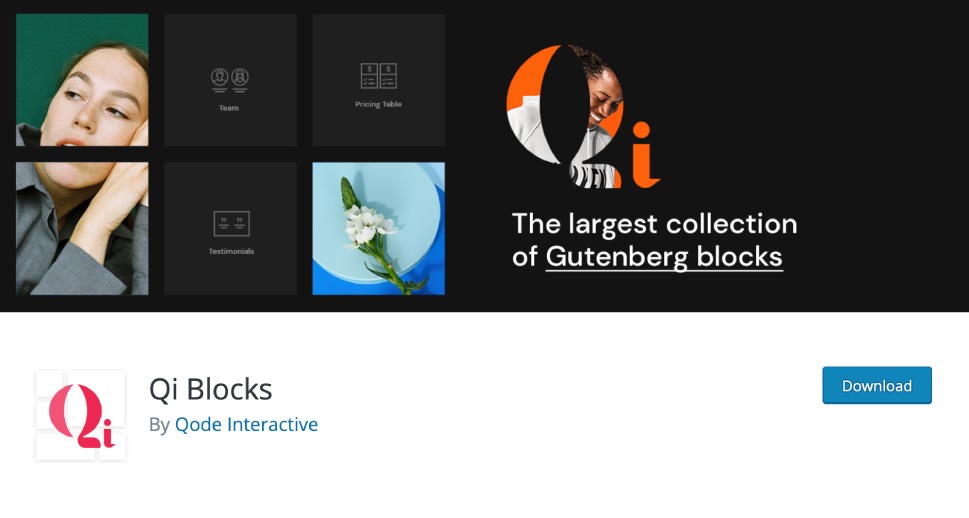 If you prefer working with the default WordPress block editor – Gutenberg – you'll be glad to hear that there's an analog plugin for you that has all the same functionalities as Qi Addons for Elementor. Qi Blocks for Gutenberg brings you 48 free and 33 premium blocks to choose from, including the Author Info block. Again, like with Qi Addons, you can tweak this block to perfection by adjusting everything from size and padding to background, typography and content. What's best, this particular block is free.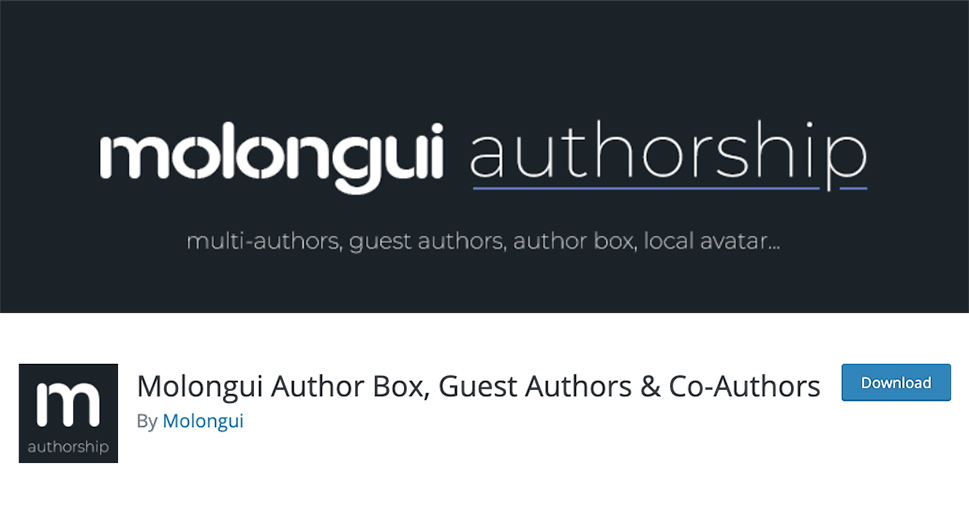 Molongui is a free, yet comprehensive solution to your author bio box needs. It offers multiple box layouts with fully customizable position, alignment, colour, text (complete with RTL support), and size. You can even use custom local avatars – a great feature if a user's Gravatar picture is not suitable for the type of content you are hosting (violent or gory, say, while you are running a family-friendly website), or even if you simply want some uniformity. And you don't even have to bother with designing custom avatars yourselves – this plugin will automatically generate an acronym-based one for you. You can also choose what information on your authors to offer to your visitors – name, avatar, personal website, e-mail, bio, and social media channels (with over 90 social media icons supported).
This plugin also supports co-authorship, allowing you to assign a post to multiple authors and credit them properly, and guest authorship, for contributors who do not have WordPress accounts but whom you would nonetheless want to properly credit.
The plugin's pro version offers even more customization options and placement of the author boxes in sidebars and other areas of your website, among other useful features.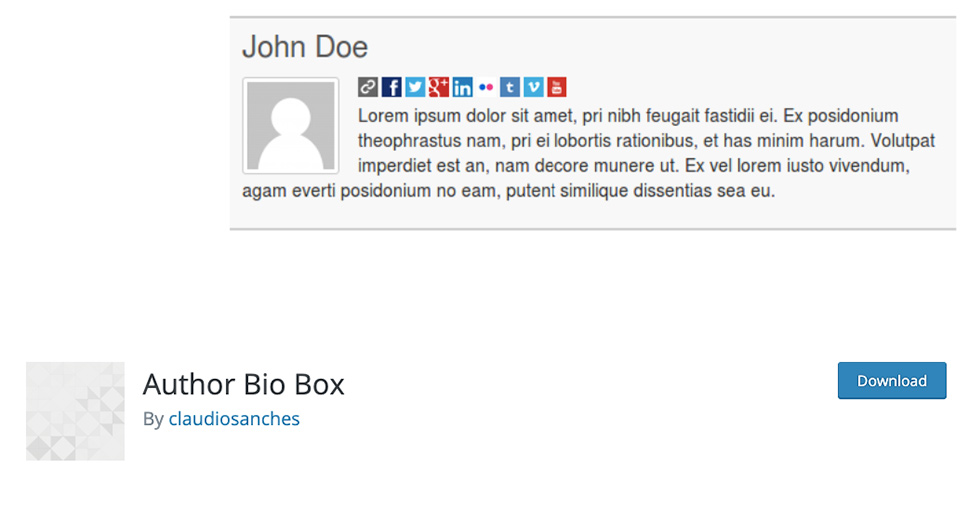 Author Bio Box is a free and simple plugin which provides you with all the basic options you could expect from a bio box. You get some simple styling options for text colour and Gravatar picture size, and a small set of new fields for the author profile page: a personal website, social networks, and author bio. The box so generated can be set to appear in each post, the post and the home page, or in another part of the website (such as an About Us or Meet the Team page), but the latter setting requires a little fiddling with the code. If you are looking for a bare-bones, no-frills author bio box plugin, this is probably a great choice for you.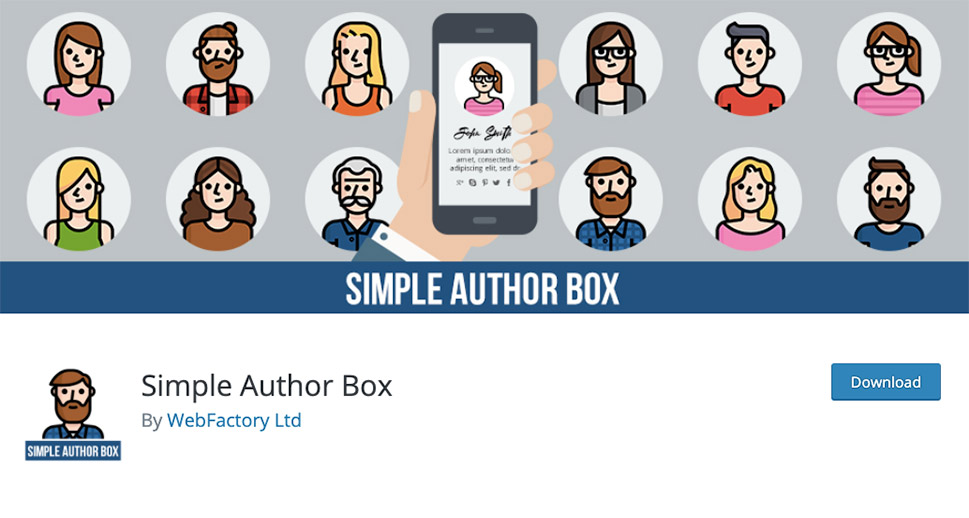 As the name suggests, Simple Author Box is an easy way of adding an author bio box to your WordPress website from the plugin's settings page. Each contributing author can then configure their own author box: fill out their bio, provide a link to their personal website, and include social media profiles, complete with icons (with over 30 social media networks supported). This free plugin also boasts a range of styling options, allowing you to tweak the plugin to fit your website's style and layout. Also supported are right-to-left languages.
A versatile author bio box plugin, Author Avatars List/Block has a range of useful applications beyond the basics. It provides you with a Gutenberg block and a shortcode which you can configure to show a single author's picture and bio, but also specific groups of authors (all your tech writers, say) – a useful feature for multi-author posts or if you have more or less permanent groups of contributors. You can choose the order in which these boxes are shown, and choose whether or not to display name and/or bio.
If you are running a website with many co-authored posts, you will definitely have plenty of reasons to appreciate Co-Authors Plus. The main purpose of the plugin is to allow a post to have more than one author, and that it does rather well. A secondary function is to create profiles for guest authors who do not have WordPress accounts, which is certainly an advantage. You can assign these guest authors e-mail addresses, websites and other contact info, but they do not come with author bio boxes by default. However, if all you need is their website and contact information, this plugin might still be a good choice for you.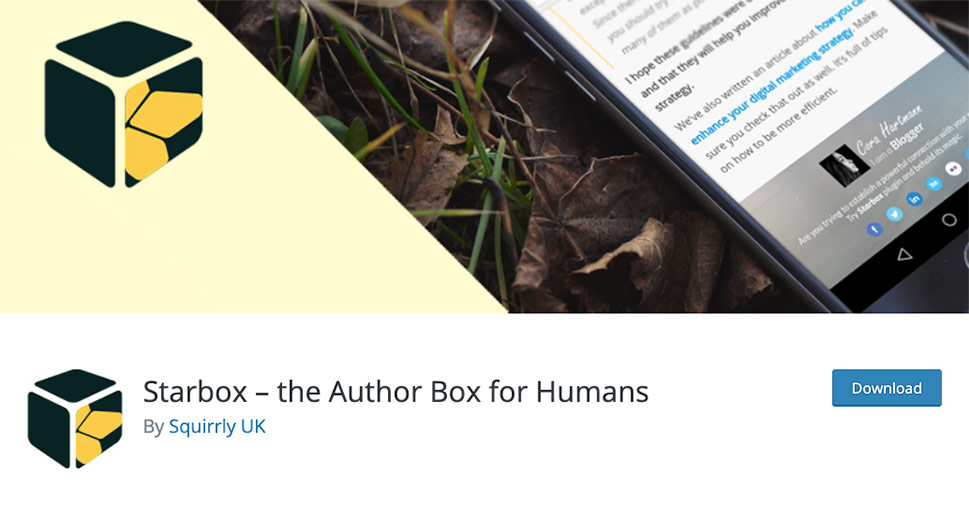 Starbox's claim to fame is the beautiful style of the author bio box – fit to make your authors stars. You can use this plugin to create and style author boxes for your authors, with their bios, job titles, company (with a link to the company's website), social media icons and other data. You can even have different themes for individual authors, or choose not to display a box at all for certain authors. If you particularly want to promote an author, they can have the spotlight: a box at the top of a post. You can also upload your own images for each author, in case you wish to make them uniform or appropriate for your website.
These boxes are SEO-optimized and integrate Google-authorship, meaning that your author's avatar will appear next to the search result.
WP Post Author is a no-frills plugin which allows you to create author pages and author bio boxes with ease. You can use it to create author profile widgets, too. It is easy enough to configure, providing you with fields for the author's role, e-mail, website, bio, and profiles on Facebook, Twitter and LinkedIn, all of which you can set to be shown (if available) or hidden at will. The plugin also offers some styling options, the better to fit your website.
We hope this list will help you select the author bio box plugin that's just right for you. All of the above plugins are tested for recent releases of WordPress and are free, with some being easier to use than others, but this user friendliness comes at a cost: those which are easiest to set up and use are usually lighter on the features side. So, if you are looking for a quick and simple solution, try WP Post Author, Simple Author Box or Author Bio box. If you are willing to invest the time in styling your author bio box, or if profile pictures are important to you and you want to bypass Gravatar, Starbox or Molongui are the ones you need to look into. If you are running a blog with a lot of guest authors and one-time contributors who do not have WordPress user accounts, try combining a plugin you like with Co-Authors Plus to give credit where credit is due. Finally, if you're looking for a comprehensive, rich and all-around solution that will bring you so much more than just a way to display author bio, then Qi Blocks and Qi Addons are your thing.