5 Best Auction Plugins for WordPress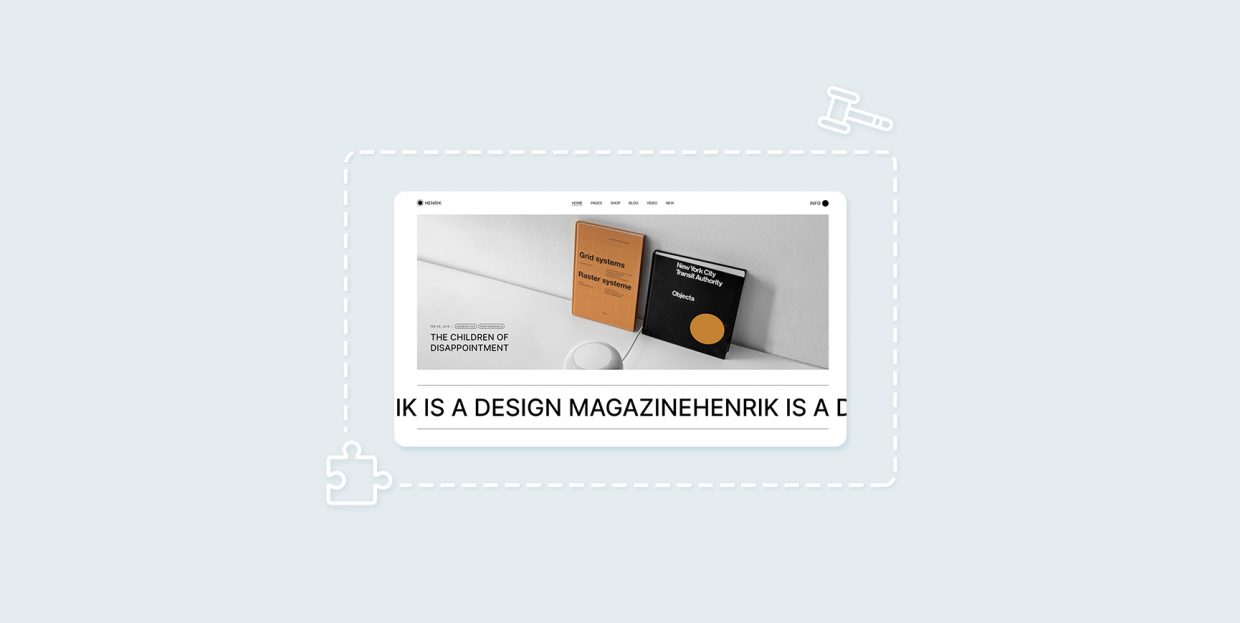 If you're interested in creating an auction website like eBay, there's no better platform to do so than WordPress. This popular CMS is user-friendly, scalable, and comes with a vast number of themes and third-party plugins to easily extend the platform's core functionality. By finding a solid, WordPress-oriented host, using the appropriate WordPress theme, and installing a suitable auction plugin, you will be able to generate a fully functional auction website and set up your auctions in no time.
We've decided to help you out on your journey by presenting some of the top WordPress auction plugins available right now. All of these plugins come with great features that will allow you to effortlessly host auctions on your WordPress site and also let users place their bids with ease. Also, if you have an eBay store, you'll be happy to hear that some of the following plugins also come with the ability to directly connect your WordPress site to this popular auction platform. Last but not least, if you plan to install and use WooCommerce – which is one of the best eCommerce plugins around – you'll be happy to hear that many plugins on our list offer complete WooCommerce integration as well. Check them out: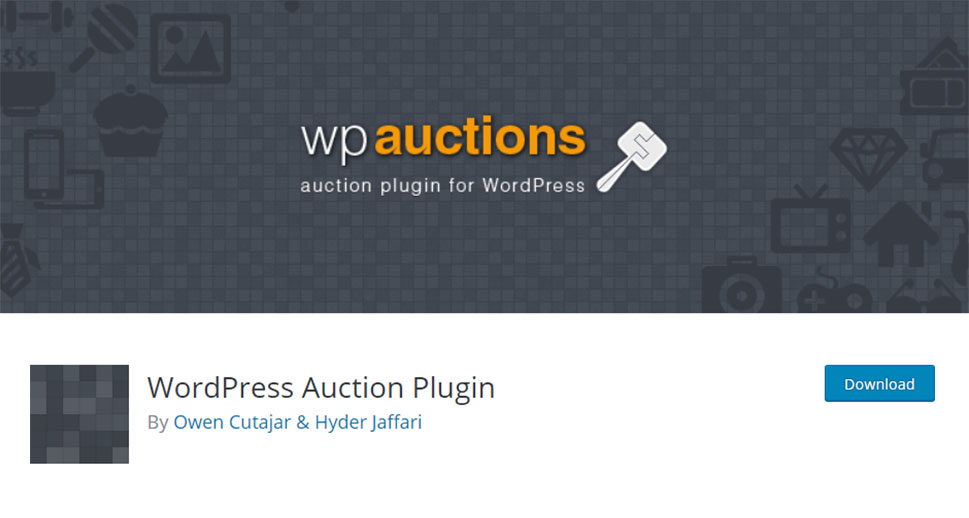 WP Auctions is a great plugin that will let you host auctions on your WordPress site for free. It allows you to display your auctions on your pages or posts in an attractive manner using AJAX popups, while the installation of the plugin itself is as easy as it can get. The plugin also offers features such as the ability to upload an extra image, add shipping price and custom contact field, and more. Moreover, you will be able to easily modify all your auctions, set a specific date and time, and allow only registered users to bid, among other things.
Some features only become available once you upgrade to the Pro version of the plugin, the pricing of which starts at $39. These include some additional security options (i.e. the ability to blacklist users and prevent them from bidding by their email addresses), and other customization and advanced features (like overriding CSS using a separate stylesheet).
If your aim is to connect your WooCommerce-powered site with your eBay store, WP-Lister for eBay is the perfect plugin for the job. By using it, you can choose the products you want to set up for the auction (from your product page) and list them on eBay with utmost ease. You will be able to list as many items as you want, create listing profiles, use national and international shipping options and product variations support. Also, you will get to use an advanced template editor, which comes with the plugin and features HTML/CSS syntax highlighting, to create different listing templates. Finally, you will also have access to some additional plugin-based toolbars in the WordPress post editor itself (on Product pages, to be exact).
Some of the pro features include sales synchronization (which updates the stock count on your site once an item is sold on eBay, and vice versa), the ability to split variations into single items and then list them in any category, upload product images to eBay, and so on.
The pricing for the pro version of the WP Lister plugin starts at $149 for one site.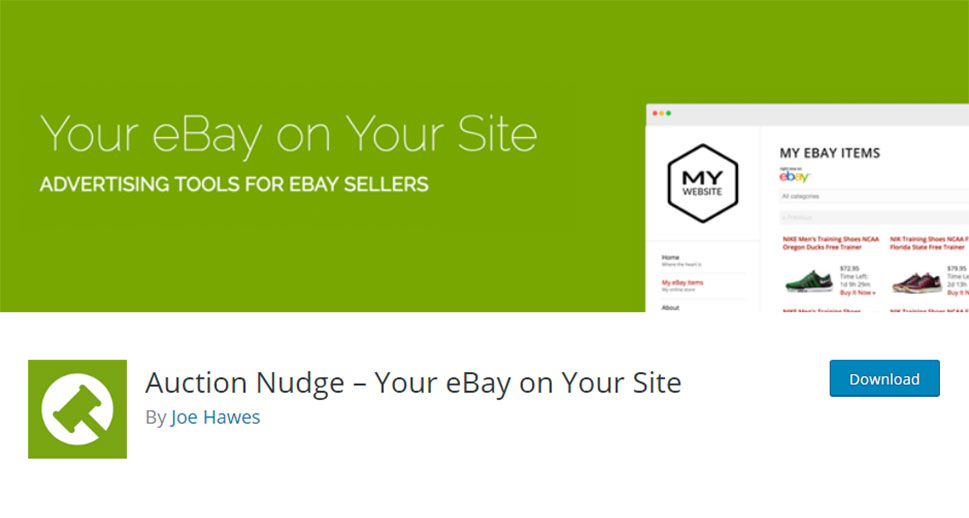 Here is another awesome donation plugin that will allow you to connect eBay to your WordPress site. Namely, the Auction Nudge plugin works by automatically displaying your latest eBay information on your site, including eBay listings, profile information, and most recent feedback comments. You can use shortcodes, widgets, or you can do so directly within your theme. Some of the display options include allowing the users to filter your items by category, allowing you to select the number of items you want shown per page, the ability to show multiple pages, as well as a search box that lets visitors search all eBay items by keyword.
In addition, there are some advanced options that let you choose the order in which you want to display your items, select the listing type, show only those items that match a specific keyword query, etc.
Flexible and easy to use, Ultimate Auction for WooCommerce is another plugin that allows you to set up and display your products as auctions on your site. If you opt for this plugin, you will have many free features at your disposal. These include the ability to allow bids placement to the registered users, add a Buy Now option, countdown timer, show auctions in your timezone, send email admin notifications for all activity, manage all live auctions and reactivate the expired ones.
To unlock even more features, you can upgrade to the pro version of the plugin (the pricing starts at $79 a year). By doing so, you will get to unlock automatic or proxy bidding, do live bidding without a page refresh, support virtual products, and get access to many useful shortcodes and filters.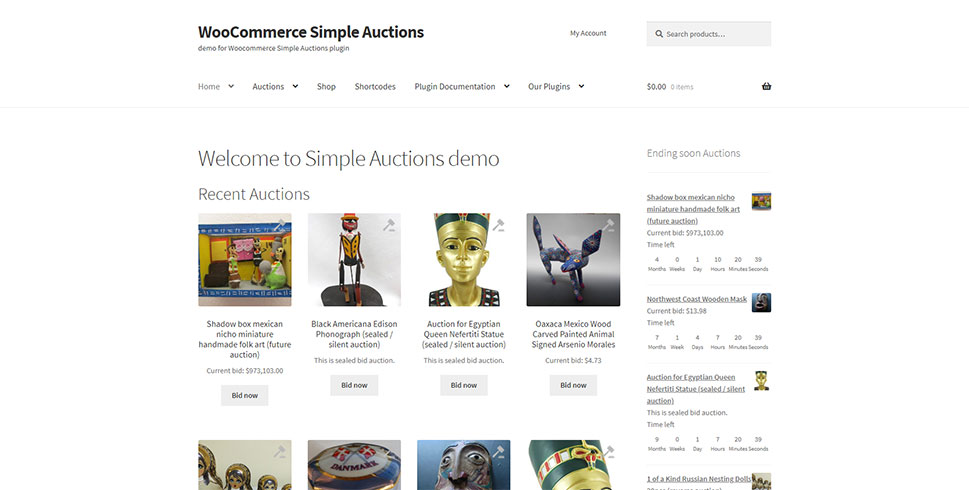 WooCommerce Simple Auctions is the plugin that allows you to set up a fully functional auction website using different types of auctions – such as regular, proxy, silent, and reverse auctions – together with your regular WooCommerce products. Your auctions will be easy to set up and customize, allowing you to start bidding in less than 30 minutes, of course, if you're using a payment processor in advance.
The plugin integrates seamlessly into WooCommerce with the help of hooks, allowing you to use a new type of WooCommerce product called "auction". Some of the features of WooCommerce Simple Auctions include multiple payment gateway support, the ability to set start and end time for your auctions, extend the auction end time if someone places their bid 30 seconds before it ends, control the way auctions are displayed, and plenty more.
The regular license for the plugin is $29.
No matter if you plan to host auctions on your WooCommerce-powered store or simply want to connect your eBay store to your WordPress site, one of these auction plugins will definitely meet your needs. Just make sure to go through every one of our suggestions carefully, inspect all available features, and then determine which one best meets your requirements. Once you do so, you'll be one step closer to creating a functional auction site that will allow people to place their bids and help boost the success of your business.