6 Best WordPress Timeline Plugins for 2023
Providing your website visitors with a chronology of how your brand came to be and the initial steps you took to get to where you are today can help people understand you and your business better. Consequently, it can also get them interested in exploring your site further, which is why you might want to consider adding a timeline to your website.
Even though there are several Qode Interactive WordPress themes with a horizontal timeline shortcode that will allow you to make a fully functional and beautifully designed timeline, there are also many types of timeline plugins you can find online in case you prefer to explore different options. So, we've decided to present you with a list of the best WordPress timeline plugins for 2023. Each one of these plugins comes with a set of easily customizable options, and a lot of them also have built-in templates that will help you easily create a timeline that fits your vision.
Our own Qi Addons for Elementor plugin adds 60 new widgets to your Elementor toolkit. Among other things, this completely free plugin provides you with a versatile timeline element with four ready-made layouts and literally countless styling options. Whether you prefer vertical or horizontal timelines, Qi Addons has you covered, with two of each provided out-of-the-box. You can make them as minimal or as rich as you like, and supply them with text, pictures, and animations. As the name suggests, Qi Addons is designed to work with the Elementor visual editor, meaning that placing a timeline anywhere on your website can be done with ease, using a drag-and-drop interface and real-time visual preview.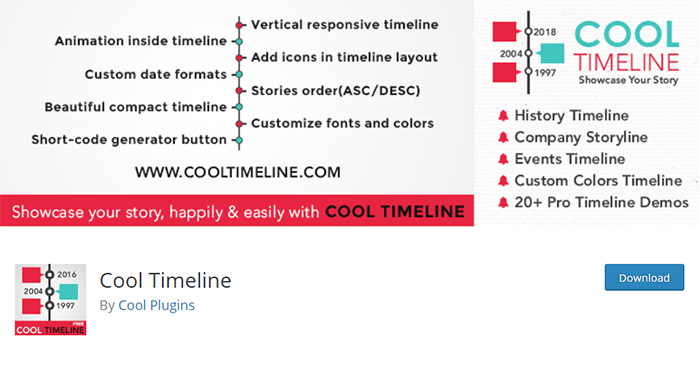 Created by Cool Plugins, the Cool Timeline plugin is great for displaying both-sided and one-sided timelines on your website. This all-encompassing timeline plugin also comes with a compact timeline option that allows you to create a vertical or horizontal timeline without much space between each story in it, which is perfect if you want to save up space on your page. You can choose whether you want to show your timeline images in a pop-up or just link to a full story. You can also customize your colors, pick from various cool icons, and more. The Pro version of this plugin contains many additional features, such as extra demos, animation effects, the ability to create multiple timelines, and premium support.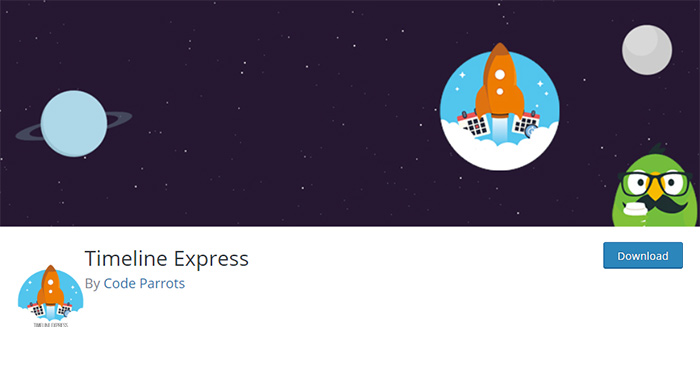 With the TimelineExpress plugin (that has over 20.000 installations as of now), you will be able to create vertical timelines and display your company history or personal achievements in chronological order. This plugin's easy-to-use shortcode allows you to place your timeline anywhere you want, so you can easily fit it into your website's existing design. Another great thing about TimelineExpress is that it comes with the option of adding beautiful CSS3 animations to your timelines, which will make them stand out and be more likely to grab the attention of your visitors. The pro version of TimelineExpress offers features such as the horizontal timeline, the ability to create multiple timelines and sort them by categories, priority support, and more.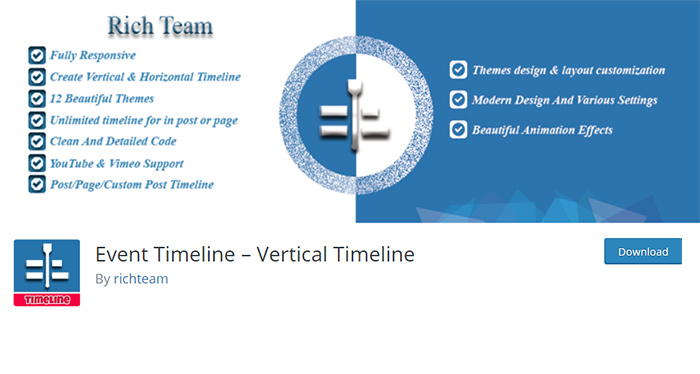 Event Timeline is another great WordPress plugin that will help you to showcase your stories in a streamlined and attractive manner. You can easily set images, videos, and slideshows. Thanks to the 18 different templates that are available, you'll easily be able to customize the style of your timeline in a way that will fit your website's design. In addition, you can create unlimited timeline stories and can navigate your timeline quickly and with ease thanks to this plugin's useful Timeline Scrolling Navigation feature. Event Timeline plugin is also cross-browser compatible and has a responsive design, ensuring that your timelines are neatly displayed across all devices.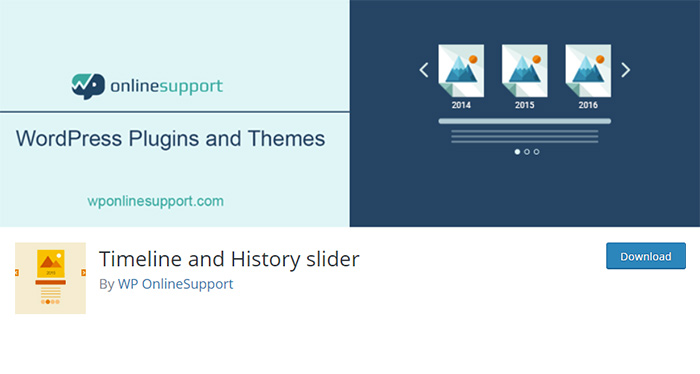 This plugin lets you create a "Timeline Slider" menu tab with a custom post type in your WordPress admin. Similarly to the way a WordPress post is made, you can add a title, content and featured image to each story in your timeline. Moreover, you can easily make horizontal timelines for your webpage which you can navigate by using the arrow keys.
The free version of Timeline and History Slider comes with all the features you need to create a basic timeline, but may require a bit of expertise when it comes to using WordPress. There are shortcode parameters that serve for further plugin customization, so if you have some basic WordPress knowledge under your belt, you will be able to use these shortcodes to define the number of images displayed on your timeline, enable infinite loop, determine slide speed, and more.
In case you are interested in having additional features that allow for more detailed customization of your timeline, you can always upgrade to Timeline and History Slider Pro.
The Post Timeline plugin creates a timeline of your WordPress posts. On top of the ability to make unlimited vertical timelines, you can also add animated scroll navigation to make things more smooth-looking and overall pleasing to the eye. There are different shortcodes that you can use in case you wish to create a single timeline, multiple timelines, or header posts. Of course, you can even separate each timeline by category and set different colors for every timeline post.
If you decide to try out Post Timeline Pro, you will be able to create both vertical and horizontal timelines and will gain access to more than 20 unique timeline templates, 5 different navigation styles, premium support, and so much more.
That completes our list of the best WordPress timeline plugins for 2023. Some come with more features than others, but most of them have a pro version that offers additional premium features and functionalities in case you want to personalize your timeline even more.
In our opinion, all these plugins are more than capable of creating a stunning timeline for your website that will help you improve user experience and bring your visitors closer to your brand. However, it's entirely up to you to determine which one fits you the most. That's why as a final note, we advise you to check out the demos of each plugin first to be absolutely certain you're making the right choice.