The Best WordPress Security Plugins for 2023
There are currently over 75 million active sites built on WordPress. So it's no surprise that the world's most popular CMS has become such a common target for hackers. Every day, thousands of sites get taken over or infected with malware.  If you want to make sure yours isn't among them, you're going to need a good WordPress security plugin.
Now, the WordPress core itself comes with pretty good security measures. But what are the chances you're going to rely solely on the WordPress core? The reason WordPress is so popular is the sheer flexibility provided by its many themes and plugins. The thing is, not all developers are equal, and some of these add-ons can be of questionable quality, opening the door to all sorts of attacks.
Luckily, there's a number of things you can do to protect your content. For starters, you need to choose a secure hosting provider and make sure you only use premium WordPress themes and trusted plugins on your site. You should also keep WordPress and all your add-ons updated to their latest versions. But if you really want to make your WordPress website hack-proof (or as close to that as possible), you'll need to go a step further and install a security plugin.
We've compiled a list of the best WordPress security plugins for 2023 you can use to protect your site, so check them out, and choose the one that best suits your needs.
1. Sucuri Security – Auditing, Malware Scanner and Security Hardening
Sucuri Security is undoubtedly one of the most popular security plugins for WordPress. You can download it for free, but if you plan on using some of its more advanced features, you'll have to sign up for one of Sucuri's paid plans. However, even if you decide to go with the free version only, it should keep your website safe and protected. As soon as you install this plugin, it will automatically run a scan to ensure there are no malware, link injections, infected or suspicious files, etc. The free version of the plugin takes care of the security activity auditing (it detects things such as failed login attempts), file integrity monitoring (it informs you if someone tries to make any changes to your files), blacklist monitoring (it basically makes sure your website isn't blocked on blacklist engines), and effective security hardening (it removes all vulnerabilities). It also includes security alerts and post-hack security actions (if a security breach occurs, the plugin will provide a list of steps to take).
Regarding the paid version, it enables you to add a powerful DNS level WordPress firewall with CDN to your website. The DNS firewall is particularly useful because it adds protection to the DNS layer of your web page. This further means that no connections to malicious websites are possible. Another cool thing about it is that it helps increase the overall speed of your website as well as its performance. Some pricing plans enable you to put a stop to DDoS attacks (hackers overwhelming their targets with a huge amount of Internet traffic). Other packages include multiple variations of SSL certificates, which are also incredibly useful for keeping your content secure.
As you can tell, this plugin comes with some pretty impressive features. Whether you choose to go with the free version or one of the paid plans, you're overall website security will get significantly stronger.
WordFence is another stellar security plugin you can add to your WordPress website. It also comes with both a free and premium version, and its purpose is to ensure excellent website security for its users. This plugin is quite powerful, and even the free version provides you with a significant level of protection.
As soon as you install the plugin, it'll ask you to enter an email address where you'd like to receive security alerts. You can then click the ''Start Tour'' button to learn more about WordFence. You'll notice that its dashboard is extremely user-friendly, making it easy for just about anyone to use the plugin.
It includes a mighty firewall as well as a malware scanner, which help keep your WordPress website safe. It fights spam and blocks malware, and it comes with a useful country blocking feature that lets you block attacks from a specific region. This plugin protects your files, core files, themes, and other plugins you have installed on your WordPress website. It also defends from brute force attacks (by requiring a two-factor authentication), which is something that other free plugins rarely include (if at all), and it also blocks logins with unknown passwords.
One of its amazing features is the fact that it tracks traffic trends on your website. This is particularly useful because it lets you see if someone made an attempt to hack your website, as well as understand if your website traffic is coming from Google crawlers, humans, or bots.
The premium version includes real-time updates on the latest threats (free users have to wait for 30 days to be notified), a real-time IP blacklist, better spam filtering, and also the possibility to schedule scans whenever you like. Also, premium users have priority when it comes to WordFence's ticketing system.
WordFence is one of the most popular WordPress security plugins for good reason and its numerous powerful features help keep hackers at bay.
3. All In One – WP Security & Firewall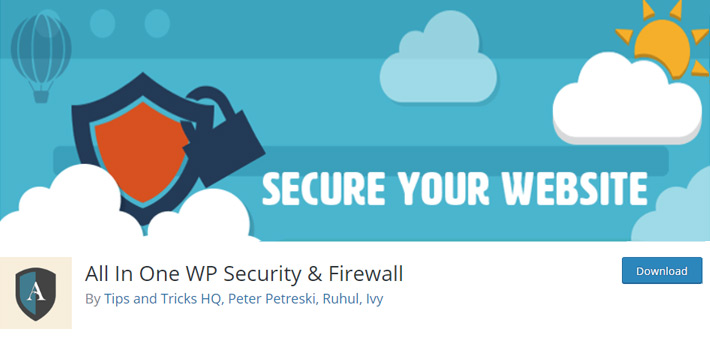 Another great solution when it comes to WordPress security is the All In One plugin. It's a good option for any beginner, since it's extremely user-friendly and, best of all, it's free. All In One is a WordPress security plugin packed full with features. For instance, apart from protecting your user accounts, it also protects the PHP code by disabling admin area editing. This plugin provides basic firewall protection and a blacklist tool, as well as .htaccess and .wp-config file backups that include a handy restore option.
All In One can also detect malicious code, and on top of that, it also shields your blog from spam comments. The list of useful features this plugin comes with goes on: IP filtering, file and user account integrity monitoring, automatic scan and backup scheduling, and more.
We mentioned that All In One is very user-friendly- it's even got a comprehensive and visually driven UI. That's not to say that this security plugin is good for beginners only. Moreover, this astounding plugin lets you pick from three different feature levels: basic, intermediate, and advanced. All in all, All In One is an all-round performer and a great choice for a free security plugin.
This is another freemium plugin that can help you protect your website from all kinds of online threats. It was released in 2016, and it's since become widely popular. Its UI is impressive, and even if you're a beginner, you'll be able to find your way around it with no hassle at all.
The free version of the plugin comes with pretty impressive features, such as anti-brute force login, blocked IPs, and an amazing firewall. What makes it different from most other free plugins is the fact that it includes protection of security keys and that it blocks visits from bad bots. SecuPress' scanner is also incredibly useful, as it scans your website for six main security points. Once it completes the scan, it'll offer you a one-click solution to all the problems it has detected.
If you decide to install the premium version, you'll get a plethora of additional features – a 35-point security check, two-factor authentication, geo-blocking, notifications, and PHP malware scans, detection of vulnerable plugins and themes, and much more.
5. Security & Firewall – MalCare Security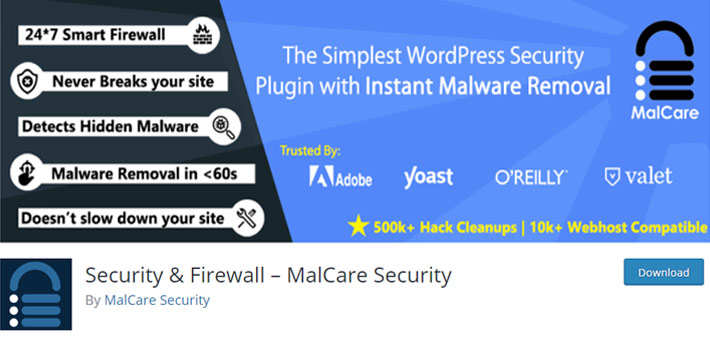 MalCare is super easy to use. For starters, you'll need to create an account on their website. Once you're done with that, just download the plugin, install it, and activate it on your WordPress website. As soon as you complete the process, the plugin will automatically run the initial scan. The thing about MalCare is that the scan doesn't affect the performance of your website. It won't slow it down at all, because the scan is run on MalCare's own servers. The dashboard is pretty neat and user-friendly, and all options are really easy to find.
MalCare comes with an automated malware removal system, a powerful firewall to keep you safe from the latest threats in real time, and it also includes blacklist monitoring. You can run its scanning system daily, which is a tremendously useful thing to do. In case it detects any kind of changes or malware, it will load your entire content to the MalCare's server, and keep it completely safe from any possible hacks.
If you're searching for a paid solution for your website security, MalCare is definitely worth looking in to.
To ensure your website remains intact by the bad guys, you need to protect it to the best of your abilities. Regardless of which WordPress security plugin you choose to add to your WordPress website, each will keep your content secure. If you're not sure which one to go with, test them, see how you like them, and install the one that best fits your specific requirements. And don't forget to keep your WordPress installation up-to-date, as the WP team works incessantly on fixing bugs and security issues.