6 Best WordPress Search Plugins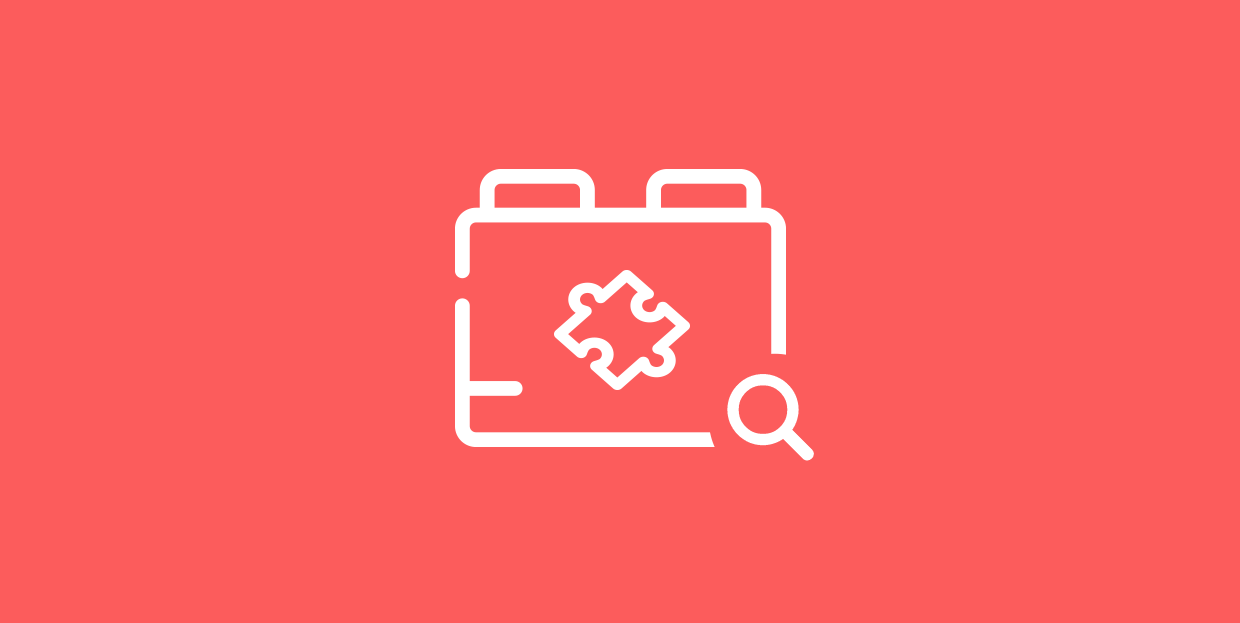 While WordPress is the most popular CMS in the world for a plethora of reasons, there are areas where it could use some improvement. A lot of these trouble areas, however, can be easily helped with a well-chosen widget or plugin.
One of the places where WordPress doesn't precisely shine is, without a doubt, the inbuilt search functionality. Fortunately, there is an abundance of WordPress search plugins which are a significant improvement over the default functionality.
A good search plugin will not only help your visitors find what they need, but it will also help you determine the order in which they access your content, prioritizing by date, relevance, author, or possibly other criteria. Furthermore, you can infer from search data what your visitors are most interested in, and use it as a guideline for your content creation strategy.
We have selected a few WordPress search plugins for this list which we feel will fit most developers' purposes. This mix of free and premium plugins covers a broad gamut of useful functionalities and contains something for everyone: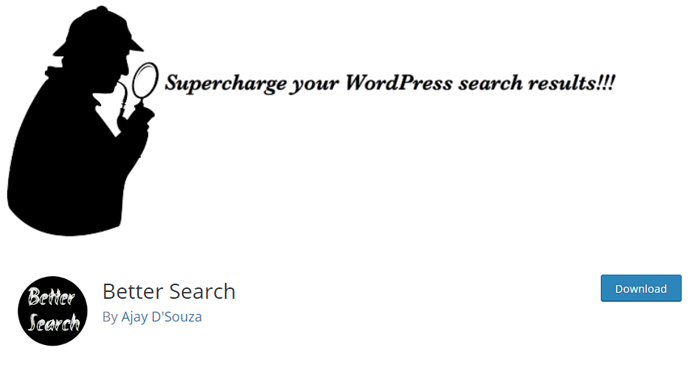 Better Search is a great plugin you can get completely free. Simply install it, and it replaces your default WordPress search feature. Simplicity notwithstanding, this plugin gives you some advanced search features. For instance, your visitors' searches are sorted by relevance to search terms, but you can sort by date simply by switching this feature off. You can also assign weight to titles or content, affecting the order in which your visitors see their search results, highlighting what's more important. The plugin also has a profanity filter, if family friendliness is important to you.
Another useful feature of this plugin is the heat map, which lets you know which are the most popular searches on your website. This can help guide your content strategy, as you will be more aware of what type of content your visitors are most interested in.
With AJAX Search Lite's free version, you get an excellent modification of and improvement to WordPress's default search feature. AJAX (Asynchronous JavaScript and XML) allows the content of your page to change dynamically without reloading the entire page, making for faster overall running of your website. And here we see it applied to a search plugin.
This plugin comes with 8 readymade search bar templates, and allows searches of titles, descriptions, excerpts, categories, tags, and custom fields. You can configure it to search through your custom post types, such as events or WooCommerce items.The plugin also allows you to set up check boxes as category filters to streamline your searches even more. And you can exclude a post or category from searches on your website in order to avoid confusion.
AJAX Search Lite is fully responsive and Retina-ready. It is also fully compatible with WPML, one of the most popular plugins for multilingual websites. It can also be integrated with Google Analytics for a detailed insight into your visitors' interests.
The PRO version adds an array of additional features, such as autocomplete and media content search (the ability to search through any MS Office files and PDFs on your site), to name only two. It also adds some interesting aesthetic features, such as layouts and themes.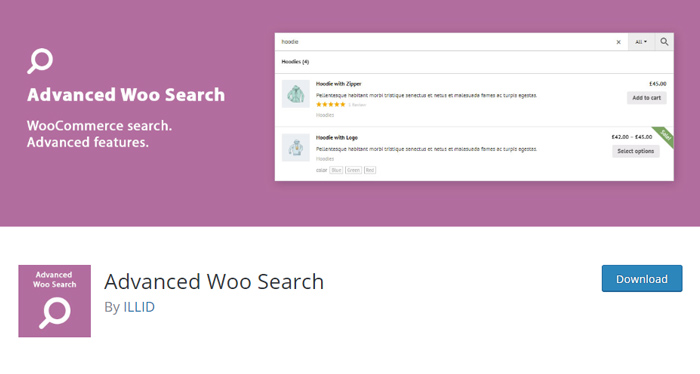 This plugin comes in free and premium versions, and is, as the name suggests, designed to work with the WooCommerce plugin. With Advanced Woo Search's free version, you still get a powerful and versatile search plugin more than capable of speeding up your visitors' browsing through your stock. You can configure it to search by product title, description, excerpt, categories and tags, ID and SKU. Each search result also contains the product image and price.
An important thing to be aware of, especially if your website is not exclusively English language, is that the plugin has diacritics, plurals and synonyms support. In case you need your website translated, Advanced Woo Search is compatible with WPML (including WPML multi-currency support), Polylang, WooCommerce Multilingual, and qTranslate.
The PRO version makes improvements to the search algorithm by incorporating AND and OR boolean operators, and it also grants you an unlimited number of search form instances, making it possible for the same user to make concurrent searches. Among other useful features reserved for premium users are also the add-to-cart button on searches and support for variable products.
The plugin comes with an extensive knowledge base, which the developers have included in case you get stuck or confused by the sheer number of available options. If you are running an e-store or designing the website for one, this plugin is definitely worthy of your attention.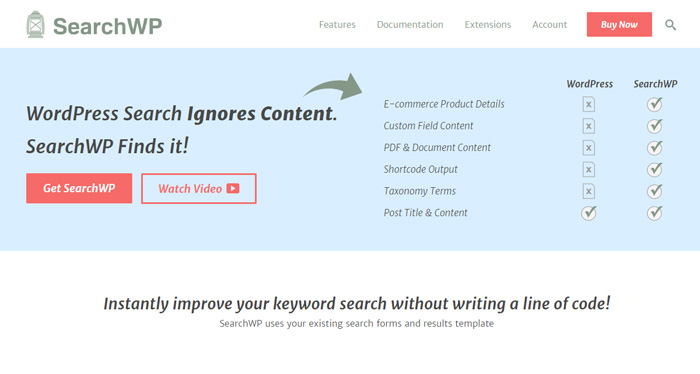 SearchWP is a premium search WordPress plugin which works by indexing all the data on your website. This index covers not only your post titles and content, but also custom fields, e-commerce products, categories, tags, PDFs and other documents in your website's media library, and more. Using the plugin's settings tab, you can easily select which items are searchable and assign weight to them, guiding the visitor to what they're after. You can limit or exclude searches, search for quoted phrases, and toggle keyword stems. The plugin also returns partial matches, allowing visitors to find items they don't know the full name of.
The visitor insights functionality allows you to track user searches and find out what your visitors are looking for, and whether they have found it or not. You can use this data to guide your content strategy, or to improve your tags and categories system. The plugin also works with some of the most popular plugins, such as WooCommerce and WP Job Manager.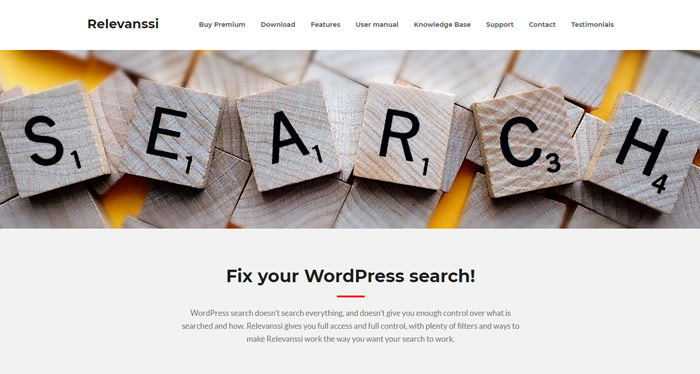 Relevanssi really lives up to its name (even in the free version): providing your users with search results sorted by relevance. The plugin supports partial word matching, quoted phrases searches, searches by tag, category, custom post type and custom fields. Search terms are highlighted for context in the plugin-provided short excerpts. Search categories can also be weighed, so you can precisely guide your visitors through your content with a very gentle touch. Also available is a "Did You Mean?" functionality, that helps you help your visitors out.
The premium version of the plugin indexes your PDF, MS Office and Open Office documents. You can also configure it to index user profiles and provide them as search results, too. Apart from the AND and OR operators, the premium version also introduces the NOT operator to users, allowing them to further refine their searches. On the back end, the premium version supports WP CLI, a command line tool which allows you to do a lot of fine tuning of the indexing process.
In either version, the plugin works well with WooCommerce and supports SKU searches, making it a good choice for an e-store.
This plugin is a massive improvement on WordPress's default search. WP Extended Search lets you extend the default WordPress search to provide results from categories, tags, post metadata, author names, and custom taxonomies. You can also configure it to include or exclude any post type and control whether the results come from all searchable data or just page titles and content. An interesting functionality is the old content exclusion: you can exclude any content older than a specified date from your search results.
WP Extended Search allows you to toggle the use of the AND and OR logical operators between search terms, and enable partial search term matches, allowing for more precise user searches. You can also affect the order in which results are shown by prioritising relevance, publication date, or any of the other options.
The plugin is WPML compatible, translation ready, simple, and completely free, making it a great choice for beginners.
The fact remains that WordPress's default search is a little on the rudimentary side, and could do with some help. Each of these plugins provides some of that necessary assistance by way of added functionalities that make it easier for your visitors to find what they need. The choice of plugin is ultimately yours, and depends on the functionalities you need the most (and, likely, the price tag), but we are confident in our list. You won't make a mistake by picking one of these WordPress search plugins.