5 Best WordPress Plugins for Displaying Popular Posts
If you own a website that contains a fair amount of articles, the chances of your visitors finding some of your most popular posts may be slim. And given that your most popular articles represent content that best resonates with readers, this is a good indicator of their quality. So, you want to ensure that they have access to these types of articles no matter what.
Now, one of the most straightforward ways to do this is to display your most popular posts on your site using one of the many available WordPress popular posts plugins. If you install one of these plugins, you will be able to clearly display these on your homepage, blog page, in a specific article, or anywhere else you deem appropriate. We've already mentioned that your most popular posts are typically your best pieces of content, which is why this strategy has a high potential of winning over the interest of users who come to your website. All this can only bring you more regular site visits, more page views, and finally, more online credibility in your niche.
Many different popular posts plugins can help you out with this task, which is why we've decided to single out only the best of the best plugins in this category. Check them out:
Trending Post Slider and Widget is a simple plugin that lets you display your most popular blog posts based on your post views or comment count. There are two ways in which you can display your popular posts – with a shortcode (as a slider, in grid, or a carousel) or by using a widget. Also, there are many parameters you can use within a shortcode to further customize the way your posts will be displayed.
There is also the pro version of the plugin, with the pricing that starts at $99 for lifetime access and up to 5 sites. It comes with some additional features, such as 20 predefined stunning designs, support for various builders (like WPBakery, Beaver Builder, and Elementor), and so on.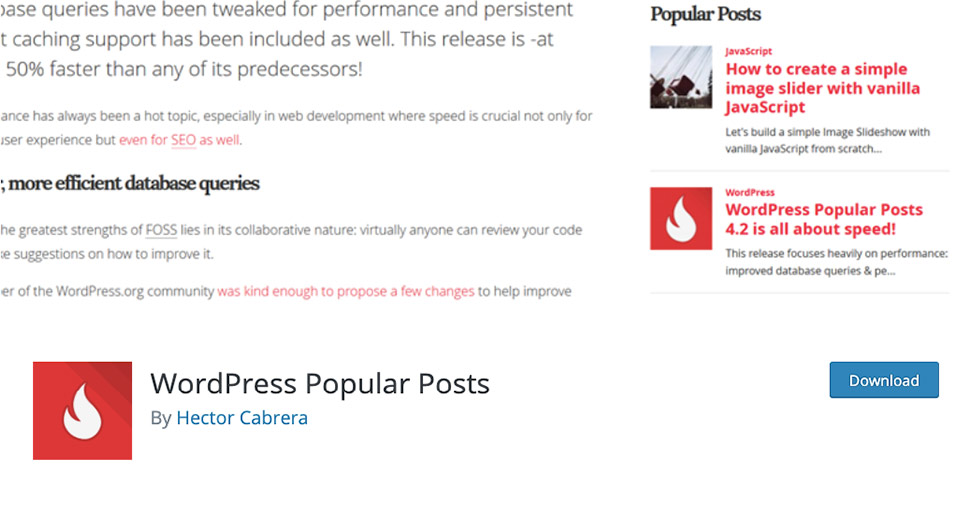 WordPress Popular Posts is a highly popular plugin on WordPress.org, with over 300,000 active installs. It offers a highly customizable widget that allows you to display most popular posts on your WordPress site. You can have different widgets displayed in any widget area you deem fit (of course, depending on your theme's widget area settings). Namely, a plugin comes with the ability to list your most popular posts according to a specific time range, like within the last 24 hours, last 7 days, last month, or all time. For example, you can have a widget with your all-time popular posts displayed on your homepage, while your blog page can display posts that were most popular within the last 24-hours.
There are some awesome sorting options at your disposal as well, like the possibility of ordering posts by comments, views, or daily average views. Plus, you will get a set of a few predefined themes to further customize the look of your widgets according to your liking. Last but not least, the plugin comes with Polylang, WPML, and multisite support.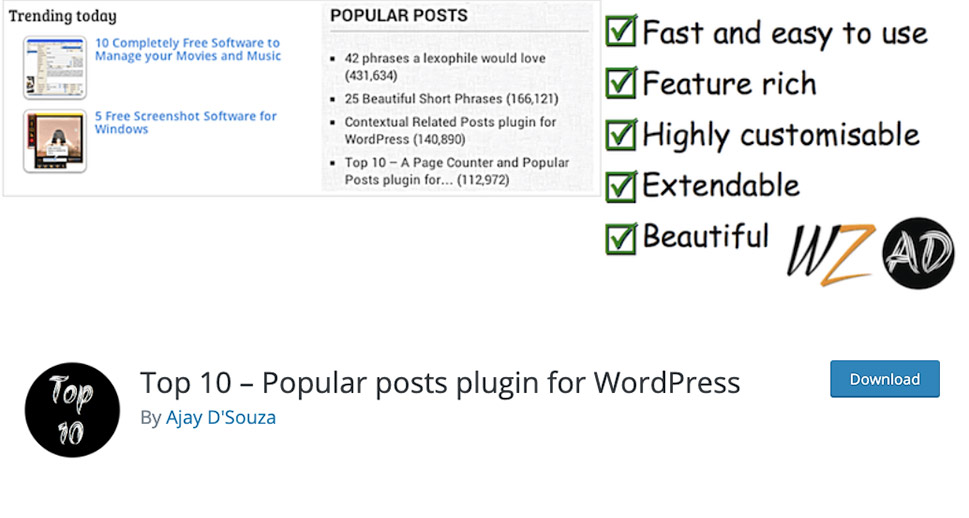 This is another popular plugin that contains plenty of features. On top of that, it is rather easy to use and comes completely for free. The Top 10 plugin works by counting the number of views on your posts, pages, and custom post types and allows you to showcase those numbers alongside your most popular posts. You can use two shortcodes to display the posts list and the number of views. There are also two widgets you can use for displaying your posts – daily popular and overall popular posts. Moreover, you will be able to choose how many posts you wish to display at once.
Some additional features of the plugin include thumbnail support, the ability to exclude posts from specific categories, and enter custom CSS styles, among others.
Aside from allowing you to display your most popular posts, the Relevant plugin also offers you to display related posts, as well as featured and latest posts you end up adding to your WordPress site. In addition, you can display some additional post info, including date, author name, reading time, the number of comments, featured image, and excerpt. You will also get to choose different positions (before and after content), use shortcodes and widgets, change the title and the number of posts you want to be listed, set the custom size for featured images, etc. Finally, you will be able to sort your popular posts by the number of comments or views.
The plugin is incredibly easy to set up and requires no coding knowledge to do so. And in case you still get confused along the way, there is detailed step-by-step documentation available as well as videos you can use for some extra help.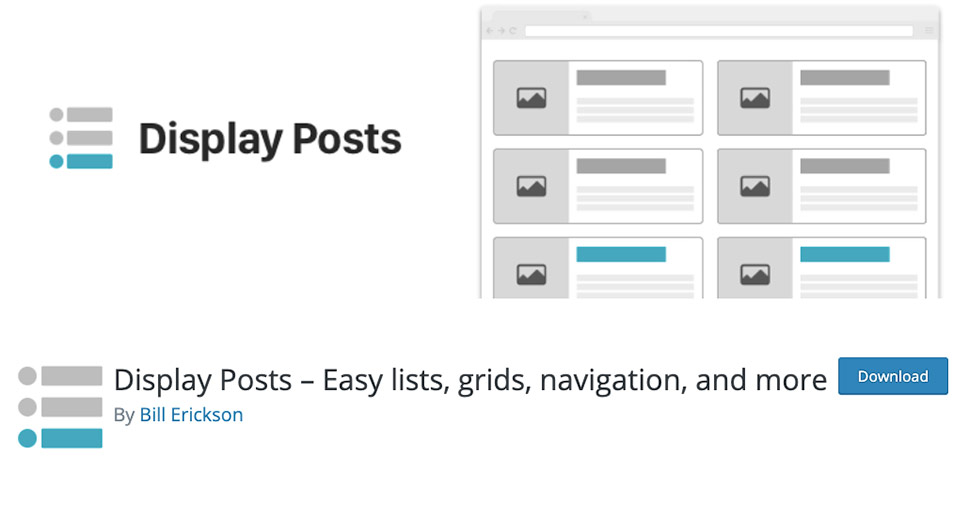 Here is another free and highly popular plugin (with over 100,000 installs) that allows you to add not only popular but your most recent posts as well.
When it comes to popular posts in particular, the Display Posts plugin lets you accentuate them in many different ways. For example, you can include thumbnails and/or excerpts, you can display posts in a grid format, sort them by comments or by social shares, and so on. We have to note, however, that you won't be able to display your most popular posts by traffic, but in our opinion, the two aforementioned options more than make up for it. Plus, you can also sort your posts by title, by menu order, and content type, list posts from specific categories, and so on.
Adding a list of your most popular posts to your WordPress site is one of the best ways to increase user engagement, reduce your bounce rate, and make visitors stay on your website longer. Some of the plugins we listed above have a wider range of features and customization options compared to others, like Top 10 or WordPress Popular Posts, for example. Still, all of these plugins are more than capable of letting you display your most popular articles in an effective, streamlined, and user-friendly manner, so feel free to pick one that suits your particular needs.