5 Best One Page Checkout Plugins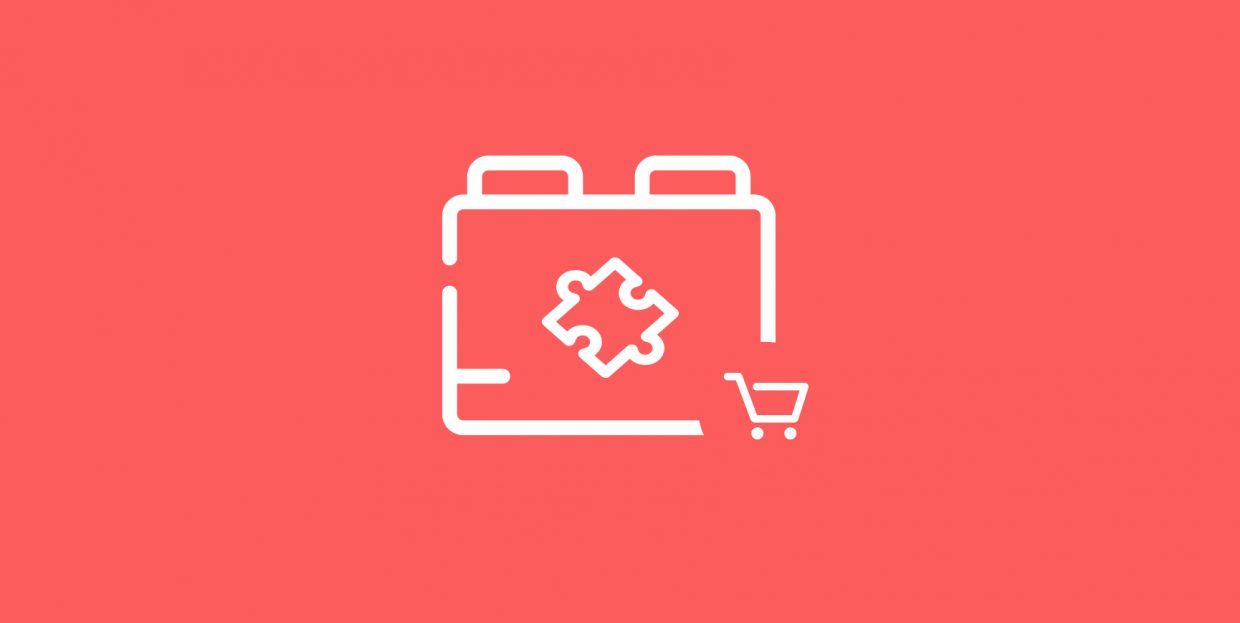 One-page checkout is a very simple and a very effective concept. Just as its name suggests, it is a checkout process that is started and finished all on a single page. One-page checkout has fewer forms to fill, too, and in general much of its processes are as simplified as they can be without compromising other vital aspects of the checkout.
We have written extensively about the benefits of the WordPress one-page checkout. This time around, we want to share with you some of the best WordPress one-page checkout plugins. These plugins are meant to save your time and effort by helping you create a checkout page that will contain everything a customer needs to complete a purchase, without having to navigate from one page to another.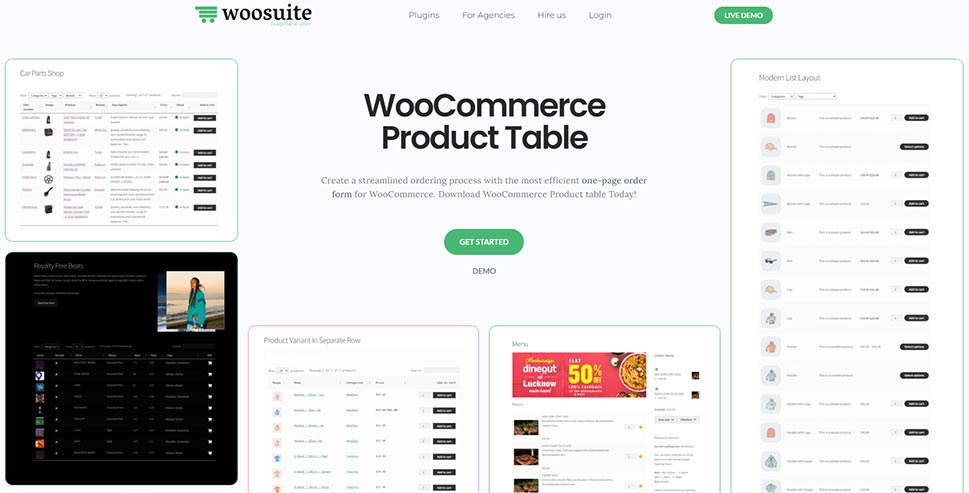 WooCommerce Product Table is a versatile plugin that helps you create neat, clean product tables, lists, menus, comparison tables, product bundles and more. It can be used to create one-page checkout pages, too, and with great ease, thanks to the intuitive drag-and-drop builder. With its advanced search and sorting functionalities, the plugin helps you create lists and tables that your customers will be able to search by clicking and opening, without navigating to a new page. This plugin is ideal for wholesale merchants, as it helps group and sort bulk products in a very user-friendly way. WooCommerce Product Table is very flexible and allows for creating highly customized layouts. You can add any information you feel is relevant to your customers in just a few clicks. It also comes with the ability to include or exclude certain products, individual settings for each table, advanced custom fields, predefined column fields and the custom shortcode column.
The pricing starts at $8.25/mo, billed annually.
WooCommerce One Page Shopping is a simple and efficient extension for WooCommerce that greatly simplifies the checkout experience. With this plugin, as soon as the customer adds a product to the cart, a set of fields appears below, allowing them to fill in the checkout fields (shipping and billing information, etc) right then and there. The plugin options are rich and customizable, so you can choose the combination of cart and checkout elements on the product page, category pages or the main shop page. The setup is incredibly simple. Once you install the plugin, you will see the options for adding checkout to your Shop, Product or Category in the settings of each of these pages. You can then simply enable them where you want them. It's really as simple as it gets.
WooCommerce One Page Shopping extension costs $20 for a single license.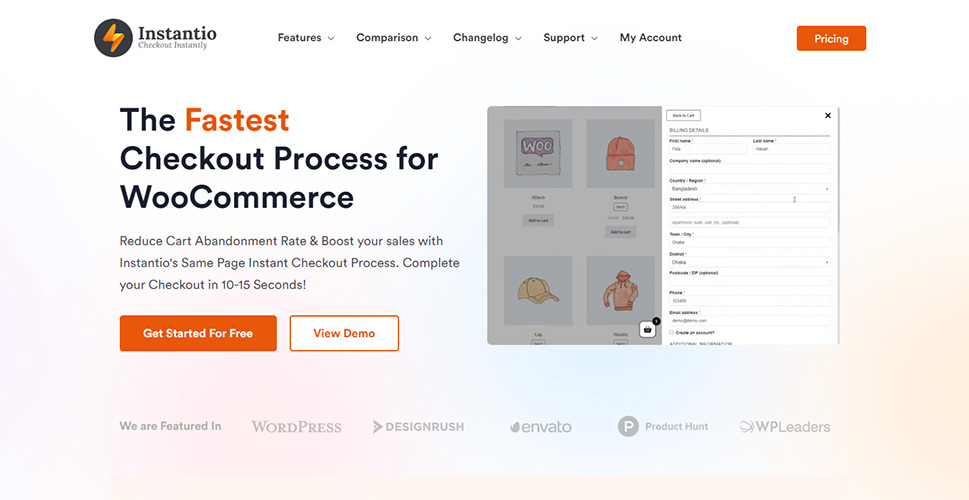 Instantio is a remarkable, rich plugin that can revolutionize your eCommerce UX by simplifying the checkout process to perfection. It basically allows your customers to skip the cart page and go straight to the checkout, while staying aware and in control of what's in the cart. We particularly like the fact it comes with so many options to choose from – the cart with or without checkout can be reachable as a popup or a side cart, as a floating button, multi-step or single-step… whatever you want. There's even an RTL Arabic checkout, for shops working with those markets. Plus, the plugin comes with a dedicated mobile layout, so you can be sure your checkout process will be just as streamlined on mobile as it is on desktop. Instantio also features Ajax-based login and auto-increment/decrement of the cart items, without having to reload the page after adding a new item.
The Starter plan costs $29/year for a single site license, and the Pro plan, for multiple websites, costs $149.
When it comes to official WooCommerce extensions, the one you'll be needing for a streamlined one-page checkout in your shop is the WooCommerce One Page Checkout. This extension allows you to turn any of your pages into a checkout page, and it can include both the products and the checkout forms. That way, the visitors add items to their cart and then complete the checkout without having to navigate to a different page or to wait for it to load. Another thing you can do with this extension, if that works better for you, is to add the checkout fields to individual product pages. Alternatively, you can add checkout fields to special landing pages you create for your promotions. The great thing about this plugin is that you get to choose which products you want to display on the page, creating a curated collection. You can also create this page just for your featured product(s) that you want to promote, or your whole catalog – whatever works for you best.
This extension costs $79, billed annually.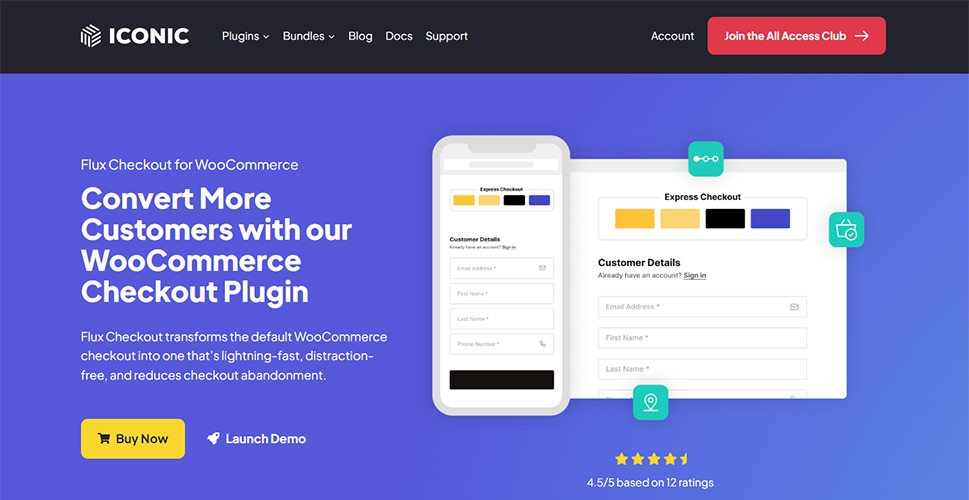 We're finishing off with a plugin that doesn't exactly create a one-page checkout, but it does offer some exceptional features for optimizing the checkout process to the max, making it just as conversion-friendly as the one-page checkout. Flux Checkout for WooCommerce is a premium plugin that creates a streamlined multi-step checkout with a reduced number of fields to fill. It comes with a set of user-friendly and optimized checkout templates that you can choose from. You can also customize each template so that it fits your design and your branding. Flux Checkout allows for auto-populating several fields as soon as the customer selects the address. It comes with a free Google API key to allow instant address search. Furthermore, it helps with customer frustration as you can choose not to prompt billing and shipping addresses. As for the order completion and thank-you pages, these are highly customizable, too. Finally, the checkout you create with this plugin will be optimized for hand-held devices, which is important since these days more and more people use their phones to purchase products and services.
One downside of this plugin is that it's a bit on the pricey side – a single site license costs $99. However, if you're running a big shop and you want to make sure everything is top-notch in terms of UX, this is a spending that really makes sense.
There's really not much we could add here – you saw that all the plugins and extensions in our list are bound to boost your conversions by optimizing the checkout process. You can opt for a classic one-page checkout process, or a more complex solution with dynamic forms that appear when a product is added to the cart. Whichever of these solutions you choose, you can rest assured your customers will appreciate it, and your conversion rate will grow.