6 Best Google Maps Plugins for WordPress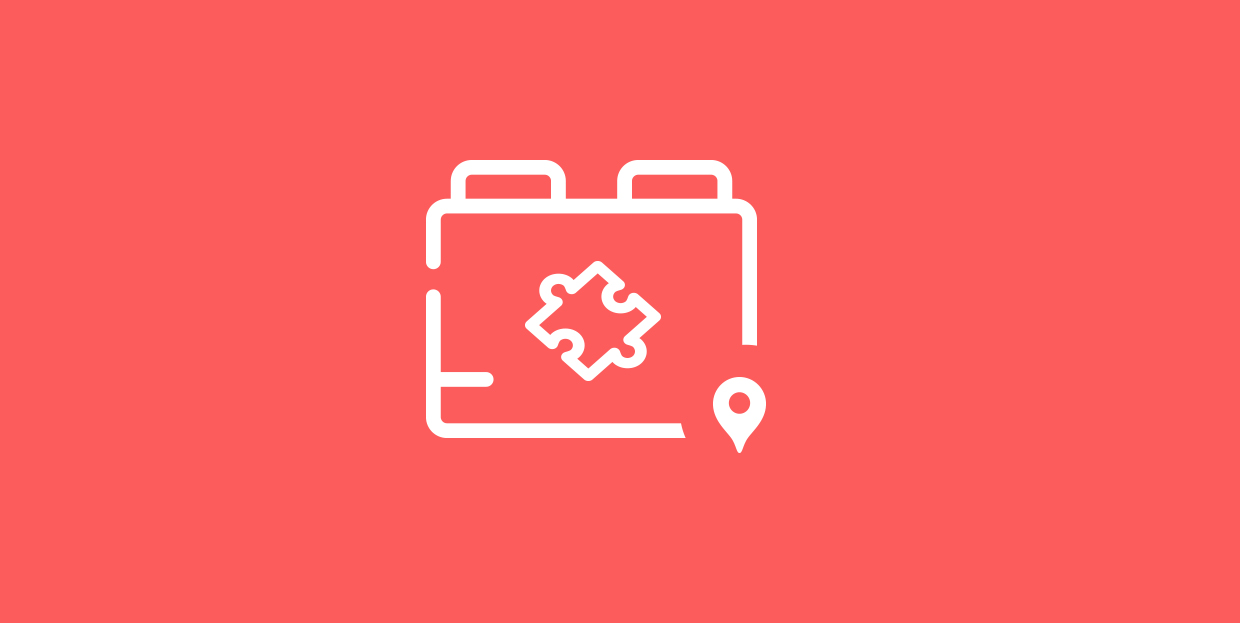 Embedding Google Maps is the quickest and the most popular way of displaying a business location on your WordPress website. If someone wants to stop by your offices and discuss business or explore your art in person, adding a map will help them reach you with ease. Sure, you could just include your address among other contact details, but in that case, visitors would have to look up your location on the map manually. And what if they get distracted online by something else and then altogether abandon your website? Wouldn't it be better to do everything that's in your power to keep all the potential customers around?
The easiest way to embed a map on your website is to use Google map plugins for WordPress, and any of the following six plugins will do the job without requiring too much effort from your end:
To be able to add a map to your website, first and foremost, you need an API key. Before we delve deep into the plugin talk, let's see what an API key even is and where you can obtain one for your website.
What Is an API Key and How Do You Get One?
API stands for application interface, and an API key is a code that helps an app or a computer program identify a user and the source of the request. An API key for Google maps is what enables you to feature Google maps on your website.
Back in the day, Google used to allow users to upload maps without any monetary compensation. They would offer up to 25.000 map embeds for free, but as of June 2018, that's no longer been the case. Why the sudden change of hearts? Well, people started to massively create geolocated landing pages once they realized that helps with increasing their brand's visibility. Google wanted to put an end on the excessive and nonsensical use of their API key, hence them deciding to charge $2 per 1000 page loads (this is the lowest fee and there are several other pricing plans available). And if you have their API key, you get a free credit of $200 each month.
To obtain an API key, you should first register on the Google Cloud Platform Console. You'll be able to choose between getting a key for maps, routes, and places, but in order to ensure a top-notch user experience on your site, consider checking all three boxes. If in doubt about how to use and secure your API key, check out Google's documentation on Using API Keys.
It comes with a myriad of customization options, including features that other plugins offer only in premium packages. First up, you can name you map however you please, set its size, change map control (horizontal or vertical), make a map draggable if you like, enable users to zoom using a mouse wheel, set the map zoom level on computers and mobile phones separately, add as many markers as needed, set marker clusters, add media content to each marker, choose a marker icon, display marker description by default or on hover, and other super handy features.
The premium version is also available, and with it, you get a set of some pretty neat features, including the possibility to add heatmap, traffic, transit, and bicycling layers, apply KML layers (which are needed to display geolocation) and KML filters, display current user location, etc. You can also choose among more than 300 map styles to find the one that best suits the style of your website.
To add a map to your website, simply copy the shortcode that becomes available once you save your map and add it to the page where you wish to feature Google maps.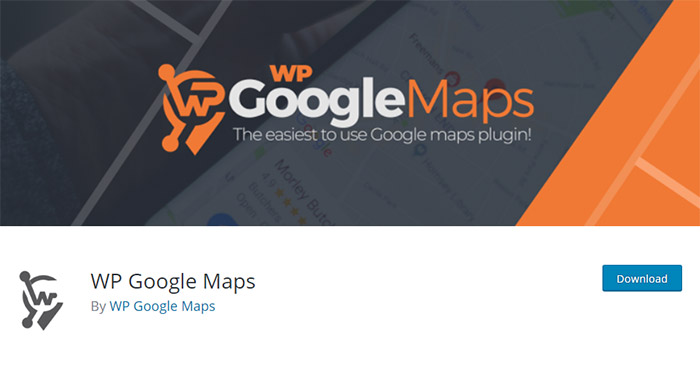 WP Google Maps is a widely popular plugin that can be downloaded for free. For the more feature-rich pro version, you'll be required to pay $39.99 – $199.99, and you'd definitely get great value for your money.
The map customization options are truly vast, even if you use just the free version of the plugin. You can set a map name, width, height, choose the maximum zoom level, map type (roadmap, terrain, satellite, and hybrid), add as many markers as you like, add polygons, polylines or routes to the map, enable store locators, bicycle, traffic, and public transport layers, choose among 10 different Google map themes available, and more.
The pro version allows you to create an unlimited number of maps (the free version grants you only one map), add descriptions and images to markers, create marker categories, add marker icons, enable users to add starting and ending points for their trips, display visitor's location on the map, etc.
Once you're happy with how your map looks, copy its shortcode displayed in the General Settings area and paste it to a page where you want to embed the map.
Hero Maps Premium is an impressive plugin that packs a bunch of amazing features for $20. You can use it to make an unlimited number of maps and markers. To add markers on your map, use its practical drag-and-drop builder or import the locations you want from a CSV file. When it comes to choosing marker icons, you can either upload your own or select one from three icons packs that come included with the plugin. Markers can be divided into categories that visitors can browse by using filters in their search, and you have the option to set marker clusters. Users can also draw various shapes on the map, which is of great use if they wish to highlight a specific area or a place.
Another cool thing about this plugin is that it allows you to display a full-screen map or go for a fixed size one. It also offers a variety of color schemes to choose from, which allows you to embed a map that doesn't clash with the style of your website.
As with other plugins on our list, to display maps on your website using Hero Maps Premium, copy the shortcode that will become available once you create your map and paste it to the page or post of your choice.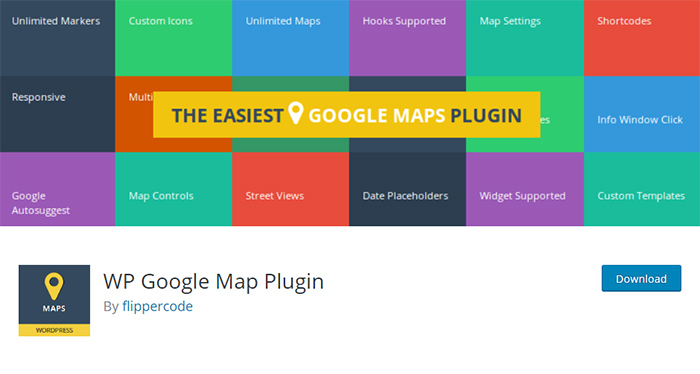 WP Google Map Plugin is another great freemium plugin that filled to the brim with numerous practical features you can use to add and customize Google maps on your WordPress website.
Without spending a dime, you get to customize the map and alter its size, set the zoom level, choose a map type (roadmap, satellite, hybrid, terrain), create as many markers as you need and include marker categories, choose between 500+ pre-made markers, choose what happens when someone clicks on a location (whether you'll display an info window that you can customize by yourself or you'll redirect them elsewhere), feature real-time traffic conditions using layers, add bicycle and map transit layers, use Snazzy maps to style your map, and heaps more.
The pro version of this plugin is called Advanced Google Maps Plugin for WordPress and you can buy it for $59. Using the premium version, you'll be able to add marker clusters, which is a handy option in case you've added a lot of locations on a map, display traffic layer, unlock map skins, assign multiple marker categories to a location (people can see individual markers on zoom), create unlimited markers and locations, and so much more.
To add a map to your pages, copy the shortcode from Manage Location and add it to your posts or pages. Alternatively, you can also display it in widget areas since this plugin comes available as a widget, too.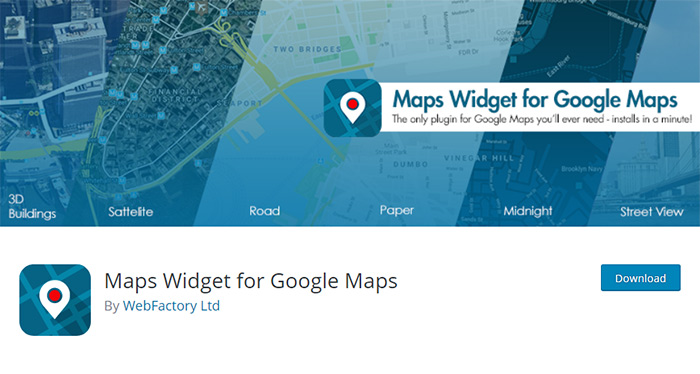 Google Maps Widget is a great solution when you wish to add a map in widget areas of your site, such as a header, footer, or sidebar. The great thing about it is that it loads really fast and it's easy to set up.
Once you enter your API key, you can proceed to make a Google map according to your requirements. Like other plugins on our list, this one, too, lets you set map size and zoom level, choose a color scheme, set a pin type, color, and size, add text above and below the map, and a few others.
On the other hand, if you upgrade to the pro version, you'll be able to choose an image format so that your map loads even faster, choose a map type, have full control over pins and unlock the library that counts more than 1500 pins, group pins, create clusters and enable filters, etc. Moreover, with the pro version of the plugin, you also get the shortcode upon creating a map so you may display it on your pages and posts.
Maps Marker by Leaflet is a practical plugin that you can download for free or purchase one of the three premium plans available, with the prices ranging from €39 for a personal plan to €249 for a professional version. This plugin works great not only with Google maps, but also with other resources such as Open Street Map, Bing, Mapbox, and custom WMTS-maps.
Maps Marker is an excellent solution that allows you to set up a location, modify map size and zoom level, add markers, name them, and then organize them in layers. You can also import and export all markers and layers, as well as bulk update them, change marker IDs, and more.
In case you opt for one of the premium plans, you'll be able to use custom marker icons (more than 100 of them are available), display a list of markers, make mashup maps that include other maps, add GPX tracks, decide which WordPress user roles can add and modify markers and layers, get QR codes to share maps offline, etc.
Displaying a map on your website using Maps Markers is quite simple, as all you need to do is add a shortcode to the preferred page or post.
MapSVG is a premium interactive plugin that you can purchase for $49 at CodeCanyon.
With this terrific plugin, you can do much more than just add Google Maps to your site. MapSVG enables you to add a custom vector overlay to your maps. It also allows you to import many map styles from SnazzyMaps, helping you style your map to your preferences. Furthermore, you can use the plugin to display interactive vector maps on your pages. You have the option to select a premade vector map from the built-in extensive map collection or import a vector image from any vector graphics software and turn it into an interactive map. Moreover, you can add JPEG and PNG images, turn them into maps as well, and add clickable areas to image maps. Another great thing about MapSVG is that it lets you insert custom fields into your map, including locations, events, properties, and even fields that represent people. You can color certain map areas in different colors, attach images to regions and objects, add location markers, enable a text search, and much more.
The MapSVG plugin is user-friendly and simple to set up. It offers a compendium of features and powerful options that allow you to craft beautiful maps. To better understand all that you can do with it, take a look at this helpful video about the MapSVG plugin.
While adding Google maps to your website may not be crucial for the success of your business, the act of displaying your location on a map can show visitors that your brand is reputable and help you leave a nice first impression. People often want to take a virtual peek at the storefront before heading there in person, so why not provide them with such a possibility by installing one of these Google maps plugins for WordPress?
When it comes to deciding which plugin to go with, think about what features your customers would find helpful. Consider whether using free plans would suffice or should you ante up and make the most of the premium solutions. Google Maps Easy is a fantastic solution that provides a bundle of features for free, while Google Maps Widget and Maps Marker by Leaflet can be excellent choices if you're looking for a simpler solution. WP Google Maps and WP Google Map plugin (including the premium version – Advanced Google Maps Plugin for WordPress) are both feature-rich and impressive, so you won't go wrong with either of them. MapsSVG, on the other hand, is the best choice if you plan on adding not just Google Maps but also vector and image maps to your site. Hero Maps Premium is a plugin that provides you with possibly the best-designed maps of all and is also stacked full with terrific elements, so if you're going for the looks and practicality, then this is the plugin to go with.