5 Best WordPress Audio Player Plugins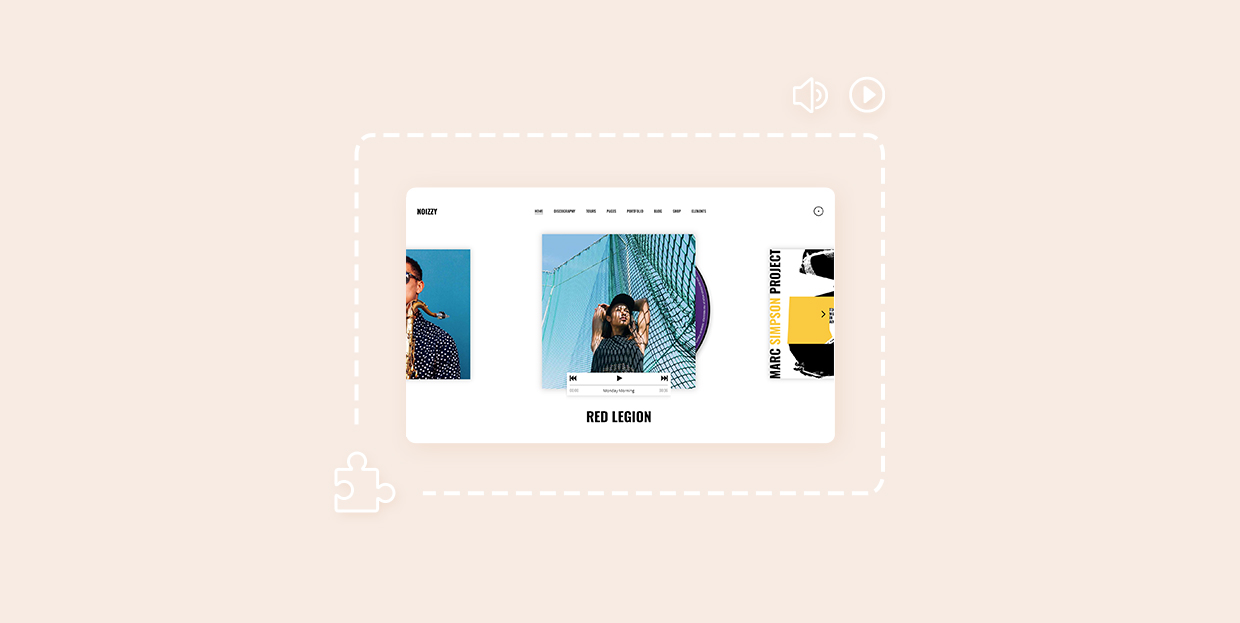 For every musician trying to have their voice heard or a music aficionado wanting to share their favorite tunes with the world, having a good audio player on their site is paramount. Even if you run a business that has nothing to do with music, but you'd like to enrich your content with some charming melodies in the background, again, you need an audio player.
The ideal solution would be to install a premium music WordPress theme that comes with the features crafted specifically for everyone in the music business. That way you could not only share tracks with your crowd, but also display info about upcoming shows, create album showcases, and more.
However, if you're just looking for a good audio player plugin to add to your site, you've come to the right place. We'll tell you all about the 5 best WordPress audio player plugins on the market:
But before we delve further into this matter, let's see if WordPress can play the audio files on its own.
The Default WordPress Audio Player
WordPress comes with a built-in audio player that can play MP3 files only. You can place it wherever you like, including posts, pages, and widget areas.
To add it to your pages, click on the Add Media button above the page editor (or the Audio block in Gutenberg) and upload the desired audio file from your media library. If you wish to place the playlist in your widget area, you should go to Appearance > Widgets. Then, find the Audio widget, move it to the widget area of your choice, and add the audio file to it.
Using the built-in WordPress audio player requires little effort from your end, however, the customization options are non-existent. If you'd like to use a more feature-rich WordPress audio player, consider installing one of the following plugins.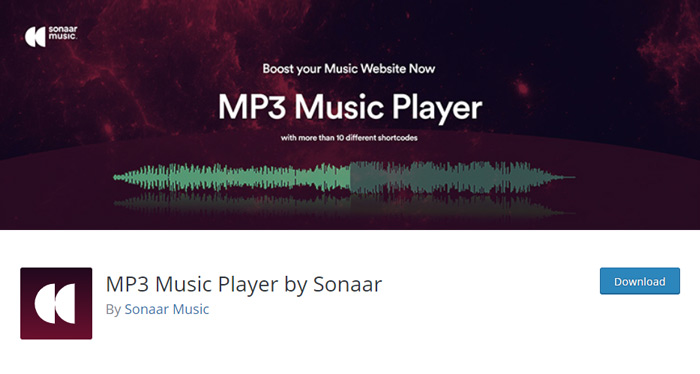 Upon installing the plugin, the Sonaar Music AudioPlayer icon will appear in the page editor toolbar.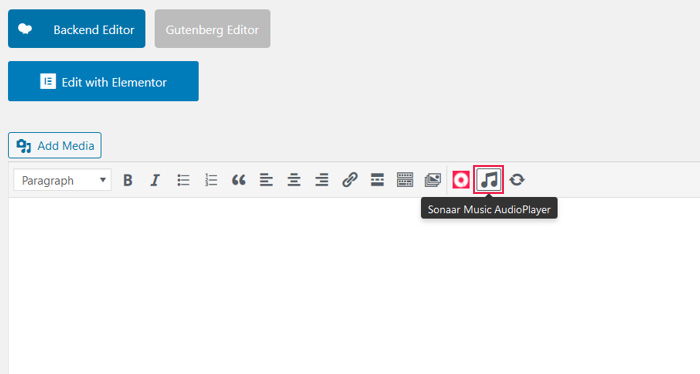 To upload your playlist, simply click on this icon. There's also a Sonaar widget made for Elementor, but still no specific block for it in Gutenberg. If you'd like to feature your playlist on your site but don't want to give up Gutenberg, there's a workaround: first add the Classic block to your page, to get the Classic Editor options, and then click on the Sonaar AudioPlayer icon.
If you opt for the free version of this plugin, you'll be able to add as many tracks, albums, and playlists as you like, and also select the store where people can buy tracks (Spotify, Bandcamp, iTunes, Google Play, etc.). For each playlist you have the option to create categories and slugs, select fonts, colors, add the soundwave bar, and a whole lot more.
Sonaar Music Player Pro allows you to modify sound volume, enable track shuffling, get statistic reports, etc.
The benefits of using this WordPress audio player plugin are:
You can display a real-time soundwave below each track
There's a myriad of styling options even in the free version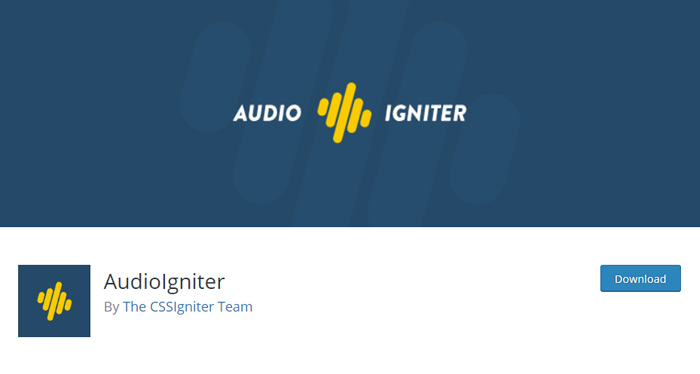 Audio Igniter is a terrific, beautifully designed plugin available to download for free from the WordPress plugin directory. There are also several premium plans to choose from, with the prices going from $34.30 to $174.30.
You can use it to create an unlimited number of playlists and upload as many tracks as you like. It's great for streaming radio shows, too. Even the free version of the plugin packs a wide selection of options and allows you to choose the player type, set the starting volume, adjust the track listing height and maximum player width. Furthermore, you can show track numbers, track covers, display tracks in reverse order, and much more.
To add the player to your site, you just have to copy the shortcode (you'll see it at the bottom of the page where you've created your playlist) and paste it to posts, pages, or custom post types where you wish to feature the playlist.
The premium version, on the other hand, lets you customize the colors of the player, change the playback rate, allows you to skip tracks, and much more.
The benefits of using this WordPress audio player plugin are:
A remarkable set of attributes included in the free version
If you wish to launch an online store, no plugin comes close to WooCommerce. It packs a myriad of powerful features that will help you run a successful eCommerce business. To make an absolute most of it, take a look at the comprehensive WooCommerce guide that will help you manage your shop with ease. Now, to make your product pages more interesting for users, you can integrate a music player into them. For that, you'll need the Music Player for WooCommerce plugin. It supports MP3, WAV, WMA, and OGA formats. Integration with Dokan multivendor sites is also an option. Both the free and premium version (€30) are available.
This plugin includes a shortcode and a widget. That allows you to add music not only to pages and posts but to your widget areas as well. There's a specific WooCommerce Music Player Playlist block you should use to add a playlist in Gutenberg, and a widget for the Elementor plugin.
As for the Classic Editor, you should use the [wcmp-playlist] shortcode. You can also add a bunch of different attributes to it, e.g. if you'd like to include all tracks in the playlist, you should go with:
 [wcmp-playlist products_ids="*"]
You can find some more available attributes on the plugin's page in the WordPress' plugin library.
The Music Player for WooCommerce also lets you effortlessly create and customize playlists. You can add track IDs, choose a playlist layout and the style of the play button, etc.
The premium version of the plugin enables you to display your audio files in the secure mode, protect them for illegal downloads, as well as specify the size of the file that you wish to play in the secure mode.
The benefits of using this WordPress audio player plugin are:
You can add it to pages, posts, and widget areas
It lets you create playlists
The player has multiple skins so you can choose between several styles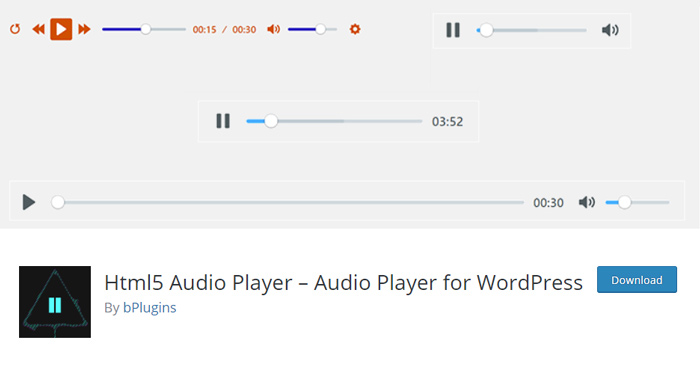 HTML5 Audio Player is a freemium plugin that plays MP3, WAV, and OGG files. There are four premium plans available with the prices ranging from $15 to $99.
Once you activate the plugin, the new HTML5 Audio Player option will appear in your WordPress dashboard menu. To create a player and start adding audio files to your site, go to HTML5 Audio Player > Add New Player and adjust all the settings to your liking.
Even the free version of the plugin comes with a lot of practical options. You can set your file to play on repeat (once or multiple times), mute it, enable the autoplay option and also select the player width. This is especially handy as you choose the size that works best with your design.
Once you're done creating your audio player, save the changes, and then choose a page, post, or a widget area to which you wish to add your music.
The premium versions of the plugin allow you to modify the player color, show/hide the fast forward and rewind button, show/hide the mute button, and much more.
The one thing you can't do with this plugin is to create a playlist. If you'd like to add several songs to your site, you need to upload each one separately.
The benefits of using this WordPress audio player plugin are:
The free version comes with all the basic functions a player needs
You can add it to the widget area as well
The player can be customized according to your requirements
Compact WP Audio Player is a free and simple plugin combining HTML5 and Flash that supports MP3 and OGG files. To embed music, all you have to do is add this shortcode to a page or post of your choice:
[sc_embed_player fileurl="URL_of_your_music_file"]
For testing purposes, we used an MP3 file from the File Examples library. And this is how the shortcode looks after inserting the link:
[sc_embed_player fileurl="https://file-examples.com/wp-content/uploads/2017/11/file_example_MP3_1MG.mp3"]
To add the shortcode in Gutenberg, you should use the Custom HTML box, whereas in the Classic Editor, you can paste the link in the visual editor field.
Once you save your changes, a simple Play button will appear on your page. As the name of the plugin suggests, this player really is compact as it doesn't take up a lot of space on your site.
If you'd like to loop an audio file or play it automatically as soon as the page loads, add the following bits to your shortcode:
For instance, we'd like to activate the autoplay option, so now our link looks like this:
[sc_embed_player fileurl="https://file-examples.com/wp-content/uploads/2017/11/file_example_MP3_1MG.mp3" autoplay=true]
There's also the possibility of setting up a specific value for the sound volume. To do that, add the volume value to your shortcode, e.g. volume=40.
The benefits of using this WordPress audio player plugin are:
It's free and easy to use
The play button doesn't occupy a lot of screen space
It's a simple solution for adding single audio files to your pages
The downside of using this plugin is that, sadly, there's still no option to upload playlists. If you were to share an album with your users, you'd have to embed each file separately, which would result in having multiple play buttons displayed on your page.
Which WordPress Audio Player Should You Go For?
We've tested numerous WordPress audio plugins to find out which one is the best, and we've narrowed down the choice to the five plugins featured in this roundup. Some of these players come with more features and customization options than others, but at the end of the day, as always, you should choose the one that's in line with your requirements and the budget.