Introducing Woo Express – Everything You Need to Know About the New Woo Product
The open-source e-commerce arena has always been an exciting one, with WooCommerce and Shopify as the main players. Right now, WooCommerce is leading the game with a 23% share in the top one million e-commerce websites. With a rich, albeit a bit scattered ecosystem of extensions, plugins and themes, WooCommerce has been steadily providing the users with basically any e-commerce functionality they could need – except for managed hosting. But now, that's changed too, with the launch of Automattic's new hosted e-commerce platform, Woo Express. Read on about: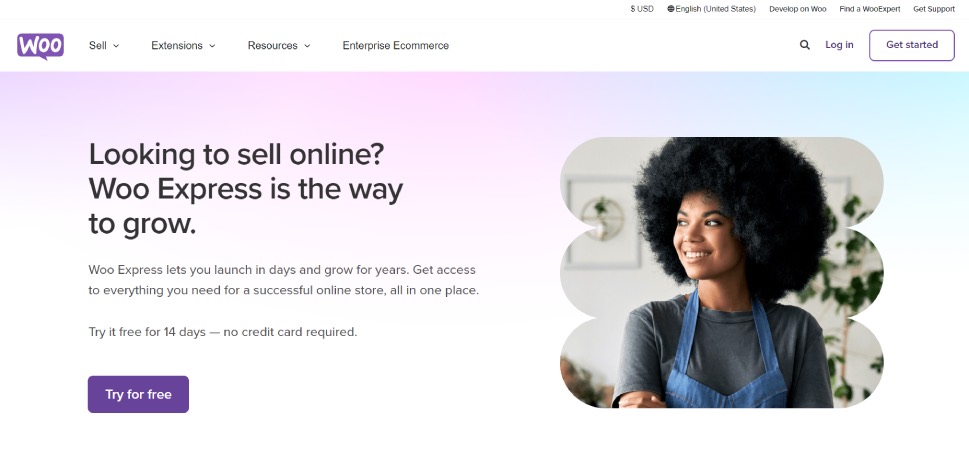 With the launch of the new platform, Automattic sets out to create the one-stop-shop for WooCommerce-based online stores. Woo Express essentially has everything that's required for quickly and easily building a fully functional online shop. Users get everything they need – from managed hosting to frontend solutions, and everything in between.
Until now, if you wanted to use WooCommerce for your store, you had to take care of the hosting yourself, via a third-party provider. WooCommerce is a WordPress e-commerce plugin, and it needs a hosted website to build upon.
In addition to hosting and the e-commerce functionalities, WooExpress users also get a block-based site editor and default theme. WooCommerce has been making efforts to switch to block editing for a while and making the block-based theme a default, they're taking ultimate steps in that direction.
Block editing, generally perceived as a better, more progressive way of building websites, allows users to set up an online shop faster and with more ease, as all the elements they need can be stacked, mixed and matched to fit the branding and the purpose of the site.
Woo Express aims to deliver all the functionalities and features in form of blocks – for instance cart and checkout blocks – building upon the already extensive range of WooCommerce blocks for various purposes. Many of them will come out of the box, which will reduce the need for adding extensions and plugins.
As for the themes, in addition to the default one, Automattic has already released several other block-based themes for Woo Express specifically. However, the users will not be limited to these themes alone, since users will also be able to install any WooCommerce theme around, not just the ones designed for the hosting plan.
The main idea behind Woo Express is to provide merchants with a turnkey solution that comes with hosting already taken care of, much like the websites built on WordPress.com.
However, while WordPress.com is the first partner to the newly launched product, it appears it won't remain the only one. The WordPress and WooCommerce hosting ecosystem is a rich one and there are plenty of providers that will surely like to get on board. For now, however, WordPress.com hosting is the only available option.
The issue that probably interests potential users the most is the pricing, affordability and how Woo Express compares to other hosting solutions.
Currently, Woo Express comes in two plans:
The Essential plan should be enough to get a small online shop up and running. It includes, of course, the WooCommerce platform, unlimited staff accounts, live chat and email support, built-in payment processing, themes, Google and social media advertising tools, automatic backups, advanced security scans, order tracking, live shipping rates, automated tax calculation, custom domain, SSL certificate and 50GB storage for product media.
The Performance plan includes all that plus automated cart recovery, discounted shipping rates, upselling and cross-selling functionalities, event-based email marketing, personalized product bundles, automated back-in-stock notifications, min/max quantities per order, customizable product kits, and 200GB storage for product media.
Compared to GoDaddy's cheapest plans, Woo Express is a bit more expensive, but on the other hand it's cheaper than mid and premium plans. Bluehost definitely has cheaper plans, but they are just hosting plans, while Woo Express comes with everything we mentioned above, making it a better choice for those looking for an all-around e-commerce solution.
The new WooCommerce managed hosting product, Woo Express, is still in its early days (it was launched in March 2023) so it's hard to say how it'll do and how it'll fare against other e-commerce solutions, hosted or not.
If you're yet to start your very first online shop, you might as well give it a go. You will have hosting taken care of, and you will obviously have the powerful WooCommerce solutions for setting up and managing an online shop. Early adopters, make sure to let us know how you feel about Woo Express!