How to Move Your WordPress Site to a New Domain Without Affecting Your SEO
WordPress is a content management system built around the idea that websites change over time. Sure, it's possible to use WordPress to create a static website, too, but the idea of core WordPress is one of change. You can update the content of any page or post. You can add new pages or posts, change the structure of your website, change the theme you use, and repurpose the website completely. Everything about a website is subject to change – including the website's domain name.
Some changes are more usual and frequent than others and moving your WordPress website to a whole new domain name isn't something you'll do a lot, maybe even ever. But for one reason or another, you might find yourself in a situation where you have to make that switch. Don't worry, though – it's not as hard as it looks, as there are tools that can help you, as well as ways to minimize the damage to your website search engine rankings.
In this article, the topics we'll cover include: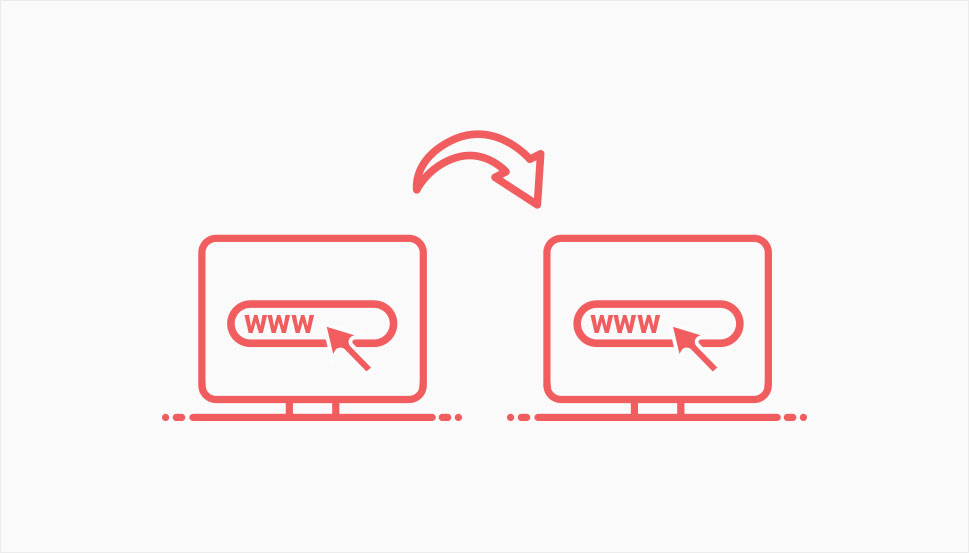 Your website's domain name is, as far as people who visit it are concerned, its address. But it's much more than that – it can be a part of your brand, an indicator of the type of website, as well as something that carries value – or penalties – with search engines.
Whatever your domain means to you and your website, you probably understand that buying a domain is easy, but coming up with a good domain name isn't. So why would you want to change yours? For several possible reasons.
First of all, remember how getting the exact domain name you wanted isn't always easy? It might happen that you had to compromise and choose a domain name with a root domain that was your third choice, or a domain extension you didn't want. But if your first pick becomes available, you might pounce at the opportunity to have your dream domain name. Keep in mind, however, that domain names might come with baggage. The previous owner might have associated the name with some nefarious activities, or received some sort of penalty. Make sure you check the new domain's history.
Another good reason to move your WordPress website to a new domain name is rebranding. Choosing a different name for your business, affiliate blog, or message board can be followed by a change of the domain name, even though it's not something you do on a whim and without planning out a strategy.
On the other hand, trying to ditch a penalty from search engines might not require as much planning, and it's one reason to move to a different domain name. Just make sure that jettisoning the old domain name is worth the benefit, and that it's a good course of action for your website.
Before you get started, you should first make sure that you've backed up your WordPress website. You can use plugins such as UpdraftPlus to back up the website, or you can create a backup manually. Whenever you are doing something with the most important parts of your website, you want to make sure you have a backup in case something goes wrong.
When you've created the backup, you can move on to the next step. Be advised, however, that besides knowing how to install a plugin, you'll also need to know the basics of database management. Let's get started.
Creating a Duplicator Package
The plugin we'll use to move the website to a new domain is called Duplicator. It's a plugin with over a million active installations, great ratings, and stellar reviews, making it a good choice for the project. So, the first step should be to download, install, and activate Duplicator at the website you want to move.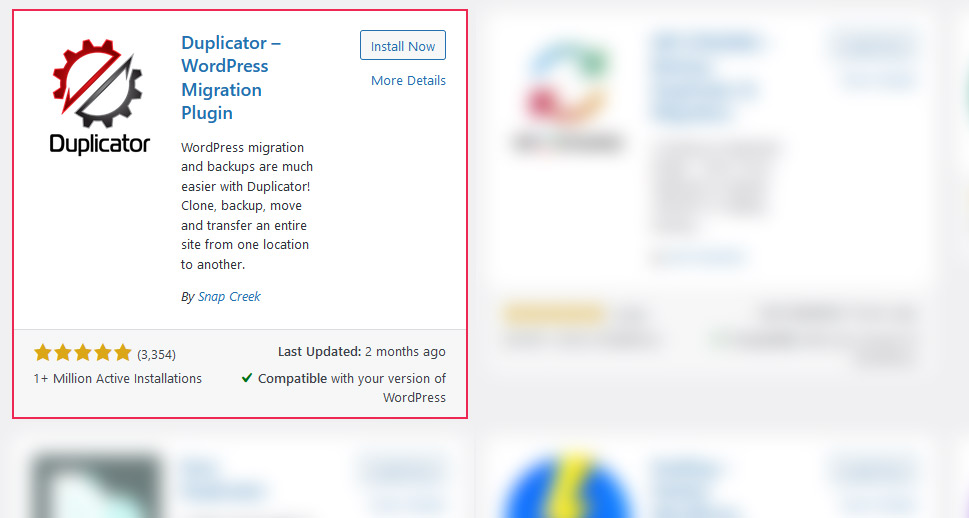 After the plugin is activated, you navigate to Duplicator > Packages from your website's dashboard. This is where you'll be able to find all of the packages you've created with Duplicator, and it's also the place where you'll be able to create new ones. We want to create new ones now, so press the Create New button in the upper right-hand side corner to get started.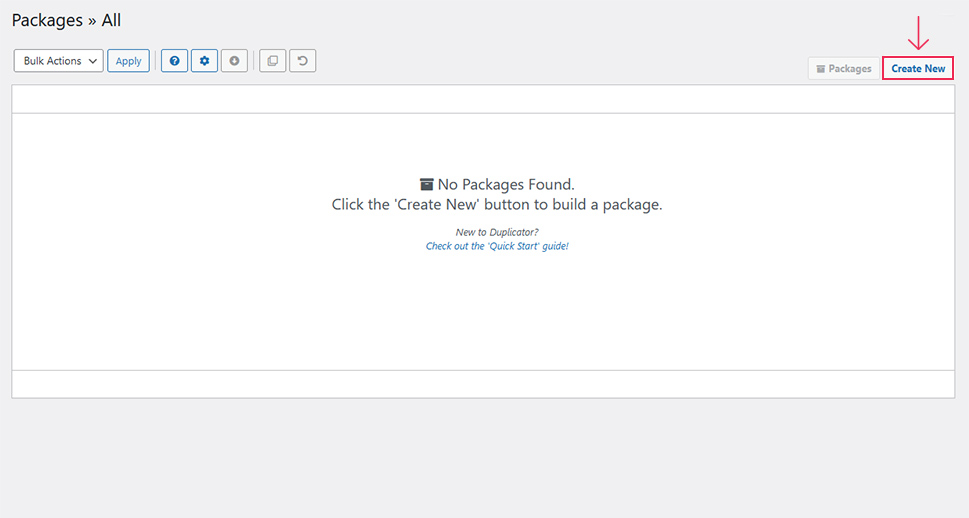 The first step of the process is the setup. In it, you'll be able to choose the name of your package, the place where you want to store it, archiving options for the files as well as the database, and installer options that are not required to be filled in.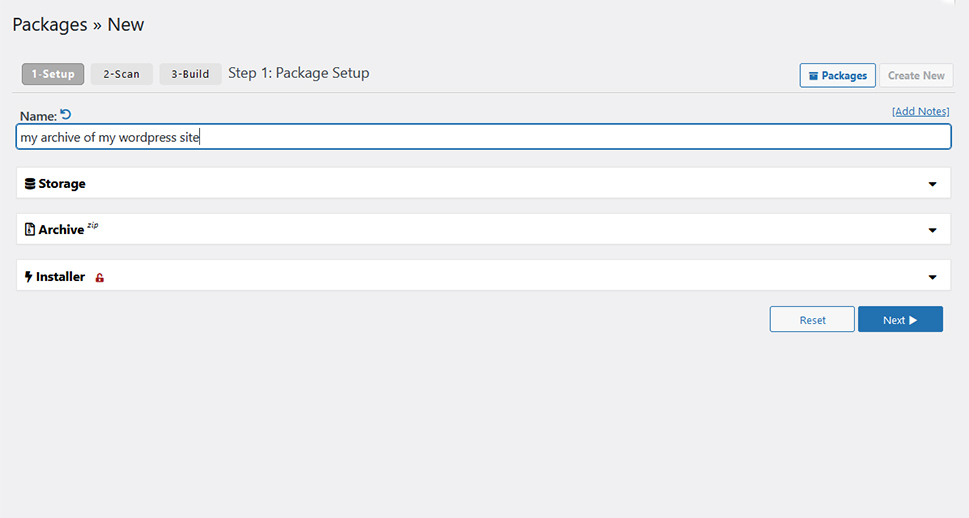 The next step is a website scan. The plugin will complete it automatically and present you with the results. Each item that's checked comes with an explanation for what the plugin is checking and what might be some common problems. When all of the items are marked as "good," you can proceed to the next step.
The final step is building the package. The plugin will do this on its own and present you with the results – two package files. Download both, and if you want, follow one of the links to documents that describe different installation methods – it won't hurt to have those handy while using the package to move to a new domain.
With that, you've finished with the plugin for now, and we can move on to the next steps.
Create a New MySQL Database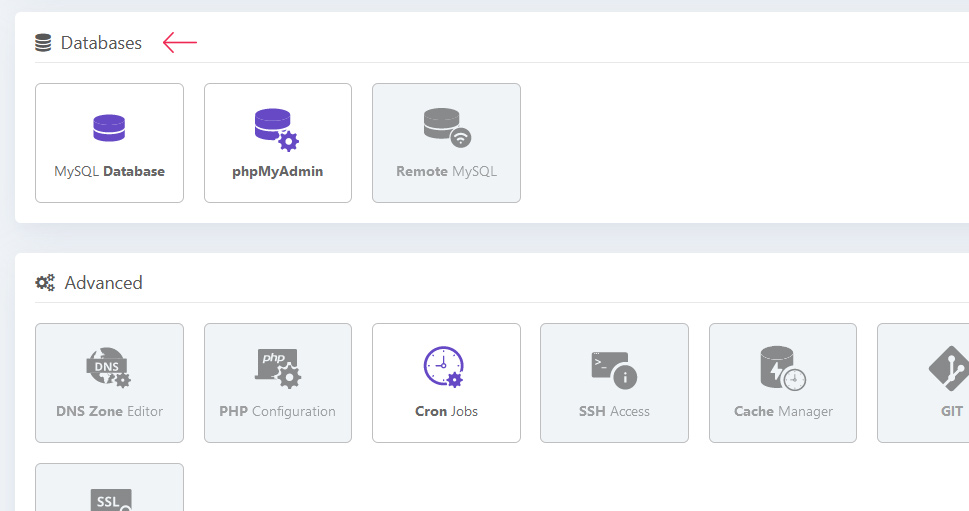 You might be moving your website to a new host or an existing one, but either way, you'll need to have a database to use for the move. Duplicator gives you two options – to create a new one or to overwrite an existing one. Choose the one that's better suited for your situation, of course, but to be extra sure you don't overwrite something you might need, it could be best to create a new one.
You can create a new database from your cPanel, or another hosting panel you're using to access your hosting options. The creation itself is a fairly straightforward process – you create the database, a database user, and then add that user to the database with all the privileges. It's as simple as that.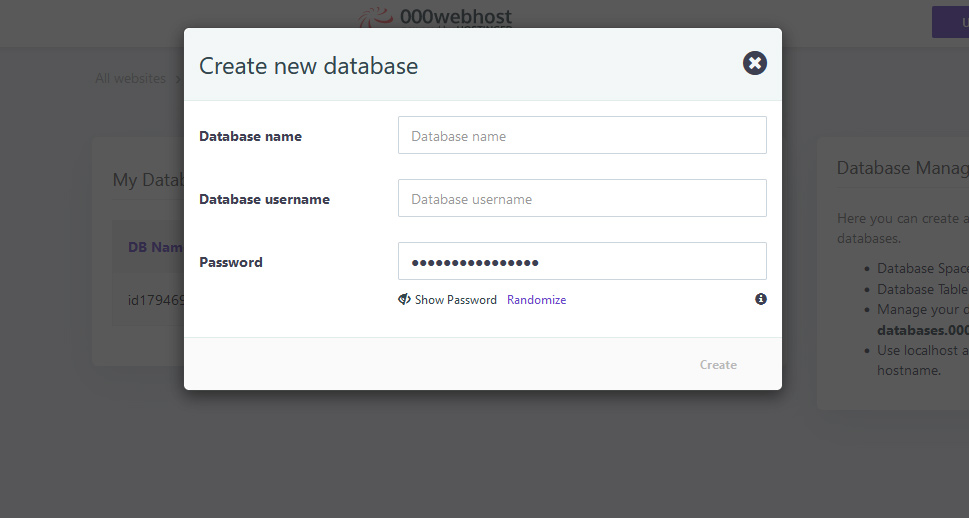 Still, make sure to note down the exact name you gave to the database, as well as the username and password for the user. You'll need this information soon, and you want to be sure that you're not making any mistakes.
Moving the Site to a New Home
To move WordPress site to a new domain, you'll need to connect to it using FTP or cPanel's File Manager. You want to make sure that you access a directory under your host's webroot accessible via a URL, and that the directory is empty. You don't need to have WordPress in there, as it comes with the package that you'll use to migrate your website. Upload both of the files from the package to the directory.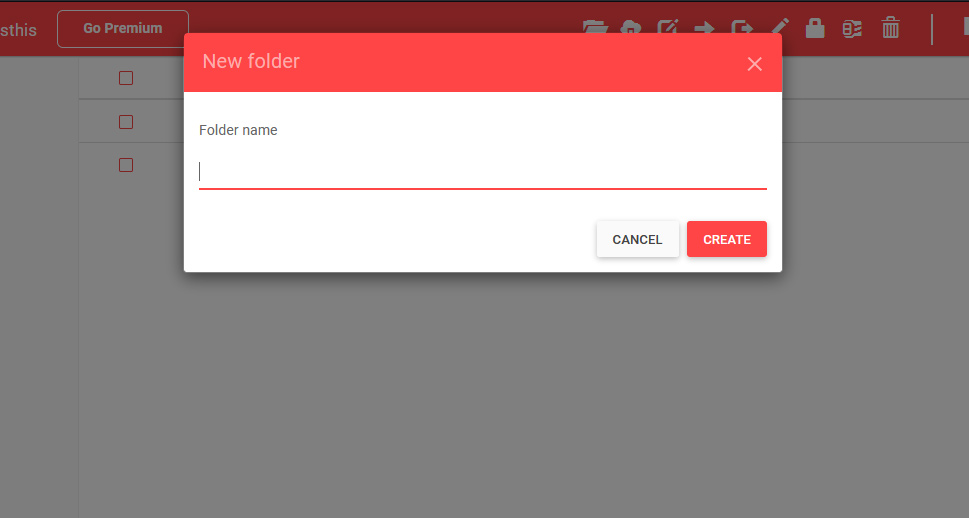 Your next step would be to open up your web browser of choice and enter the address to the installer.php file. The address should be the address of the directory, followed by /installer.php. If you're not sure what the address of the directory is, contact your host and ask them about it.
From there, the installer will lead you through the process. It will extract the files and perform checks, install the database – after you've pointed to the one you created and provided the credentials, update the internal and image links to your new website, and test the site for you. Don't forget to save the permalinks when Duplicator gives you a choice, and you'll be done.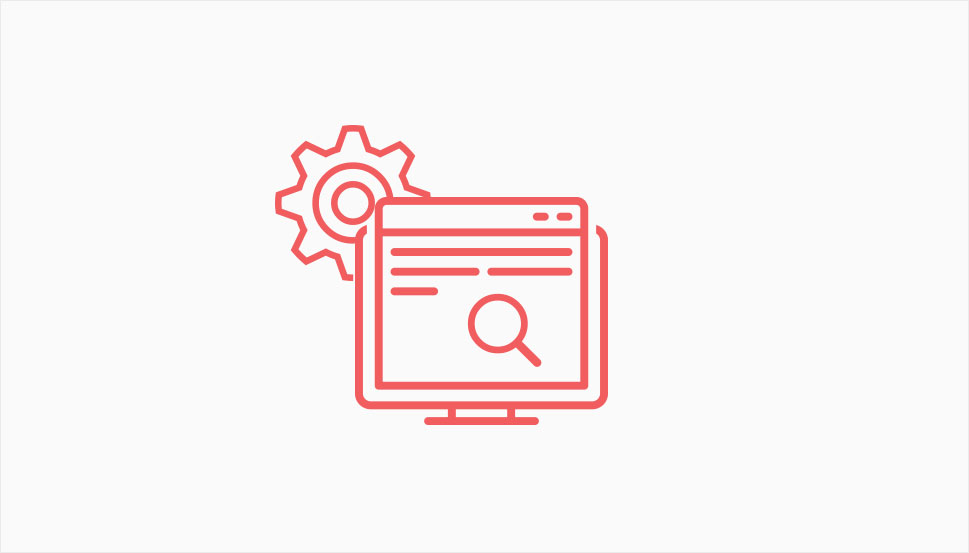 If everything's gone smoothly, you should have your website migrated to your new domain and ready to accept new visitors. You might notice some dips in the analytics following the migration – that's completely expected. Still, you shouldn't leave it at that – there are some things you could do to make sure the effects of the domain change to your website's SEO are kept to the minimum.
Researching the New Domain Name Before Choosing It
We mentioned earlier that domain names come with a baggage and that you should always check the new domain's history before buying it. If there were any websites using that domain name that hosted low-quality content, for example, your new website might inherit a bad rap.
There are a couple of ways you could check the history of a domain name. You could head over to the Internet Archive and check whether there's any historical record of a website using your new domain name.
If you're willing to invest some money into the search, you could also run a Whois history search to find out who owned the domain name in the past. Another option would be to use an SEO tool and check for the backlinks that lead to your new domain name.
After you've moved your website to another domain, you should set up 301 redirects. These redirects will make sure that people looking for your website using the old domain name land on the website you have with your new domain name.
To make sure the change goes as planned and that the search engines catch up, you should keep the old domain name up and running for a while. Just how long it needs to be up is hard to determine, so make sure to do it at least for three months. If you can afford to keep it up for over a year, even better.
Letting the Search Engines Know
Keeping up the redirects is awesome for your new website's SEO, but so is letting the search engines know that you've made the change. This is a mandatory step when moving your website to a new domain name. Smaller moves, such as the ones where you move a couple of pages around the website, can be handled by updating the sitemap.
With a bigger move like the one you make when you move your website to a new domain, you should use search engine's propratory tools. For example, Google has its own Change of Address tool. Bing's site move tool is called, appropriately, the Site Move tool. Each tool will do its best to guide you through the process, so you should be in good hands
Updating Listings and Profiles
When you have a website, you tend to leave its address in various places. It might be in your email signature, on your social media accounts and profiles, or even in your Google My Business page or other business listing websites.
It goes without saying that you should update your website's address in all these places to reflect the current one. Even if the SEO benefit from it might be small or even nonexistent, you should still make sure that every mention of your website's domain shows the new domain.
Moving your WordPress site to a new domain is a project that probably sounds harder than it actually is. Thanks to the helpful Duplicator plugin, you can move your website to a new domain without having any advanced web admin knowledge. With a trick or two, you might also ensure minimum effect to your website's search rankings, too.