How to Lazy Load Your WordPress Comments
Have you noticed how work on a website really never stops? Just when you thought you've solved one problem, another one pops up. When you're done taking care of that one, if a pressing issue doesn't come up, it's time for a WordPress maintenance task. And while you're doing all of that, something astonishing happens: all the many ways to get more comments you used start bearing fruit.
And that's great, right? You're seeing all the engagement you wanted from your online store's blog section, and that's awesome. But you have to begin taking comment moderation more seriously. Then you start to notice some loading speed issues. And just when you've realized you've become a victim of your success and that you might need to disable comments on your website while you figure out how to deal with them, you hear something about lazy loading WordPress comments.
A search later, and you're here. A place that will show you: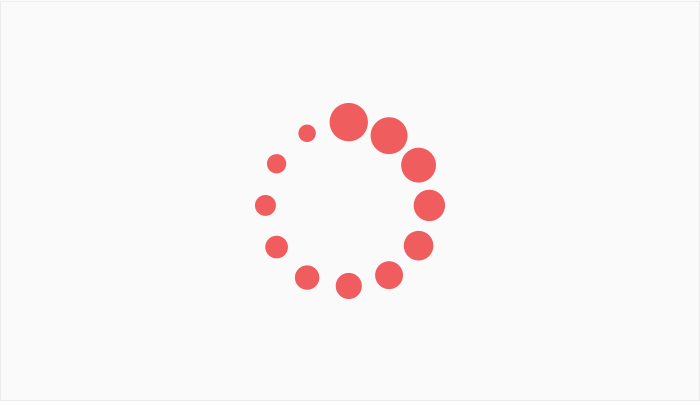 The digital world is obsessed with speed. It's not the biggest of its obsessions but it's probably in the top five, maybe ten. People don't want to wait for too long for things to happen online. When we use a search engine, we want to see the results as close to instantly as possible. We don't want to sift through loads of results to find what we need. And when we find what we were looking for, we want it to load in seconds.
However, some of the things on your website can take a lot of time to load. You can remove some of them, but not all – there are useful elements and features that will slow down your website. Elements such as images, and features such as vibrant comment sections.
For those troublesome elements and features, you have to find a method to lessen their impact on your website's loading speed. Ideally, that method shouldn't also lessen the benefits of having those features.
That's exactly what lazy loading is. With it enabled, all these elements and features don't load when a visitor comes to your website. They load only when they scroll to them, usually, reducing that initial loading time. For WordPress comments, you'll want to use a plugin to enable lazy loading no matter which of the commenting systems – native, Facebook, or Disqus – you use.
If native is your favorite flavor for WordPress comments, you'll find that lazy loading is a common feature in plugins you'd use to tune and speed up your website. However, if you don't want to do that, and all you want is just to have the option to set lazy loading for your comments, Lazy Load for Comments is just the plugin you need.
Install it using your preferred way to install plugins. Once you've installed and activated it, find your way to Settings > Discussion. Scroll down until you find the newly added Lazy Load Comments options. Select between "On Scroll", "On Click", and "No Lazy Load".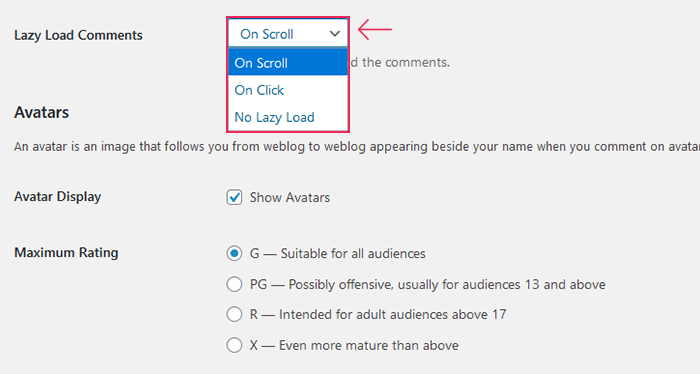 That's all you get from the plugin. A no-frills dropdown menu with three options. But then again, it's all you need to enable lazy loading with native WordPress comments.
Why use two plugins when you can find one that does two things? You'll need a plugin to add Facebook comments to your website, so why not use one that already comes with lazy loading, such as Lazy Social Comments?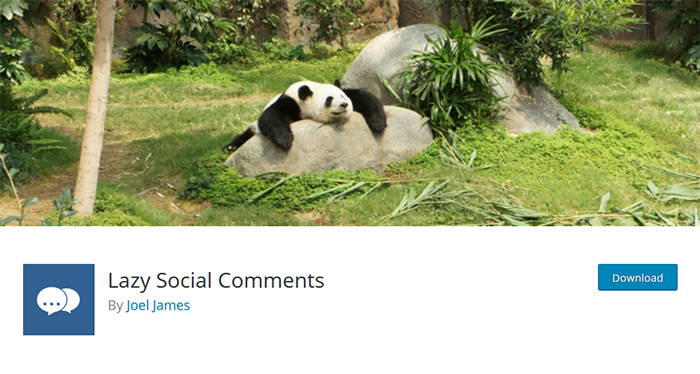 After you've installed and activated the plugin, and added Facebook comments to your WordPress website, you should navigate to Settings > Lazy FB Comments. Scroll down until you find the Load Comments option – it will let you choose between on scroll and on click.
There are a few other things you can set up here, too, such as how the comments are sorted and how many of them are shown by default.
If you're using Disqus as your WordPress website's commenting system and you haven't taken care of lazy loading during the installation, you've made a big mistake. This service, for all the good it does, is known for slowing down your website. That's why it's recommended that you install the Disqus Conditional Load, a type of Disqus that comes with lazy loading.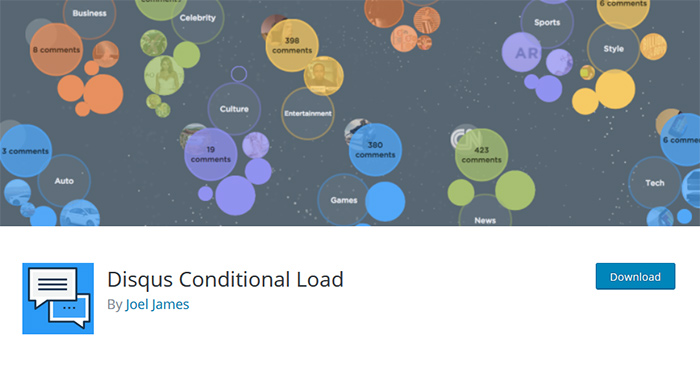 You can handle the installation like any regular plugin, using it to connect Disqus and your website. Either way, you need to connect your website to Disqus to be able to mess around the plugin. You'll find its options under Discuss > DCL Settings, and the "How to Load Disqus" option will be the topmost on the page. You can choose between on scroll, on slick, regular, and the on scroll start option if you have a paid version of the plugin.
The plugin will give you access to myriad other options. You can set a custom loading message, for example, and custom button text for the on-click lazy load option. If you decide to use the paid version of the plugin, you'll get access to a Disqus comments widget, and many other cosmetic and functional options.
Comments might be a nuisance, a little troublesome, or a spam-infested nightmare festering with the worst things that can ooze out of humanity. It's up to you and your moderating style to choose what you want to make of them.
But if comments do little for you apart from slowing down your website, don't worry. With WordPress, you're often only a plugin away from a solution to most problems, and this is not an exception. Lazy loading WordPress comments is a great way to reduce their impact on your website's loading speeds, regardless of the commenting system you're using.