How to Integrate Google My Business and WordPress
For businesses with a physical location that still want to improve their online visibility and engage in some local SEO, Google My Business might be the most interesting and important service Google provides. If you're wondering if there's a way to bring together your business' WordPress website and its Google My Business page, you're in the right place!
In this article, we'll discuss: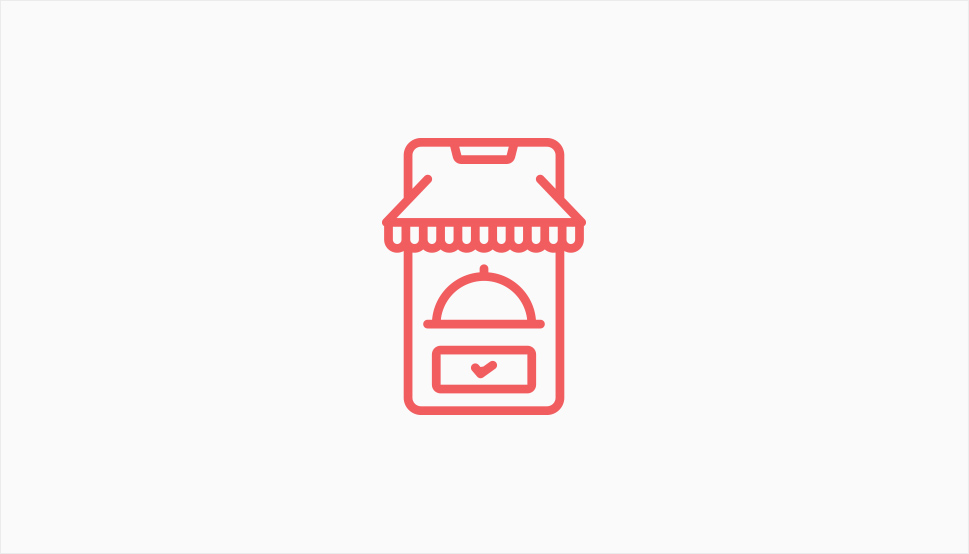 Google My Business is a Google service that aims to give primarily to local businesses some control over how and where they appear online, mostly in the context of Google's other services. A Google My Business page can be seen as a business listing, or your business's online profile, which can contain information you'd want your customers to have – your business' location, working hours, contact info, and website.
What Google My Business is most useful for is getting you good placement in local search results. It won't do it on its own, but it will be an unavoidable part of local search engine optimization. Local SEO is important as more searches are performed on mobile devices, on the go, and it pays off to be visible to a customer who is close by and looking to shop for what you're selling. Seeing how Google is the biggest search engine in most of the world, it only makes sense that it will be its service that will boost your discoverability.
When integrating a Google My Business page with a WordPress website, you'll first have to consider which elements of the page and the website you want to link. There are no solutions that'll have you covered completely or fully integrate the GMB page and the website. Achieving the integration means finding specific parts of the website or the page and finding a way to link them together.
The way this usually works is by allowing you to post or display reviews from your GMB page on your website, automatically post content from your website to your GMB page, or sync working hours between the website and Google My Business. You'll need a separate Google My Business plugin for each of these functions, though. We'll show you how to display reviews on your website.
Displaying Google My Business Reviews on Your Website
If you want to display Google My Business reviews on your website, Widgets for Google Reviews is a great plugin to use. In the free version, the plugin lets you display up to ten reviews at a time using one of thirty-five layouts and sixteen pre-designed widget styles. To start using it, head over to Plugins > Add New, search for Widgets for Google Reviews, and install and activate the plugin.
Head over to the Trustindex.io option available in your dashboard. The first step you'll need to perform to get the reviews is to connect a Google My Business page with the website. You'll need a Google Place ID or URL for that. You can get the place ID by inspecting the "write a review" button on any Google My Business page and looking for "data-pid."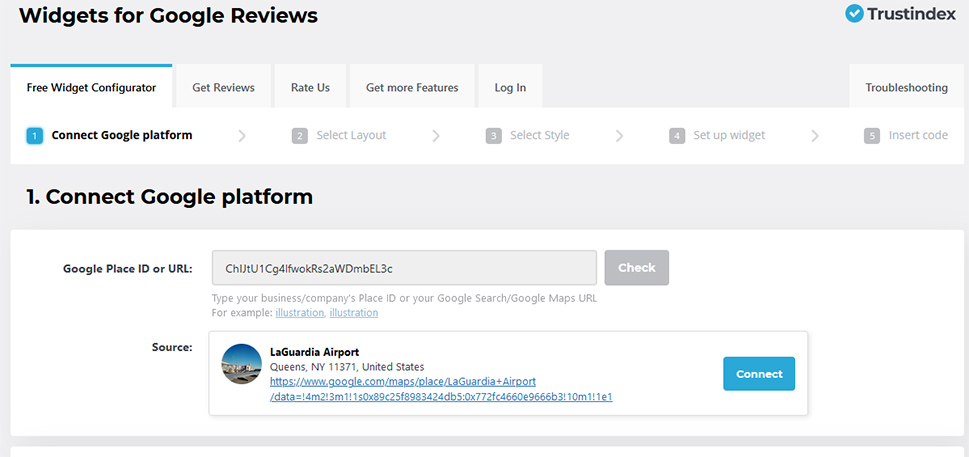 The next step is to choose the layout for the reviews. The options you have include grid, list, slider, and even pop-up layouts.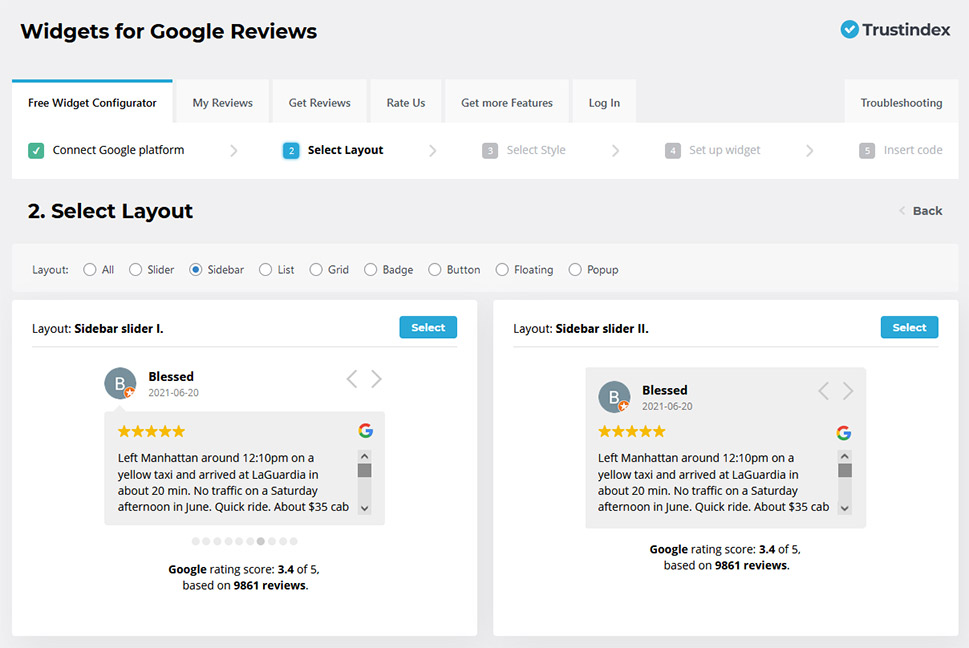 The style options are next, and they'll help you narrow down on the exact appearance of the reviews on your website.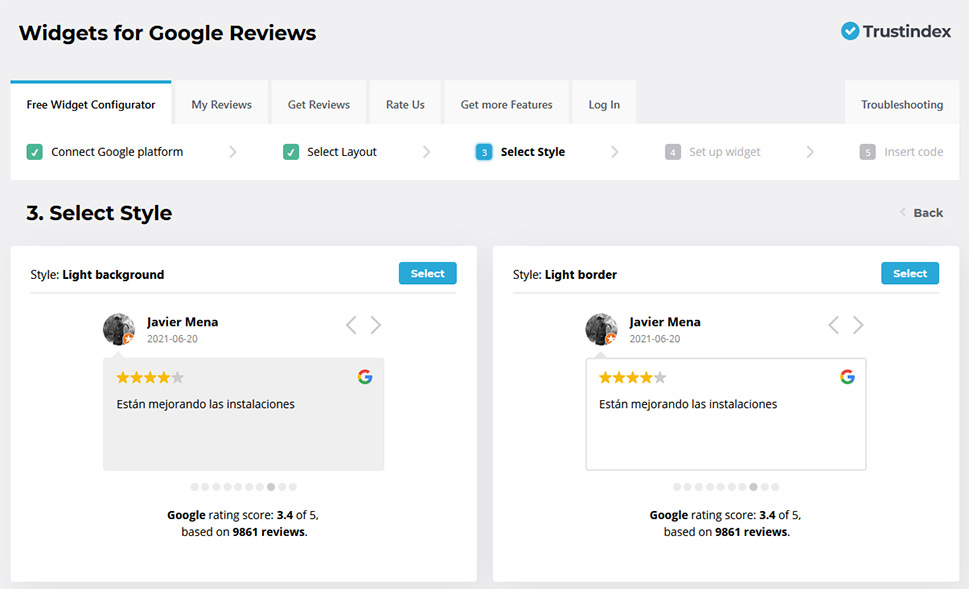 When you've chosen the layout and the style, you'll get to set up the widget. You'll be able to set the language and date style for the widget, as well as choose whether you want to hide the review without comment, show the reviewer's photo, and enable mouseover animation.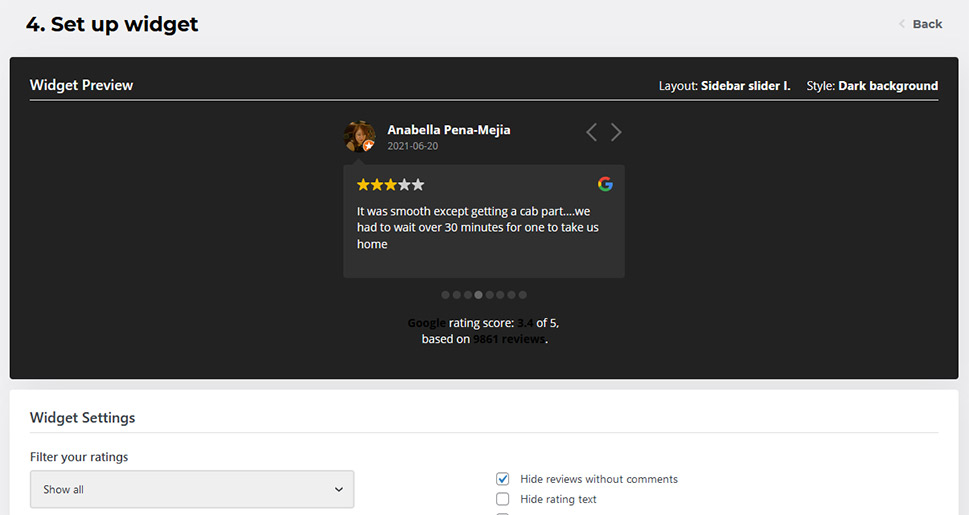 With that, you're done. In the next step, the plugin will give you the shortcode you can use to add Google My Business reviews to your website.
Simply copy it to a post or a page, or add it to a widget, and you'll have integrated a Google My Business page with your WordPress website – in a way.
Using plugins to integrate Google My Business with your website, you'll be able to connect the two and save yourself the hassle of manually copying content, reviews, or even working hours between the two. If you're looking for more, the next option to turn to are automation services.
One of the leaders in the field, Zapier, lets you integrate your Google My Business with your WordPress website in a couple of interesting ways. You'll be able to, for example, set what happens when your GMB page gets a new review – it can trigger the creation of a post, an update of an existing post, or the creation of a reply.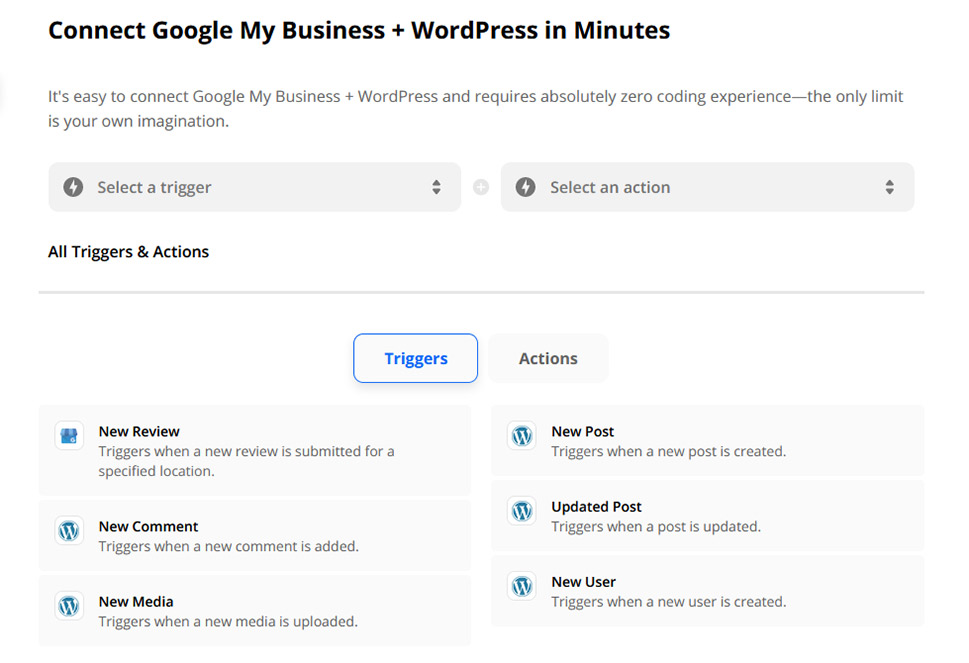 Apart from that, there are limited options for integrating Google My Business with a WordPress website. You can add your website's address to your Google My Business listing. If you don't have a website, you can use Google My Business' website builder to create a website from scratch.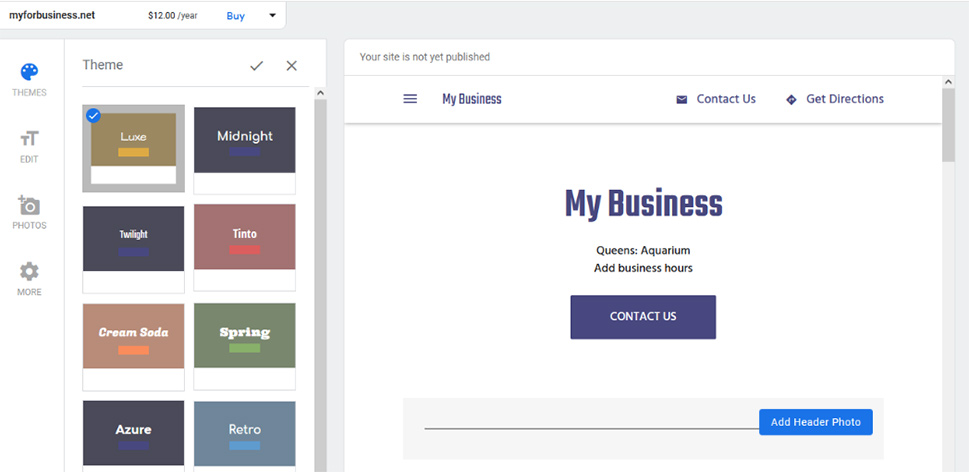 Finally, if you have a WordPress.com website, you can achieve a deeper level of integration if you have a Business or eCommerce plan. You'll be able to claim to declare your listings and give WordPress.com permission to manage your Google My Business listings. With that, you'll be able to access your GMB listing data, as well as stats, from the website's dashboard.
Google My Business is an invaluable resource for brick-and-mortar businesses that want to bridge the digital gap and get the best out of both worlds – the sensual, experiential nature of the physical store and the convenience of discoverability that comes with online listings.
If you have one of those businesses and a WordPress website, you might even go a step further and integrate the website with your GMB page. You'll have an easier time doing it with a WordPress.com website, but the plugins you can use with WordPress.org can come in more than handy to save you from some repetitive and tedious work.