How to Display Your Subscriber Counts in WordPress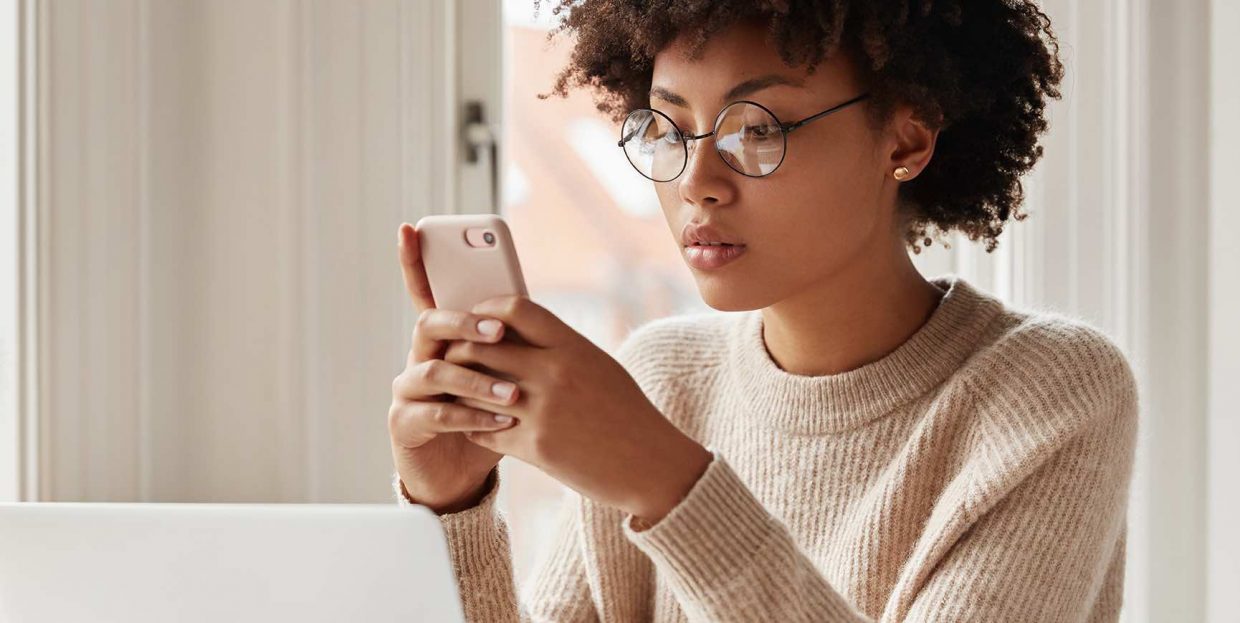 The more your target audience trusts you, the easier it will be for you to influence their decisions. Any tool that can help you boost your authority and credibility is valuable and sometimes a simple trick like showing your subscriber counts in WordPress is what you need to take your website to the next level. The power of social proof is indisputable – people love to copy the actions that seem desirable for whatever reason. Sometimes it is enough for them just to see that a large number of people have already done what they are about to, to make them feel comfortable and safe.
In this article, we'll share with you the simplest way you can display subscriber counts in WordPress. Stay tuned to read more about:
A subscriber count refers to the total number of persons who have signed up for a service or platform. It is the kind of statistic that is often shared by many different types of websites and blogs. For business websites, it may be particularly beneficial to display subscriber counts as this signals the business is reputable and well established. For blogs of all kinds, it can surely be just as important as the power of social proof is never to be underestimated. Once your audience starts perceiving you as reliable, you can expand your business much more easily.
There are different subscriber counts you may share on your pages – newsletter subscriptions, followers on social media, membership site users, etc. Depending on your goal, you may opt to show only specific subscriber counts and leave out others. If for example you managed to grow a huge audience on Facebook but your Twitter account isn't as successful, you will naturally want to share only the counts from Facebook.
Just like you can use social platforms to increase the number of subscribers on your website, you can also use your website to increase the number of followers on selected social media platforms. Simply by, for example, adding YouTube subscribe button on your website, you could influence your audience to follow you on YouTube too. The same applies to any other channel and media.
Unless you already have a solid number of subscribers, you may want to rethink the decision to display your subscriber counts. Just like big numbers can impress and attract your potential consumers, a small number of subscribers may signalize that your blog or website is not serious enough. So, before putting those numbers out there, analyze your situation:
Is the number of subscribers rapidly growing or stagnating?
How long did it take you to reach the number you hold at the moment?
Will the numbers you display make you look like an authority or an amateur?
If your numbers are small but are also rapidly growing, it might still be a good idea to share them with your audience, especially if you add the stats about the growth rate. Anyway, think carefully, sharing the numbers technically is the easiest part. Growing your subscriber base is way trickier.
There are many different ways to display subscriber counts in WordPress but using a plugin is probably the simplest and fastest way to do it, especially if you want to avoid dealing with code. The Social Media Share Buttons & Social Sharing Icons plugin is an excellent choice – it is free, easy to use and integrates with more than 200 platforms to let you show subscriber counts for multiple networks at once.
To install the plugin follow the standard WordPress plugin installation procedure. Should you have any troubles, consult our detailed guide on installing a WordPress plugin to make sure you got it all right.
Configuring the Plugin's Settings
After you finish with the installation and activate the plugin, a new menu option 'Ultimate Social Media Icons' will show up in your WordPress admin panel. Click on it to open the plugin settings.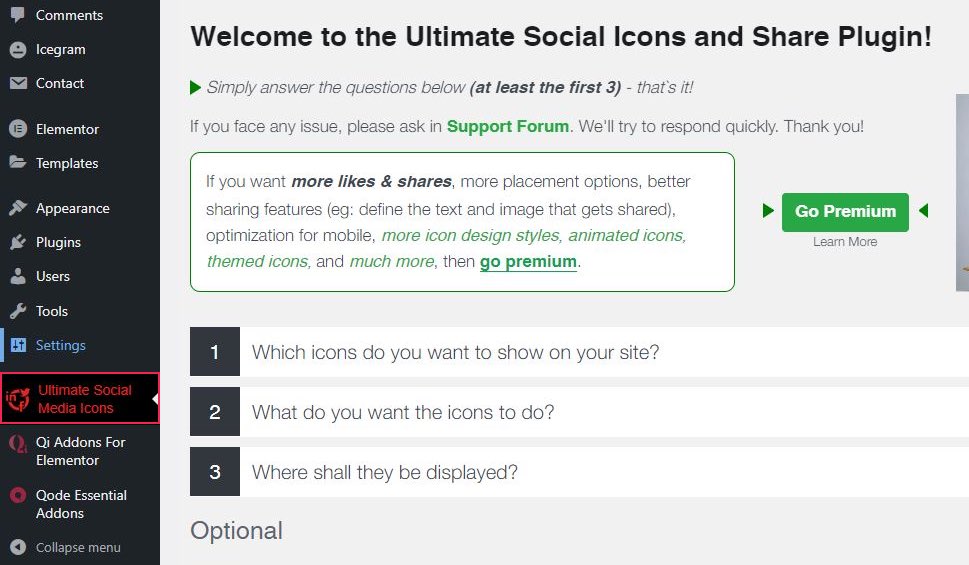 Then click on the 'Which Icons do you want to show on your site' tab to open the drop-down menu and select the boxes for the social icons that you want to be displayed. You will notice that each option is followed by specific recommendations which are very convenient if you're not familiar with the way certain social platforms work. Simply by clicking the Read more option you will get all the essential info about the specific social platform characteristics.
When you have chosen all the icons you want to display on your website, continue to the tab 'What do you want the icons to do?'. Click on it to open the drop-down menu. Now, you can configure the actions that visitors can perform when interacting with your icons.
Depending on the icons you have chosen, different options will be offered to you. If you have ticked the RSS, the users will be offered the option to subscribe via RSS. If you've also ticked the Email icon to be displayed, you get to choose whether you want subscribers to get automatic updates from you, or want the contact form to show when they click on the email icon. You can also link it to the specific page on your site, etc. Each option is followed by a thorough explanation so you'll understand easily what each choice brings to you.
After you made all the adjustments, you can move on to the next step which is the 'Where shall they be displayed?' section. This is where you choose where the icons will appear.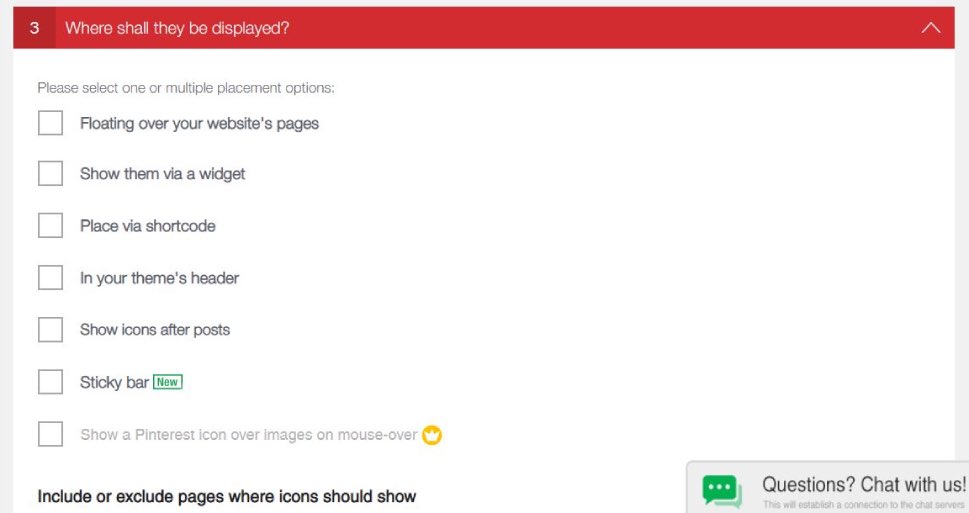 As you can see, many different options are offered, you can add icons in a widget, have them floating over the site's pages, show them after posts, etc.
Now we can proceed to configure your subscriber counts. Simply continue to the section 'Do you want to display 'counts' next to your icons?'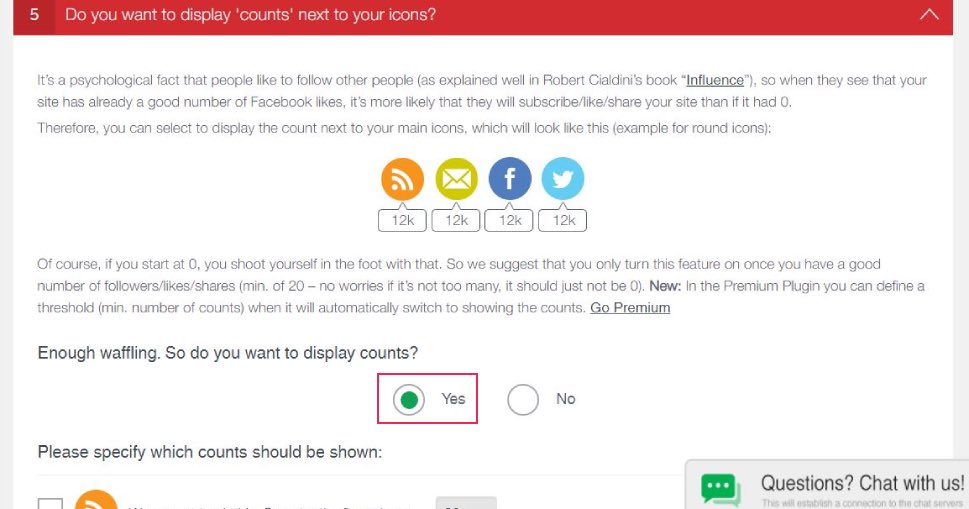 Depending on your choices, you will be offered different options for fine-tuning the way subscriber counts are displayed. In some cases, you may need to enter the numbers manually.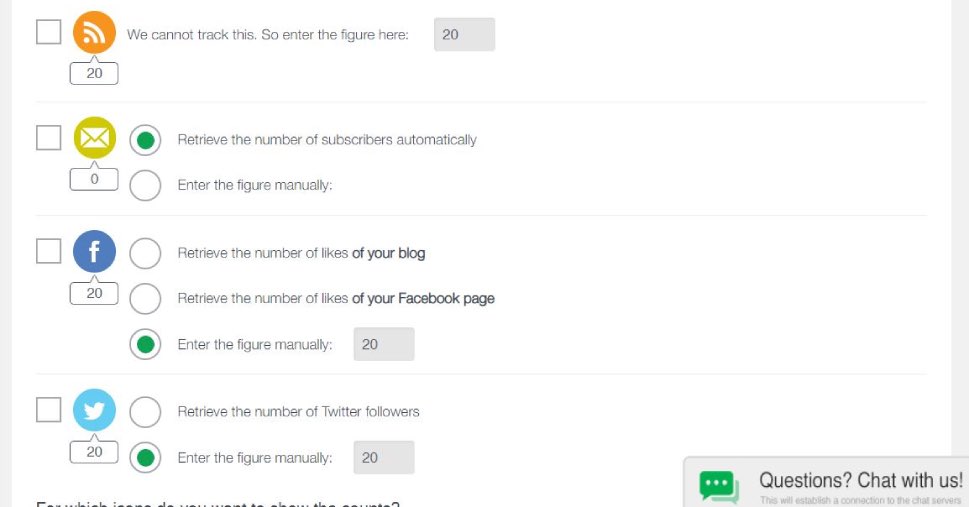 Some styling options are offered in section 4, you may set them immediately or go back at any time.
You may choose to add animated effects, or change the icons' colors and style – just scroll down to see all the options you have.
The plugin makes it easy to understand what is required for you to do at each step. When you are satisfied with the configuration that you made, remember to click the 'Save All Settings' button.
Adding Subscriber Counts Anywhere on Your Website
If you want more flexibility and the option to show subscriber count anywhere on your website, go back to section 3 'Where shall they be displayed" and make sure you thick the 'Place via shortcode' box. You are then provided with a shortcode that you can insert anywhere on your WordPress site.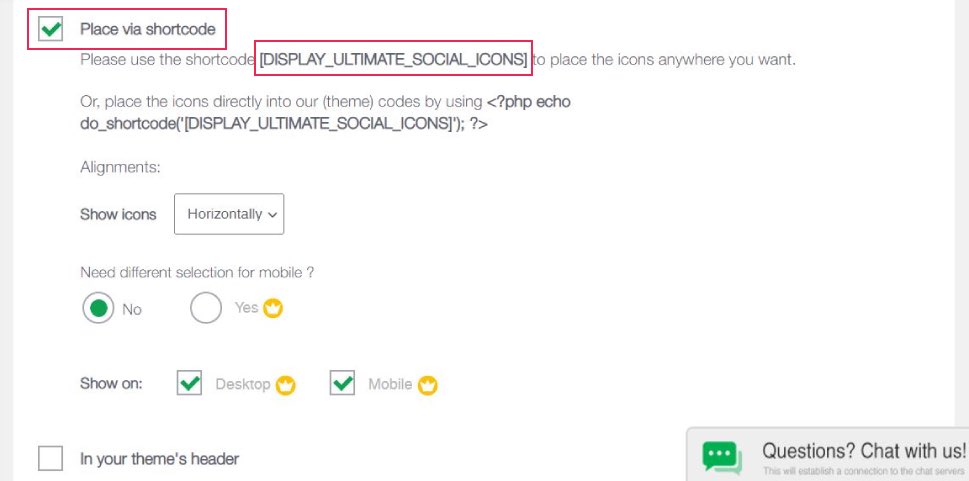 Make sure you save the shortcode generated by the plugin. You can insert it anywhere on your website. You can simply copy it to any post, page, or widget area.
To add it to a post, find and open the blog post you want to edit. By clicking the 'Plus' icon and typing 'shortcode' in the search field find the Shortcode block icon and then select the block.
Now, type or copy the shortcode in the shortcode block:
All that is left to do now is check how your subscriber counts look on your pages.
Now that you know how to display the number of subscribers from different platforms on your website, all you have to do is make sure there are as many of them as possible. There are many marketing tactics you can use for this purpose but the most important thing is to have a good content strategy from the beginning. It's one thing to attract and another to keep subscribers, and only investing in quality can give you long-term success.
When it comes to content, of course, you have to adapt it to different platforms – it's not the same to create content for a site and create content for Facebook and other social networks. If your goal is to increase the number of subscribers on the website itself, it is certainly good to use the social network where you already have the biggest number of followers for that purpose.