Instantly Index Content with the Bing WordPress Plugin
The world waits for no person, but it also doesn't move as quickly as its digital counterpart does. It takes a lot of know-how to keep up with the latter's ridiculous pace where anything that's not instantaneous might already be — late. But you don't have to be on the cutting edge of the digital world to appreciate that some things just take too much time or could use a speed boost.
Content indexing is one of the things that never seems to happen fast enough, and search engines know it. That's why they'll occasionally produce a tool or a service that speeds things up. In the case of the Bing WordPress plugin, it can also automate some of the work for you.
With a share that reaches anywhere between 70% and 86%, you can't question Google's supremacy as the world's biggest search engine. The only global competition Google sees these days is — Bing. Microsoft's search engine isn't just the scrappy challenger gunning to one day reach the first place. Don't let those beautiful images you see on Bing's homepage fool you.
Bing is the second most-used search engine in the world. It's also the search engine that powers most searches people do with Yahoo. Together with Yahoo and AOL, Bing is a part of the Microsoft Search Network. The Network boasts an audience that's young – three-quarters of them are under 45, educated – a third are college graduates, and affluent – a quarter is in the top quarter by income.
The search engine is also integrated with other popular Microsoft products, including the browser Edge, the Office apps, and Skype. It also powers the voice search on Amazon's Alexa. Bing is a vibrant and useful search engine with a growing audience.
Indexing a website can be a tedious, drawn-out process. Bing doesn't provide an estimate of how much time its crawler — Bingbot — will need before your website first appears in its search results. And even after that milestone is behind you, there are still plenty of issues that can go wrong and slow down the process.
For its part, Bing will recommend that you submit URLs for indexing manually. If you do it through the Bing Webmaster Tools, for example, you can add up to 10,000 URLs a day. Still, you'd need to find all those URLs and manually copy them, one per line, into the Submit URLs window.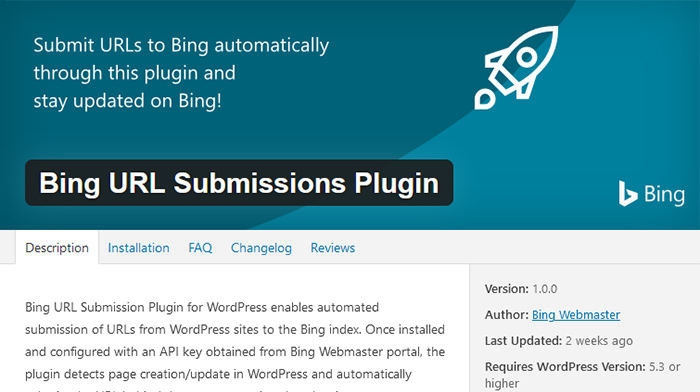 Even though Bing offers immediate evaluation of the links you submit through the Submit URL feature, copying all the links will require your time and attention. The way to speed things up would, ideally, remove your involvement almost entirely — and that's what Bing's WordPress plugin does.
The Bing URL Submission plugin, which is how the plugin is called, relieves you from having to submit your website's page to Bing manually. Instead of having to copy all your links over to the tool, the plugin will take care of everything for you automatically. Whenever you create a new page or a post or make a change to an existing one, it will submit its URL for indexing.
The list of features this plugin offers doesn't stop there. For example, you'll be able to turn off the automatic submission if, for any reason, you want to pause it. During that time, you'll be able to submit URLs to the Bing Index manually.
The plugin will keep a list of the most recent URLs you've submitted, which can come in handy if you need to perform an inspection. In case you notice some submissions that have failed, you'll be able to give them another go – as long as they're on that list of recent submissions. Finally, you'll also have the option to download the URL submissions and analyze them.
Installing the Bing URL Submissions Plugin is just as easy as installing any other WordPress plugin. You should navigate to your website's dashboard and find Plugins > Add New. Type in "Bing URL Submissions Plugin" in the search field, and you'll see the one developed by Bing Webmaster. That's the one you should install.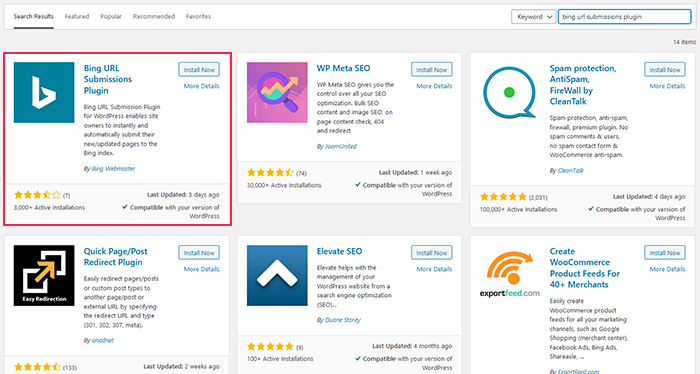 After installing and activating the plugin, you'll see a new option appear on the dashboard – Bing Webmaster. Click on it, and you'll get the API Key submission screen. You can't use the plugin without an API key.
You will need to have your site verified by the Bing Webmaster portal before you can get the API key. Once you have it, you can set it and start using the plugin. It will notice changes to your website's contents, and it will send the URLs with those changes to Bing.
Submitting URLs to a search engine is a simple task that will help your content appear in search results faster. But even though the task is simple, it leaves plenty of room to make mistakes, and it can eat up some of your valuable time. Automation can help with both — it can make fewer mistakes while speeding everything up.
To help you automate URL submission for your WordPress website, Bing has released the Bing URL Submissions plugin. It's a mostly "set it and forget it" solution that will do its job behind the scenes and notify Bing when you've edited existing content or published something new. If you're trying to rank your WordPress website on Bing — and there's no reason you shouldn't — this plugin will come in handy.