5 Best WordPress RSS Feed Plugins for 2023
Back in the day, when we had no social media, subscribing to an RSS feed was the best way of keeping up with relevant and interesting content. Refreshing specific websites several times a day to learn the latest news became superfluous. Instead, we had it all delivered straight to our inboxes, all thanks to RSS feed subscriptions.
Then social networks came into the picture and RSS feeds appeared to be gone with the social media wind. While they may not be as popular as they once were, RSS feeds still stand as one of the best ways of getting an in-depth look at a website's content, rather than discovering only what's pushed up on social media.
In one of our previous articles, we tackled the subject of RSS feeds and how to use them in WordPress. By default, WordPress packs an RSS widget that helps users display content from other sources on their website. To give you more options, we did some research, and created this list of the best 5 WordPress RSS plugins for 2023:
With over 60.000 active installations, WP RSS Aggregator stands as one of the most popular RSS plugin in the WordPress plugin repository. It's regularly updated, easy to use, and comes available in 9 languages.
The free version of the plugin lets you import the RSS feed from as many sources as you want. Simply paste your RSS feed URL in the appropriate field, and the plugin will automatically offer the option to create a draft page on which you can preview how the feed will look. The plugin will also generate a shortcode (there's a built-in block in Gutenberg) you can copy and add to any post or page on your website.
There's no limit when it comes to the number of items you can import. You can choose how often you'd like to update the feed, in which order to display the feed items (the latest or oldest items first), etc. It goes without saying that you can set a custom title for the feed, and also customize the feed's URL.
The free version of the plugin comes with one Default template you can't delete, but you can edit it to fit your requirements. However, if you activate the Templates add-on ($39 per 1 site), you'll be able to create templates that feature images, customizable grids, etc.
Before you complete the set-up, if you wish, you'll have the possibility to enhance the plugin's functionality by installing some premium WP RSS Aggregator add-ons. Some are made to import and display RSS feeds as blog posts on your site, others help you filter content based on your own keywords or phrases, etc.
There are also two premium WP RSS Aggregator plans available. First up, choose the number of websites you'd like to use the plugin on. Then, pick between Pro and Basic plans, depending on your needs. Unlike the free version, premium plans come with some built-in add-ons, for example the Feed to Post plugin, that imports RSS feeds as WordPress posts, then the Keyword Filtering add-on, that lets you import feeds that contain a specific keyword in the content, etc.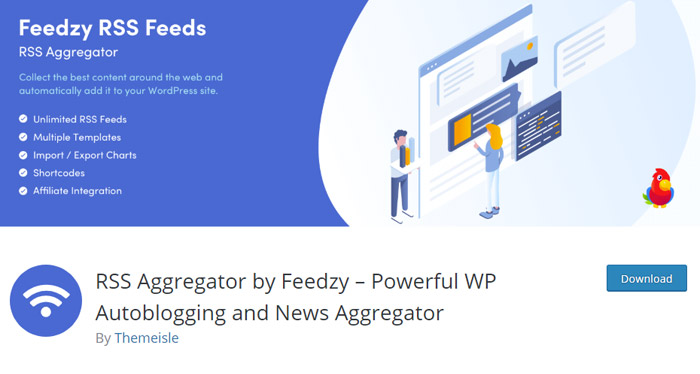 RSS Aggregator by Feedzy is another widely used RSS plugin within the WordPress community. It counts more than 40k active installs, it's regularly updated, and is available in 3 languages.
This plugin also lets you feature unlimited RSS feeds on your website.
In case you wish to import multiple similar feeds, you can group them into Categories, and then name each category as you like. Categories have a category slug (visible in the Categories list) that you can then copy and paste to your posts (in Gutenberg, there's a Feedzy RSS Feeds block, and in the Classic Editor, you'll see the Feedzy logo in the toolbar). When you paste either the RSS feed URL or the category slug in the appropriate field, a bunch of feed options will appear. You can set the number of items to display in the feed (maximum is 10 for the free version), choose the feed caching time, sorting order, etc. There are also numerous image and item-specific options, as well as some advanced settings regarding additional CSS classes. To add the feed to your sidebar or other custom widget areas, use the Feedzy RSS Feeds widget (simply drag and drop it to the widget area of your choice and adjust the settings according to your requirements).
As far as the premium Feedzy plans go, you can decide between annual and lifetime subscriptions. Then, you get to choose one of these three plans – Personal, Developer, and Agency. They include a feed to post option, keyword filters, multiple feed templates, and other useful options depending on the plan you chose.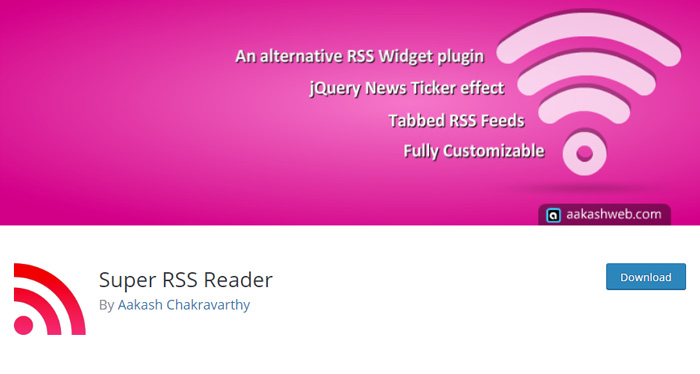 Super RSS Reader is a simple, handy jQuery widget that lets you display RSS feeds in custom widget areas on your website.
At the moment, there are over 10k active installs, and the widget is regularly updated, too. The author's also active on the support forum, so if you have any questions regarding the Super RSS Reader, don't hesitate to ask.
To customize the widget, head on over to Appearance > Widgets. Among the available widgets, find the Super RSS Reader. Click on it and select the widget area you wish to display your feed in.
You can add as many feeds as you like, and then separate the feeds in tabs, so users can switch between multiple feeds, depending on their interests and preferences. This plugin lets you name your RSS feeds and tabs as you please, decide how many items you want to display (from 1 to 20), display item content, date, and author (if available), show thumbnails, etc. There are also several color styles for you to choose from (grey, dark, orange, simple modern, or no style), and the widget height can also be adjusted. Another great feature this widget includes is the jQuery ticker text animation (if you opt to use it, you can also modify the ticker speed).
This widget is completely royalty-free, no premium version is available, but, if you wish, you can make a donation, to Buy coffee for the author.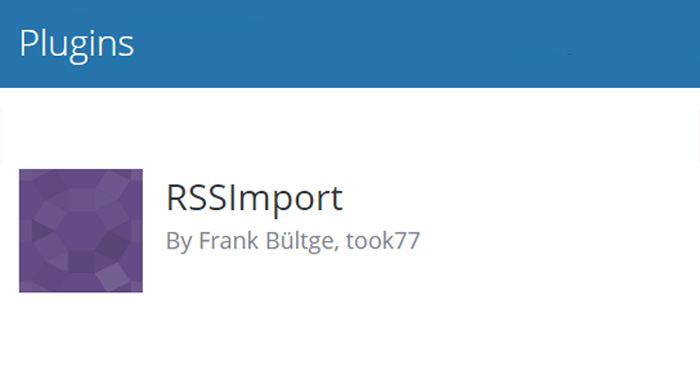 Another great RSS feed plugin is RSSImport. It has more than 10,000 active installs, and is available in 3 languages.
RSSImport is a simple solution that lets you display an RSS feed on your site either via a shortcode or widget.
If you want to add an RSS feed to your posts or pages, paste the following shortcode in your text editor field:
[RSSImport display="10" feedurl="https://qodeinteractive.com/magazine/feed/" use_simplepie="true"]
In Gutenberg, paste the shortcode into the Shortcode block. In case you get a 404 error on a page or a post after you've made changes to the block, to resolve the issue, go to Settings > Permalinks > Common Settings. Select Post name from the list, press Save, and then you should be able to see the feed.
Of course, the number of items you wish to display in a feed can vary, but 10 is the maximum. In the example above, we added the link to our website's RSS feed into the "feedurl" parameter, but you can input the link of whatever feed you wish to display.
There's also the option to include item descriptions as well as determine the description length, set the maximum number of characters in titles, and even input the message that'll be displayed in case the feed is empty.
RSSImport's customization options are off the charts. In fact, this plugin allows you to customize far more aspects of your RSS feed than any other plugin from the list. The complete list of all customizable parameters of RSSImport is available on the plugin's wordpress.org page.
To use it as a widget, go to Appearance > Widgets. Add RSSImport to the widget area you want, and adjust the settings according to your requirements.
In case you publish different types of content on your website, the Category Specific RSS feed Subscription plugin will allow your users to subscribe only to the categories of their interest. This handy plugin currently has more than 9k active installs, and even though it's not updated as regularly as other plugins, it's been tested up to the 5.2.5 version of WordPress (released on December 12, 2019).
Upon installing the plugin, go to Settings > Category Specific RSS. You can create RSS feeds for up to 8 different categories and add them to your website. This feature is particularly handy for online magazines, newspapers, etc.
In this section, you'll see lots of customization options, too. For instance, you can set the feed title (if you decide to display it in widget areas) and choose whether you'd like to display post counts, RSS feed images, etc.
One you add the categories that you wish to create RSS links for, you can choose one of the three ways to display feeds. You can add them as widgets, shortcodes, or even as a line of PHP code.
To add a menu with multiple RSS feed subscription options to your posts and pages, use this shortcode:
[category_specific_rss_menu]
To add feed categories as widgets, go to Appearance > Widgets, find the Category Specific RSS feed Subscription widget, and modify it according to your needs.
RSS feeds are incredibly useful tools that allow us to keep track of exactly what we want, without having to put up with topics and sponsored content that we couldn't care less about.
Adding them to your website isn't exactly quantum physics. All you really need is a decent plugin, hence our list of the 5 best WordPress RSS feed plugins for 2023.
Regardless of the plugin you choose, each of these 5 lets you add RSS feeds to your site without breaking a sweat. Some have more customization options than others, but it all comes down to finding the one that best suits your requirements.