11 Best Pricing Table Plugins for WordPress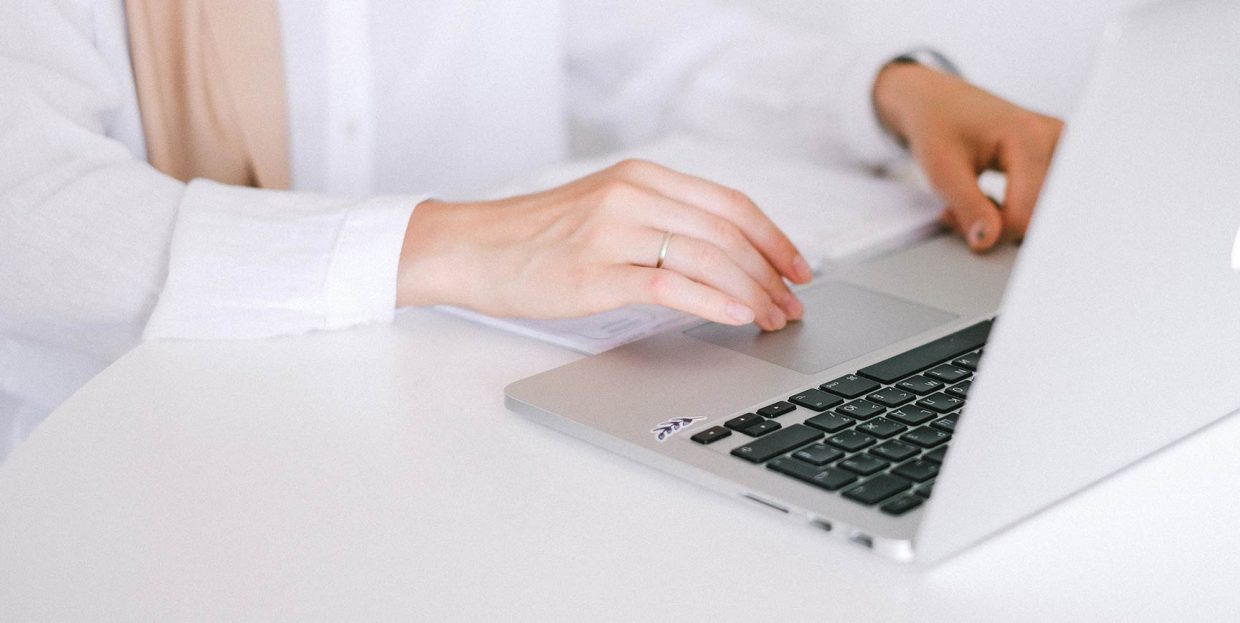 If you are selling any kind of product or service, chances are you want your prices displayed on your website. Depending on the type of goods you are selling and your sales strategy, you may want to display your prices as a pricing table or a comparison table. This is especially useful if you are selling package deals and plans, or services or products whose exact specifics require some getting into.
Ideally, you would use a theme's feature which will allow you to display your prices as a table. There is no shortage of professionally made themes with a pricing table feature. But you may already be running a website on a theme that lacks this feature, or you want to use a theme which you like very much and consider ideal in every other respect. This, of course, can be remedied with a pricing table plugin, and guess where you can find a great list of those?
But before we get deeper into that, we'd like to spend some time on what exactly is a pricing table and when you might want to use a pricing table WordPress plugin.
Why Use a Pricing Table Plugin?
If you are selling anything that has a large number of important features, like a package deal or a plan, a pricing table – an overview of the product's or service's key features and price – makes a much neater and quicker way of outlining the cost and benefits for your buyers. And if your potential buyers need to slog through large amounts of text just to learn the basic features of your offer, chances are they will give up before they even consider it.
With a pricing table plugin, you can simply lay out the most important features in a table. If you are offering multiple plans or packages or multiple versions of your product, you can lay them out side by side for easy comparison, and let your visitors decide what works for them.
If they can't make up their mind from a table of the most important features, you could – and should – still give them in-depth information, but even those pickiest of potential buyers will appreciate a quick overview. And if they do make up their mind – all the better. A pricing table usually comes with a call-to-action button, which leads your visitors straight to the purchase.
A pricing table, therefore, is a good way of price representation, and a step towards improving your conversion rate.
Here are the plugins we will be discussing: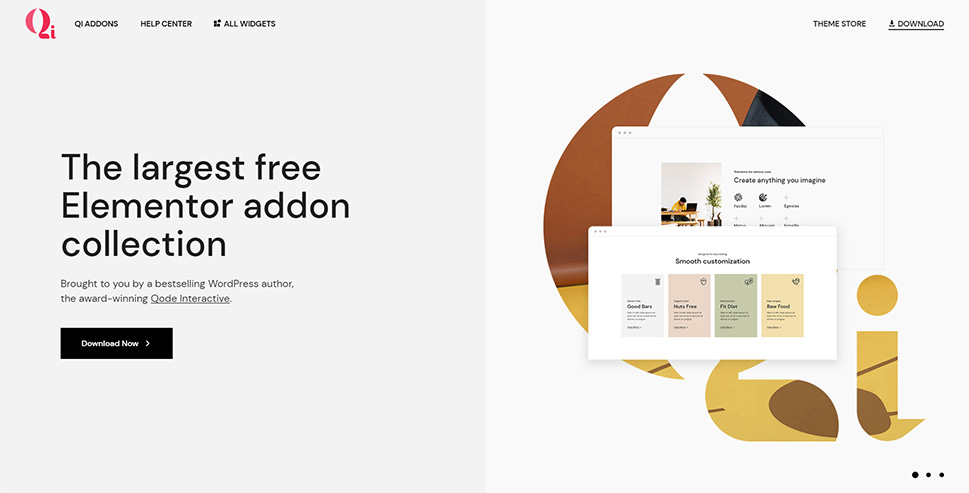 Qi Addons for Elementor is a free plugin which expands the functionalities of the Elementor visual editor by providing 60 advanced new widgets and greatly expanding the potential functionalities of any website. The widget we are interested in here, though, is the pricing table widget. The widget itself is very easy to use: you can choose between several premade layouts and use it as is or modify it and customize it to better fit your overall style. Colours, font sizes, icons, number of columns and items – all of that is up to you. And if you want to include additional information and draw your visitors' eyes to your new offers or big earners, there is a wide gamut of graphics elements such as badges or ribbons for you to choose from. This plugin has a lot of practical and flexible widgets to offer, both on the business and the creative side of things, from typography and galleries to testimonials, advanced showcases, and much more – so you can make your website really stand out.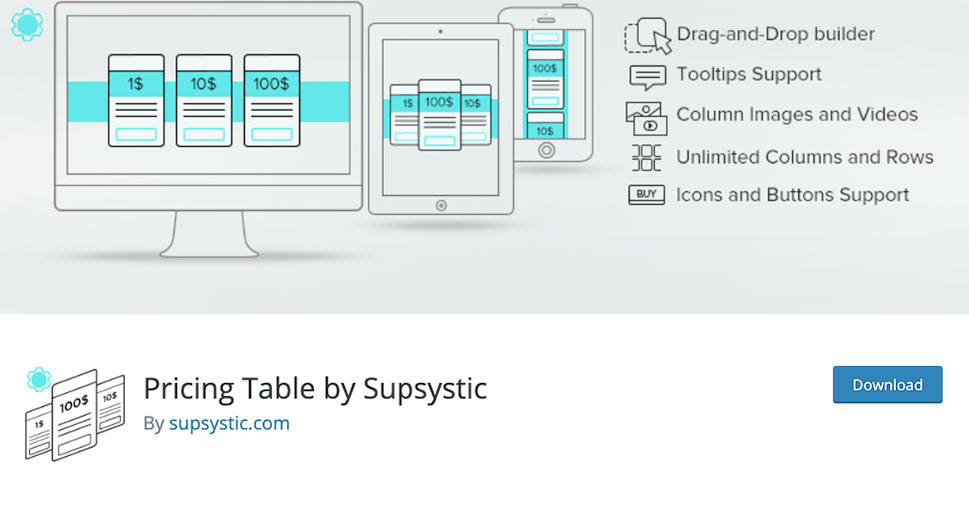 Pricing Table by Supsystic is a free plugin which allows you to create an unlimited number of pricing tables, columns and rows using a visual drag-and-drop builder. You don't have to do everything from scratch: the plugin also offers templates you can use out of the box or as a starting point you can build upon. This plugin offers a wide range of styling options, making it easy to fit into any website or style, and the tables you generate using it features a responsive, mobile-ready design. You can choose between horizontal and vertical tables, and the unlimited number of columns and rows means there is no effective limit to the size of the price table you wish to create. The plugin also supports comparison tables and a scheduled column for time-limited offers, among other features.
If you want a demonstration of the plugin's range, you can check out the developers' demo.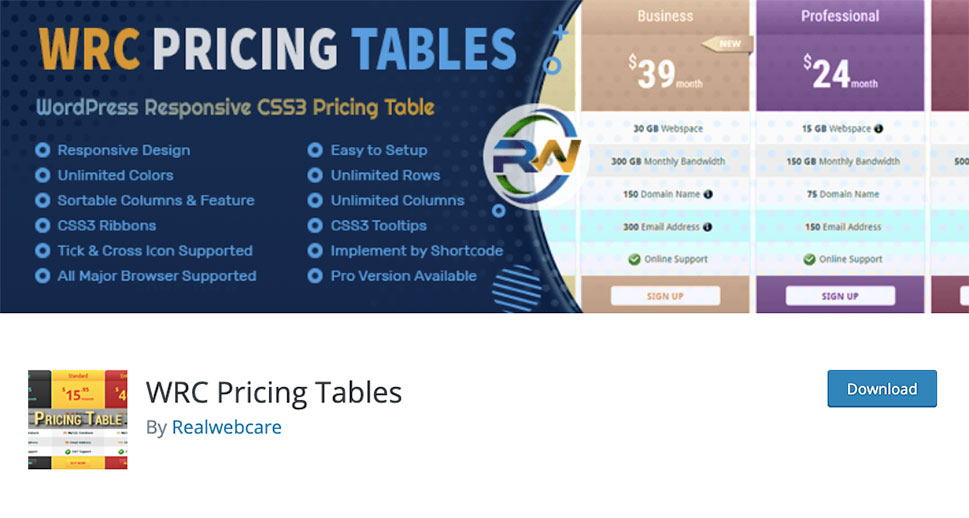 A free plugin, WRC Pricing Tables lets you set up comprehensive pricing tables for your website easily and without fuss. It has no limits on the number of rows and columns, and allows you to rearrange rows and columns easily, using drag-and-drop controls. You can set them up separately for each package or product, or display them as a comparison table. The plugin has a range of styling and customization options, and supports on-hover animation, tooltips (on-hover hints), highlights and shadow, tick/cross icons, colour picking, and more. The tables you generate have a clean, minimalist design, and are fully responsive.
For a look at the plugin in action, check out the developers' demo. The plugin's premium version comes with a slew of ready-made templates, star ratings, PayPal button integration and more useful features.
If you are looking for a bare-bones, no frills free plugin which is still quick to set up, have a look at Pricing Table. The plugin sports a simple drag-and-drop editor which you can use to generate pricing tables as columns of features. It even comes with 5 ready-made templates, tooltip support, and an easy table cloning option, in case you have multiple similar offers. Each of the tables you create will get a shortcode which you can then embed anywhere on your website.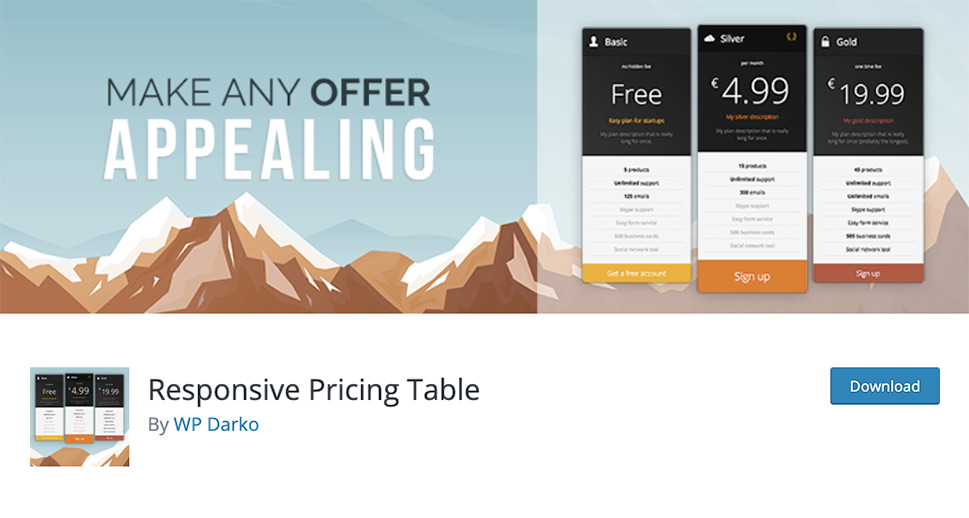 Another free shortcode-based plugin, Responsive Pricing Tables allows you to add an unlimited number of tables with an unlimited number of features and then embed these tables anywhere on your website. You get a set number of non-feature fields, such as title, subtitle, description, price, and so on, but custom CSS classes are also supported. You also get a small selection of useful settings, such as to highlight a particular plan, dictate link behaviour, currency sign changes and others.
The plugin's pro version offers additional useful features such as different layout presets and tooltips, for easier getting around.
Pricing Tables WordPress Plugin – Easy Pricing Tables allows you to create simple pricing tables in no time. They are adjustable, unlimited in number of rows, and customizable in terms of colour, font size, and borders. It features an intuitive table generation interface, and a drag-and-drop editor in case you change your mind and wish to edit a table later.
This plugin's pro version comes with priority support, additional layouts and styling options, but also, importantly, with Google Analytics integration, allowing you to follow the clickthrough rate and adjust your strategy.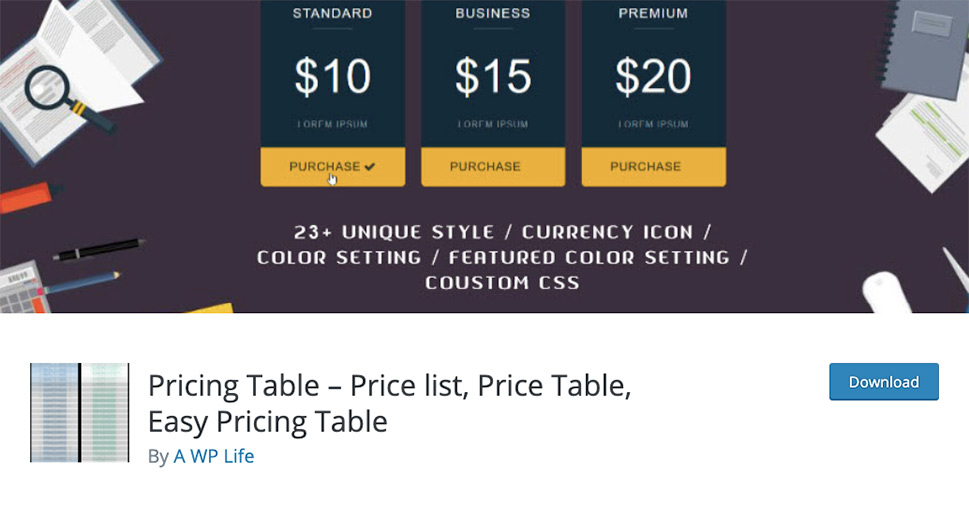 Behind the long-winded name of Pricing Table – Price List, Price Table, Easy Pricing Table is a user-friendly free plugin which makes it easy and quick for you to generate pricing tables and comparison tables. It is shortcode-based and comes with 4 ready-made templates which you can use as-is or customize to fit your overall design and layout better.
The plugin's pro version comes with even more styling options for your headers and buttons, tooltips, a check/cross style layout and more pre-designed templates ready to use.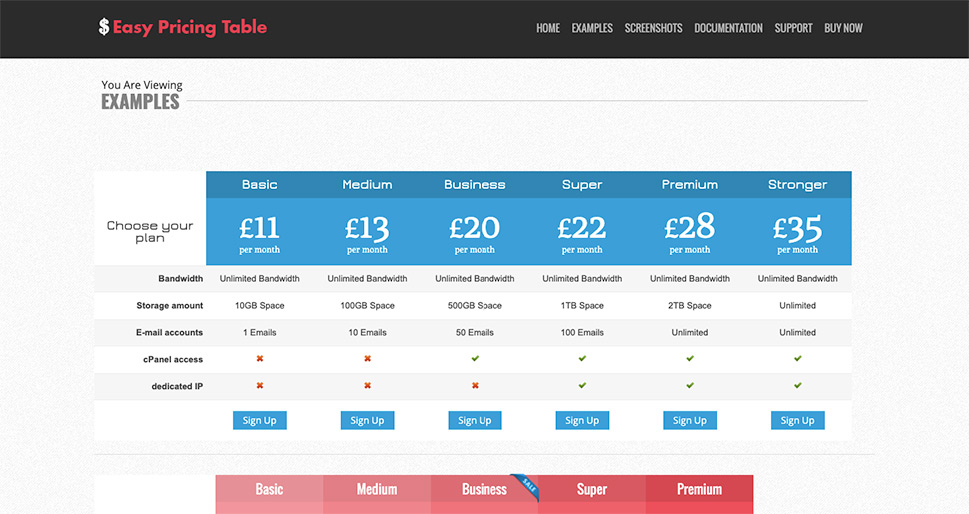 A premium pricing table plugin, Easy Pricing Tables WordPress Plugin comes with a broad array of options for you to build and style your pricing tables. It comes with 10 pre-made themes, ready-made content elements, multiple hover effects, and a whole load of ribbons and icons, but that's just on the surface. The tables it generates are fully responsive and easily rearrangeable using an intuitive drag-and-drop editor, and the plugin even allows you to integrate video content. Another interesting feature is the shortcode element, which allows you to add any kind of a shortcode to your table. And all of that with a live preview, so you know exactly what your pricing table will look like even as you edit it.
Crammed with a load of styling features, Go Pricing is a premium plugin which allows you to create and edit pricing tables quickly and easily. But not only can you create a table, you can also import or export one, as well as clone a table for maximum reusability. Your tables will be fully responsive if you wish them to be, with customizable reactions and display options depending on the device your user accesses your website from. You can also introduce various media into your tables: Go Pricing supports audio, video, and maps. Also included in the package are compare tables and team viewer.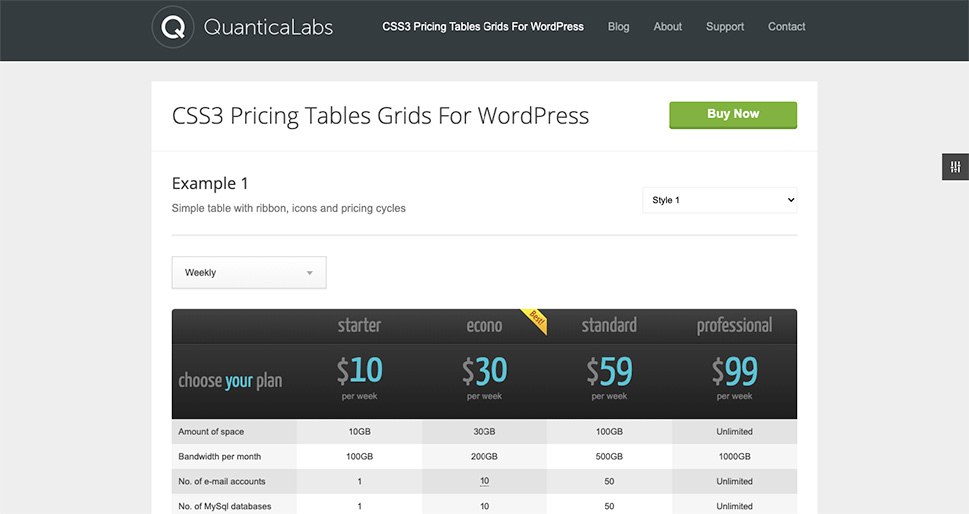 CSS3 Responsive WordPress Compare Pricing Tables is a premium plugin which does what it says on the tin: provides you with responsive pricing tables with just a few clicks of the mouse. You have a large number of styling options, such as icons, ribbons, colour and so on, as well as expandable and collapsible rows, sliding columns, and different hover states. All of that you can achieve with a user-friendly admin panel with live preview. And, easy as it is to create a table from scratch, you don't have to do that: this plugin comes with 20 premade templates you can use as a starting point for your tables.
Another premium plugin, ARPrice boasts a broad range of 300+ ready-made pricing table templates, one of which is bound to be the perfect fit for your website no matter your design choices. But the templates are far from the only advantage of this plugin. It also comes with a drag-and-drop visual editor with real-time preview, allowing you to see right away what your pricing tables will look like. Your tables will be fully responsive, and you can pretty them up with animations, icons, ribbons, and images, not to mention colour and font options. The plugin also comes with table visit and clickthrough statistics and analytics which you can use to guide your sales strategy in the future.
Each and every one of these plugins will help you set up a pricing table on your WordPress website, but each of them also has advantages and stand-out features. If you are looking for a versatile but free plugin, Pricing Table by Supsystic might be an excellent choice for you. For a more pared-down, minimalist design, check out WRC Pricing Tables or Pricing Table. Elementor your thing? Qi Addons for Elementor has you covered. If comparison tables are important to you, maybe give Responsive Pricing Table a pass. If Google Analytics integration is important to you, maybe try the pro version of Pricing Tables WordPress Plugin – Easy Pricing Tables. On the other hand, if the idea of embedded video really appeals to you, and you are willing to spend more on a premium plugin, why not try Easy Pricing Tables WordPress Plugin or Go Pricing? Selling real estate and location is important to you? Go Pricing and ARPrice can integrate maps into your tables with ease. Whatever you do, the answer to your needs is on this list.