5 Best WordPress LMS Plugins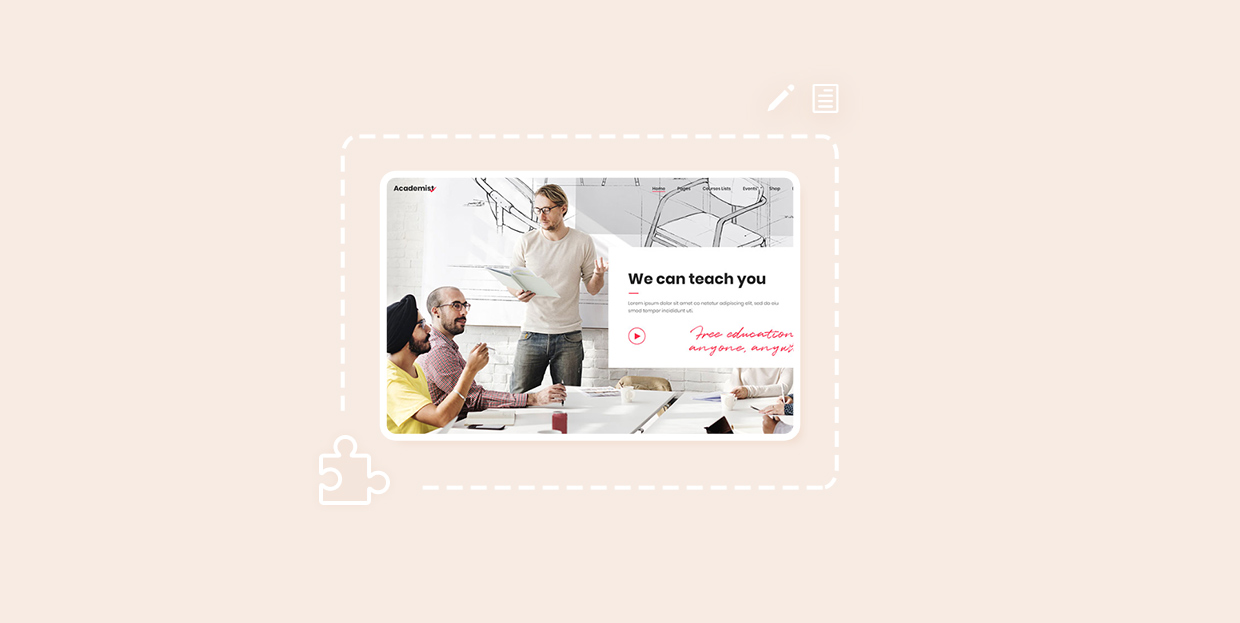 A Learning Management System or LMS is a platform that allows you to build, manage, analyze, and deliver online courses. Because of its numerous benefits and practical features, this system is used by educational institutions, organizations, and companies of all sizes.
An LMS platform is also an excellent choice for employee training and employee knowledge retention (in case you'd like to ensure valuable knowledge stays within your company even after an employee leaves), but it's most commonly used for eLearning.
In this article, we'll focus on LMS plugins and we'll share with you a list of 5 best WordPress LMS plugins:
LearnDash is arguably the best premium LMS plugin on the market. It's popular among regular users and large companies alike. For example, the University of Florida is using LearnDash, along with some Fortune 500 companies. The plugin comes with three pricing plans available, with the prices ranging from $159 for the basic plan to $329 for the pro package.
The reason for its popularity lies in the simple fact that this plugin is intuitive, easy to use, and filled to the brim with amazing features.
Before you start using LearnDash, you can go through the LearnDash bootcamp, which will provide you with proper guidance on how to make the most of this plugin. To access the bootcamp, go to LearnDash LMS > Overview.
With this plugin, you get to create courses exactly the way you want. For example, you can:
course access expiration,
There's also an option that allows you to choose the audience for your course – it can be open (so even those without an account can access it), free, closed, etc. You can also issue course certificates.
Besides courses and lessons, you can create quizzes, questions, and assignments, and modify them to fit the needs of your course. The content-dripping feature is also available, which means you can release content to your users in a pre-scheduled manner.
We particularly liked the Focus Mode feature that allows you to put the course content in the spotlight. With a single mouse click, you can eliminate all distractions, hide the sidebar, etc. which helps keep users focused solely on the course.
As for payment gateways, LearnDash supports payments via PayPal, Stripe, and 2Checkout. The plugin also integrates with WooCommerce, which you can add to your site for free.
LearnDash integrates with numerous free and premium add-ons that further extend the functionality of your site. But even if you end up using the plugin on its own, you'll be in for a real treat. The power of LearnDash is staggering.
LearnPress is one of the most popular LMS plugins on the market. It's powerful and packed with practical features any online learning website could need. And the best thing about it is that you can download it free of charge.
LearnPress currently boasts over 80,000 active installations on the official WordPress plugin directory and it has an average rating of 4.5 stars. It's regularly updated, too, and tested up to the latest version of WordPress.
You can easily create courses, multiple course sections, lessons, and quizzes. There's also a variety of customization options, so you can tailor the course to your requirements. For instance, it's possible to set your course as free or paid, add previews for each lesson, choose question types for quizzes, and much more.
If you'd like to expand the basic features of this plugin, there's a plethora of free and premium add-ons to choose from.
For example, free extensions allow you to:
enable students to add courses to a wishlist
leave reviews about your course
or let you add pre-requisite courses and require students to pass them before enrolling in your course.
As for premium add-ons, you can use them to:
enable content dripping by restricting access to lessons by progress or time
create certificates for your students
enable payments via several gateways such as Stripe, Authorize.Net, or even WooCommerce
In case you'd like to integrate all the plugins into your website, you can purchase the LearnPress add-on bundle that, at the time of writing, costs $249.99.
Overall, LearnPress is a great plugin, especially if you're on a budget. Its features are impressive, and even if you decide to enhance its power by installing premium add-ons, it'll still be quite affordable.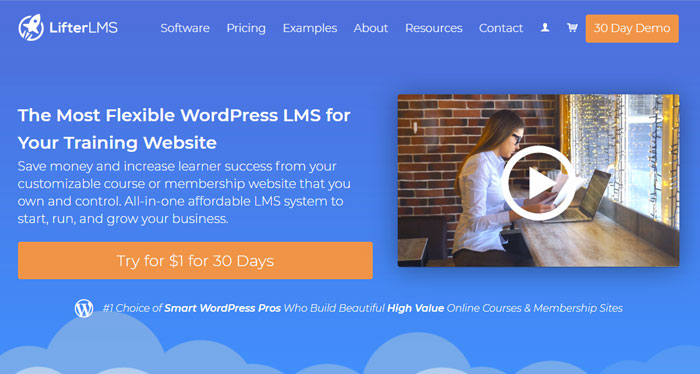 LifterLMS is another powerful plugin that can help you build an online learning website. Three pricing plans are available, starting from $99 per year.
With LifterLMS you can create an unlimited number of multimedia courses and quizzes, offer degrees or certificates, enable content dripping, allow learners to download PDFs and other files for online learning, and much more.
LifterLMS comes with a set of editing options that allow for complete course customization, so you can set the course duration, difficulty, determine access plans, enable reviews, etc.
It's also possible to add discussion areas to your site, such as forums and private group discussion sections, and offer private coaching to learners. Furthermore, if you'd like to include other instructors in your course, you can do that easily by creating a multi-instructor platform.
LifterLMS integrates with a myriad of powerful premium add-ons that can make your LMS website even more powerful. For example, there are extensions you can use to:
add PayPal, Stripe, Authorize.NET and WooCommerce functionalities to your site
create assignments and quizzes
LifterLMS is an excellent plugin, and even its most affordable version is good enough to help you create a powerful online learning website.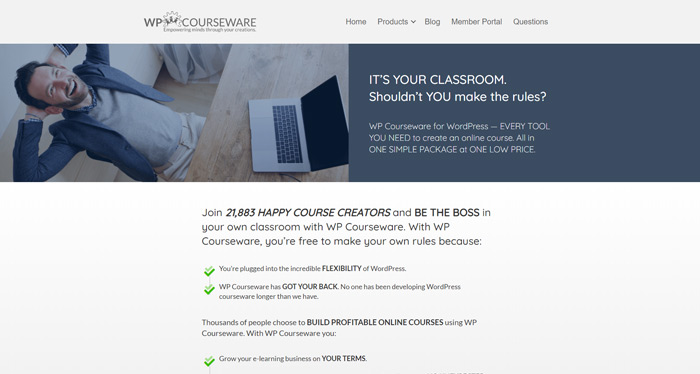 Simple yet powerful, WP Courseware is yet another great plugin that ensures an easy LMS site creation. It counts over 21k customers, and there are three pricing plans to choose from. The most affordable plan currently costs $129.
WP Courseware comes with a drag-and-drop editor that allows you to create courses without much hassle.
Courses are divided into modules, and you can add as many units as necessary to each module. The unit drip feature is really neat. You can also add quizzes and questions to your course. It goes without saying that every single element of the course can be altered according to your requirements.
WP Courseware packs a bunch of customization options that allow you to manage:
course unit visibility (e.g. if all units are going to be visible or just the completed ones)
monetization (you can offer the course for free, as a one-time purchase, or charge for a monthly or annual subscription)
It's also possible to send messages and emails to learners once they complete a specific stage of the course. There's also an option to issue certificates, to which you can add a signature, your logo, and a custom background.
If you wish to keep an eye on your students' progress, go to WP Courseware > Students to see a detailed report on all of your learners.
As for payment gateways, it supports PayPal and Stripe.
The popularity of WP Courseware is not surprising once you get to see for yourself just how much value you get for your money. What we liked about it is its simplicity and the fact you don't have to install extensions to add some quite important features to your site, such as quiz creation and content dripping, as they come packed with the plugin.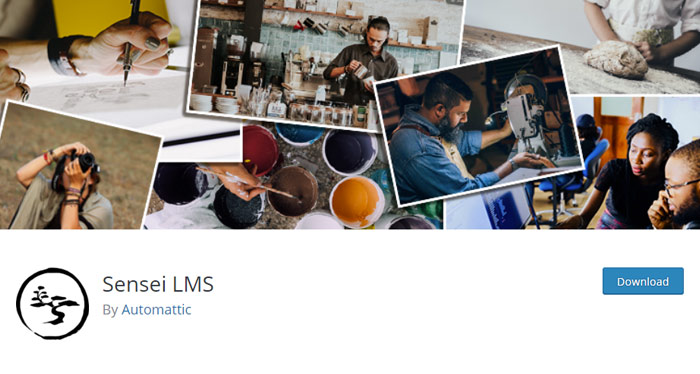 Sensei is an LMS plugin created by Automattic, the company behind WordPress.com and WooCommerce. The core plugin can be downloaded free of charge from the official WordPress plugin repository. It currently has over 6k active installs and an average rating of 4.6 stars.
You can add videos to your courses and lessons, set lesson duration as well as the difficulty level, add quizzes, questions, and select question types (multiple choice, true/false, gap fill, single line, multi-line, file upload).
It's also possible to view reports and overviews of the course, lessons, learners, average grades, etc. To see them, go to Sensei LMS > Analysis.
Sensei also packs an array of free and premium add-ons. You can use them to empower your site with some nifty features. For example, you can get the following extensions free of charge:
Sensei Certificates, an add-on that allows you to award your learners with a certificate
Sensei LMS Course Progress, which allows learners to keep an eye on their progress
Sensei Media Attachments, it gives your students access to additional learning materials, such as PDFs, audio files, etc.
At the moment, two premium add-ons are available:
WooCommerce Paid Courses ($129), which allows you to sell your courses, and
Sensei Content Drip ($29), which enables to set a delivery schedule for your content
Sensei is a straightforward plugin and it doesn't come with as many features as other plugins on our list. But if you're running a WooCommerce store and you need a simple LMS solution for your site, Sensei is a good choice.
When all is said and done, the undisputed winner of this LMS plugins race is LearnDash. It's armored with features unlike any other plugin we've reviewed. The second best would be LearnPress.
However, if you find LearnDash or any other premium LMS plugin a bit above your budget, consider installing an online learning WordPress theme. They are niche-specific and tailored to meet the high demands of modern LMS platforms. Plus, by installing any of these themes, you'd get all the functionalities the best WordPress LMS plugins pack, and then some, but for far less money.