5 Best Privacy Policy Generators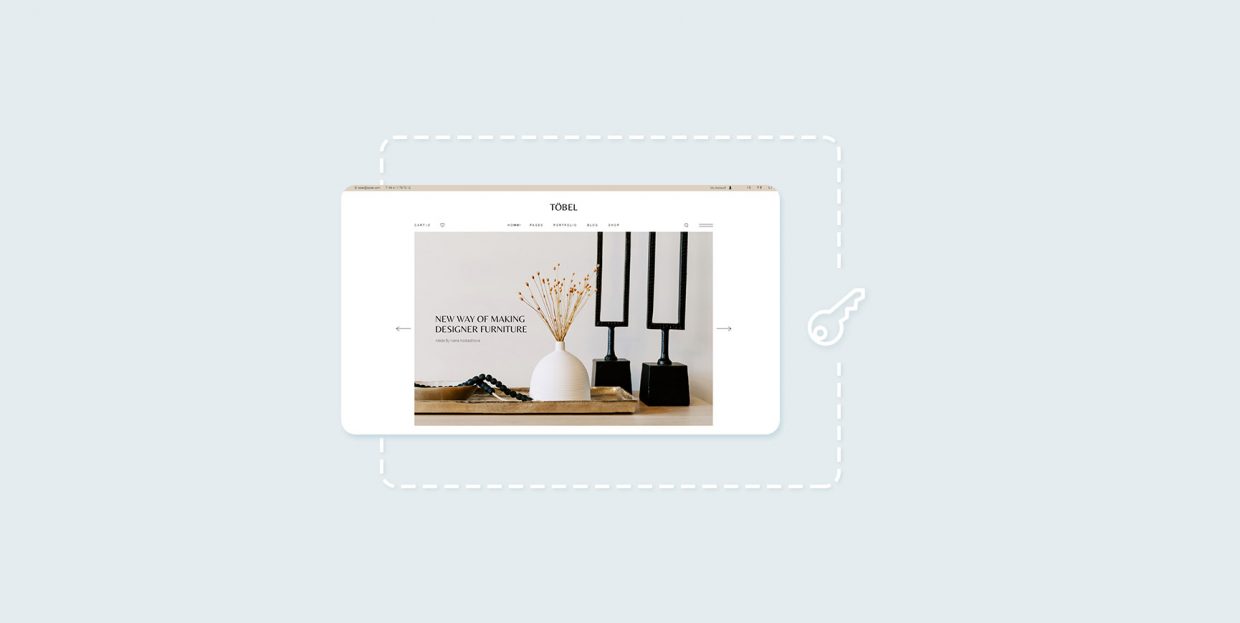 Creating a website is an endeavor that requires knowledge from more than one field. Although it generally allows for a lot of creativity, some tasks are not at all inspiring but are of great importance not only for the website itself but for your business in general. That's just the case with the privacy policy.
The role of the privacy policy page on your site is to support trust between you and your visitors. Furthermore, in many countries, it is mandatory for a website to have it. Nowadays almost every website collects some kind of personal information – name, email address, shipping addresses, account and credit card details, and similar sensitive data. The privacy policy should explain to your users exactly how you are handling the personal information they share with you. And, if you miss to state your privacy policy clearly, you are putting yourself at risk of being penalized by the law and there is a wide variety of scenarios that could end up with you being taken to court.
Despite all the above, many somehow still overlook this detail. To create a good privacy policy, you need to have some knowledge about both local and international law related to this field. The thing is, your privacy policy needs to comply with legislation related to data protection and privacy laws such as GDPR, CalOPPA, and the CCPA. If you are not a lawyer, putting a privacy policy together all by yourself could be a bit challenging. Although you can create and add a privacy policy all by yourself, if you need to have one quickly and you are not sure how to do it, it is time to consider privacy policy generators.
Read on to find out more about:
Before we dive in and share which privacy policy generators are the best ones in our opinion, we'll just briefly remind you of all the elements that you are obliged to disclose in your privacy policy as this can help you choose the best privacy policy tool for you. These include, but are not limited to:
Information about the users that you collect
How you get this information
Reason for requesting this kind of information
How the information will be stored and protected
Who has access to the user's information
Privacy policy generators are of huge help in creating a privacy policy as they provide you with ready-made, customizable templates. Now, let's see which ones are the best.
TermsFeed is a privacy policy generator that is regarded as one of the absolute tools of its kind, being very well-rounded and easy to use.
This tool generates high-quality legal documents incredibly quickly and also includes other generators like the terms and conditions generator. It comes with fully protective clauses and sections that ensure compliance with the GDPR and CCPA, which is very important if you work in Europe or the US. It is also regularly updated which is of huge importance as this ensures compliance with laws in all countries (Europe, UK, US, etc).
Creating a privacy policy with TermsFeed is simple and easy. It follows a four-step procedure where you enter all the required info about your business, disclose the type of data you plan to collect, and then click the download button. You can then use the template text for your designated privacy policy page, or you can have TermsFeed host your privacy policy for you.
A wide range of businesses will find this generator suitable, from e-commerce stores, bloggers, digital businesses to affiliate websites, and everything in between. Its comprehensive set of options and clauses is made in such a way to efficiently protect you if you collect any type of personal information on your website, regardless of your website type.
From the user's point of view, TermsFeed is very easy to use thanks to its intuitive interface. It works incredibly fast and provides reliable results. Compared to its alternatives it is also very affordable and includes a free version in the pricing plan. Nevertheless, if you want to ensure compliance with the GDPR, CCPA, and CalOPPA international laws you will have to opt for the premium version. TermsFeed's pricing model is unique, based on the "you only pay for what you need" policy so the prices vary depending on your needs. Once you purchase a privacy policy statement, you own it and you can copy and paste it wherever you need it, be it your website, blog, app, or similar.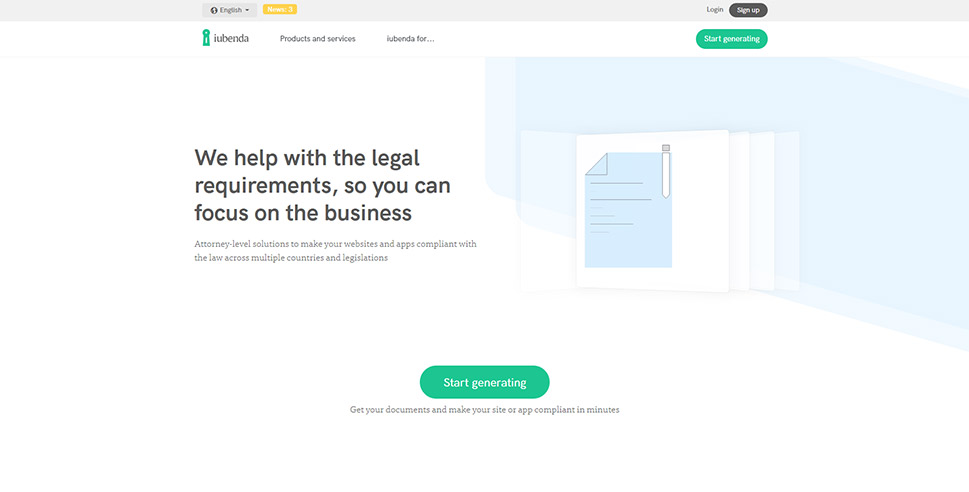 The second tool that earned a place in this list is iubenda. Like the previous tool, it also enjoys great reviews among users, but what sets it apart from others is its incredible flexibility. It is particularly useful for complex business models which handle a large number of personal information and personal data processing services.
This tool comes with detailed, high-quality policy statements, provides plenty of customization options and a wide array of additional services such as privacy management solutions and cookie policy generation.
Iubenda is not an ideal tool if you are looking for a fast solution as with a multitude of customization options it usually takes a couple of hours to set up your policy. Plus, with iubenda you will have to enter absolutely all your personal data collecting processes as this is a highly specific tool and to use it effectively you have to have a complete overview of what your website uses.
Another disadvantage of this tool is that it is not as easy to use as many others – you can't simply directly copy-paste iubenda's policies to your website or app. But, it is nevertheless highly reliable, provides hundreds of legal clauses drafted by legal experts, is always up to date and compliant with the latest regulations, and offers a variety of different ways to incorporate the privacy policy into your website. The process of creating a privacy policy is very similar to the one with TermsFeed – you enter all the necessary details about your business, disclose the kind of data you will be collecting, and also opt for some customized features in case you need them, then click generate and download your privacy policy.
As for the pricing, it includes a limited basic free plan and two paid subscription plans that range from 9$ per year to 29$ per month. All in all, this is an excellent, affordable choice for complex businesses that collect lots of personal data.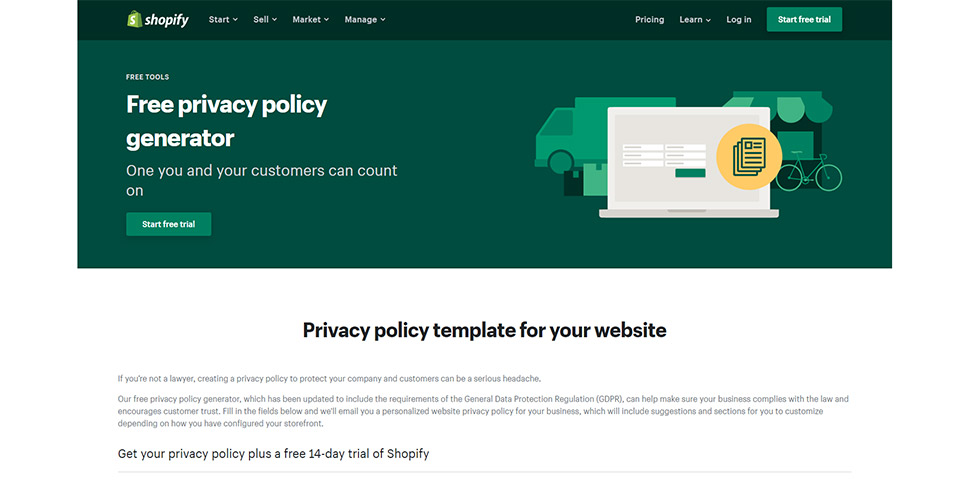 A well-known e-commerce platform also offers free legal tools to help you run your online store in line with the legislation. Although this is a bit of a niche option, it is a great choice if you run an online shop and have a limited budget.
Shopify's Privacy Policy Generator includes privacy policy, refund policy, terms, and service policy. The Simple form allows you to create a privacy policy easily and quickly. As with all other Shopify tools, this one is also extremely user-friendly and easy to navigate.
Creating a policy follows a simple two-step procedure where you are asked to provide all the relevant info about your business and your website, and then you get the generated privacy policy sent to you by email.
The biggest downsides are that it is only for e-commerce sites, offers no options for adding extra clauses, uses a generic privacy policy template for all users and it doesn't entirely protect you from possible breaches of the related laws. On the other hand, it is tailored to answer the needs of e-commerce websites and is very fast. Plus it provides you with access to some other useful Shopify tools such as HD photo galleries, logo creators, and more. Plus, the privacy policy generator is free.
PrivacyPolicies.com is a well-rounded free tool that helps you create all types of policies for your website or app quickly and easily. Its biggest advantage is its global coverage feature that automatically customizes the privacy policy page based on where you run your business which is extremely useful if you operate globally as it relieves you from worrying about different privacy laws.
This tool allows you to create a privacy policy, return/refund policy, terms and conditions, cookie consent, disclaimer, and EULA. It features full compliance with GDPR and CalOPPA and offers 5+ translation languages. What's also great about this tool is that it can be accessed online or downloaded in different formats.
It is easy to use and its interface is very similar to the one of the TermsFeed. As for the pricing, the basic privacy policy is free and the prices for GDPR-compliant and international privacy policies range between $39-$49.
If you are a freelancer, blogger, or run a smaller website, GetTerms.io may be the tool for you. It features an elegant, intuitive interface, it is simple to use and won't burden and confuse you with too many options. It comes with a wide array of personalized privacy policies for mobile apps, SaaS apps, e-commerce sites, and all kinds of personal websites.
The policies are tailored in such a way to comply with GDPR and CCPA and suit your website regardless of the country you operate in.
What's also great about this tool is that it doesn't require any kind of sign-up or email to use it. You just need to fill out a simple form to generate the privacy policy that you need and in case you opt for some of the premium versions the pricing plan is also very practical – you pay only once and the privacy policy is yours forever.
As for the prices, the basic policy that is ideal for personal use is free, the standard pack that includes privacy policy, terms of use, and cookie policy is $25, and the comprehensive pack that offers more advanced options and is GDPR and CCPA ready is $49.
Choosing the right privacy policy generator is not at all easy considering the wide variety of both free and premium choices. But, there are specific features that all the best privacy policy generators have and that you should prioritize. All the tools in this list offer compliance to relevant legislation, they are all easy to use, comprehensive and customizable. While the first one on the list covers all legal agreements, as an online store owner you may not need more than what Shopify has to offer. If you have a large and complex website, Iubenda will probably be the best fit, and if your main focus is your worldwide audience PrivacyPolicy.com may be just what you need.
Regardless of your choice, bear in mind that the main purpose of the privacy policy page on your website is to protect both you and your users and that any breach of the law on personal data protection and related legislation can have serious consequences. No matter how powerful these generators are, it is up to you to check whether the policy you created this way protects you and your users properly.