8 Best PayPal Alternatives for WordPress Freelancers
Some companies become so dominant on the market that they almost become synonymous with the service they provide. PayPal is definitely one of them.
PayPal is a true payment service giant with more than 15 years of stable presence on the market. Since the online payment market is one of the most lucrative ones, it was reasonable to expect from the very beginning that a lot of competition would quickly arise to grab a share. Luckily, in the online world, there is a place for everyone. From a user perspective, competition is a good thing simply because it means a more diverse offer.
One of the downsides of PayPal, though, is that it is not universally available. Besides that, there are plenty of similar payment services that offer more favorable fees, or no fees at all. Finally, a number of users argue about certain PayPal's limiting terms of use. Whatever your reason for avoiding PayPal, it is always worth exploring alternatives. So, if PayPal is not your first choice either because it is not available in your country or for any other reason, what are your options? We explored a number of services to provide you with the best answer to this question and came up with this list of the best PayPal alternatives for WordPress freelancers.
How to Compare Payment Service Providers
Before we give you all the answers, let's just take a look at what you need to take into account when you choose the payment service for you and your business.
First of all, you can never be safe enough on the internet. That is especially true when it comes to online transactions. Always make sure to check if the service provider of your choice is regulated by a government authority, as this is one of the major guarantees your money is safe. Furthermore, even if you are not tech-savvy you should get acquainted with some of the technical aspects of online payments security. The most important things to consider in respect to this are data encryption (the SSL protocol), PCI compliance, and different security protocols like tokenization and similar. The SSL protocol's purpose is to help the information encryption so that sensitive data like card details and similar are well protected. The PCI compliance (Payment Card Industry Data Security Standards (PCI DSS)) involves guidelines for online merchants with recommendations on how to make sensitive card data processing safe.
Second, there are a couple of ways a payment service earns from you. One is a transaction fee, and the other is a conversion rate. Some companies offer a fixed transaction fee, others a more favorable conversion rate – there are a lot of variations regarding this area, so check carefully what kind of benefit is the most cost-effective solution for you.
The third important aspect to consider is the amount of money you will most often be operating with. Some companies specialize in offering services for bigger companies with large money transfers, others offer more favorable conditions for small companies. You will often find that one company offers a variety of plans depending on the amount of your money transfer.
Best PayPal Alternatives for Freelancers
Now that you know what kind of considerations constitute a good choice, let's see what your best options are. Freelancer's needs are different than those of a corporation and that applies to online payment services too. Bearing that in mind, we created a careful selection of the best PayPal alternatives for freelancers:
If you want a PayPal alternative that is very similar to PayPal and also supports cryptocurrencies, Skrill may be just what you are looking for.
This incredibly easy-to-use service allows you to send and receive money, link your bank accounts and make payments using only your email address and password. Similar to Payoneer, it also provides you with a debit card you can use in many countries across the world.
Transferring money to your bank account is simple and fast.
As for the fees, they are a bit lower than PayPal's. Withdrawing money to a bank account is free, and the charges for sending and receiving funds are 1.45% plus $0.50.
Google is an unsurpassable tech giant, and each new service it offers instills a feeling of trust with their customers easily. That's the case with Google Pay too – a fast money transfer service available around the globe (albeit with certain restrictions).
Google Pay provides you with a simple way to make payments on websites, in online stores, in apps, and similar. All you need to do to start is add your credit and debit card payment details to your account, and you can enjoy quick payments.
Google Pay is also a simple solution that allows you to send money to any bank account of your choice, and you can send the money even to recipients who do not use Google Pay. Staying true to Google's philosophy, sending and receiving money with Google Pay does not involve any fees, which is particularly attractive for freelancers.
As for the pricing, debit cards and bank transfers are free, and credit cards are charged at 2.9%of the transaction amount.
Stripe is an excellent solution for all types of businesses, and it is also known as a "developer's first choice". Its flexibility and customizable nature are what sets it apart from other similar services, though some programming knowledge may be necessary to be able to use it to the full extent.
Stripe allows you to receive payments from all over the world and operates in 35+ countries. It automatically deposits the money to your bank account. The transaction fees are similar to those of PayPal – it charges 2.9%of the transaction value plus $0.30 for any successful credit card charge.
Plus, WordPress users will find Stripe is really easy to integrate with their website as there is a wide variety of Stripe WordPress plugins that make this integration seamless and smooth.
Payoneer is mostly oriented towards small and medium-sized businesses. It is largely popular with specific market niches like freelancing, online advertising, eCommerce, and vacation rentals. It is also a well-known global brand that operates in many countries across the world.
Although integration with WooCommerce is not supported, and it may not be as WordPress-friendly as Stripe and PayPal, WordPress users can still instruct the customers to make payments to their Payoneer account. One of its biggest advantages is that it provides you with a debit card with your online account that enables you to withdraw funds from your bank or ATMs anywhere in the world.
It is simple to use and requires no special knowledge for setting up an account. It is also a good choice if your clients also use it, as the transactions are free between Payoneer accounts.
Credit card transaction fees are a bit higher than the competition (about 3%), and there is also a fee for transferring money to a bank account.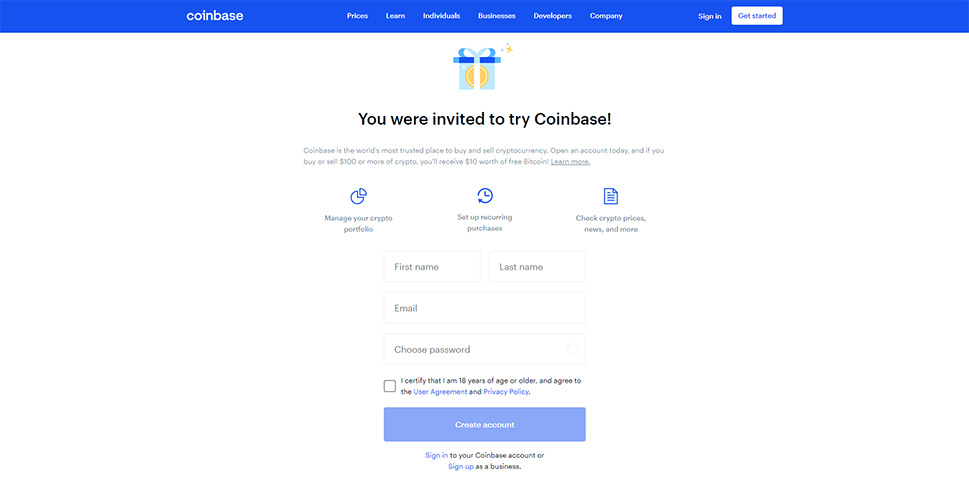 Cryptocurrency, also known as digital money, is the hottest thing around these days, and now is a great time to get to know its possibilities better. Bitcoin is the most popular cryptocurrency in the world that allows you to make money transfers without the need for a bank or money transfer service. It was invented in 2008 and gains more and more recognition and value every day.
The way it works is very simple – you receive/send the money in the form of bitcoins to your Bitcoin Wallet and then convert it into desired currency using the Bitcoin exchange.
If you are a freelancer that could also use a professional accounting tool, Quickbooks is made for you. Quickbooks provides intuitive financial tools and fast service for all types of businesses and individuals.
With Quickbooks, you can create and send invoices, set automated payment reminders and recurring billing. It allows you to accept mobile card payments, ACH bank transfers, and you can even connect your payments with payroll and timesheets. You also have the option to link your bank account with Quickbooks and avoid entering data manually.
Quickbooks comes with a variety of pricing plans. The basic one allows for free bank transfers, whereas the card payments are charged at 2.9% plus $0.25.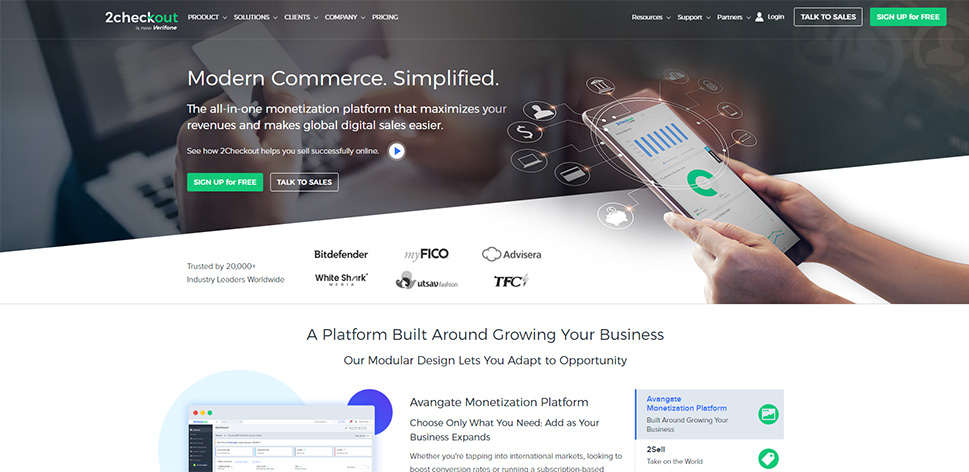 If you need a money transfer provider that operates in many countries and works with many different currencies and languages, 2Checkout may be a good choice.
This PayPal alternative supports 87 currency options in more than 200 countries and offers eight types of payments. Special attention has been paid to security – every transaction goes through more than 300 fraud checks.
Some of the services included by this powerful platform are subscription billing, digital commerce, global payments, global tax and financial services, and more.
2Checkout comes in three-tiered pricing plans where each provides a free sign-up. The charges start at 2.9%. The fees are generally similar to PayPal's with a bit lower overall international transfer fee.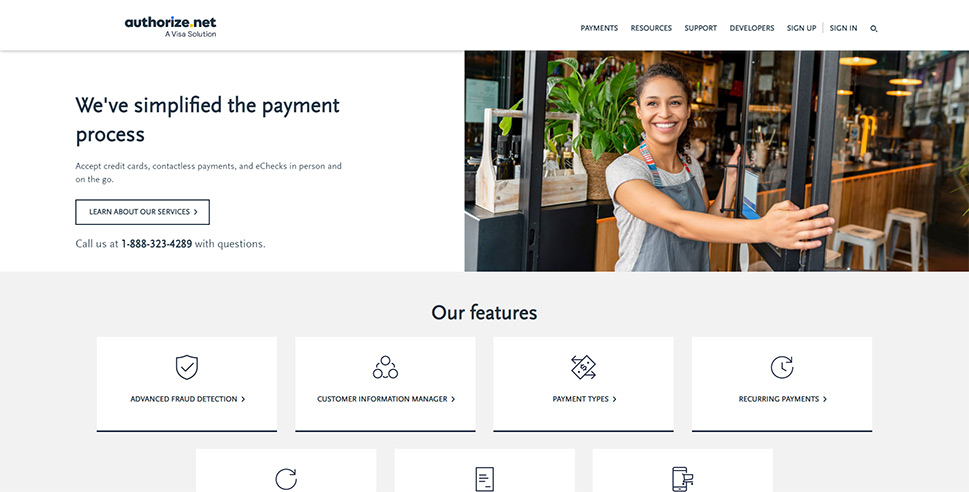 Authorize.Net is a subsidiary of Visa. Although not as popular as some other payment service providers, Authorize.Net enjoys a lot of trust and is a reputable name in the industry. It offers unique, free user support from real people 24/7 so, if your main considerations are security and customer support, you will not go wrong with this one.
The intuitive interface makes this platform easy to use, and the service also integrates with other money transfer service providers like Apple Pay, PayPal, and Visa Checkout.
The services that it provides include invoicing, point-of-sale checkout, recurring billing, and a robust API.
It offers several plans starting at a $25 per month gateway fee, and 2.9%plus $0.30 per transaction.
There is one thing to bear in mind – Authorize.Net is only for commercial use, you can't send and receive payments from family and friends.
It feels good to know there are so many good alternatives to PayPal, doesn't it? We made sure all the services in the list are safe and suited for freelancers. Some offer additional benefits like support for accepting debit cards, lower fees, and some, like Google Pay, are even totally fee-free. Payoneer is a great all-around solution for small businesses. Quickbooks even offers accounting services. 2CheckOut is incredibly versatile in terms of the countries it covers, and Skrill is very reliable with its low fees. Each service on the list has a unique advantage, and it is up to you to choose which one will work best for you and your business. And before making your choice, don't forget to check whether the selected provider operates in your country and the countries you most often exchange payments with.