7 Best Live Stream Plugins for WordPress
Although what we usually like about online content is that we can consume it whenever it suits us, it seems that real-time connection and experience can never be replaced by any consumerist comfort. Hence, it is no wonder that live streaming is becoming more and more popular over the years.
Big brands have also recognized this need and are already broadcasting live videos featuring celebrities or other content relevant to their audience, as that gives them the opportunity to feel the pulse of their consumers, start a real-time conversation with them, and consequently raise brand awareness.
So, if you are looking for ways to give your website a breath of fresh air, broadcasting live videos may be just what you need to make your pages come to life. All kinds of professionals, bloggers, small and big companies use live streaming in plenty of ways to attract, connect with, and retain their audience from all over the world. Bearing in mind the popularity and the capabilities of mobile devices, the reach you can achieve with live streaming can be incredible.
Benefits of Live Streaming on Your Website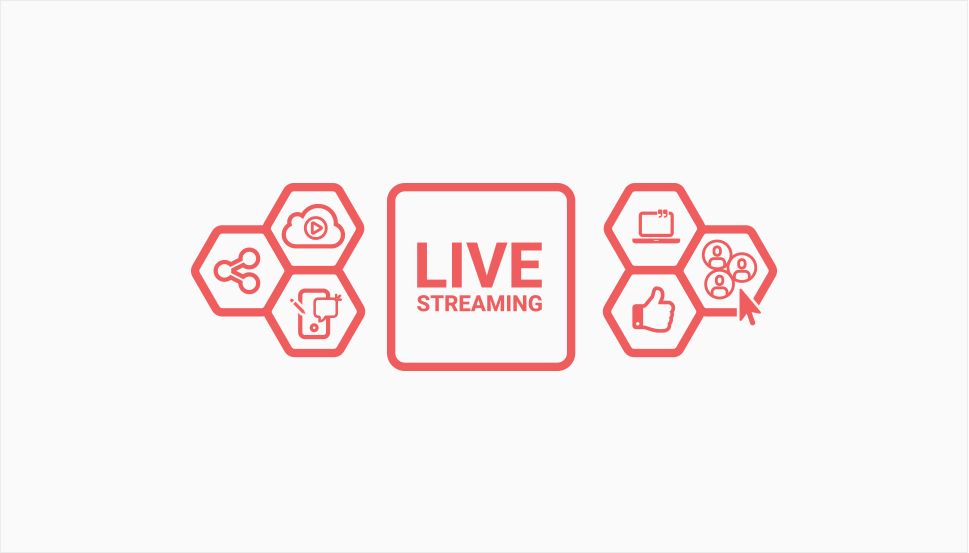 Live streaming on social media is already common practice, but broadcasting live videos on your website is another pair of shoes. While live videos on social media tend to be short and attract a very diverse and wide audience, the videos you share on your website target a more specific audience and can be monetized directly and easily.
Actually, you can even use live-streamed videos to bring the audience from social media to your website. Apart from this and other obvious advantages like real-time engagement, low-cost marketing, and similar, there are even more benefits of live streaming on your website:
Although its popularity is increasing, live streaming is not yet overcrowded. For you, this means that you can still use it as a means to distinguish yourself from the competition. It would be a pity to miss using live streaming now, when it is the hottest thing around.
Live streaming on social media will probably share the destiny of the Facebook organic post, whose reach radically dropped because the timelines became overly-competitive. That is less likely to happen when you live stream on your website because people behave differently on social media and on your website. They intentionally come to your pages to find information, products or similar, which is not the case on social media.
Live streaming on your website can work as an immediate sales boost. After they've seen and possibly engaged with the video, your visitors may be more willing to browse the website and immediately buy the featured product.
Finally, let's not forget that rich media content boosts SEO rankings, and the more traffic your site gets, the more successful your business will be.
Best Live Streaming Plugins for Your Website
Now that you know how beneficial live streaming can be for your website, let's see which live streaming plugins are the best to help you achieve your goal. The fact is that you can live stream on your website without any plugin, but the procedure involves embedding some code. Many users, especially those with no experience with coding, simply don't feel comfortable using code at all, so they rather rely on plugins. Plus, plugins often provide some additional, more advanced features that can help make the best out of the streaming functionality.
As a WordPress user, you have a wide array of live streaming plugins that allow you to live stream from different platforms at your disposal. We handpicked a versatile list of the best live stream plugins that includes both free and premium ones so that everyone can find a perfect fit:
If you have serious plans for broadcasting live videos on your site, WPStream may be a good fit for you. This plugin is a well-rounded solution packed with all the functionalities you may need for successful broadcasting like live streaming, video-on-demand, and pay-per-view. It's easy to set up and use so beginners will not have any problems using it.
It offers two possibilities for live streaming – you can do it directly from the browser or with the help of broadcast software like Larix, OBS, Wirecast, and similar. Broadcast software is generally used when you want a more professional look of your live streaming events. It allows complete beginners to produce high-quality, professional level live streams with ease. The plugin also allows you to use your smartphone for streaming.
No matter how many live events you create, each one will have its own pre-made video page. If you want to include the player on other pages of your website, you can do it with specific shortcodes. The number of videos and channels you can set up with this tool is unlimited, and so is the number of viewers you can have.
Safety is another advantage of this plugin. Regardless of the type and volume of the content that you broadcast, all your data will be fully encrypted and you will be able to control it easily. If you're using WooCommerce, you will also have the possibility to monetize your videos by offering subscription plans, or selling your videos like products.
As for the pricing, there are three pricing plans starting from $19. A free trial is also offered so that you can check if the plugin is what you are looking for.
Webinars are indeed a very efficient way to reach the targeted audience and generate more leads. If you are in the education business or recognize webinars as a great marketing tool to offer more value to your customers, you'll find that WebinarPress is a pretty handy plugin for live streaming your courses and classes. The setup is quick and easy, so we can say that this is also a beginner-friendly plugin.
With WebinarPress you don't need any special technical skills to host a webinar directly on your website. You can host both live and pre-recorded webinars and attendees can ask questions in your video or with the help of a question and answer feature, and you can keep a log of all of their questions. Thanks to the plugin responsiveness, you can offer a quality experience for attendees from every mobile device and tablet.
What's also great is that you can customize the webinar pages to match your site style, set a countdown page to show before the event, export attendees to text or CSV file, and much more.
All these are the features you get with the free version, while the pro version offers more advanced functionalities like live chat during webinars, showing CTA elements during webinars, and more.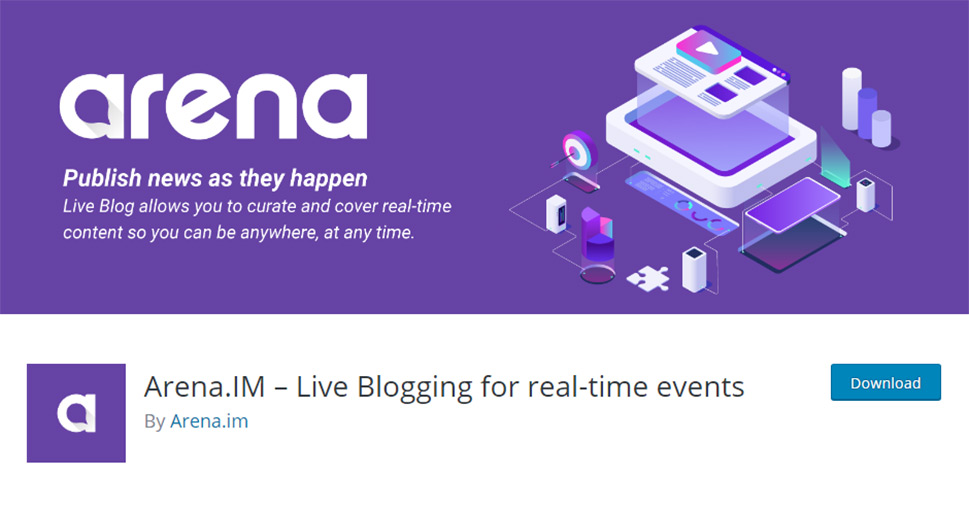 For bloggers, it is vital to stay in touch with the audience and establish a true connection. There's hardly a better way to do that but to share content in front of a live audience. The Arena.IM plugin recognized that blogger's needs are slightly different than those of a company, and offered a tool that answers all those needs in a very practical manner.
Arena allows you to stream real-time events and embed a live feed on your website that you can use to share any info that you like. You also have the option to create and add video playlists from a variety of social media like Facebook, Twitter, Twitch, YouTube, and others. What's also great is that you can combine user-generated content from social media with the content generated by you and your team.
As for the design, the plugin lets you customize the layout so that it matches your website's style. If you are interested in monetizing your live feeds, you can do it simply by adding the WooCommerce plugin and selling your vlogs and feeds as products. Other notable features of this plugin include real-time analytics and play-by-play video playback, interactive polls that help you entertain your audience, posting across social media, and much more.
Considering the fact that the plugin was created with bloggers in mind, it is absolutely beginner-friendly and totally free.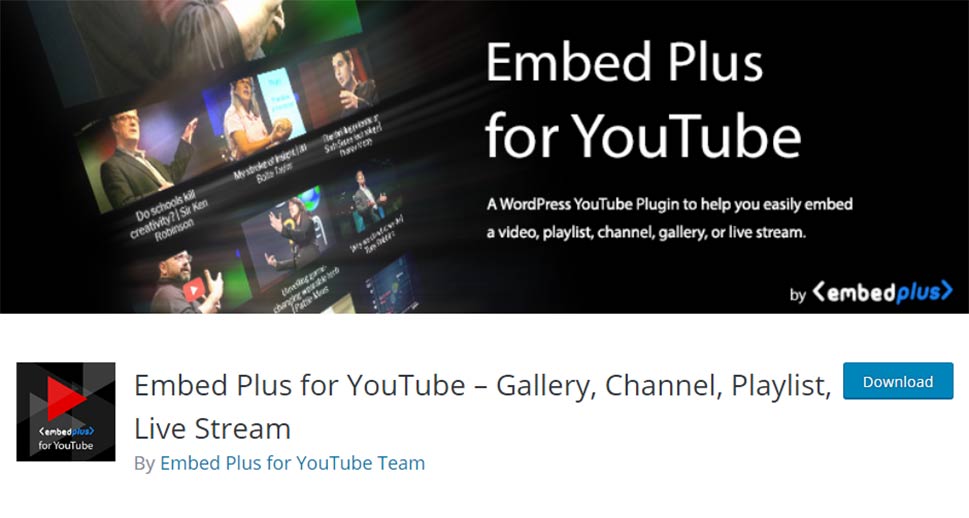 If you're already using YouTube for your videos and have a rich YouTube channel that you also use as a live streaming platform, it might be a good idea to bring that video content to your website too. EmbedPlus for YouTube is an excellent solution to do just that. More than 200,000 active installations and stellar ratings confirm that EmbedPlus for YouTube is a reliable and efficient plugin. It is user-friendly and requires no previous technical knowledge of any kind to use it to maximum advantage.
EmbedPlus for YouTube is a plugin that lets you embed your Youtube content to your website with ease. You can embed "classic" YouTube videos, and you can do the same with your live streams. Apart from live video broadcasting and videos, it also allows you to create playlists, galleries, creator channels, and more. Adding content directly from your YouTube channel is incredibly simple, all it takes is a click of the YouTube wizard button. Furthermore, the plugin is compatible with Gutenberg and comes with a variety of customization options like hiding the YouTube logo, light and dark theme, and similar. Just bear in mind that this plugin works only with YouTube, so in case you want to use other platforms too, maybe you should consider some other plugin from this list.
As for the pricing, the plugin comes in a free and a pro version. The pro version provides you with advanced functionalities like live chat, automatic video thumbnails, automatic tagging for video SEO, and more.
Flow-Flow's popularity is owed to simplicity of use and the versatile features that it comes with. If you have a rich audience on your social media that you would like to bring to your website, this plugin may be what you are looking for. The plugin boasts great speed and reliable performance, which is vital as social media tends to bring a lot of traffic. Furthermore, it is mobile-optimized, so users from all devices can enjoy the same quality of experience.
Flow Flow allows you to live stream content from the leading social media platforms – Facebook, Instagram, Twitter, and Pinterest on your website. The Pro version also allows for live streaming from YouTube, SoundCloud, LinkedIn, Tumblr, Dribbble, and other platforms. What's great about this plugin is that you can make a combination of various elements and stream social feeds from multiple sources in one responsive social media wall on any page of your site. This way, your site visitors will be able to view all your social media feeds without having to open more than one page. Furthermore, you will be able to customize the design of the dedicated pages easily so that they match your website's style.
The pro version of the plugin provides more advanced features like lightbox galleries for multi-image posts, networks sorting and the search bar on top of your stream, and more.
In case you plan to live stream videos on your website, but also have other ideas for incorporating rich media content, you may find multipurpose media player plugins, like Modern Video Player, very useful. This powerful plugin makes live streaming on your website easy and supports all sorts of embeddable media including HTML5 video formats, YouTube and Vimeo videos, Google Maps, and a lot more.
It is responsive and supports videos of different quality, which means that users from mobile devices will be able to consume your content with no trouble. Plus, you can reach international audiences more easily since this plugin allows you to display subtitles in many languages and supports audio languages for live streaming.
The playlists are also supported and can contain mixed media so that you can combine videos and other content types, such as images, from different sources in one list. It also allows you to password-protect your videos, which is especially convenient if you run a membership website or host pay-per-view content.
Monetizing your videos can be smoothly achieved as the plugin supports AdSense. Other useful features include Google Analytics tracking, playback options, social sharing support and theater mode.
The plugin comes in two pricing plans and the main difference between the two is that the more expensive one allows you to charge your users for viewing the videos.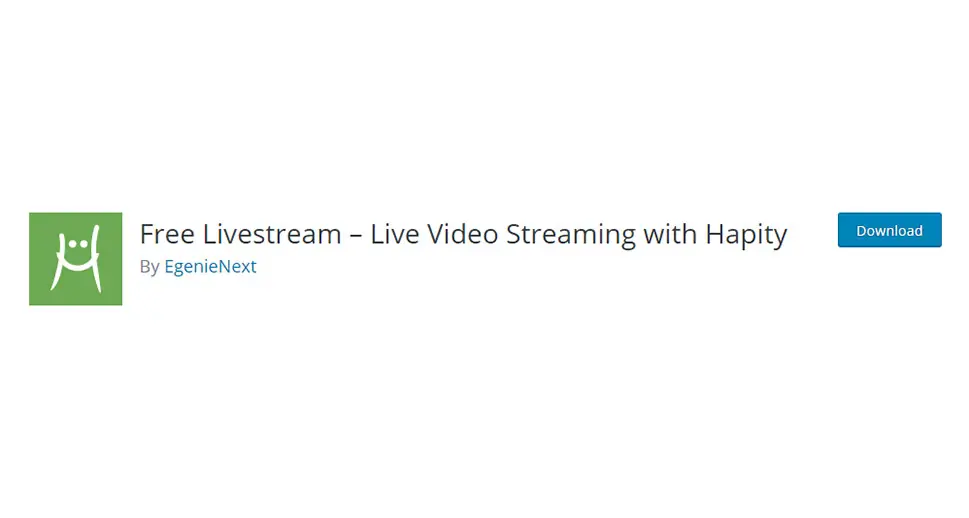 Happity is a fast, reliable, and free solution that allows you to live stream across social media directly from your website. It features a simple and modern layout that you can easily customize to match your website's style. Set up is done in literally 5 minutes or less and it takes just a click to start broadcasting.
Powerful features combined with incredible simplicity of use make it popular both with beginners and advanced users. Every broadcast instantly publishes a live feed on your website and the plugin also offers free video hosting through its integrated cloud storage. Social media sharing is also supported and social media posts include inbound links back to your site so that you can connect your website with your social media smoothly.
Unlike some of the previously mentioned plugins, Happity allows you to host video streaming from your own website, which is convenient for many reasons. Most importantly, this way, you are in total control over the content that you create. The plugin also automatically generates backups on your mobile device.
All in all, if you want to start live streaming from your website immediately, this plugin will not disappoint you.
We wanted to create a list of the best live stream plugins for WordPress that is versatile enough to satisfy very different needs so we made sure that both bloggers, beginners, individual professionals, and small and big companies can find a perfect solution for live streaming on their website. Every plugin in this list is unique with its set of features, and each one has a proven track record of satisfied users. Like with any other marketing channel, to make the best out of it, you need to have a clear goal. So, take time to explore all the possibilities of live streaming and pick the tool that suits your specific needs the best.