10+ Best Gutenberg Block Plugins for WordPress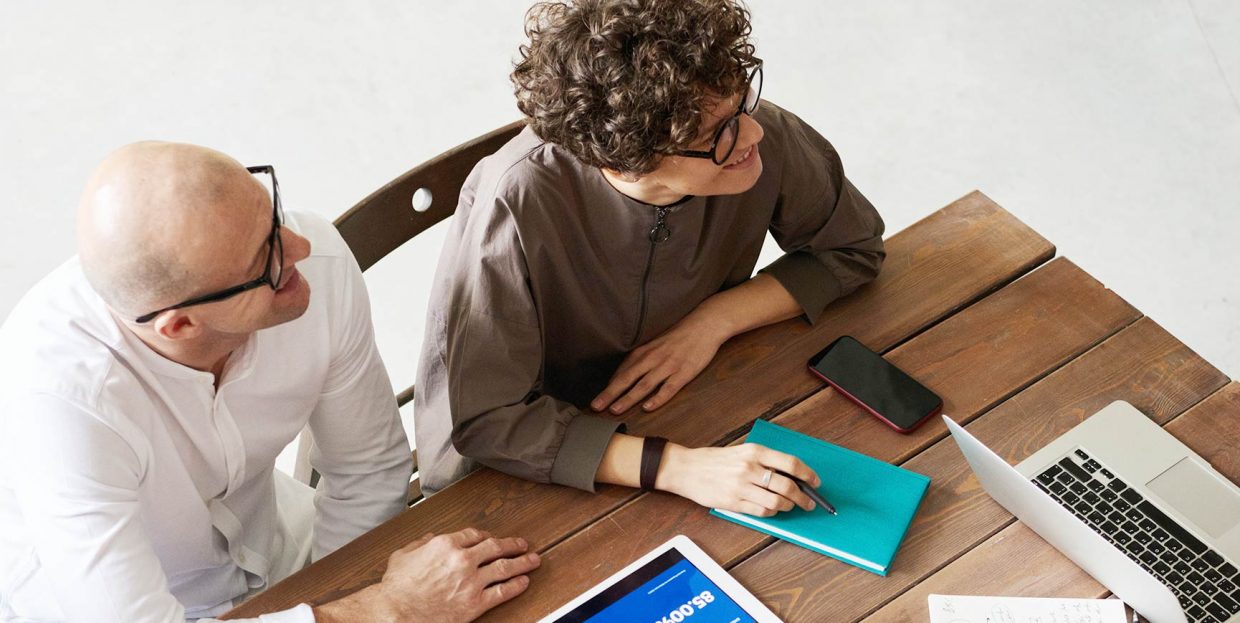 The Gutenberg editor emerged as an answer to the growing need of WordPress users for a page builder that is more versatile, intuitive, and customizable than the classic WordPress editor. It was getting harder and harder to keep pace with the popular drag-and-drop page builders like WPBakery, Elementor, and similar, so WordPress had to take a significant step forward to remain the preferred CMS. Gutenberg was meant to provide that leverage to WordPress, and it is indeed way more powerful than the Classic editor. Gutenberg provides a better user experience, and the feature that makes up for many of its shortcomings is its incredible flexibility. Before we continue, let us just explain in brief how Gutenberg works.
To put it as simple as possible, the Gutenberg editor is a set of default blocks for adding content to your pages: images, paragraphs, lists, buttons, and more. It allows you to place these blocks to all the designated areas on your website. You can customize and modify each block independently from the others. What makes it special is that it is a beginner-friendly drag-and-drop page building tool that lets you use, arrange and rearrange content blocks just like building blocks. If you are curious about Gutenberg, a good place to start getting to know it better is our article about the new WordPress block editor. Once you become familiar with Gutenberg, though, you may want to broaden and improve its functionalities, and you can do so simply by adding an appropriate plugin.
Two Types of Gutenberg Plugins
Before we get down to which plugins are the best, you should know that there are two types of Gutenberg plugins: single-purpose block plugins and Gutenberg block libraries. The single-purpose block plugins, as their name suggests, focus on one feature and provide you with a way to add a single, specific block to your page. A good example of this type of plugins is the Gridbuilder WP plugin that enables you to add custom grids to your site. They are a great solution when you're missing only one piece of a puzzle, and you know exactly which one, to make your website complete.
But, in case you want to create rich content and need a variety of additional blocks, library plugins will probably suit you better. This type of plugins usually includes an abundance of blocks like testimonials, CTAs, pricing lists, and similar.
Although library plugins may seem more powerful, in most cases it is actually quite the other way around. The single-purpose block plugins usually come with a more comprehensive set of options and integrate more smoothly. Library plugins sometimes have so many block options that you easily get overwhelmed, and they are not as fine-tuned as the other type. But, it all depends on what you want to achieve with the plugin.
After testing a wide assortment of both library and single-purpose plugins, we handpicked the ones that are the most user-friendly, effective, and reliable.
Best Gutenberg Block Plugins
To cover all of your possible needs, we compiled a list of the very best Gutenberg block plugins that includes both single-purpose plugins and block library ones.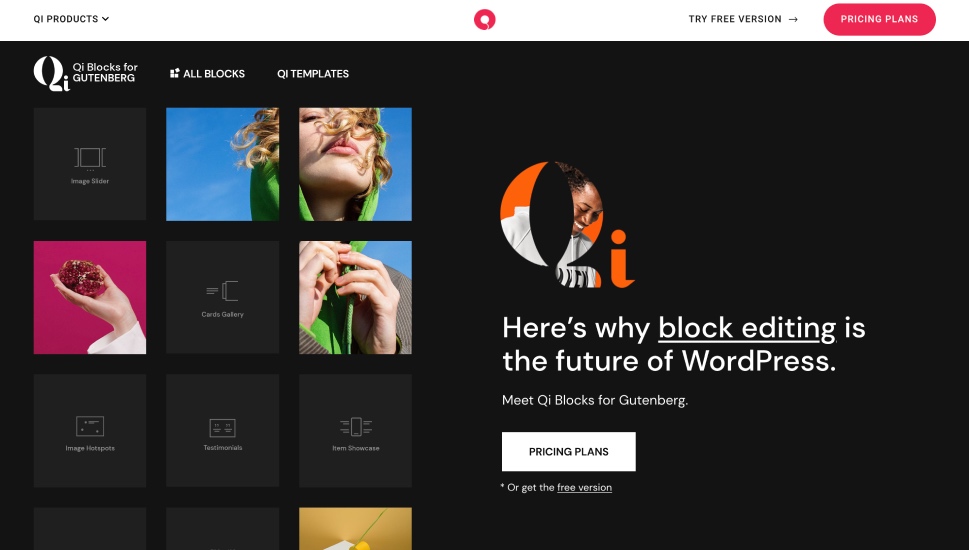 In most cases, Gutenberg block libraries aim to provide useful functionalities for block editing, but also quality design that will help users create websites that awe and impress. Some block libraries simply do a better job at uniting these two requirements and, among those, Qi Blocks for Gutenberg is most likely the best.
This exclusive collection packs over 80 blocks with unparalleled customization options. What this means for you, a Gutenberg user, is that each block can be adjusted to fit your practical and visual needs like a glove. In addition to the rich options, Qi Blocks are designed to perfection. This guarantees that the pages you build using the collection will meet the highest design standards and impress your visitors with their elegance.
Qi Blocks contain a range of blocks for your business needs (infographics, client carousels, timelines, testimonials, maps, contact forms…), for your showcase needs (advanced portfolio layouts, animations, modern sliders, stunning galleries…), and, of course, for your eCommerce needs (product lists and sliders, star rating, buttons…). They are lightweight and extremely easy to use with any Gutenberg theme. On top of that, you can pair the Qi Blocks with Qi Templates for Gutenberg, a collection of exclusive pre-designed demos, patterns and templates.
The collection consists of 48 free blocks and 33 premium ones. You can also opt for the Qi for Gutenberg bundle consisting of blocks and templates.
Although single-purpose block plugins enjoy the reputation of being more effective and reliable, it does not mean that it is impossible to find an excellent library plugin. The Genesis Blocks plugin proves that perfectly. It is a great, free plugin with a collection of 14 Gutenberg blocks, four premade page layouts, and eight premade page sections. Some of the most popular blocks that are included are newsletter block, testimonial block, call to action block, author profile block, and more. The custom content sections and pre-built page layouts significantly speed up the process of creating content for your site.
It doesn't require any specific knowledge, to begin with, both beginners and more experienced users will find it easy to use and take maximum advantage of its features.
Genesis Blocks also comes in a pro version which naturally offers more features like 16 new blocks, 26 pre-built full-page layouts, and 56 pre-built sections. With the pro version, you can also save and reuse the sections and layouts that you created.
Stackable is one of the most comprehensive Gutenberg library plugins you can find. More than 30,000 active installations and excellent ratings speak about its quality. It is a free, lightweight solution that will help you create rich content easily without writing a single line of code or jeopardizing your website's loading speed. It is recommended for bloggers, small businesses, and eCommerce site owners, but any type of website can easily benefit from it.
Stackable comes with 27 easy to use blocks ranging from simple elements like separators and icon blocks to complex features like video popups, and all are designed to be fully responsive. Some of the most popular blocks that come with this plugin include testimonials, CTAs, pricing blocks, team members block, and more. Another quality of Stackable is that it also ncludes extensive design options very similar to what popular page builders have to offer. You can easily add hover animations, image box effects, and more to create a professional-looking website. Excellent background options and effects like gradient background effects, fixed images, and video backgrounds are also at your disposal.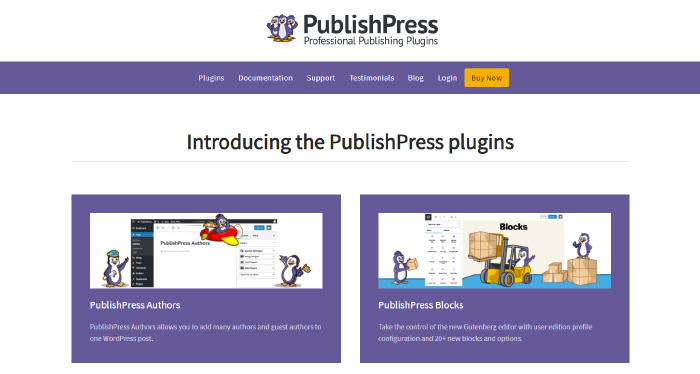 The PublishPress Blocks plugin is one of the most popular tools to enrich the functionalities of Gutenberg. It adds more than 20 advanced blocks to your site. What separates it from others is that it provides a more advanced version of some of the essential WordPress blocks along with additional configuration and styling options. It also includes advanced block control. For example, it allows for block activation per user role, you can filter available blocks based on user role, create edition profiles, and assign user or user group to the profile, and more. Its collection of blocks is very versatile and will satisfy a very different set of needs. You can easily create customized buttons, map blocks, advanced list blocks, contact form blocks, advanced video blocks, and many more.
All in all, this is a very user-friendly, powerful, entirely free tool that will help you create rich content with ease without slowing down your site, or jeopardizing its performance in any way.
Otter is one more powerful yet free library plugin that is very handy both for bloggers, and business owners. Its collection of 12 blocks includes pricing and service blocks and other general-purpose blocks like section blocks, advanced heading blocks, button blocks, and others. The additional benefit that you get with Otter is that it also includes templates and layouts that can help you set up your content faster. You also have extensive customization options at your disposal for all the blocks that you create.
Excellent rating and 80,000 active installations speak a lot about this plugin's quality. It is an intuitive, user-friendly tool that can help you build a rich website with ease.
CoBlocks is an innovative Gutenberg blocks plugin that lets you create a variety of beautiful content blocks. It was specifically created to improve the Gutenberg experience, so it compliments it perfectly. It is very useful for photographers, artists, content creators, and any type of website that relies heavily on image galleries. You have plenty of choices when it comes to image and gallery blocks. Thanks to custom controls and settings you can style all the blocks easily to fit your website design.
Other standard blocks, like the pricing list block, about the profile block, events block, and form block are also included. The innovations that this plugin is famous for include the shape divider block, responsive margin block, and padding settings, as well as custom typography controls.
CoBlocks is very user-friendly – it takes just a couple of clicks to set, change, and customize the blocks. All the blocks that you create with this plugin will be fully responsive. Plus, it is entirely free.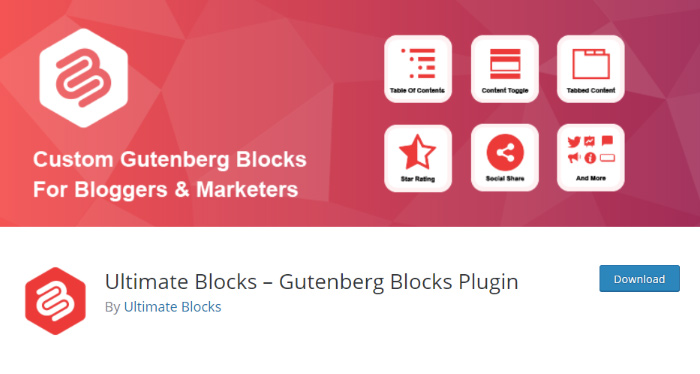 Ultimate Blocks is another free library block plugin for Gutenberg that is very handy for bloggers and marketers, but, of course, many types of websites can benefit from it. Stellar rating and more than 20,000 active installations confirm its reliability. It comes with a collection of 18 blocks that include a table of contents, CTA, count-down, star rating, and many more useful blocks.
What is special about this plugin is the unique collection of blocks that it offers. These blocks include a schema enabled review block that allows you to add a review box to your pages, a content filter block that lets visitors filter out specific content by clicking on a filter at the top without having to reload the page, and a separate star rating block. Its block manager allows you to easily organize your content, enable and disable individual blocks as you need.
The plugin is incredibly easy to use, and works right out of the box. Immediately after the installation, all the blocks are available in the editor.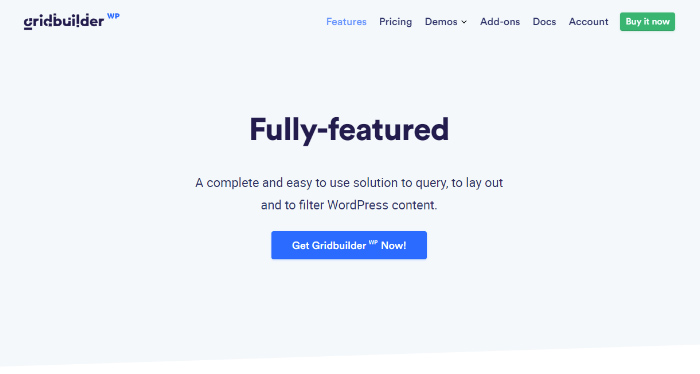 Gridbuilder WP is a well-rounded plugin that allows you to create flexible and filterable grid layouts. Thanks to the intuitive user interface, it is popular both with beginners and advanced users. It works like a drag-and-drop grid builder, with a variety of options for customization. You can choose between more than 250 SVG icons to decorate your grid cards, add loading animations, and much more.
Advanced users will also appreciate the wide array of high-level functionalities and add-ons that come included with this plugin. For those in a hurry, the plugin is packed with 20+ ready-made and easy to customize grid cards and 15+ facets types including radios, sliders, checkboxes, selects, ratings, load-more buttons, and more. Gridbuilder WP also supports social sharing which allows you to share content on social media directly from your grids.
It integrates easily with most of the popular tools and works well with all WordPress themes. As for the price, you can choose between three pricing plans starting from $49 per year.
The WP Call Button is a beginner-friendly, single-purpose block plugin that enables you to easily create a click to call button and add it to any page of your site. If more calls mean more business for you and this is often the case for freelancers, portfolio sites, vCard sites but also for a variety of other businesses, you'll love the smart floating call button that also comes with WP CallButton. You can easily set this floating CTC button to show up for mobile users on all pages of your website. Thanks to plenty of customization options, you will also be able to style these buttons so that they match your site's design.
Handy, clickable click to call buttons are not all that this plugin has to offer. They come with a built-in tracking with Google Analytics which allows an insight into which pages on your site are the most visited ones. It also integrates well with professional business phone services. On top of it all, it is totally free.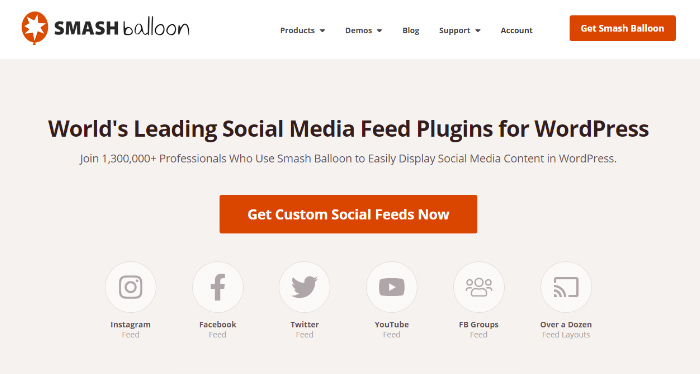 If you are looking for ways to connect with your audience and establish a full-fledged online presence, you may find the Smash Ballon collection of plugins interesting. It consists of several social media feed plugins that include Facebook, Instagram, Twitter, and YouTube feeds. In case you want to display all the feeds on your site, there's also the Social Wall plugin that combines all the feeds into one wall.
Smash Balloon lets you add your social media posts to your website with ease. You get a block for adding the social media feed, and you simply drag and drop the selected block to the page to add the selected social media feed there. You can add as many social media feeds as you find necessary or use just one of the available plugins. The blocks will automatically match the style of your website. Plus, all the blocks are fully responsive. As for the price, the plugin is not free, and the prices start from $49.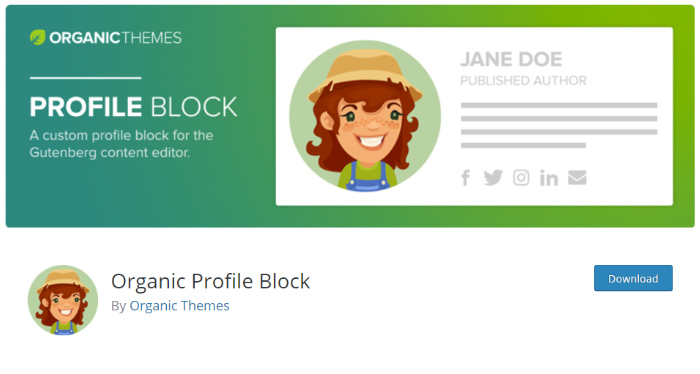 No matter what type of website you run, profile blocks are always useful. Displaying information about the people behind your business or blog is a good way to establish a trustful relationship with your visitors. If you need to add this valuable piece of content to your website quickly, Organic Block may be the answer to your needs.
The Organic Profile Block is a free plugin that allows you to create custom profile blocks with a profile image, name, biography, email, and social networks links. It works right out of the box, it is very beginner-friendly, and you will not be confused with an abundance of features that you don't actually need. What's also convenient is that it blends with the image of your website – it automatically adopts the fonts and styles of the WP theme that you are using.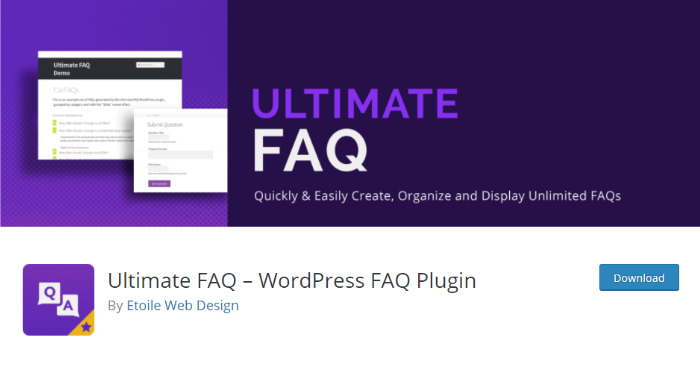 Another universally useful plugin that finds its application in a wide variety of website types is the Ultimate FAQ. The simplicity of use and an abundance of useful options are what made it popular for more than 40,000 active users.
Ultimate FAQ allows you to create an FAQ block that seamlessly blends with your website's style. This plugin also includes an easy-to-use shortcode for an FAQ search field which is great as it lets your visitors quickly find the information they need. You can also customize your FAQ search with plenty of advanced options like autocomplete, Group FAQ options, and many more. What's also very practical is that it lets you organize the FAQ section by selecting the exact order of your FAQs with a simple drag-and-drop interface.
As for the price, it comes in three pricing plans. starting for $30 with which you get lifetime access to the plugin for one site.
The plugins that we have selected here cover a wide range of needs, but the one thing they all have in common is that they are all easy to use and do not impact your website's performance negatively. Many library plugins come with a similar set of blocks, but what makes them different are the customization options that come with blocks. Although not perfect, Gutenberg is a huge improvement compared to the classic editor and has a bright future. With all these tools that enrich its core functionalities, we are sure you'll manage to create wonderful content for your website.