7 Best Graphic Design Tools for WordPress Users
Writers and avid readers might complain their hearts out, but there's no denying that people are much better at processing pure visual information than textual. For anyone who works with content creation, or anyone who needs to create a website, this means one simple thing – visuals and design will matter at least as much as the copy on the website.
Design is everywhere in WordPress websites, and researching it can be incredibly inspiring. Looking through web designers' portfolios can be a surprisingly good time. Creative agencies also tend to have websites that will get your creative juices flowing just by looking at them.
That's the perfect time to turn to one of the many awesome design tools you can use to give your WordPress website an exciting new visual. In this article, we'll show you some of the best graphic design tools for WordPress users. Our list includes:
There's no better way to start a list of the best graphic design tools for WordPress users than with an entry on Canva. The Australian graphic design platform is a worldwide favorite, reportedly reaching more than 30 million monthly users and over 3 billion designs created by 2020.
Canva achieves its position as the leading graphic design tool by offering a ton of features without asking the user to commit to any of its premium plans. You can use over 250 thousand templates separated into over a hundred design types to kickstart your design process. Whether you need to create a social media post or a business presentation, Canva will have your back. So will your team members, as Canva facilitates real-time collaboration – you'll be able to add text animations, crop images – yours and stock, apply textures and filters, and do many more things together on the platform.
The paid plans for Canva start at around $120 a year when billed yearly, and you can use them to supercharge Canva's offerings. You'll get even more templates, more stock photos, videos, audio, and graphics, the ability to save your templates, create your brand kit, and schedule social media publishing to eight platforms.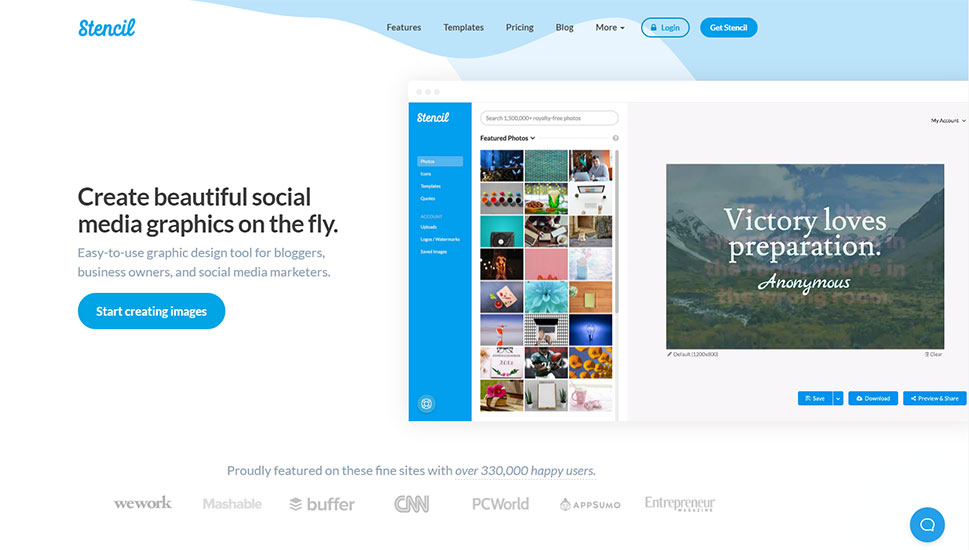 Some platforms will get you by the sheer scope of options and features they will make available to you for free. Others will, however, find different ways to make your work easier. In the case of Stencil, the major offering that sets it apart from Canva is Stencil's WordPress plugin.
Thanks to its WordPress plugin, you can start working with Stencil as you're creating a page or a post in WordPress' backend. The platform will give you access to stock photos, fonts, quotes, templates, icons, as well as the tools you'd need to schedule images, resize them, apply filters to them, and all the works.
While Stencil might come with a free version, you'd need to opt for one of the paid ones to get the most out of the tool. The limitations on the free version make it just useful enough to get you hooked, though and starting at $9 per month, you'll get access to the full thing.
Not everyone who has to work with graphic design tools will be a professional graphic designer. Many people who use WordPress websites for their hustles – blogs, businesses, startups – will do everything on their own to try saving costs. For people in that situation, RelayThat can offer a much-needed helping hand.
Some of the best things about RelayThat are the features that contribute the most to its "design automation" philosophy. For example, the platform comes ready with a headline generator, in case you're having problems coming up with headlines. It also has curated libraries of color and font combinations that can surely help indecisive and inexperienced users come up with good designs.
RelayThat doesn't lack in other features, either. It offers access to millions of royalty-free images, offers easy resize features, and was built with brand image consistency in mind. The platform doesn't have a free plan, however, and its paid plans start at $15 per month.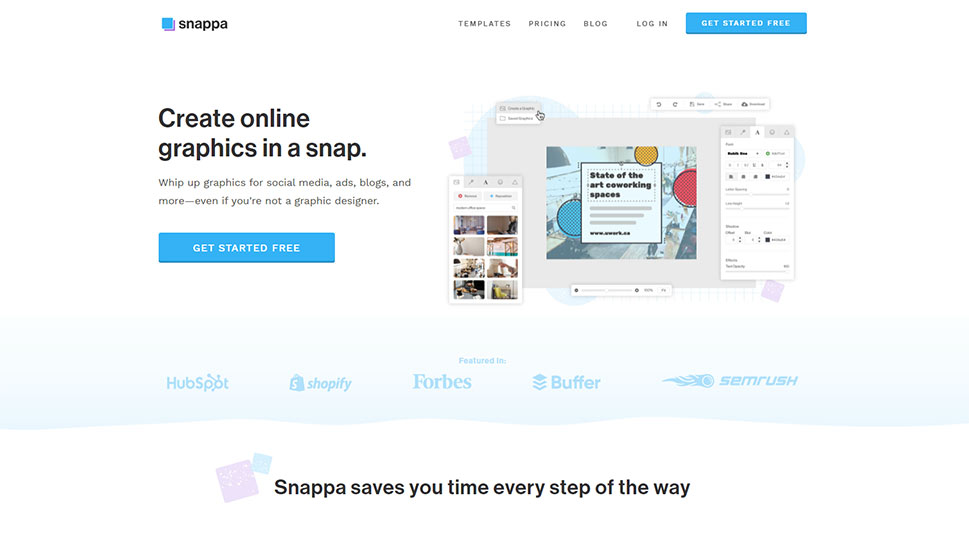 Need a snappy way to create graphics for your blog, but also social media or ads? Snappa will be there to help you. With its sleek design and some neat sharing abilities, Snappa is all about saving you time on creating great visuals.
For example, you can easily resize the image into the perfect dimensions for the channel where you want to publish the images. You can use its library of templates to speed up the design process, and you can save time on looking for stock photos, too, as Snappa has them as well. Adding text or graphics to the images is quick and easy, as is removing image backgrounds – a very useful feature to have. Finally, Snappa will help you schedule and share your images on social channels.
Snappa has a free plan that, while giving you access to its templates and stock photos, only allows you to download three of them per month. For more options, you'd have to switch to one of the paid plans, which start at $10 per month.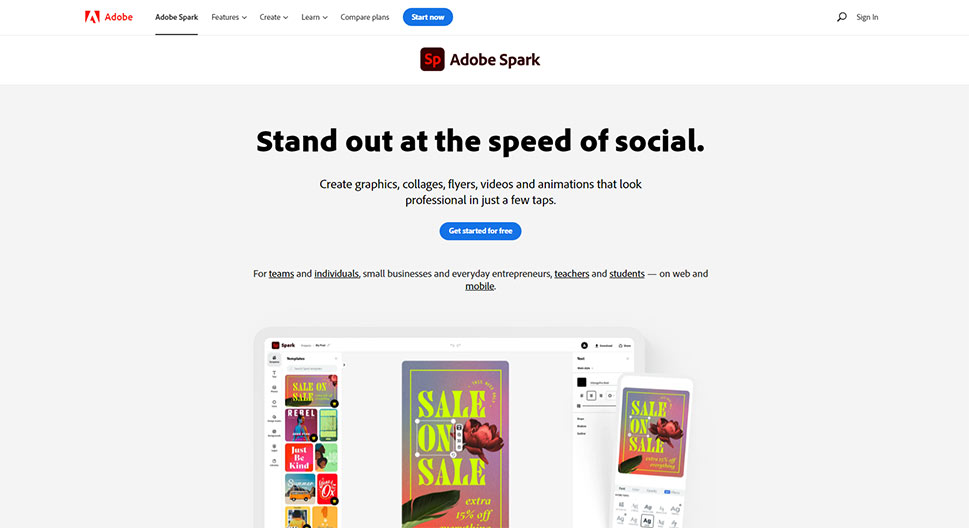 While there are plenty of tools that are gunning for the place of the top alternative to the almighty Canva, few have come as close to dethroning it as Adobe Spark has. And the super-recognizable name had nothing to do with it.
The base premise of Adobe Spark is the same as most of the other tools on this list – they let you do graphic design reasonably well even if you're not a designer. Adobe Spark does this by offering awesome typography options, access to professional themes, the ability to add your logo, colors, and fonts, and all the things that a great tool should do. It then lets you use all those to create graphics, pages, as well as videos. And that's without mentioning all the features such as image conversion, video-to-GIF conversion, background removal.
The starter plan for Adobe Spark is free for everyone to use, and it gets you access to some of the features and free images and icons. The Individual paid plan starts at roughly $10 per month, and it opens up all the possibilities of this great platform.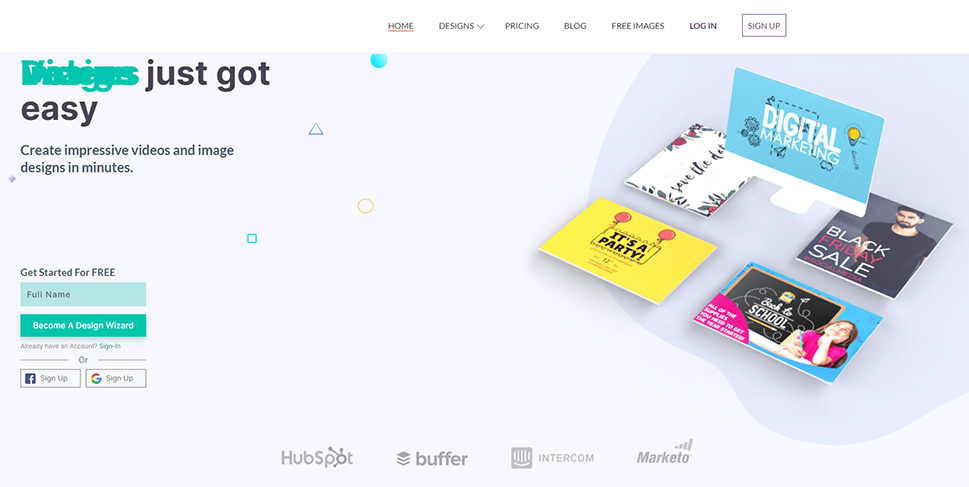 Much like app installation wizards of the past, Design Wizard is a platform that offers you a simple workflow that will ensure great results by the time you've gone through it. It got the features and steps completely streamlined, so you know the program won't waste your time.
Using this program starts by choosing a template – these are pre-made by professional graphic designers in a very wide range of styles to accommodate social media posting, posters, and other web assets. In the second step, you add the images, fonts, and colors to make the template completely your own. In the third step, you simply share, download, or schedule your photo. And that's all there is to it.
You can start using Design Wizard on a pay-as-you-go basis for image and video downloads. If you decide on a subscription plan, you'll start at roughly $10 per month, and go up from there. Keep in mind that, the more you invest, the more you get from this platform.
It's safe to say that, if you want to spend some time on graphic design to come up with visuals for your website, blog, or social channel, you don't necessarily want it to look like everything else that people are putting out. Easil is a tool that offers something different – a powerful feature like other platforms have, but a design that seems more unique.
Easil is a drag-and-drop design tool that lets you mix their templates and stock photos with the users' brand imagery to create a consistent and recognizable image profile. Easil is great for creating templates you can share with your team members, all of whom have to conform to the same brand standards as you. Throw in the mix of sparkly GIFs, fun text masks, glow, shadow, and other kinds of effects, and you've got yourself a tool that will be your companion on many beginners, semi-professional, and maybe even a quick professional task.
The basic Easil plan is free. You'll get a lot of features without paying a cent, but this platform follows suit with the other in terms of offering an incredible wealth of features for its paid customers. At $7.50 per month, it's one of the more affordable ones, too.
WordPress users of all levels of skill with graphic design don't have to worry about finding a great graphic design tool that will help them create the type of graphics they want to see on their website. They might need to shop around a bit, but that's okay since most platforms either offer a free trial or a basic tier that's free of charge. So if you have a WordPress website and some time on your hand, there's never been a better time than now to start creating your own visuals using these awesome graphic design tools.