5 Best FTP Clients for WordPress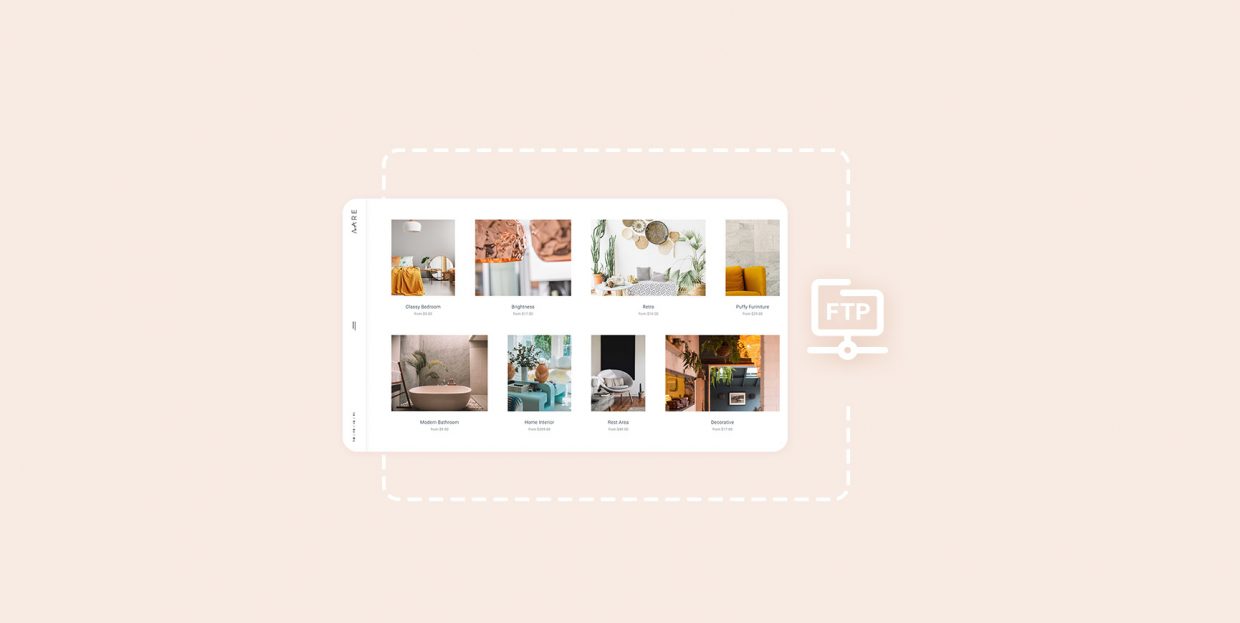 Imagine a situation where you're trying to, say, migrate a website from Wix to WordPress, and you're using the RSS workaround, only to have the website crash when you enable the RSS importer that's integrated with WordPress. These things can happen – even something as benign as enabling a built-in plugin might cause your website to crash.
When this happens, you want to have an alternative way of accessing the website that doesn't require you to log in via the /wp-admin page. One of the ways you can do that is via an FTP (file transfer protocol) client. If you want to learn about why you need them, and what's the best FTP client to use, you're in the right place.
In this article, we'll show you:
An FTP client is a piece of software that lets you use the file transfer protocol to access the files on your website. There are three ways you can access the files and make changes to your website. You can do it via the dashboard – the method that won't work if you face the dreaded white screen of death, via a control panel such as cPanel, and using an FTP client.
There might be some questions as to why you would want to use an FTP client if your hosting service provider supplies a perfectly decent control panel that could do the job. People still decide to use FTP clients to access their websites because it's an easier and more convenient way. With an FTP client, you can easily access the files that make your website, edit them, remove them, or add new ones.
You can expect to find the same core functionalities in every tool that's labeled an "FTP client." However, you should know that not all of them are the same and that you should do some research before choosing an FTP client you'll use with your WordPress website.
Some of the more important features to look out for include:
The supported operating system(s)
Any automation capabilities
Support for secure protocols – SFTP and FTPS
The speed of the file transfer
The ability to connect to third-party storage servers
This list isn't definite – you can have some pretty niche demands from an FTP client and still be able to find one that meets it. For the most part, these seven should be able to cover your needs.
There's no sense to beat around the bush – among FTP clients for Windows, FileZilla has a special place. The topmost place as it's arguably the most popular FTP client in the world. And it's not just because you can use it for free on all major operating systems – Windows, Mac, and Linux – although its versatility is one of the things that sets it apart from its competitors.
When you first start using FileZilla, you'll notice just how much of the action happens in its Main Window, one of the three areas you can find in its interface. There, you'll be able to drag and drop files, add them to a transfer queue, edit them remotely. You'll even be able to transfer files larger than 4 GB.
Other key features of FileZilla include:
Support for FTPS and SFTP
Support for many languages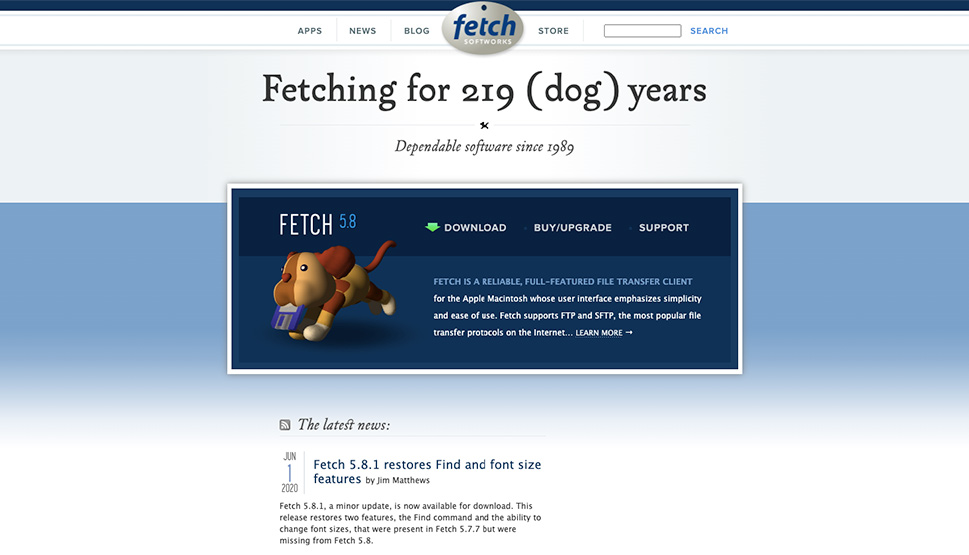 FTP clients have been around for a while, but some are older than others. Fetch, a Mac-only FTP client recognizable by its canine mascot, is one of the oldest on the market, having been initially released in 1989. Since then, it went through several iterations, managing to keep its place in the hearts of Mac users, even if it did cost $29 per single-user license.
Fetch has plenty of features that still make it a good contender for a place among the best FTP clients. It also has a lively community around it that is always there to help. Most importantly, however, it has developers that will listen to its user base and roll back on changes if they prove unpopular or counterproductive.
Other key features of Fetch include:
Support for SFTP and FTPS
Quick look previews support
One-click remote file editing
Sticking with the theme of Mac-only FTP clients, Forklift is another premium FTP client for Mac users. At $29.95 for a single user license, it's slightly more expensive than Fetch, but it might also have a lot more to offer.
For one, with Forklift, you can connect remotely to servers that include Amazon S3 and Google Drive. It has a drag-and-drop feature, and its interface isn't some old and clunky remnants of the past. It looks and feels new, and the dual panel lets you choose between working remotely and locally.
Other key features of Forklift include:
Sync between several computers using Dropbox
A transfer module with a preview panel
A multi-rename tool for bulk renaming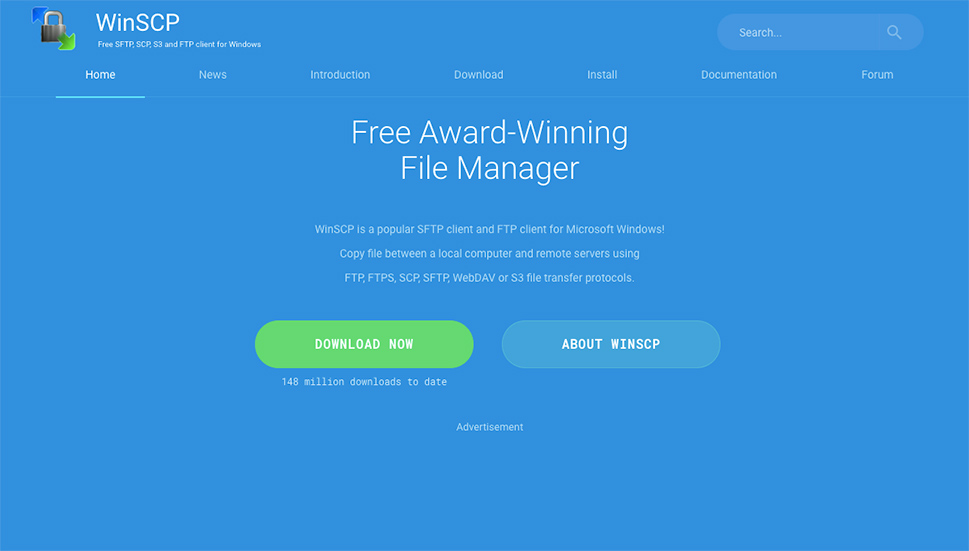 If you want an FTP client and file manager that's devoid of frills and ready to put you in the driver's seat straight away, look no further – WinSCP might be just the thing you're looking for. Granted, you have to be a Windows user to get the advantages of this free, open-source program, but if you are, you'd be surprised by how much you can get from it.
One of the most striking features of the WinSCP is its visual interface that can help even novices better understand what's going on. You're not stuck with what you see on the first visit, though – you can change the interface to match your needs. There are the nifty little features like the ability to set up administrative restrictions and to restore whole workplaces if you happen to lose something.
Other key features of WinSCP include:
Support for FTPS and SFTP
Integration with a text editor you choose
Automation via rules you can create
Automatic file encryption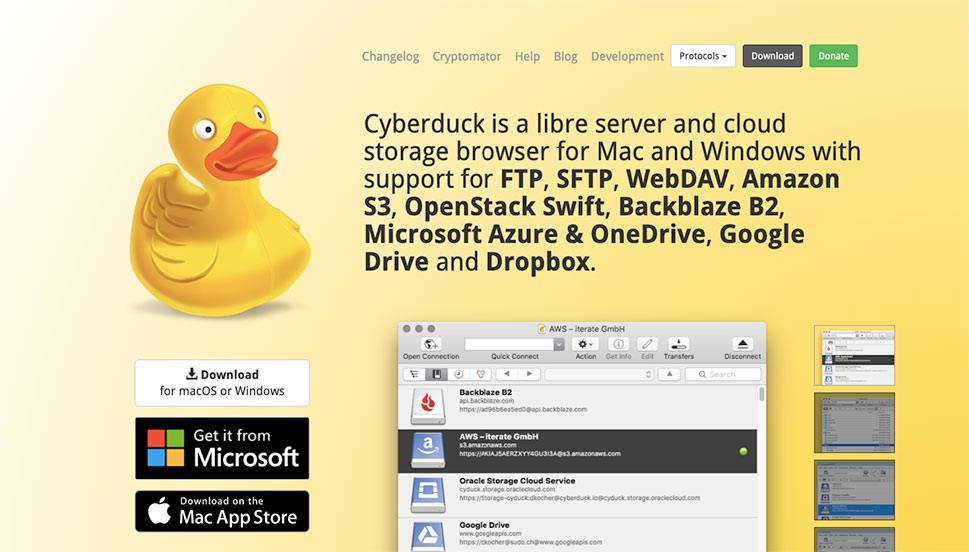 Whether you're using Windows or Mac, Cyberduck is a good choice for you. It's an incredibly Mac-friendly cross-platform tool, integrating with the system's unique features to provide a great user experience.
When it comes to what every user gets from Cyberduck, the simplicity of use and the speed of transfer are the two things that come into mind first. Its interface looks more current than that of most of its counterparts. When you decide to use it to transfer files between your computer and your WordPress installation, you should know those files are protected by an additional layer of security, the so-called "cryptomator."
Other key features of Cyberduck include:
Connect to Amazon S3, Microsoft Azure & OneDrive, Google Drive, Dropbox
Synchronization of local with remote directories
Whether you think you'll ever need it or not, learning how to use an FTP client should be on your to-do list. Knowing how to use one will come in handy when you're in a bind. Some of the biggest and most disrupting issues that can befall your WordPress website can be solved with the use of an FTP client. If you really want to know how to run a website, picking a good FTP client, and studying it is inevitable.