9 Best Digital Banks for Your Online Business
Standing in line has never been popular, especially if the reason you are in line is to pay the bills or do some other not-so-fun money transaction. While the older generations still do enjoy some aspects of getting their business done in person, the younger loves that the digital banks are slowly but steadily taking over the market.
Maybe you are familiar with using PayPal, Stripe, Payoneer, or a similar platform as an online payment gateway, but running a business requires a whole set of financial services that these companies can not always provide. Thanks to their online structure, digital banks are able to render many benefits to their customers that traditional banks or other payment solutions simply can't. Many of them include a variety of financial apps that help you understand and control your finances better. Plus, they also often offer lower fees for the most common services and many innovative features that can only be provided online.
On the other hand, digital banks also face completely different challenges. Cybercrime is a constant threat for all businesses that use a lot of personally identifiable data online and requires special measures of prevention and protection. Therefore, if you plan on using the services of a digital bank or want to completely switch to digital banking, you need to know how to choose the best option for you. With that in mind, we will look into some of the best digital banks you can find and hopefully help you choose the right one. We'll mention: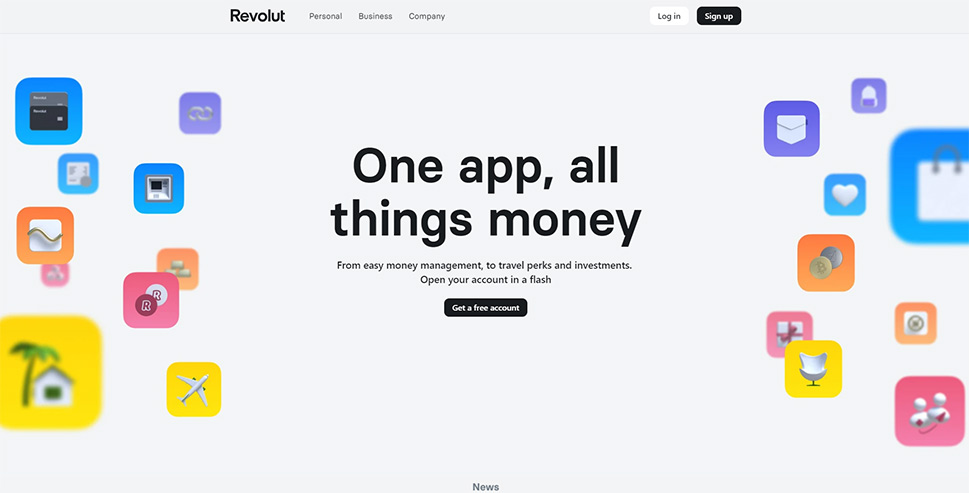 Revolut was founded in 2015 and has gained huge popularity very quickly. This British company managed to attract more than 250.000 accounts over the last five years. It offers a smooth user experience where everything is done via an easy-to-use banking app.
What's great about Revolut is that you can start using it for free and then, as your business grows, switch to some more advanced plans. The basic, free business plan includes free Metal cards, up to five free local payments, free plastic and virtual company cards, and many more useful features that make your life and business easier. You can also exchange money at excellent rates in more than 30 currencies. Blocking and setting limits on cards is available on tap.
Paid plans start at £25 a month and include a limited number of free international payments, up to 100 free local payments, priority support 24/7, and more handy features. It is also possible to create a custom plan for your business needs specifically. As for safety, Revolut is authorized by the FCA and holds client funds in tier-1 partner banks. For now, Revolut Business is available only for companies registered in the UK, USA, the EEA, and Switzerland.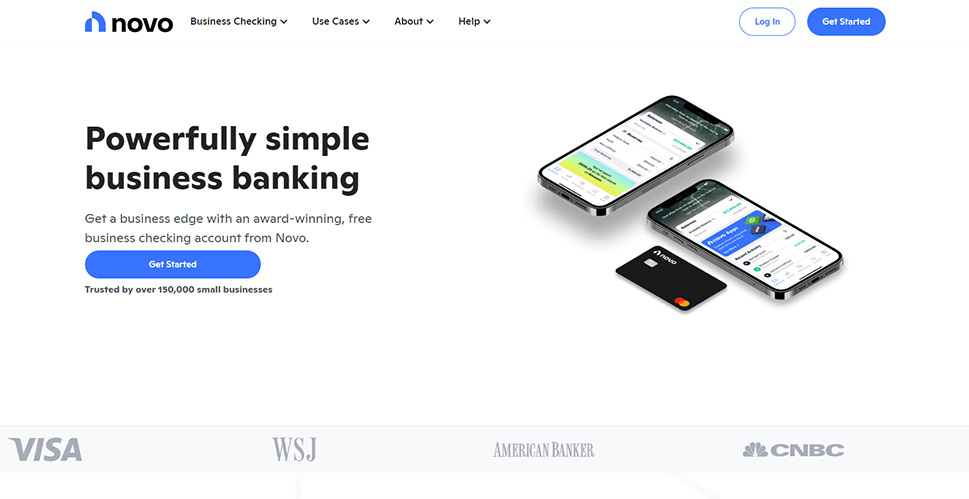 If you are a freelancer or entrepreneur Novo may be a good choice. Novo is an online-only bank that is made to answer the needs of small and growing businesses. It comes with a mobile app that enables you to make payments, transfer funds, send invoices, and scan checks in just a couple of swipes.
Starting an online business account with Novo takes just a few minutes. No monthly fees are charged, and its services include free incoming and outgoing ACH transfers, free mailed bank checks, free domestic and foreign wires, and many more useful features needed for running a small business.
What's particularly convenient about Novo is that it comes with a large number of integrations that you can incorporate into your business infrastructure to simplify administration and other procedures. It is compatible with Xero and Quickbooks which can help you streamline your accounting and bookkeeping processes. In case you are running an eCommerce business you can add Shopify and Zapier for your CRM.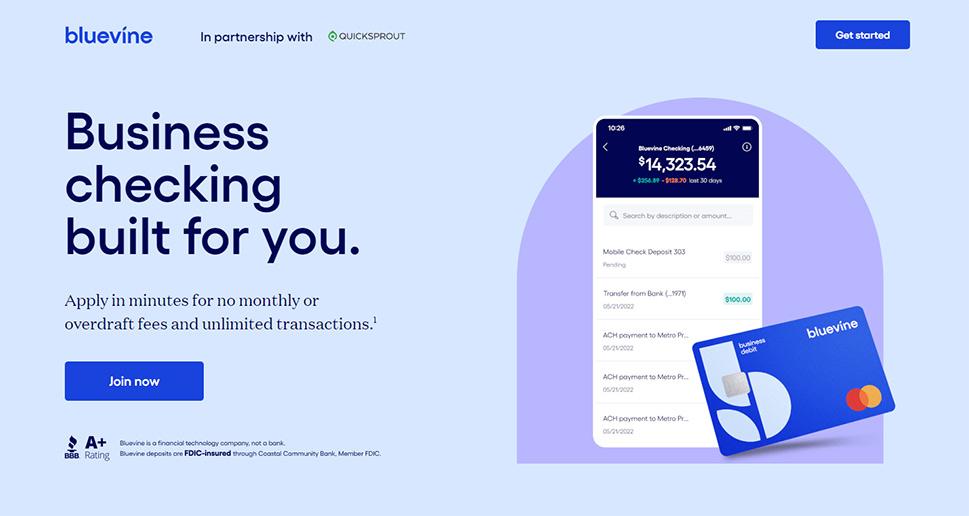 BlueVine is an online bank that was made specifically to answer the needs of small businesses. It doesn't include any monthly maintenance fees, no minimum deposits are necessary, and no insufficient funds fees are applied.
In case you need a business loan, this bank has an excellent loan offer to help you start or improve your business. You can choose between term loans, line of credit, or invoice factoring. All three loan types are offered with very low-interest rates. The loan approval usually takes up to ten minutes.
The 1.2% APY on balances of $100,000 or less is also a competitive advantage of BlueVine that is really hard to beat. Another very practical advantage this bank has to offer thanks to its partnership with MoneyPass is an ATM network of 38.000 locations with no surcharge.
Chime is a respected fintech start-up, founded in San Francisco that today already has almost 10 years of experience in the online banking industry. During the pandemic, the company experienced a 50% growth and now it serves more than 12 million consumers of which the majority are on the US market.
Unlike the traditional, big banks, Chime does not base its profit on loans, penalties, and fees. Instead, it focuses on earning primarily from consumers swiping their credit and debit cards.
Opening a Chime checking account requires zero investment, as it is completely free. You do not need any kind of opening deposit or minimum balance, you will not be charged with any international transaction fees. Plus, in case you lose your debit card, the bank will reissue a new one for you for free.
Through the Chime mobile app you can easily track your account balances, send money instantly, monitor daily transactions as well as savings at any time. It is also possible to turn on instant alerts any time you use your debit card.
With the rise of online and remote jobs, an entirely new niche has emerged that is made of individuals who run their own small businesses while at the same time traveling all around the globe. These so-called digital nomads crave a solution like the one that Bunq offers. This Netherlands-based digital bank allows opening a bank account without a tax number and as you can guess, it is particularly convenient for Europeans.
The conditions you need to fulfill to open a bank account in Bunq include having a business registered in the Netherlands, France, Germany, Belgium, Span, Austria, Italy, Ireland or Portugal. Additionally, you are required to be a permanent resident of any of the above-listed countries. For the time being, only euro accounts are possible to open, but that does not mean you can't make payments in other currencies.
You can choose between three types of accounts and none is free. Business account costs start at €2.99 a month. Receiving credit and debit card payments will also cost you 2.5% + € 0.20. Money transfers in euros are also free.
If you believe that your small business banking needs will change over time due to your company's growth, LendingClub Bank may be a good choice. This online bank offers four types of banking solutions tailored for scaling and growing businesses.
You can choose between Tailored Checking, Interest Checking, Relationship Checking, and Account Analysis Checking. The first option, Tailored Checking, might be best suited for smaller companies. This solution is not free – a $10 monthly fee is required and includes unlimited transactions, a free worldwide ATM network, 0.75% APY for balances above $5,000, and many more useful features.
Finance management and control over all money transactions is easy thanks to the LendingClub Bank mobile app. It provides access to real-time transaction history, reporting features, and transactions reconciliation for accounting, along with many more practical options.
One of the many challenges small businesses, entrepreneurs, and freelancers often encounter sooner or later, is the need for bank service outside the typical business hours. And that's what makes online banks so attractive – they easily find ways to make their services available at all times.
NorthOne bank is open 24/7 so you do not have to wait working hours to solve urgent or any other issues. You can use all of the bank's services – wire payments, ACH, depositing checks, invoicing – via its mobile web portal or app whenever you need to. Setting up an account with NorthOne is quick and easy and no minimum balance is required to start.
With NorthOne you also get a debit Mastercard that you can use for ATM withdrawals and purchases. In case you lose the card, you can instantly place a freeze on it using the bank's mobile app. Integrations with QuickBooks for accounting and bookkeeping, as well as with payment processors like Stripe and PayPal, are fully supported. This is another thing that can simplify your daily operations to a great extent. In case you are running an eCommerce business, it is important to highlight that NorthOne also integrates seamlessly with Shopify, Amazon, and Etsy.
As for the pricing, the price for monthly maintenance is $10 and no extra fees or deposits apply. Bear in mind though that domestic wire transfers are charged $15.
Mercury is another online bank made for small eCommerce businesses and startups. Therefore, integrations with Stripe, PayPal, Shopify, and Amazon work impeccably. Mercury also provides you with virtual and physical cards that make managing your money and cash flow easier. You can issue cards easily for your employees and track their money transactions.
There is no minimum balance required for opening an account, and no fees are charged for monthly maintenance. All the transactions you make are neatly recorded in reports, so you can always check your funds. You can create checking and saving accounts, integrate with a variety of bookkeeping and other helpful tools, make wire, check, and ACH payments.
Apart from the standard plan that is free and includes free bank accounts, free domestic wires, free USD international wires, and waives minimum balance requirements, higher-tier customers can opt for a Tea Room plan that requires $250K+ in deposits and comes with more benefits.
To open an account with Mercury, you need to have a company registered in the US. Note that you don't have to be present in the US when opening the account – you can do it from anywhere in the world.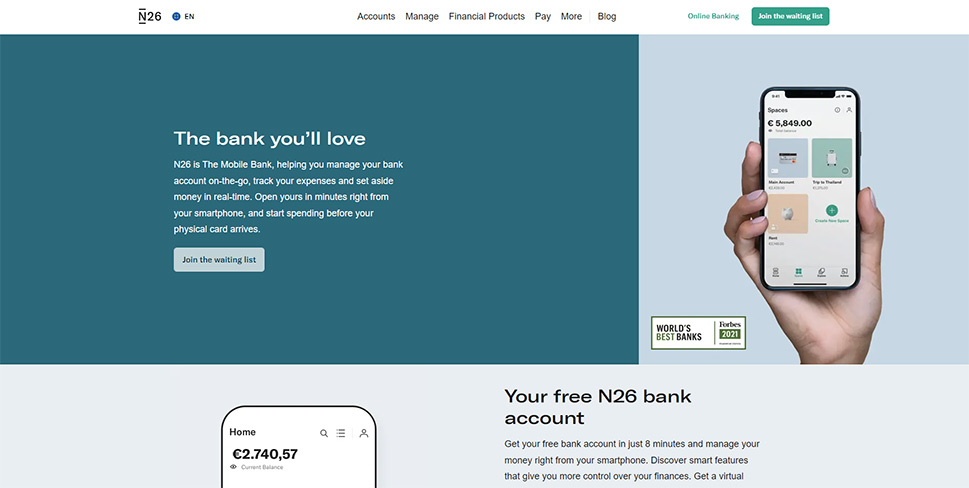 N26 is based in Germany so it focuses on providing services to the Eurozone region as well as to Sweden, Norway, Switzerland, Iceland, and Poland. Its portfolio of services is designed with freelancers' banking needs in mind, to help them streamline their money transactions and manage their funds smoothly.
N26 offers free payments in all currencies and lets you manage your finances at any moment and place. You can open a business account for free, there are no hidden or management fees as well as no foreign transaction fees. Opening an account is very simple and takes up to eight minutes. The bank also provides the possibility to issue both virtual and physical cards, connect with Apple Pay or Google Pay, and many practical features that provide you with more control over your finances.
Although all the online banking solutions in this list are excellent, only some of them will be viable for you simply because of the fact that many of them are limited to specific regions. So, that will be the first criteria to help you narrow your options. The next thing you should consider when making a choice are rates – do you really need to pay monthly charges or banks with zero monthly charges and zero minimum balance can answer your needs?
Freelancers and entrepreneurs will be attracted to Novo as this bank offers a comprehensive set of features tailor-made for them. BlueVine and LandingClub Bank can easily keep up with your business growth and scaling. If you expect quick developments you can narrow down your choice to these two. NorthOne is a fully mobile business bank that provides excellent support to its customers and is one of the most well-rounded digital banks on the market. Digital nomads based in Europe will find Bunq as the optimal solution for running their alternative businesses.
There's no need to make your choice in a hurry, take your time – healthy finances and good money management are essential for the success of any business.