7 Best Crowdfunding Plugins for WordPress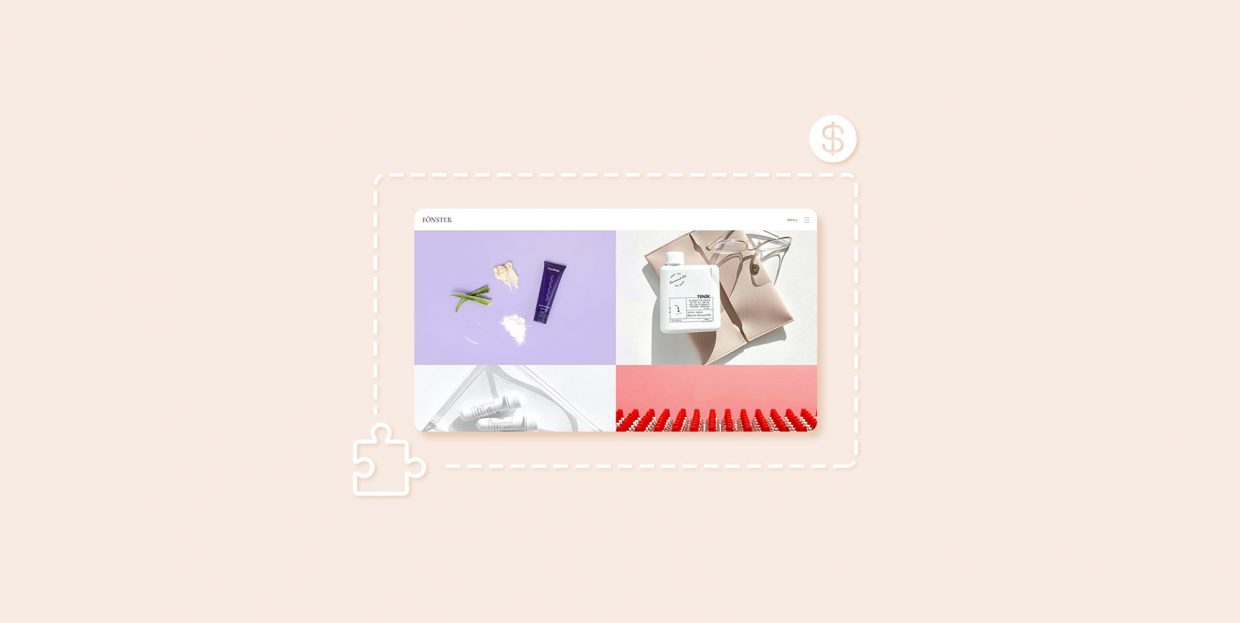 One of the many great things about the internet is that it made raising funds easy, elegant, and seizable. Artists, scientists, entrepreneurs, humanitarians, animal lovers – literally anyone can use a website to raise funds for their cause. Many lives have been saved thanks to crowdfunding initiatives, many genius products have seen the light of the day, and many businesses took off this way.
If you are planning to take a crowdfunding initiative yourself, you need to do everything in your power to increase the chances of achieving your goal. Therefore, apart from creating an inspiring website with a detailed description of the cause, you also need to ensure that people who are willing to donate, can do it simply and easily without complicated procedures. The good news is that there are plenty of both free and premium crowdfunding plugins for WordPress that are made for that purpose. WordPress crowdfunding plugins are the easiest way to make collecting donations on your website smooth and efficient.
In this article, we made a selection of the top most reliable and user-friendly crowdfunding plugins for WordPress that you can use on your website:
Since crowdfunding websites usually don't rely on a heavy budget to start from, it makes sense to go for a freemium product, like the GiveWP plugin is. This powerful tool packs plenty of functionality within its free version and has been one of the most popular choices for many years now.
GiveWP provides you with the option to create custom donation forms, set multiple donation amounts, add crowdfunding goals, set custom amounts, and many more useful features. It includes beautifully designed donation forms, donation reports, and donation statistics, and makes donor management simple. It allows you to filter donation reports by date, time, and payment method. You can also have a complete overview of the donor activity. Non-profits, individuals, smaller businesses, and charities often find the free version answers their needs perfectly well. Plus, in the true spirit of crowdfunding, GiveWP does not take any commissions. All the money you receive through GiveWP is entirely yours. Though it is generally easy to set up, it is worth exploring a comprehensive GiveWP tutorial to take maximum advantage of this tool.
If you are interested in using GiveWP on more than one website or find some of the addons attractive, you can opt between three pricing plans, with prices ranging from $249 to $499 per year. What's also great about GiveWP, is that even with its free version you can count on customer support that is typical for premium plans.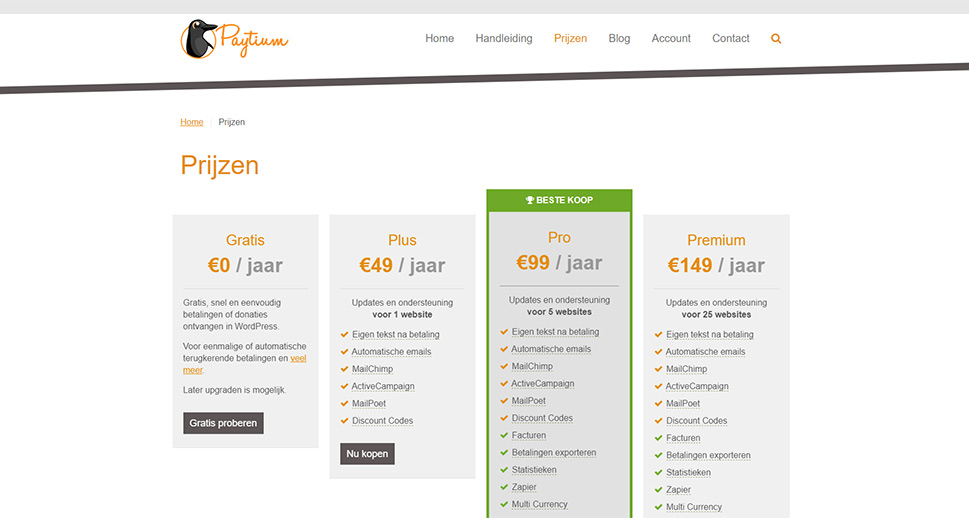 If you need a quick solution that works right out of the box, Paytium may be the answer. This plugin is easy to install and use and offers all the features you need for ensuring a smooth experience for your donors and yourself.
Paytium allows you to create simple payment forms and also includes significant customization options. If you want the users to be able to choose the amount they want to donate, Paytium allows you to create a dynamic form with a dropdown menu. If you believe fixed amounts would work better in your case, you can set a static form with the defined donation amount.
It is also possible to obtain statistical data about the donations. You can add a custom field for collecting the specific data in the donation form, and the information you collect this way will be available in your website's admin area.
Paytium supports a wide variety of payment types – you can accept payments with PayPal, credit cards, SOFORT, Bitcoin, Belfius, and many other payment methods.
The basic version of the plugin is free, and if you want more advanced features or need to use it on more than one website you can choose between three pricing plans with prices ranging from €49 to €149 per year.
The quality of user experience plays a huge role in the success of any website, but it is vital for crowdfunding initiatives. This practically means the simpler it is for your users to donate the more likely they will to do it. Seamless Donations lets your donors make automatic donations in just a couple of clicks and that is one of the most attractive features of this free plugin.
Similar to the above tools, this one also packs a wide range of excellent features for free – you can set recurring donations, adjust options for donor tracking, and a lot more. Seamless Donations is easy to use and set up and does not charge any commissions. It also supports a large number of currencies and is available in several languages which can help you reach a global audience and collect your funds faster.
The premium version of the plugin offers the options for adding personalized "thank-you" and "in honor of" messages which can be a great way to encourage more people to donate. The price of the premium version depends on the number of addons you want to use with the plugin and therefore it is not set to a fixed amount.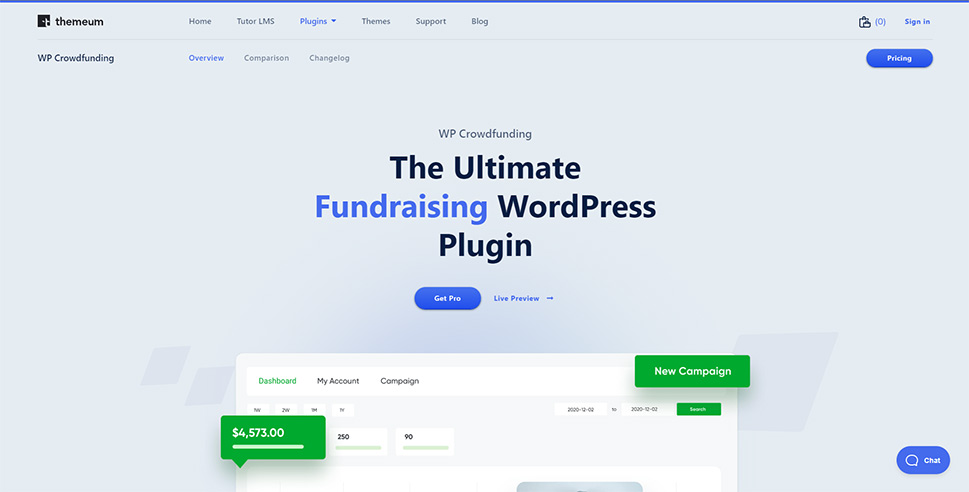 In case you need a crowdfunding tool that integrates with WooCommerce, WP Crowdfunding may be the solution. This plugin is very user-friendly and offers an intuitive admin interface that allows even total beginners to find their way through settings easily.
The free version includes numerous useful options – you can set the crowdfunding campaign start and end date, define a recommended price, set a featured image and video, and a lot more. Based on what matters the most when it comes to the campaign, you can set a target amount, target date, or both or create a never-ending campaign.
This plugin accepts a variety of payment types – PayPal, Stripe, Skrill, cards are all supported. Social share functionality is featured in both free and premium versions and allows you to get more support and attract more donors via social networks.
The premium version includes a native tool that allows you to generate analytical reports, receive email notifications about donations, distribute funds via a variety of payment gateways, and many more useful options. The prices for premium plans range from $149 to $299 per year.
The Donorbox plugin lets you embed a responsive and customized donation form on your WordPress website quickly and easily so that you can immediately start collecting donations. This easy-to-use plugin allows you to add a branded donation page to your site with your logo, color scheme, and styling.
The option for setting a Donate button throughout the website as well as in your email is also very useful and allows you to reach a wider audience smoothly. All the donations are easily managed from the admin area. You can insert set amounts for donors, or allow them to specify their own amount. Setting monthly repeat donations is also possible, and you can also add manual donations (in cash or check) and no additional processing fees will be applied. Unlike the plugins above, this one charges processing fees for donations.
The payment gateways that are supported include PayPal, Stripe, Apple Pay, and Google Pay and multiple currencies are accepted. The forms can be translated into English, Spanish, French, German, Italian, and Portuguese which allows you to communicate your cause and act globally.
As for the prices, they vary depending on the addons you want to use with the plugin.
Charitable is another powerful crowdfunding and donation plugin that incorporates plenty of advanced features for free. This robust tool is easy to use and allows you to create as many crowdfunding campaigns as you need to and to set a separate goal for each.
It is highly customizable and very user-friendly leaving you a lot of room to manage your campaigns your way. It is also possible to create a time-sensitive crowdfunding campaign that will be automatically turned off once it is finished. You can set a fixed donation amount in case you believe that will ensure faster results. In other cases, you can set a custom amount and leave it to the donors to decide how much they are willing to invest in your cause.
The donation forms can be customized in many aspects and you can embed them anywhere on your website. Their design shouldn't worry you as the plugin inherits your theme's style, so they will surely match your website's aesthetics perfectly.
As for the payment options, PayPal is the default payment gateway while others are available within the premium version. The price of the premium version varies depending on the number of addons you choose to go for.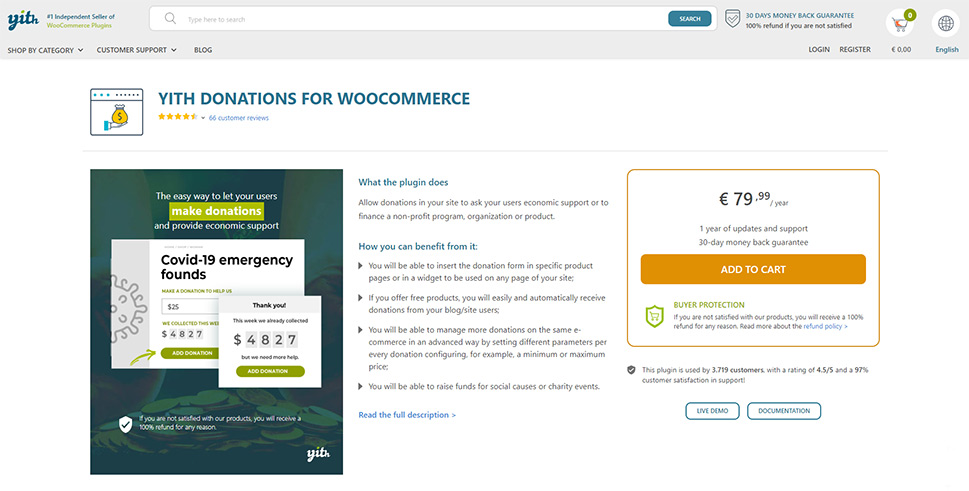 A crowdfunding campaign on a website that already has its audience can often be very successful. In case you're running an online store and want to be able to collect donations on your website, that is possible with a plugin like Yith Donations for WooCommerce. The free version is limited in terms of features – it allows you to add a donation form widget in a sidebar or to add a donation form in a single product page, but that can often be just enough for a successful crowdfunding campaign.
If you need a more proactive approach, the premium version allows you to add a donation box to your product page, cart page, or checkout page and explore which position is the most fruitful. You can also set that each time a consumer adds a product to the cart an option to donate will be offered to them. If you don't want crowdfunding campaigns to be so closely associated with your products, you can add a donation widget to the sidebar, where it will be available to your visitors regardless of whether they choose to make a purchase on your site or not.
The premium version also unlocks other advanced options like the option to set minimum and maximum amount for each donation, set specific payment methods for donations, make donation mandatory on more than one product of the shop etc. All the advanced features are included for a unique price of € 79.99 per year.
With crowdfunding plugins, it gets a lot easier to believe that all you need is goodwill and an idea to change the world or start a business. Any of the plugins on this list can help you raise money for your cause and all of them offer a free version with an extensive set of useful features. GiveWP has been on the market for a long time and it is probably the most well-rounded solution for crowdfunding you can find. Paytium is also an excellent choice particularly if you need donation forms to be available on your website as soon as possible. If you want to run crowdfunding campaigns in your online stores, Yith Donations for WooCommerce is the most logical answer to your needs. Explore the features of every plugin to make sure you're making the best choice for your cause.