7 Best Blockchain Plugins for WordPress
For many people, the first association that comes up when they hear "blockchain" is Bitcoin. Ethereum, Dogecoin, and other cryptocurrencies aren't too far behind, showing how this implementation of blockchain technology has been at the forefront of the public's perception and interest. All those articles chronicling the rise and fall of Bitcoin's value must have done the trick – and the fact that they've had an audience ready for the next get-rich-quick scheme or hustle could only have helped.
Because cryptocurrencies are such a popular implementation of blockchain technology, it shouldn't surprise that many blockchain plugins for WordPress enable you to accept payments in Bitcoin as their core function. And while we'll show you a fair share of blockchain WordPress plugins that deal with cryptocurrencies, we'll also present some plugins that use the blockchain for different purposes.
The plugins we'll mention are: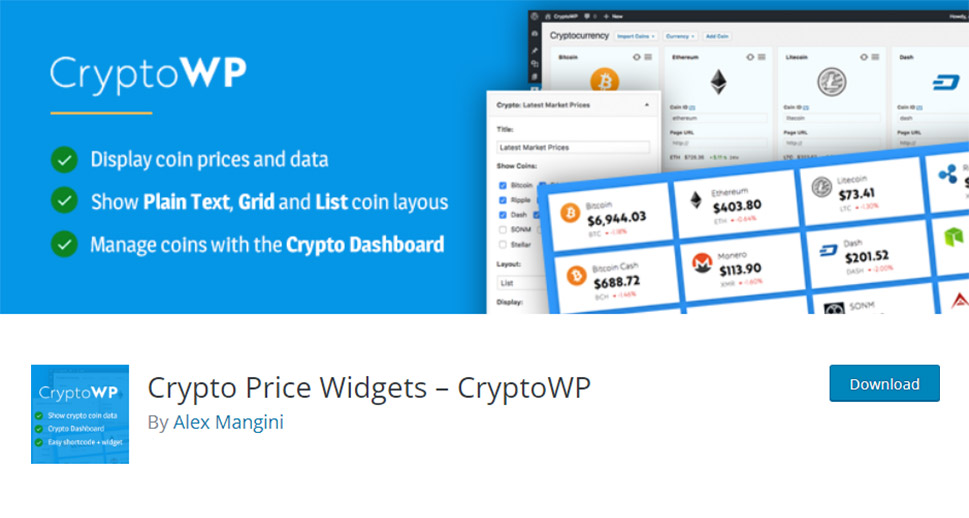 Even if you're not willing to partake in the rollercoaster that is the cryptocurrencies marketplace, you might still want to provide information about it for the people who visit your website. If that's the case, then Crypto Price Widgets – CryptoWP is just the WordPress plugin you need.
CryptoWP gives you the ability to display the current prices of various coins in one of over twenty supported currencies. If you want your website visitors to know what's the latest price of Bitcoin, Litecoin, or Waves, you can easily show it to them using a widget or some shortcode. The plugin uses the CryptoCompare API to fetch fresh data once every fifteen minutes, although you can refresh it manually from the dashboard.
CryptoWP is a free plugin with a premium, Pro version in development and ready for pre-ordering.
Did it ever occur to you that you could sell cryptocurrencies and tokens as products in your WooCommerce store? You can run your very own crypto-store. The Cryptocurrency Product for WooCommerce plugin will be there to help you make it happen.
With this plugin, you can add cryptocurrencies as products to your WooCommerce store. Right off the bat, you can start selling Ether for any other currency WooCommerce accepts. Controls such as setting the minimum amount of Ether to be sold are available, and you can set up the quantity decrease or increase step per product.
With the Pro version, which starts at $9.99 per month, the plugin lets you sell ERC20 tokens. You can also use addons to enable selling Bitcoins and, more interestingly, ERC721 tokens – NFTs.
How would you like for your blog or website to become a part of an exciting new frontier of decentralized publishing? That's what the LikeCoin – Decentralized Publishing would have you do – connect to a decentralized publishing platform and earn rewards for the likes your content gets.
LikeCoin first came into prominence as the method Hong Kong activists started using to archive the content that was set for deletion by Hong Kong's public broadcaster, RTHK – a move the activists saw as an obvious attempt of censorship. Storing the content on the blockchain was the natural step, and so LikeCoin was born.
For you, however, LikeCoin might be interesting for a couple of other reasons. One is that it offers you decentralized rewards in the form of LikeCoin tokens you can exchange for other cryptocurrencies or fiat currencies. The system also allows for the creation of Content Jockeys, people who curate content, as well as the upcoming ISCN system, kind of like ISBN but for online content. Using LikeCoin is free, and it puts you right in the middle of interesting new developments in online content.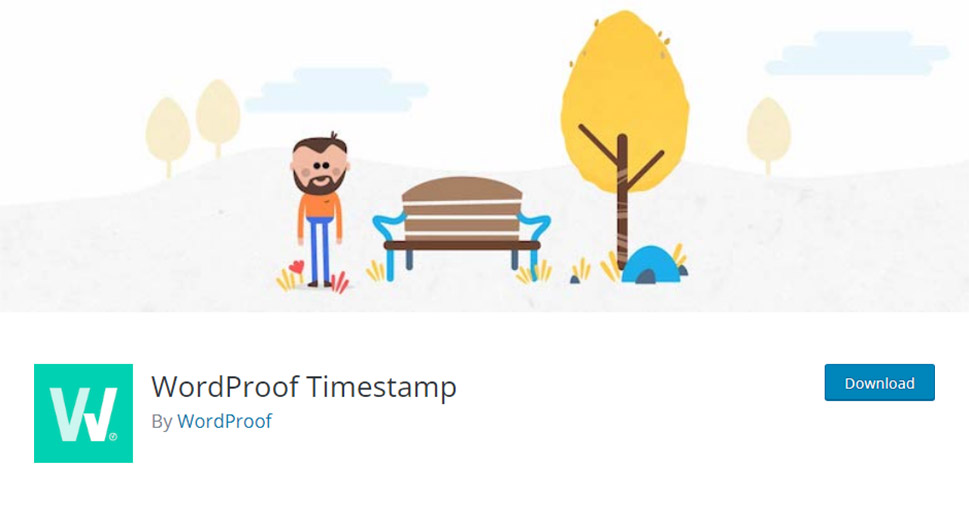 Timestamping your content might not be the first thing that comes to your mind when you publish an article. You'll probably be busier eradicating sneaky spelling errors and making sure you've got the visuals all sorted out. Still, WordProof Timestamp would like you to pay more attention to timestamping.
For their part, they've made it easy. You don't need to know the first thing about the blockchain to be able to use the plugin. All you have to do is install the plugin, and let it timestamp your content automatically. The stamps are kept in the blockchain, and as such can be used for copyright protection, proof of existence, and as a tool to increase transparency and improve reader trust.
You can use the plugin for free if you only intend to create up to ten timestamps per month on a single website. For things such as automated timestamping, the copyright infringement tool, and an increase in timestamps and the number of websites, the paid plans start at around €8 per month.
Bringing the Ethereum blockchain technology to the core of WordPress, WPSmartContracts is a plugin that lets you easily create Smart Contracts on your website. If you don't know what a Smart Contract is, that's fine. This plugin wasn't created for the novices, although it does promise to help you create distributed applications even if you're not a developer.
So to put it simply, if there's something you want to create on your WordPress website using the Ethereum blockchain, this plugin might be able to help. The Smart Contracts it mentions are applications that interact and store information on the blockchain. Some examples of the things you can deploy using this plugin include ERC-20 tokens, crowdfunding campaigns, ICOs, and even NFT marketplaces.
As far as the pricing goes, the plugin is free to use. Deploying certain "flavors" of Smart Contracts might cost you anywhere from 0.1 Ether for an Advanced Token to 0.3 Ether for an NFT Marketplace.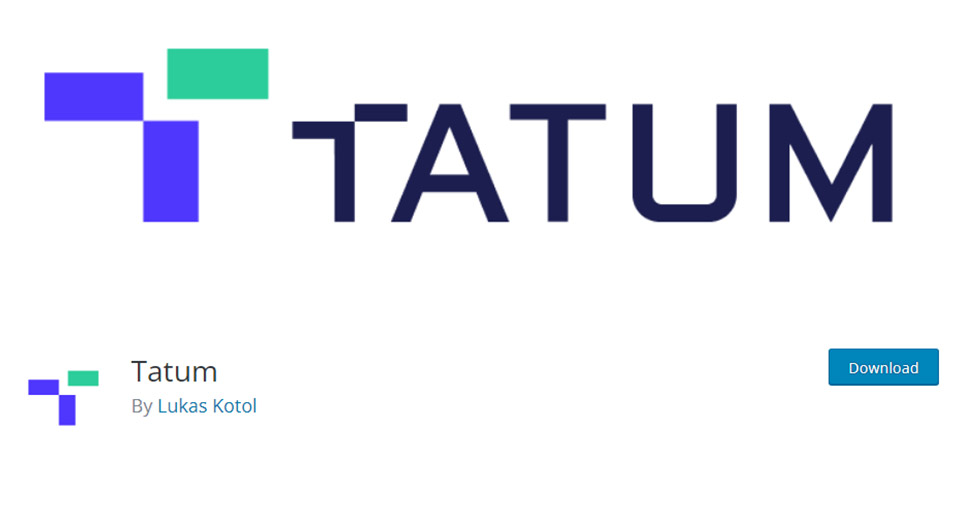 The blockchain seems to be constantly producing a "next best thing" that's quick to occupy people's attention and have them reach for their wallets so that they can get in on the action. Non-fungible tokens are all the rage at the moment. If you want to see what all the fuss is about, Tatum might be a good starting point.
This plugin lets you do everything that needs to be done to join the NFT craze. With it, you can create your own NFTs in a process called minting and sell them right then and there on your website. The plugin will also take care of the deployment of everything, and it will ensure you have a cryptocurrency wallet so that you're capable of doing all of this.
Although the plugin comes with some limitations – it won't let visitors to your website mint their own NFTs – it can still be a great entry point into the world of NFTs. You can use it for free, which is great, although you will still need to pay the fees that happen with blockchain actions.
As cryptocurrencies become more popular, it only makes sense to allow people to use them in your store. With Cryptoniq – Cryptocurrency Decentralized Payment Gateway, you can use a decentralized payment system not only to enable crypto payments in your WordPress store but to do it while keeping third-party involvement at a minimum.
For starters, this plugin will let your customers pay for your products using Ether. It won't require you to register on their services, make you create a wallet with them, or charge you withdrawal fees. You simply add your wallets and use them to receive payments, as simple as that.
If you want to let your customers use other cryptocurrencies such as Dogecoin, Bitcoin, or Tron, you'll have to get the Pro version which starts at $27.
From buying and selling cryptocurrencies to deploying your solutions and minting NFTs, there's a world of things you can do with the blockchain and a WordPress website. Between these seven plugins, you're bound to find an application of blockchain that will solve a problem, or at the very least inspire you to create something of your own.