6 Best WordPress Survey Plugins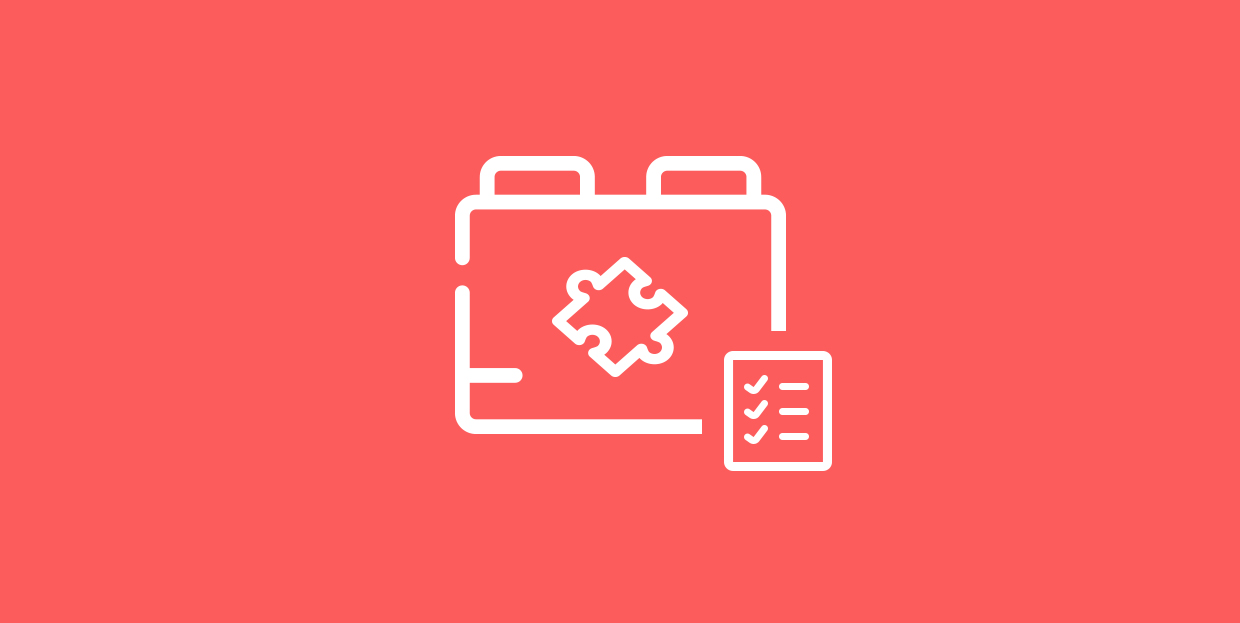 If you are trying to figure out which area of your site or aspect of service needs improvement, the best thing to do would be to consult your visitors. This is where surveys can help you. They can get you answers directly from the people whose experience you are trying to make better. They can even indicate which questions you should be asking. Surveys are an excellent tool to gather information, improve visitor retention, and engage your desired audience. They can help you get to know your visitors better so you can tailor your content and target your marketing efforts.
You can create surveys by adding a Google form to your website, or you can opt for a plugin. By using a plugin, you can get some additional, helpful features on top of making surveys. For example, some survey plugins can help you analyze the data you gather from users and export it for company-wide reports. So, if you want a survey that's fully integrated with WordPress, you might want to check out one of these plugins:
The Formidable Form Builder is an excellent solution for surveys and questionnaires of all kinds. It includes a user-friendly drag-and-drop form builder that makes creating surveys a breeze. There are two versions of this plugin—Lite and Pro, with pricing packages for the premium version starting from $99.38/year. Both versions have great survey form options and features, while the Pro version also includes convenient and helpful add-ons like frontend editing.
The Formidable Form Builder offers all its users a range of stylization options. You can use the Styles section to choose the font size, margin, color, and more for your survey form. For more experienced users, this plugin allows adding custom CSS to create unique forms.
Moreover, this plugin is mobile responsive. Mobile device users will be able to complete any form, questionnaire, or survey you make with the Formidable plugin at their convenience. This plugin can also help you if you are looking to optimize your lead generation or customer acquisition using surveys. It includes the option to export your leads in a CSV file format so that they can be reimported elsewhere later. You can import your leads to MailChimp and immediately utilize the data you gathered in an email marketing campaign.
Trusted by over 3 million users, Contact Form by WPForms is another great drag-and-drop form and survey builder. It includes over 150 predesigned form templates that users can build on or customize to save some time.
Users who are already working with Contact Form 7, Ninja Forms, or Pirate Forms will be able to import their forms from those plugins over to WPForms. Alternatively, there is also the option of importing an external survey form if it is kept in the JSON file format.
The compatibility offered by the Contact Form plugin doesn't end with form plugins. It works well and even suggests users install the MonsterInsights plugin. The two together allow you to connect and track Google Analytics. In doing so, you can keep track of leads and conversions gained by the use of surveys and tailor them as needed.
If you decide to upgrade from the Lite version, the pricing packages for WPForms Pro start from $39.50 per year. With paid versions, you get instant entry notifications, the option to comment on entries, see user geolocation data, and more.
For users looking to install a straightforward, easy-to-work-with survey plugin, we present YOP Poll. The interface is easy to navigate and it incorporates a dashboard view of any questionnaires and polls you make along with information like their status, results, end dates, and more.
In terms of design, there is the option of making surveys in different formats. So you can pick between radio button answers, typed-in text answers, and multiple choice answers for your users. YOP also includes several practical features like sending email notifications, using Captcha, or redirecting users to a specific URL after submission.
While the interface is pretty intuitive, its developers offer a free guide to help anyone worried about working with the YOP Poll plugin.
Finally, we should also mention that, like our previous suggestions, the YOP Polls plugin also has a Pro version. The prices start from $17 for use on a single site and go up to $57 for use on up to seven different sites.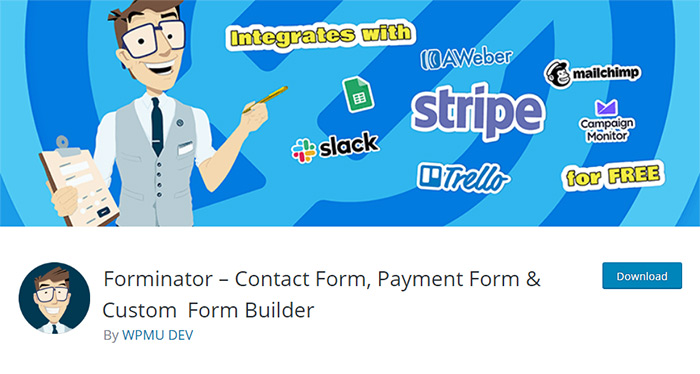 If you are looking for a plugin that can get you that perfect blend of survey, quiz, and contact forms, then Forminator is an excellent choice. This plugin is entirely free to use.
On the one hand, it lets you create something as minimal as a single-question poll for voting. And it includes appearance and behavior options so you can make your query interesting to visitors. On the other hand, you can create lengthier surveys from scratch or you can pick a predesigned template. And use the same appearance and behavior options to embellish them.
With Forminator (and your visitors' consent) you can integrate this plugin with third-party apps. This is particularly useful if you are outsourcing your marketing or data processing efforts as this plugin can make the data delivery much smoother and easier.
In fact, Forminator includes several practical data-handling features. For example, you can choose to set a period for how long form submissions or IP addresses would be kept. And, if you choose to delete the plugin for whatever reason, you can decide whether to remove all the data it gathered with it.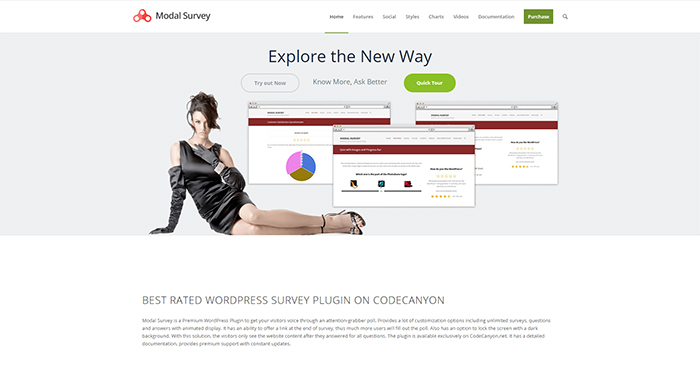 Modal Survey is an excellent premium plugin that can help you make striking survey forms and display the results in an attractive manner. You can get this plugin for $35 and have the option of extending the support for a year for an additional $11.25.
In case you are on the fence about getting a premium plugin, the Modal Survey Plugin is one of the best-rated survey plugins on Codecanyon with multiple great reviews.
This plugin includes a visual poll builder that can help you make various types of surveys easily. The interface allows you to adjust positions, colors, and more by using simple commands in the form of sliders and color pickers, making it very user-friendly.
With the Modal Survey you can create popup-style surveys and polls and query visitors briefly on a few points without disrupting their overall experience on your site. Use this plugin to introduce short customer satisfaction surveys. Then, later, you can display the results you gather as progress bars or pie charts. You can make the results visible to users, keep them for analysis on your WordPress dashboard, or export them in an XLS, CSV, or PDF format.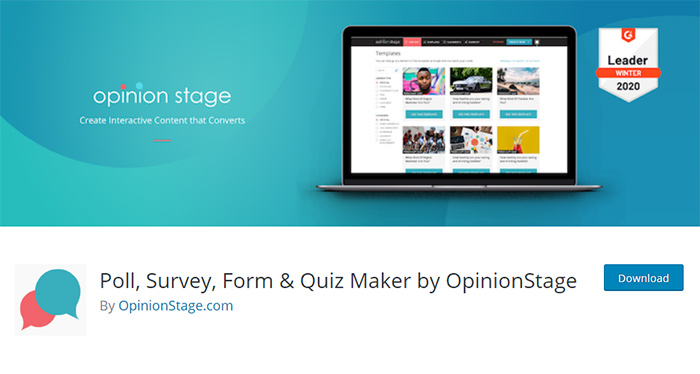 If you are looking for an engaging, multi-purpose plugin to add surveys (or any other forms) to your site, you can't go wrong with the Poll, Survey, Form & Quiz Maker plugin from OpinionStage.
Depending on the plan you choose, this plugin offers different options. The Basic package is free to use and it includes features such as multiple layouts, survey templates, and answers reports. There is the option to include integrations with some of the most popular social networks such as Twitter or Facebook. So, for example, you can display Facebook comments under your survey.
If you opt for one of the paying plans, then the Starter (for $19/month if billed annually or $29/month if billed monthly) can help you collect leads by adding a lead form to your surveys. The Starter pack also helps you prevent users from submitting a form multiple times by using a cookie-based mechanism or by blocking repeat participation by the same IP address.
A great feature of this plugin (that you get with all plans) is support for 42 different languages. This includes RTL (right-to-left) languages and can be extremely useful for anyone with a multilingual site or interested in working on diverse markets.
There are numerous reasons to include surveys on your site. You can use them to gather user feedback on services or products, get to know your ideal customer, collect qualified leads, and much more. By introducing surveys to your site you can improve your user engagement and retention, and potentially improve your SERP rankings with that alone.
Even though the plugins we gathered in this list have different combinations of fees and features, they are all excellent survey plugins for WordPress. Each of them is well-suited to making an appealing survey form that would also be optimized for speed. So there is really no reason for you not to improve your site with a survey that your visitors will be able to zip through.