9 Best WordPress Social Media Plugins
It's the beginning of the new decade, and the power of social networks is stronger than ever. So naturally, promoting your website on social media and maximizing the exposure of your social profiles on your website is of utmost importance for your business.
If you include social sharing buttons on your website or blog, it will make it easier for your visitors to share your content on their social media, and thus help bring you more traffic. This, combined with more visibility and more links, is great for your website's SEO.
Even though there are some excellent social media WordPress themes equipped with various social features that can help you establish a solid online presence and connect your visitors with your social networks, adding a social media plugin to your website will only help you further expand your brand's visibility.
There are many social media plugins on the WordPress market, so we've decided to gather the best of the best to help you choose more quickly the one that is most suitable for you. Without further ado, here's a list of top social media WordPress plugins.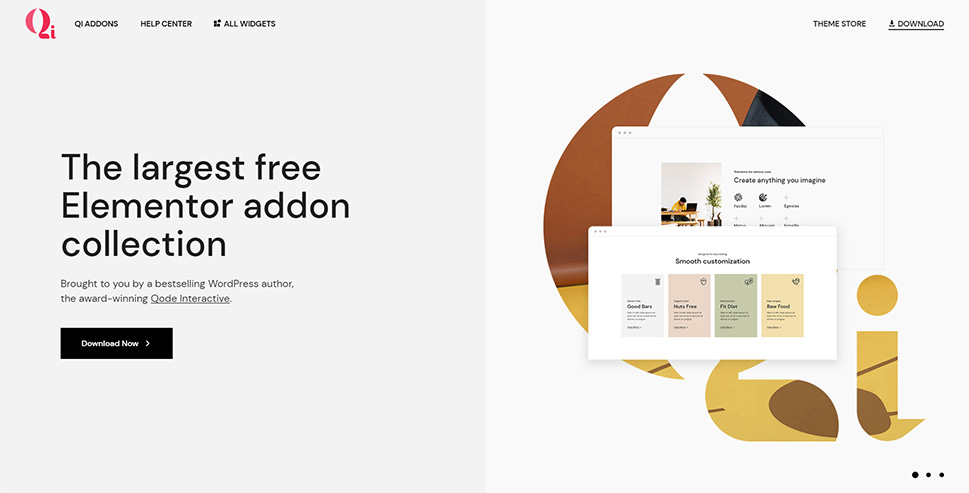 Qi Addons for Elementor is a great freemium plugin packed with over 100 fully customizable widgets you can use to build virtually any element or section on your site. To do this, you can use anything from business-oriented widgets and those suitable for WooCommerce shops to creative and personal showcase ones.
When it comes to widgets suitable for social media, this plugin currently has two great premium widgets – Social Share Buttons widget and Social Links custom widget. The first, Social Share Buttons widget will allow you to create captivating social share buttons in various different places on your page. This way, your visitors will find it easy to share your content on their social networks. You can choose from different textual or icon buttons and style them so that they correspond with your website's design. These can also be easily combined with any other page elements, and of course, all the other Qi addons widgets, which leaves you plenty of room for creativity. You will be able to pick from two different layouts (dropdown or list), add hover animations, change the colors, typography, and paddings for your icons and text, and more.
Similarly, you can use the Social Links custom widget to add links that lead to your social media anywhere you want on your site. The widget allows you to customize and style your links in a plethora of creative ways. You will be able to insert textual or icon links, align them horizontally or vertically, set icon, border, text, and background colors, adjust different sizes and paddings, etc.
Social Snap is a premium social share plugin that includes over 30 social networks and apps. It allows you to customize the button shapes, colors, animations, as well as choose where you want to place your buttons. There's also an option that will help encourage your visitors to share by displaying your share counts. This plugin is easy to use, looks beautiful on any device, and comes with integrated statistics thanks to which you'll be able to have an overview of your social strategy. With the Social Meta Tags feature, you will be able to easily control the way your posts look when they're being shared on social media, which brings you more potential for increased engagement and click-through rate. Finally, you also get beautiful Click to Tweet boxes which you can add across any post, page, or sidebar without changing any code.
The pricing for the Social Snap plugin starts at $27 a year.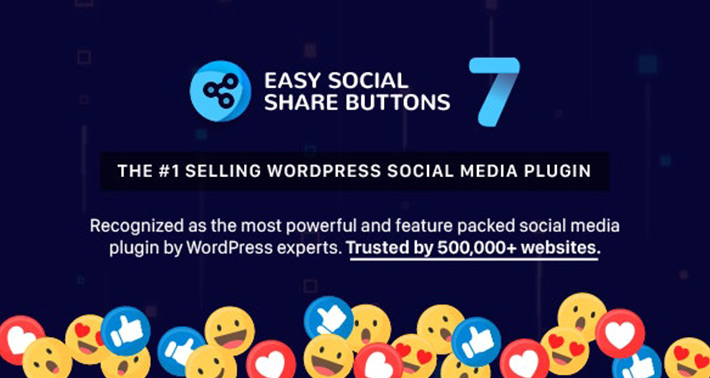 Trusted by over 500,000 WordPress sites and leading technology brands, Easy Social Share Buttons for WordPress is equipped with everything you need to increase your social shares. This includes 50+ most popular social networks and popular mobile messengers, 55+ different templates and button styles, 30+ automatic design positions that will instantly fit anywhere without needing to touch any code, eye-catching animations and effects, and more. And the best thing about it is that you can easily customize every single detail without any coding knowledge. Overall, this plugin is great if you want to have many features and functionalities and plenty of room for customization. The $20 price makes it more than affordable, and over 28,000 sales and an average rating of 4.67 on CodeCanyon testifies to its quality.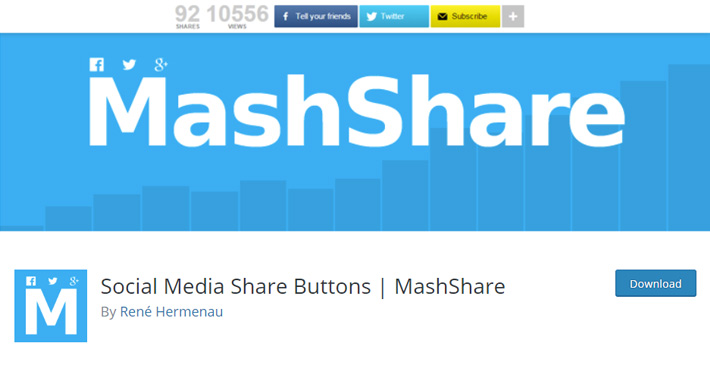 MashShare is a social share plugin with over 60,000 active installations and an average 5-star rating. You can download MashShare for free on WordPress.org, but the fact that it's free doesn't take away from the plugin's functionality. In fact, MashShare comes with some highly customizable and useful features – high-performance social media icons, an abundant number of shortcodes, a smart share count function, and the list goes on. Also, great news for the European users is that MashShare is DSGVO compliant, which means that no IP or any other personal data will be sent to third parties.
If you want, you can buy a MashShare add-on package with prices starting at $39.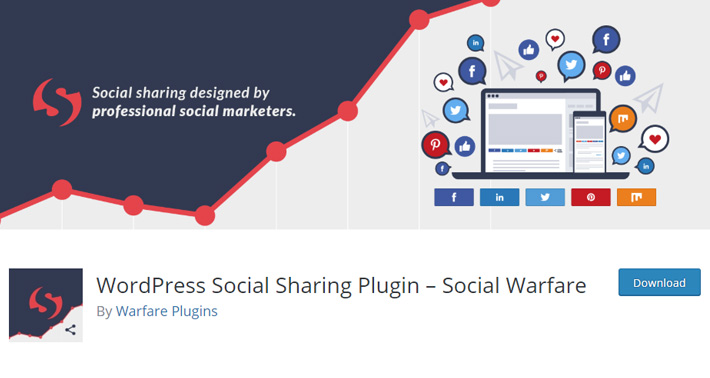 Social Warfare is another plugin that can be downloaded for free. The free version allows you to place your buttons in predefined locations, such as above or below your content (or both), and add them virtually anywhere, like in the middle of a post, with the help of a shortcode, or as floating share buttons. There are also 6 social networks supported (Twitter, Facebook, Google+, Pinterest, StumbleUpon, and LinkedIn). If you buy a pro version (the price of which starts at $29), you get the additional support of 9 social networks (including WhatsApp, Reddit, Tumblr, and so on), and many other features, like share counts, beautifully designed buttons, and many more. Plus, if you ever had to modify your permalink settings, the built-in Share Recovery tool will allow you to get back your lost share counts.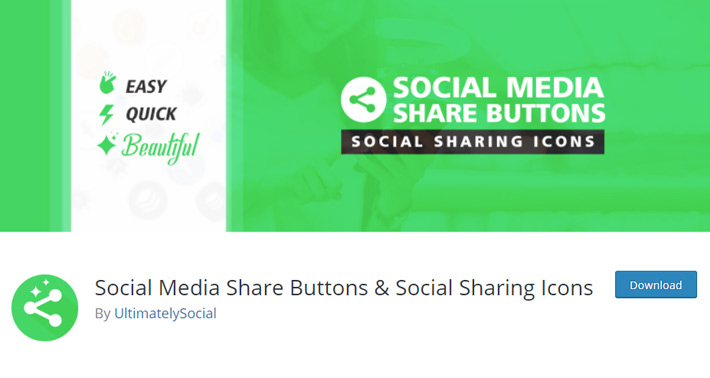 With 200,000+ active installations and an overall rating of 4.9 out of 5 stars on WordPress.org, it's almost certain you won't go wrong if you choose the Ultimate Social Media plugin. The free version offers 16 different designs for your social media icons, allows you to give several actions to one icon (for example, there are options for both liking and sharing your content on Facebook), make your icons 'float' or 'sticky', add counts to social media buttons, etc. The premium version ($29 for non-commercial and $39 for commercial sites) comes with additional features, including support for many other popular platforms, more design styles, and animated icons.
This plugin is, by far, the most popular social share button plugin on WordPress.org (the current number of active installations is 500,000+, and an average rating is at 4.7 out of 5 stars). Despite being completely free, the Share Buttons plugin actually has a wide range of features. Support for over a hundred social networks and apps, various share buttons (standard, floating, counters, follow buttons, etc.), and Google Analytics integration (that will allow you to track and display share counts on your posts and pages) are just some of the many. Also, the plugin is fully mobile-optimized and retina-ready, ensuring that your social share buttons are displayed perfectly on screens of all sizes.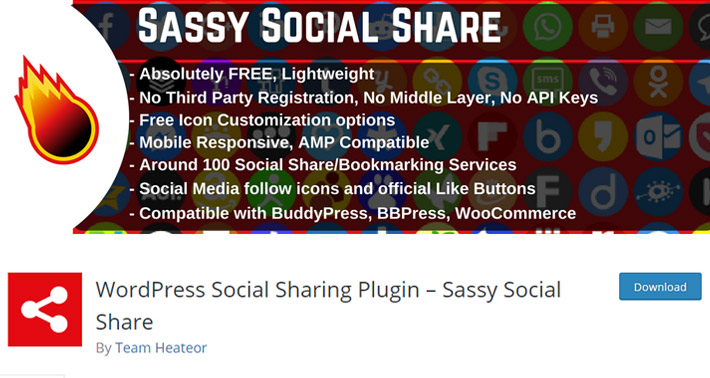 This smooth and simple social sharing plugin allows you to share over a 100 social sharing services and features a broad range of button styles. You also get a share count support for 9 different social networks, as well as options to specify sharing icon shape, size, background and logo color. The Sassy Social Share plugin is completely responsive, and in case you have any problems, it has a quick support team that is available 24/7. Moreover, it is BuddyPress, bbPress, and WooCommerce compatible, which means that it will work well with all websites that use these plugins. And most importantly – the plugin is completely free.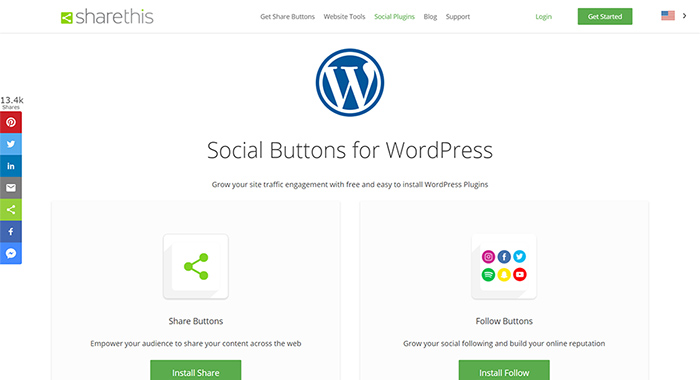 The Social Media Buttons for WordPress allow your visitors to share your content with their social media connections with a simple click – and without leaving your website. It's a simple, hands-off way to get your content (and your brand) in front of a wider audience. Installing the share buttons on your WordPress blog or website is easy, free and a great way to help grow your site's traffic and engagement.
ShareThis offers free tools that are trusted by millions of global content creators, such as USA Today Sports and Tom's Guide. If you're looking for a free tool that'll allow your readers to easily share your content across multiple social media channels, consider installing the Share Buttons Plugin for WordPress.
Social media plugins are perfect tools to help you drive more traffic to your website. When it comes to this category, there are just so many awesome plugins to choose from, which is why we tried our best to narrow down the list of best social media plugins and help you decide on the one that works for you. So go ahead, pick the one that works for you and start harnessing the power of social media!