6 Best "Request a Quote" Plugins for WordPress
Not all businesses can simply list a price alongside their services. Certain services require a nuanced approach, and the estimated price may depend on any number of factors. If you are running or designing a WordPress website for a business offering such custom services or products, you may be looking for a "request a quote" WordPress plugin.
You may, for instance, be providing furniture restoration, remodeling or house painting services, which depend not only on, say, surface area, but also on previous repairs and other pre-existing conditions. And even then, the customer might have a special demand to boot. Or, you may be an artist seeking commissions. Your price may vary depending on subject matter, technique, prices of materials, size of finished work. And if you are a caterer? There can be no end to special dietary options demanded by your customers, either on political or religious grounds, or simply because they are hosting some very fussy eaters. It cannot be fairly expected that you can plan ahead for all of these. In these and other special cases, you want to enable your visitors to state their needs and expectations for you to assess them.
Don't worry, we have your back. Here is our pick of request-a-quote WordPress plugins.
Request a Quote is a free plugin designed to facilitate communication between customers and businesses. It offers two basic forms: a request-a-quote form and an information request form. The plugin is designed to minimize conflicts with the theme you're using, and is generally easy to use. Request a Quote comes with a setup assistant which automatically creates pages for contacts and request forms.
Your customers can use these forms to upload files, such as photos or blueprints, making it easy for you to assess the type and amount of work needed. Both forms are easily customizable, as well as the notification e-mails which work both for the customer and the business.
The plugin also has a pro version which comes with additional useful features, such as search forms, quote request categories, and spam protection.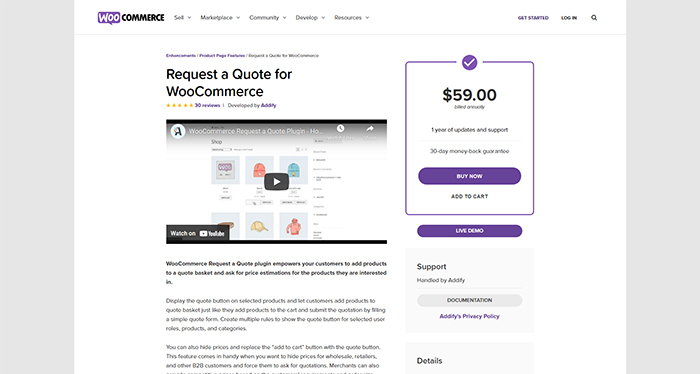 Request a Quote for WooCommerce is a premium plugin developed for use with your WooCommerce e-store. Simply create sets of rules for the quote button to show up for selected user roles, products, and categories. If you want to hide prices and replace the Add to Cart button with the Quote button, the plugin supports that, too, making it easy for you to, say, sell large quantities at discount prices, or charge more for a shorter delivery time.
The plugin also abounds with advanced features such as a mini quote basket, custom e-mail notifications, quote submission redirect, and more.
WPForms is a premium plugin designed for contact forms, but among its many in-built form templates it includes a quote request form, too. It comes ready out-of-the-box, and works just fine as is, but you can go a little further. The plugin's drag-and-drop interface makes it easy to add and modify fields as necessary. Furthermore, the plugin is supplied with a conditional logic functionality, allowing you to create branching forms and guide your customers through the quote requests and, potentially, other options for your goods.
It may not pay for you to buy a premium plugin for just a single form, however well it works, but we strongly suggest you use this plugin for quote requests if you are already using it for your contact or other forms.
Another general premium form plugin, Formidable Forms comes with a slew of modifiable templates and advanced functionalities. It comes with a user-friendly drag-and-drop interface which you can use to create a simple request-a-quote form, but its capabilities are far beyond that. You can add pricing fields, calculators, and advanced mathematical functions, making it a great choice if you wish to offer different pricing plans based on units of volume or measurement.
Want to discount your interpreter services if engaged for a full workday? Charge more for tending several tiny gardens rather than one simple lawn surface? Offer a discount if a buyer is willing to buy up your entire stock of a perishable product? With Formidable Forms' calculator functions, it is easier than you think.
This concludes our list of request-a-quote plugins for WordPress. You may be wondering which one is right for you. That really depends on what you are already working with. A premium form plugin, such as Formidable Forms or WPForms can be used to create a request-a-quote form, but paying a premium price just for a quote request form might be a little too much. If you are already using one of these premium plugins for other purposes, you can benefit from their advanced quote-related features and incur no extra cost. If you are looking for a free solution, why not try Request a Quote or Contact Form 7 (with addons)? Finally, if you are running an e-store powered by WooCommerce, perhaps a plugin specifically designed to work with it might be the one for you. Either way, premium or free, bare-bones or bells and whistles, the plugin you want is somewhere on this list.