11 Most Useful Chrome Extensions for WordPress Users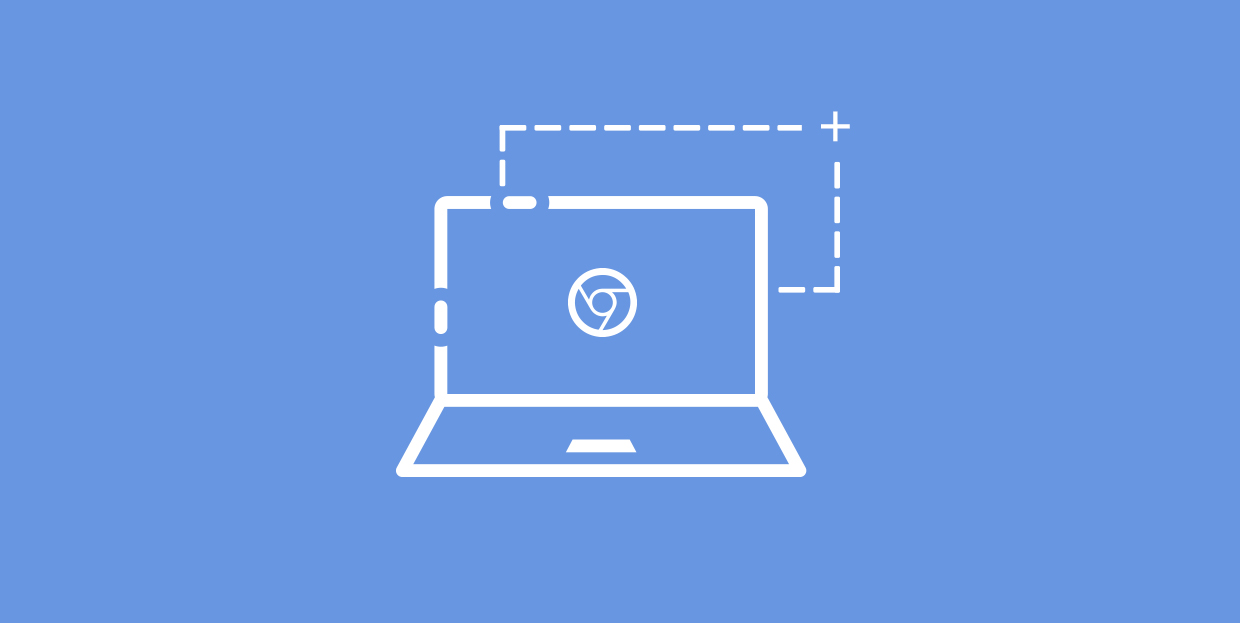 Google Chrome is the world's most popular browser, known for its speed and simplicity. But what makes Chrome especially powerful is the variety of extensions that you can add to it and enhance its functionality, making it much more than just another browser. The Chrome Web Store is like a virtual treasure chest filled with practical goodies that make your life easier and more fun. There are extensions for just about anything, from displaying a weather forecast in your browser, playing the game of tic-tac-toe, to watching Netflix remotely with others, and loads more.
Google's library also packs a myriad of add-ons that can significantly facilitate the work of WordPress admins by performing a variety of actions plugins might not cover. Or even if they do, it may be better to add an extension to the browser so that you don't clutter up your WordPress website with too many plugins.
We've tried out a manifold of add-ons that could be of use to you and we've narrowed the choice down to these 11 WordPress Chrome extensions that will enable you to easily perform some pretty cool and useful actions:
WP Sniffer is a handy extension that helps you discover what WordPress theme a website is using. Aside from displaying the theme's name in the green box, this add-on also provides you with a direct link to the theme or it redirects you to Google search results that show up for the "name_of_the_theme WordPress theme" inquiry.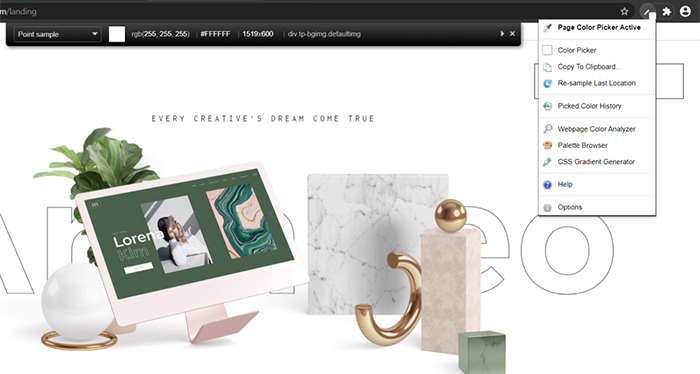 The spectacular ColorZilla used to be available only on Mozilla, but luckily, we can now use it in Chrome as well. It's widely popular, counting more than 2 million users. The reason why so many people use it is because this add-on can swiftly identify all the colors featured on a website. It also includes a wide variety of other, equally impressive features, such as the color-picking pipette, a CSS Gradient Generator, the color history, a palette browser, and more.
In case you do a lot of writing, the Grammarly extension for Chrome is a must. To use it, you should create an account first, or log in with your Google, Apple, or Facebook accounts. This handy add-on is just the assistant you need to warn you about contextual errors, correct spelling automatically, display word meanings and synonyms, etc. It works in the WordPress post editor as well, so you can make modifications to your content before you publish it.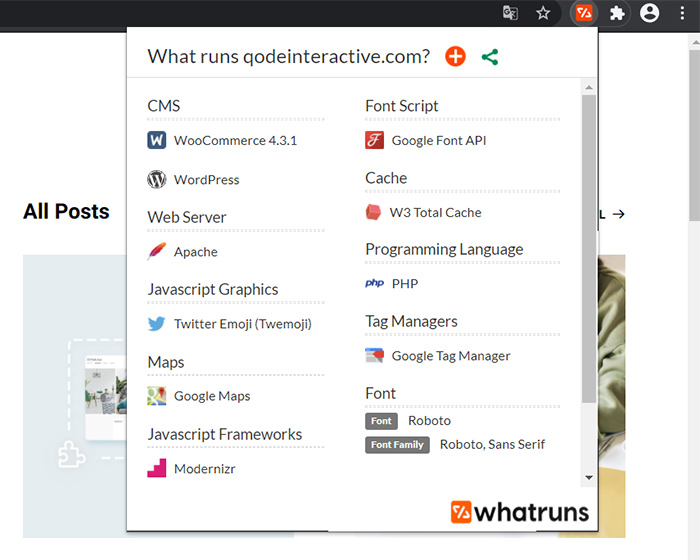 If you wish to learn more about websites and discover what CMS and framework they're using, or which WordPress themes and plugins they've installed, WhatRuns is the perfect extension for the job. With just one click of your mouse, you can learn useful technical information about any website of your choice.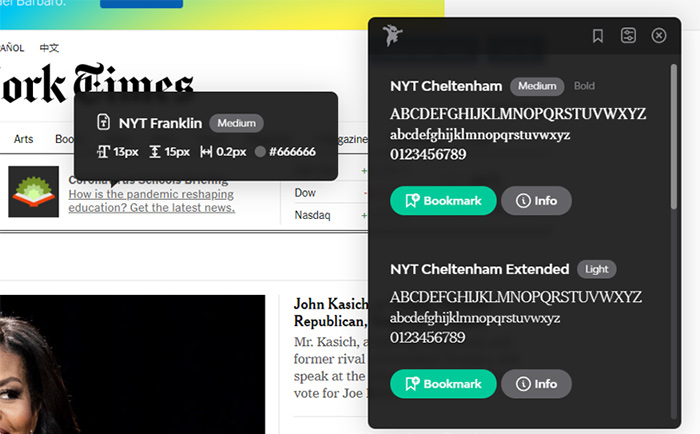 Fonts Ninja is a useful add-on that helps you identify fonts anywhere on the web. All you have to do is hover the mouse over a piece of text and you'll discover the name of the font in question, but also the letter size and the hex color code. If you'd like, you can also try the font right away, to see how it looks when you apply it to your content. Font Ninja also allows you to bookmark fonts, and if you install the Fonts Ninja app, you'll be able to download them.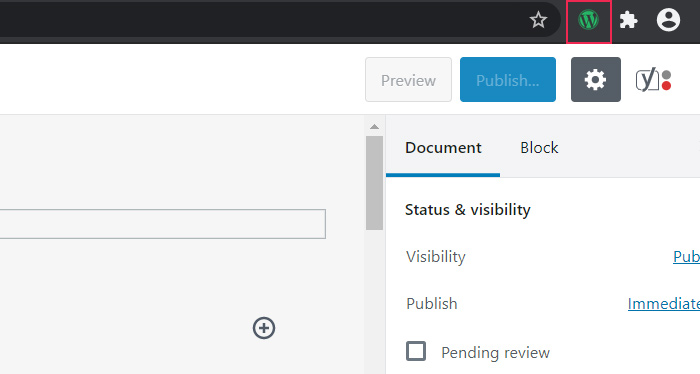 WordPress Admin Bar Control enables you to hide and show the admin bar on your website with a single mouse click. The only thing you have to do is click the add-on's icon in the browser's main toolbar and the admin bar will be gone. The icon's color will then turn to red. When you bring the bar back by clicking on the icon again, its color will change to green.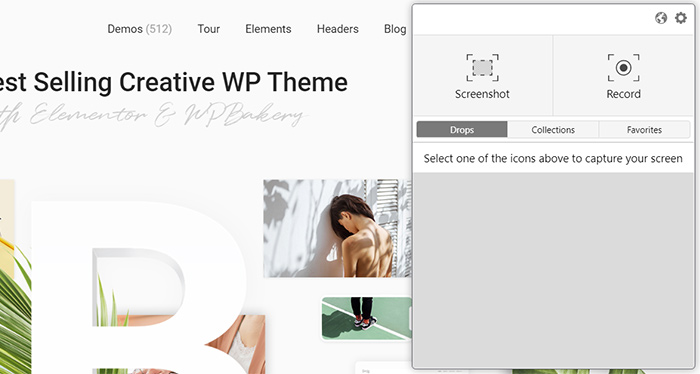 CloudApp is a nifty extension made for capturing screenshots and for screen recording. To use it, you should first create an account (signing up is free). Once you take a screenshot or finish with screen recording, you'll immediately get a shareable link leading straight to your file that you can add to your WordPress pages.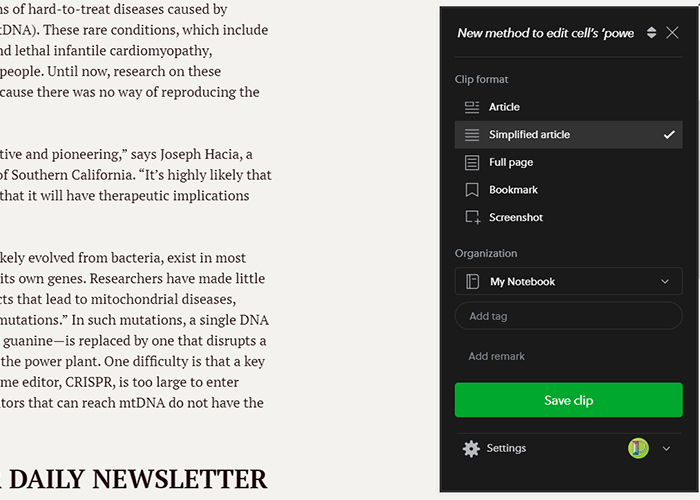 Evernote is a popular app created to help users take notes, make to-do lists, organize texts, and manage tasks. One of its most popular features is Evernote Web Clipper – a Chrome extension that enables you to clip entire web pages, highlight important sections, annotate, add bookmarks and tags, and make screenshots, all directly from your browser. To use the Web Clipper, you need to login to your Evernote account first.
Dimensions is a tool that measures the distance between all elements featured on a website, including graphic and textual content. It is particularly useful when tweaking the design of your WordPress website as it displays dimensions instantly and you can also use it to measure JPEG and PNG files that you've previously added to your WordPress website.
SimilarWeb is a great add-on for website traffic and metrics analysis. With just one mouse click, it displays statistics regarding the user engagement rate, the number of visits, rankings (both global and local), keywords, traffic sources that redirect visitors to your website, and more. This add-on can provide you data for just about any website ( not just yours), meaning you could use it to keep an eye on the progress your competitors are making.
To quickly share the content from your WordPress website on social media, add Shareaholic to your browser. You can connect it to your Facebook, Twitter, Pinterest, Evernote, LinkedIn, and +200 other channels, and effortlessly share updates with your followers. All you have to do is click the Sharehalic's logo and select the medium to which you want to share your post.
Adding these practical and super-functional Chrome extensions to your browser will make your work with WordPress a lot easier and enable you to do more in less time. From handy marketing tools and writing assistants to measuring pixels from one element to the next and much more, these add-ons are the real virtual MVPs that cost no money but still bring immense value and efficiency to your workflow.