What Is Keyword Clustering and How to Do It Right
In 2024, just a couple of short years away, it will be the porcelain anniversary of the year when Google first overtook Yahoo as the most used search engine in the world. What has happened since then is the history every Google user has had a role in shaping, and that in turn shaped lives, fortunes, and whole industries. No one is more keenly aware of this than publishers and website owners, and for them, terms such as "keyword clustering" are one in the line of things they had to adapt or adjust to.
In this article, we'll cover the topics related to it, including:
At its very core, keyword clustering is nothing more than pooling together similar keywords into groups. The keywords that are grouped usually have something in common – they form a cluster that shares a certain theme or topic. Such a group of keywords should signal to search engines that the page containing them could be a good answer for a search query.
Another way of explaining keyword clustering would be to say that it's a process of grouping keywords according to the search intent they represent.
Whenever someone uses a search engine, they want to achieve something. Over the years, search engines – and Google especially – have become better at understanding what that intent is and serving the results that match it. In the process, they've moved on from looking at a couple of specific keywords to creating a more holistic understanding of the text. Keyword clustering takes that fact into account and lets you target all those keywords simultaneously.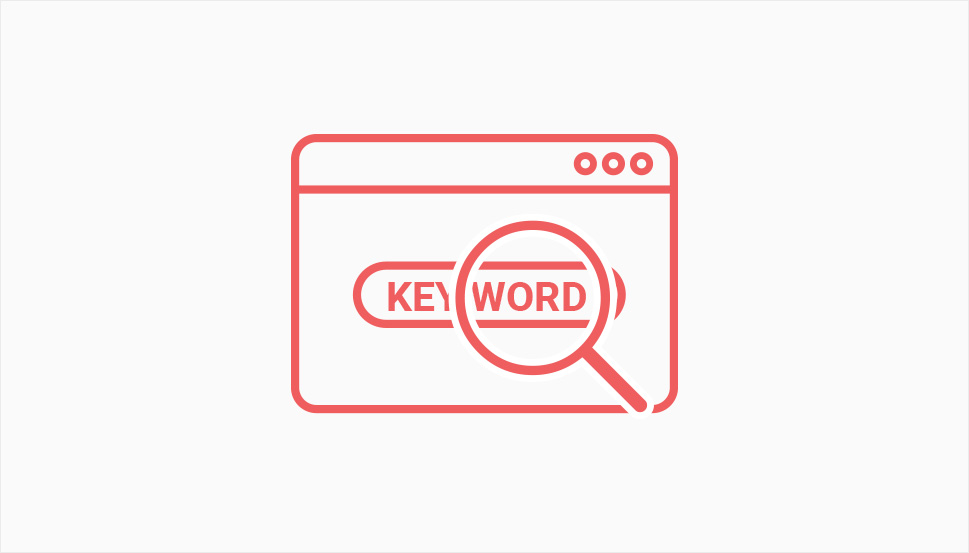 Keyword clustering isn't the easiest or quickest way to include keywords into your website's search engine optimization. It's much easier to simply find a small number of keywords and hyper-focus the efforts on them. However, you might be disappointed with the results you get if you choose the quick and easy approach to keywords.
Using keyword clustering as part of your content creation and optimization strategy might be the more resource-intensive choice, but it's also the more rewarding one. Some of the benefits you can get from using keyword clustering include:
Keyword selection – removal of unnecessary keywords and discovery of important ones
Better rankings for short-tail and long-tail keywords
Improved content quality thanks to a better understanding of search intent
Opportunity to use topic clusters for website structuring
Keyword clustering, as you can see, can give you as much as you want to take from it. Whether you want to use it just to improve your keyword game, or to restructure your whole website and make it more intuitive and topic-centric, it's completely up to you. What's important is that keyword clustering gives you that choice, which is something that can't be said for the simpler approach to keywords.
Also, you should keep in mind that this approach to keywords is more in line with the way search engines have been evolving. The old way of doing keyword optimization, with focusing on just a few of them, is on its way out. Using keyword clusters and employing them in the creation of topic clusters and pillar pages are the new best practices.
Now that you know what keyword clusters are and why they should matter, let's see how you would go about creating a few of them. Later on, we'll also delve into some of the ways you can put the keyword clusters you come up with to good use. First, we'll need to talk about creating them, and that starts with keyword research.
Create a List of Keywords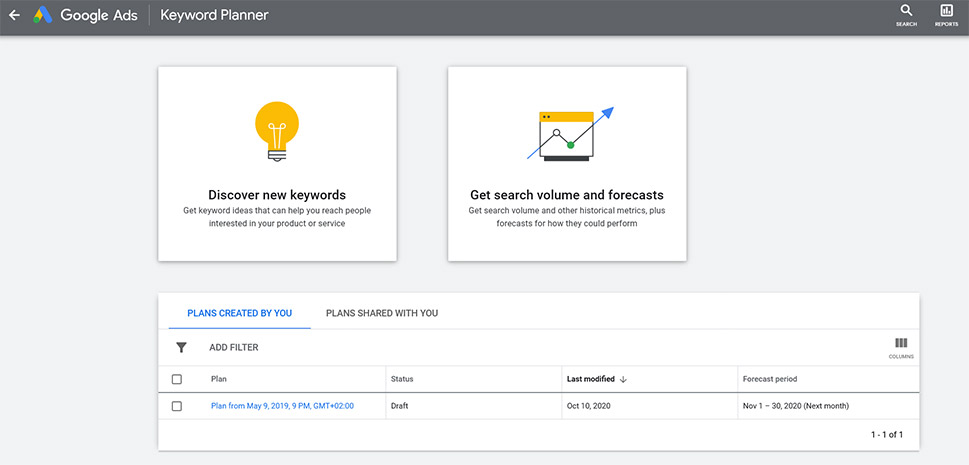 Because keyword clustering is an advanced keyword operation, prepare to gather a larger number of keywords. Just how many will depend on the industry, the topics, and access to research tools. You shouldn't be surprised if the number goes into the thousands.
Instead of using any one of the tools you regularly use to research keywords, consider using all of them. You can:
Look for inspiration in suggested searches on search engines and otherwise brainstorm ideas
Chances are you won't have too much trouble coming up with a very long list of keywords. There are lots of different tools you can use – any research tool or SEO tool you have access to might be of use for you at this phase. So gather all of your keywords and keyphrases, organize them, and get ready for the real work to begin.
So let's say that the base keyword you want to find clusters for is "peanut butter." Putting it through all those tools will give you a sizable list of related keywords. Here's how Google's Keyword Planner does it.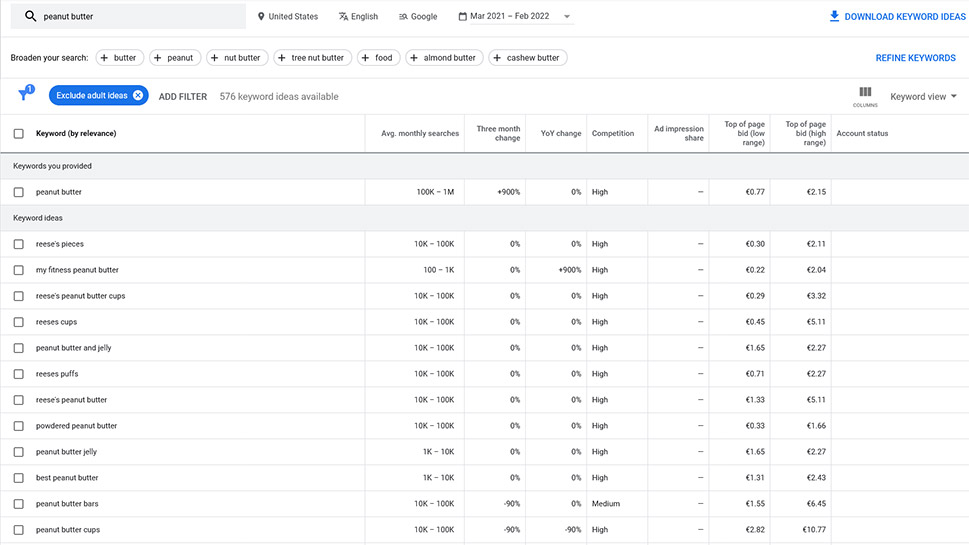 Most of them will let you download a table containing the keywords and the applicable data. Gather all the tables and get ready to do some merging and editing.
Sort Keywords into Groups
When it comes to sorting keywords into groups, there are two approaches – doing it manually or using different tools for it. As you might guess, manual sorting and analysis are the more labor-intensive of the two.
If you decide to go down this route, your goal would be to make a list of keywords and group them into clusters. This being SEO, you'll want to make sure that your clusters:
Are based around keywords with good search volume
Speak to the same search intent
Are appropriate for a marketing funnel stage if that's how you're grouping them
Contain the keywords you can rank on
You'll probably want to merge all the keyword files you have into a single one. Next, you need to identify keyword modifiers around which you can form a cluster. Within the peanut butter search results, we noticed that some terms repeat more than once – terms like "keto" and "health." We built clusters around the instances that included those terms, and copied them into a separate file.
Whether you'll go through one term at a time and assign it to a cluster or use the magic of spreadsheets and math to find the best possible combinations of the most commonly used terms is up to you. If you don't want to deal with the math, the tools that can help you include:
You should know that these tools often come with a price tag. However, the hours of work they can save you means that it's very likely that they'll pay off. Alternatively, you can also use the Keyword Planner's Grouped view to get some ideas for keyword groupings. This tool works best during the research phase, however.
When you have identified the keywords clusters that answer the questions your audience likes to ask the most, you can start devising the content plan around those clusters. You'll probably notice that some clusters have things in common and could be further grouped into topic clusters.
You can use that hierarchy to create a structure for your website. In the middle of every topic cluster, you can place a piece of pillar content – often a long and exceptionally produced piece of content that can target a shocking amount of keywords and phrases. That piece of content is surrounded by smaller satellite pieces of content – usually blog posts – you can use to focus more on certain topics, build up internal linking, and generally explore the various aspects of the topic.
The great thing about keyword clusters is that it's very likely to give you ideas for content you never knew you needed. You should also note that keyword clusters don't have to be used only for content. Since the Keyword Planner allows easy keyword grouping, it's pretty obvious what's Google Ads' opinion on using keyword groups to get paid traffic. If you plan to create a new ad campaign, consider using keyword groupings for it.
When it comes to using keywords to get better placement in search engine results, keyword clustering is the way to go. Keyword clusters and topic clusters are much more likely to provide you with decent search engine performance, granted that you do the keyword grouping right. So whether you choose to do it manually, with limited help from the SEO tools you already use, or using special research and grouping tools, make sure you're happy with the results and get ready to implement them in your content or PPC marketing strategy.